Best of Petco's new food lineup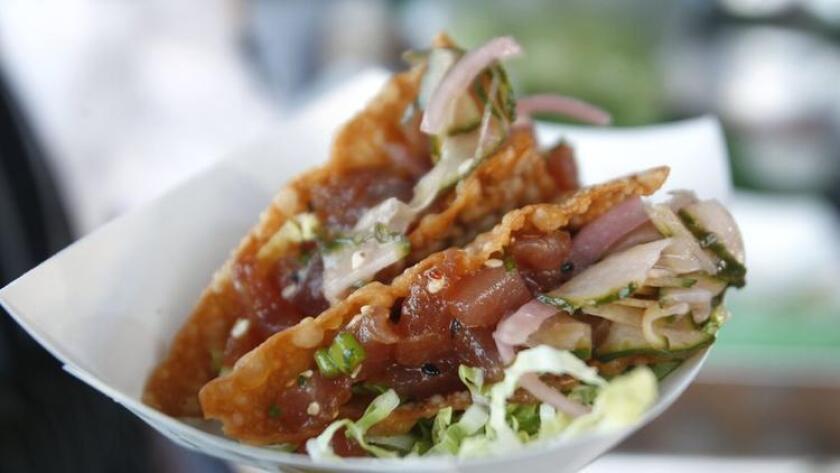 The baseball season is young and our hopes are still new, so it is way too early to make any Padres predictions. But as far as Mike Malone of Tarantino Gourmet Sausages is concerned, 2015 is already a winner. For the first time, the locally based sausage company is the official hot-dog supplier for Petco Park. And that is all the victory Malone needs.
"This is really special," said Malone, a Tarantino sales manager. "My brother-in-law is Pete Tarantino, the CEO, and this is just fantastic for him. He almost had tears in his eyes when he heard."
Even if you don't get misty over munchies, there is probably something in Petco's new food and drink lineup that will make your hungry heart flutter. And judging by the samples I scarfed during the media preview this week, some of them are actually worth the investment of time and money you'll make on their behalf. Those hometown hot dogs are just the beginning.
Yin and Yang Award: Muffin-related regrets are not just for breakfast anymore. For your triple-bypass pleasure, the fiendish folks at US Foods - which provides fine-dining eats for Petco's Club 19 and the Omni Hotel Premier Club - have created the deep-fried muffin. It's a chocolate-cola muffin! Dipped in pancake batter! And deep fried! I predict they will reduce you and your diet to deep-fried dust.
But there is hope. This season, the US folks are also serving the Superfood Slaw, a new salad featuring kohlrabi, Brussels sprouts and broccoli slaw in a citrus-wasabi dressing. It is light, crunchy and palate-cleansing. But can its dietary superpowers make up for the deep-fried muffin? "Yes," said US Foods sales manager Mike Holley. Which is good enough for me.
Buzz Alert: Say you are in the mood for something cold, strong and served from a keg. Say you are also in the mood for staying alert and upright through the Seventh-Inning Stretch. Then you'll want to head for one of the Swell Coffee Roasting Co. kiosks or to the Patio in Left Field, where Swell will have local cold-brew coffee on tap and the promise of artisanal exuberance in every cup.
"One cup of cold brew is the equivalent of 2½ cups of hot coffee," said Swell founder and CEO John Vallas. "And it's concentrated, so when you add ice to it, it doesn't get watered down."
What's the score? Who cares? You are your own grand slam.
Left-field advantage: San Diego blew past the peanuts-and-Crackerjacks food pyramid a few fish tacos ago, and the upgrades just keep on coming. The latest epicurean evidence comes from the aforementioned Patio in Left Field, where your foodie friends from the Patio Restaurant Group are putting a serious gourmet spin on ballpark standards. There will be duck and bacon sausages ($11), fries with black truffle butter ($11) and upscale Mexican Street Corn ($5).
I can only vouch for the Ahi Poke Tacos ($13 for an order of three), a best-of-many-worlds combination of spa-day virtue (raw tuna, spicy soy-pepper marinade) and happy-hour insanity (wonton taco shell, woo-hoo!). Kind of like the restaurant itself.
"I think a whole lot of home runs will be coming right through the window," Patio executive chef John Medall said of the new space, which is part of Petco's huge left-field makeover. "And I'm perfectly OK with that."
Go fish: Remember when everyone thought sushi at the ballpark was the most hilarious thing ever? You will be nostalgic for those skeptical days as you elbow into the Hideaway, where people will probably be fighting over the Jackie Chan rolls like they were the last fly balls on earth.
At the Hideaway - located in the Toyota Terrace space where the Pier used to be - the drinks will be made with Deep Eddy Vodka and the rolls, sashimi and other deep-sea delicacies will come from San Diego's Zenbu Sushi.
The sit-down menu will include California rolls ($10), spicy-tuna rolls ($14), salmon sashimi ($18) and the first-class Jackie Chan ($20), a spicy crab and cucumber roll topped with avocado and tuna that had the media hordes scrambling shamelessly for seconds. Embarrassing, but apparently not a foodie foul.
"You can have whatever you want. That's our whole M.O.," Zenbu owner Matt Rimel said. "You can order at the restaurant or you can sit at the sushi bar. You can drink and party and eat. You can do whatever you want and never leave." Alrighty then.
Best of the rest: Best security blanket? The warm Hook and Ladder sandwich (ham, turkey and melted Jack cheese) from Firehouse Subs, which will save you from parking-related exhaustion, hungry-child meltdowns and other game-day emergencies. Best sacrifice? Losing all feeling in your tongue to a shot of Jack Daniels' Tennessee Fire, which tastes like Red Hots and burns like a blowtorch. Best brew? Hess Brewing's Jucundus, an orange-honey wheat beer that is crisp, light and so full of citrus, it practically qualifies as juice. And if you like your juice with a 6 percent alcohol content, we won't judge.
Best new bad habit? As we end our eating tour, let us give a big Petco welcome to the Zebra Popcorn from Popcornopolis, in which caramel corn is wrapped in ribbons of dark- and white-chocolate and your willpower is shipped off to the site of our future Chargers' stadium. Wherever that may be.
Source: DiscoverSD
---
Sign up for the Pacific Insider newsletter
PACIFIC magazine delivers the latest restaurant and bar openings, festivals and top concerts, every Tuesday.
You may occasionally receive promotional content from the Pacific San Diego.