San Diego prepares for a sweet affair with fair food
Willy Wonka's got nothing on this summer's San Diego County Fair, which will opens a five-week, rainbow-sprinkled run on June 1 at the Del Mar Fairgrounds.
This year's fair theme is "How Sweet It Is" and new and longtime vendors have pushed themselves to come up with new chocolate-dipped, unicorn-frosted and sparkle-covered treats to lure hungry fairgoers of all ages.
"We wanted the concept to bring back all the fun of being a kid again," said Annie Pierce, information officer for the Del Mar Fairgrounds. "We challenged food vendors to come up with unicorn-inspired foods since they're all the rage these days. They didn't disappoint."
Most of these sweet treats will be served in individual food booths, but candy-themed diversions throughout the fairgrounds will include the Candy Pros candy shop, chocolate tastings by So Rich!, a wedding cake-decorating demonstration, a jelly bean booth, baking and decorating demonstrations at the Sweet Cheeks Baking Co. diner and, for big kids, a chocolate-themed speakeasy.
Zeji Ozeri blows a bubble as he and others compete in a bubble gum blowing contest.
(Hayne Palmour IV / San Diego Union-Tribune)
Justin Virabalin ends up with bubble gum on his face as he and others compete in a bubble gum blowing contest.
(Hayne Palmour IV / San Diego Union-Tribune)
Cotton candy ice cream sandwiches and chocolate pasta bowls, back left, which are new dessert dishes made by Chicken Charlie's.
(Hayne Palmour IV / San Diego Union-Tribune)
Doughnuts served at the Grilled Cheese A-Fair booth.
(Hayne Palmour IV / San Diego Union-Tribune)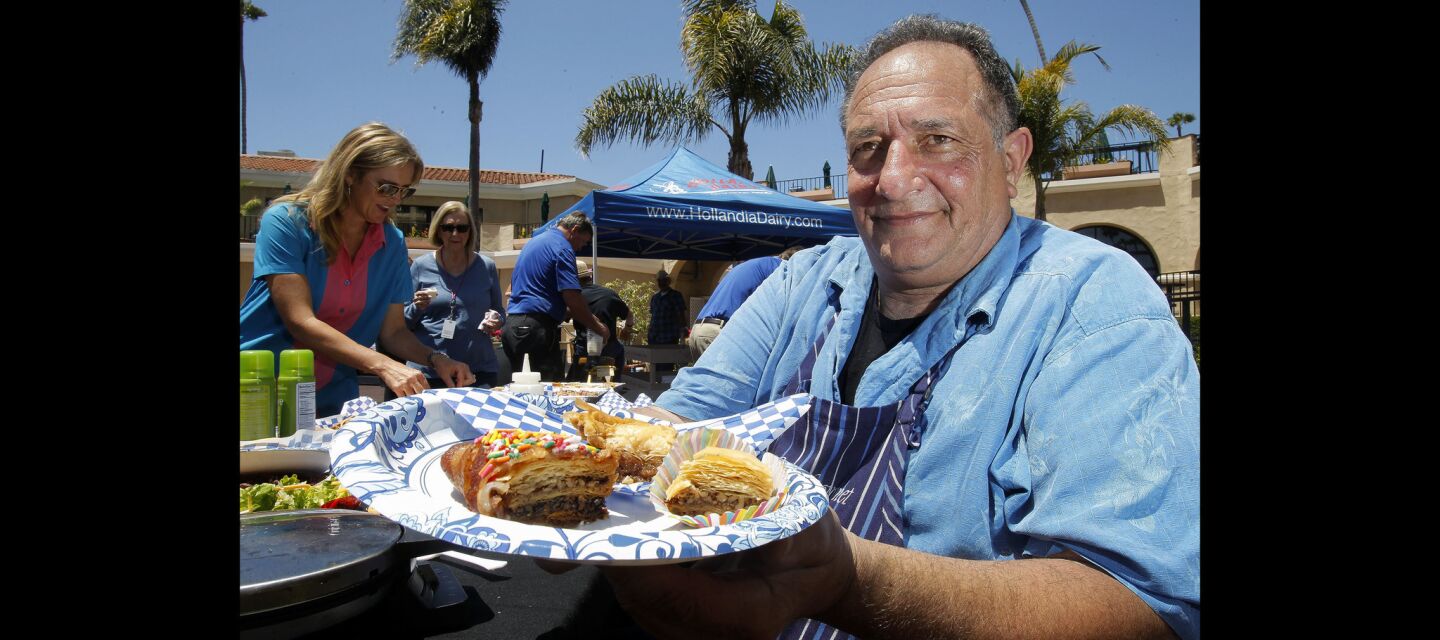 Ted Platis of The Mediterranean shows his regular baklava, bacon infused baklava, and bacon wrapped deep-fried baklava.
(Hayne Palmour IV / San Diego Union-Tribune)
The Mediterranean's regular baklava, top, bacon infused baklava, lower left, and bacon wrapped deep-fried baklava.
(Hayne Palmour IV / San Diego Union-Tribune)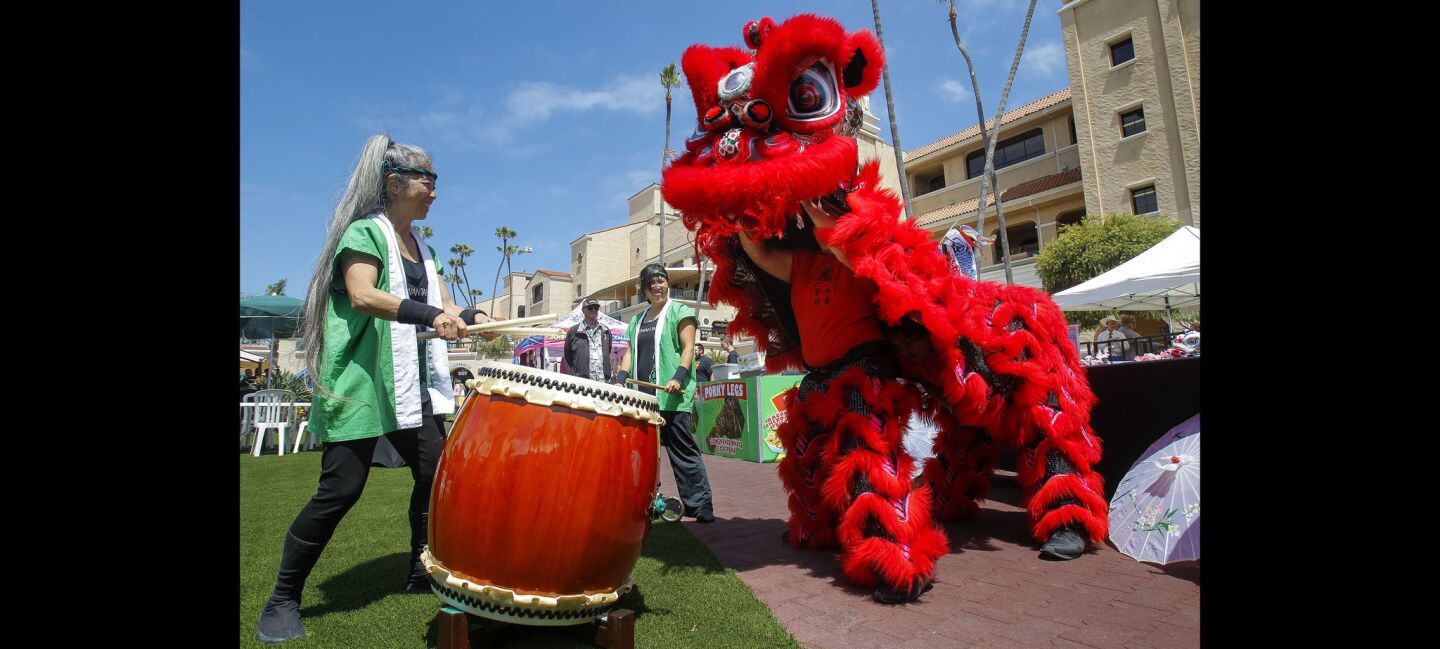 Kathy Tanaka of Japanese drumming group Naruwan Taiko drums as the Lucky Lion Dancers do a Chinese lion dance.
(Hayne Palmour IV / San Diego Union-Tribune)
Jerry Hager, who is Pops, and his puppet Lolly provide entertainment.
(Hayne Palmour IV / San Diego Union-Tribune)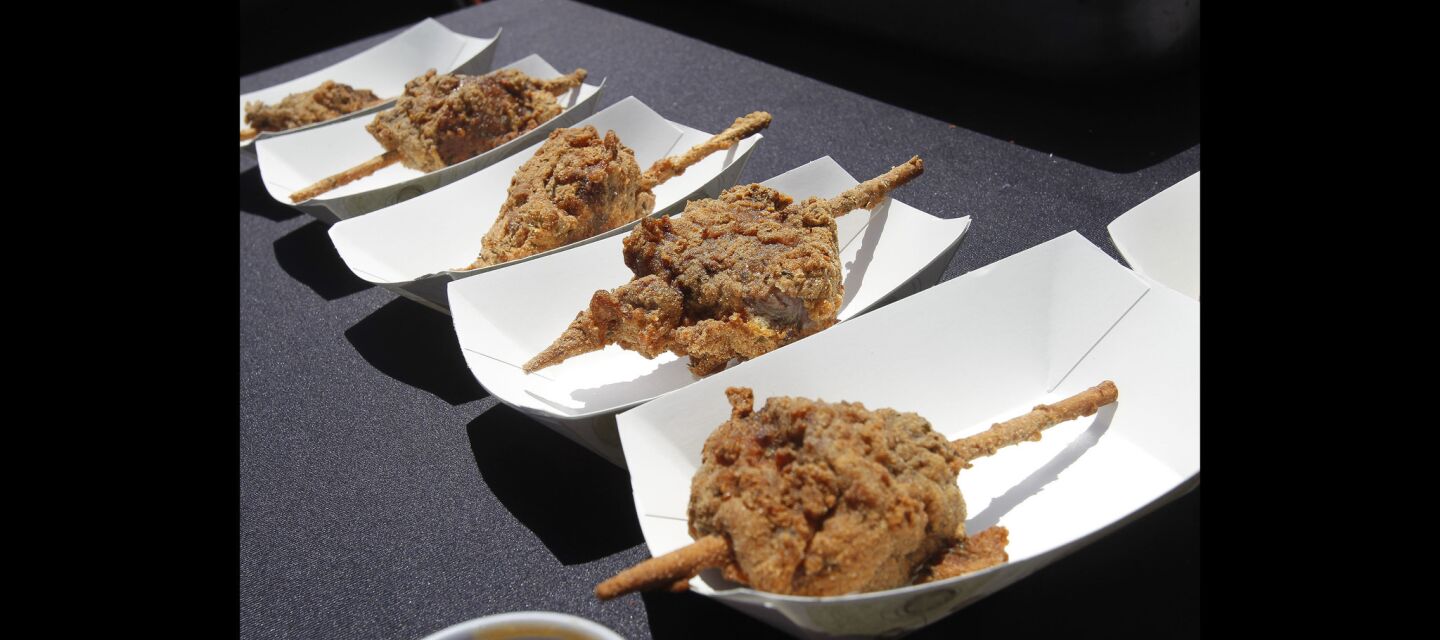 Fried filet mignon served at the Chicken Charlie's booth.
(Hayne Palmour IV / San Diego Union-Tribune)
Poway High School student Taylor Nasland, 17, with the Future Farmers of America, holds a lamb named Charlie.
(Hayne Palmour IV / San Diego Union-Tribune)
Six-year-old Cameron Martineau, with Ramona Stars 4H, and Poway High School student Jordyn Callahan, 16, with the Future Farmers of America, hold Maxwell and Percy, both Nigerian dwarf goats.
(Hayne Palmour IV / San Diego Union-Tribune)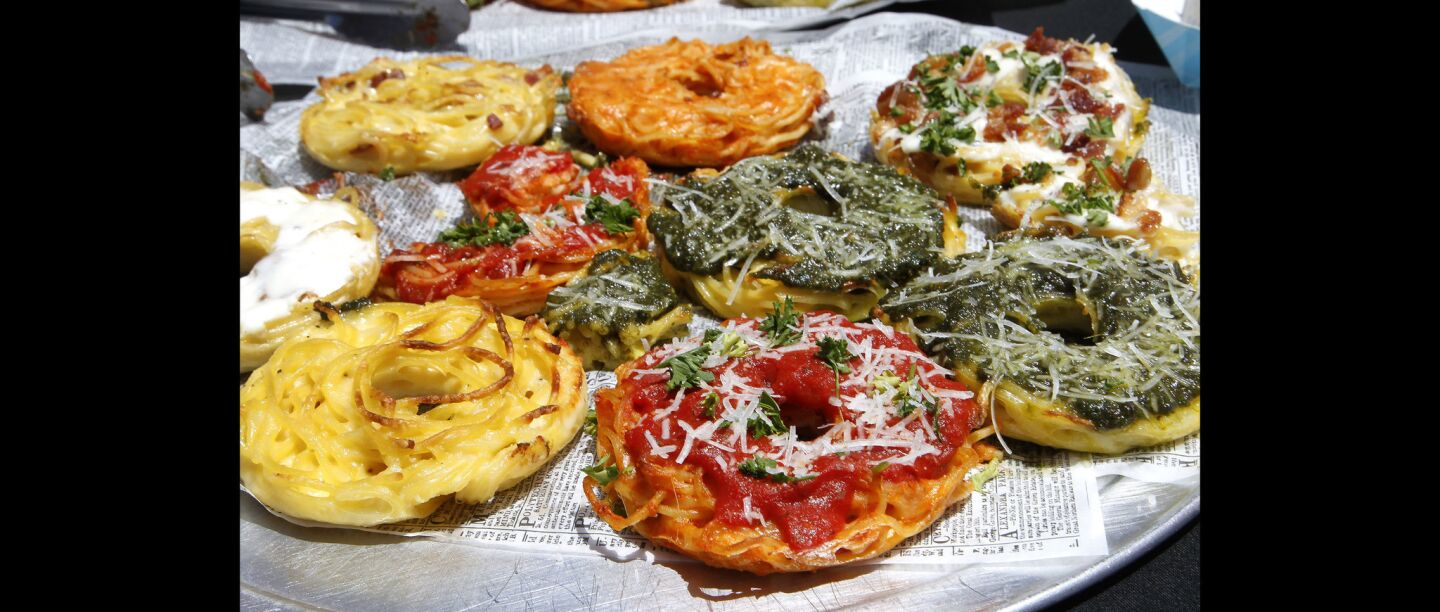 Spaghetti doughnuts served at the Pignotti's Pasta.
(Hayne Palmour IV / San Diego Union-Tribune)
Unicorn fries made by Tasti Burger.
(Hayne Palmour IV / San Diego Union-Tribune)
This year's fair — which is expected to draw as many as 1.6 million visitors during its 26-day run through July 4 — will feature 500 shops, more than 100 concerts, 80 rides and dozens of exhibits and special events.
But let's face it: Most San Diego County fairgoers come for the food and vendors compete to dream up the weirdest and tastiest "must-try" new food items each year.
On Wednesday, I sampled some of this year's newest concoctions and the stories behind them and offer my own list of winners:
Biggest surprise: Bacon-wrapped baklava
Since 1973, Cardiff native Ted Platis' family has been selling the traditional Greek phyllo pastry at the fair. But this year, his partner Catherine Behrend convinced him to go unicorn wild. Alongside traditional baklava, they're selling a bacon-infused variety and a shockingly delicious version that's frozen, wrapped in bacon, then quick-fried and topped with rainbow sprinkles. Platis is pleased at the positive reactions but says his ultra-traditional Greek mom "is probably doing somersaults" in her grave. Find it at The Mediterrean booth, along with another new dish this year: low-fat baked felafel waffles with tahini sauce.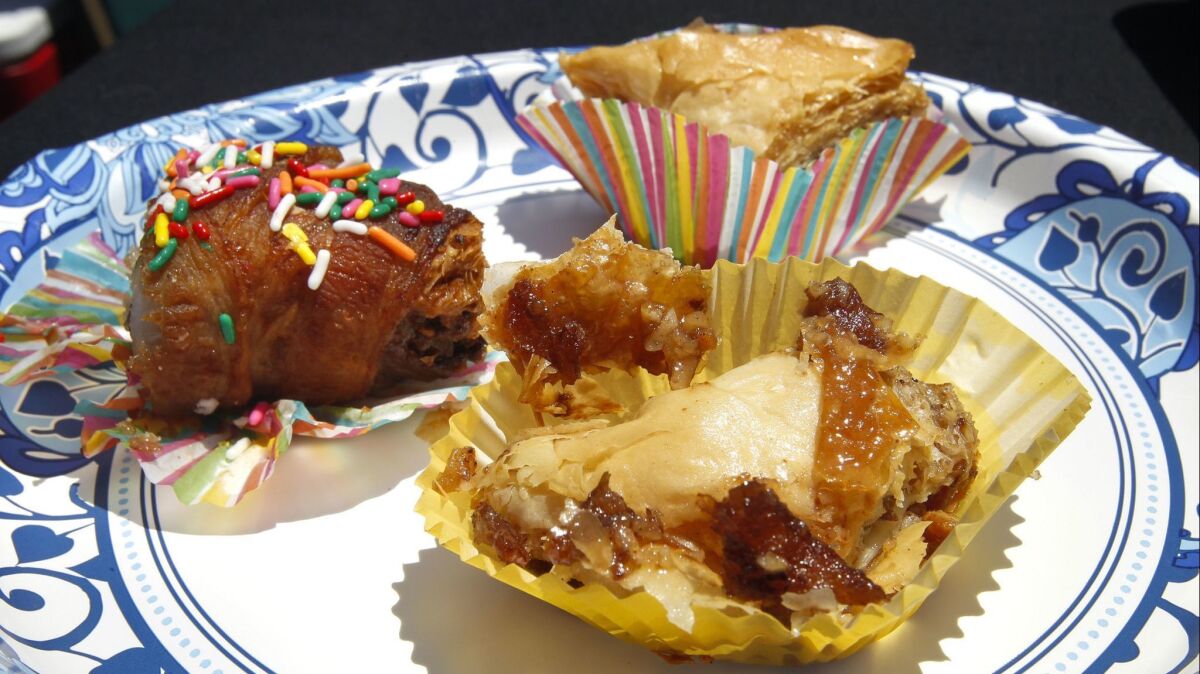 Best play on the theme: Cotton Candy Ice Cream Sandwich
Who else but "Chicken" Charlie Boghosian of Chicken Charlie's FRYBQ could dream up this day-glo dessert of Blue Bunny vanilla ice cream sandwiched between two hockey puck-shaped discs of compressed pink and blue cotton candy and rolled in Fruity Pebbles cereal. If artificial fruit flavoring is your bag, this jaw-breaking, ultra-sugary treat is for you.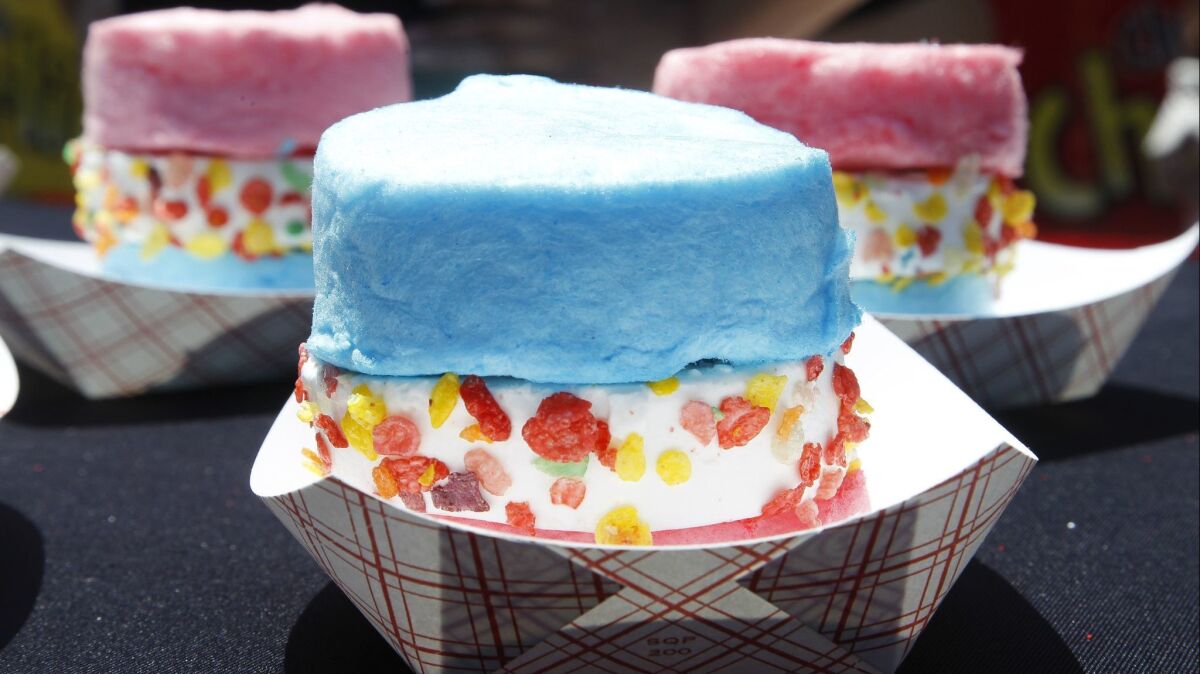 The weird-but-it-works award: Chocolate pasta
Another kooky creation from Boghosian is this sundae-like entree of chocolate-flavored pasta, tossed in Nutella and chocolate sauce and served in a red waffle cone bowl, topped with whipped cream, strawberries and fresh mint. It's surprisingly subtle in its sweetness and very filling. It's dinner and dessert in one.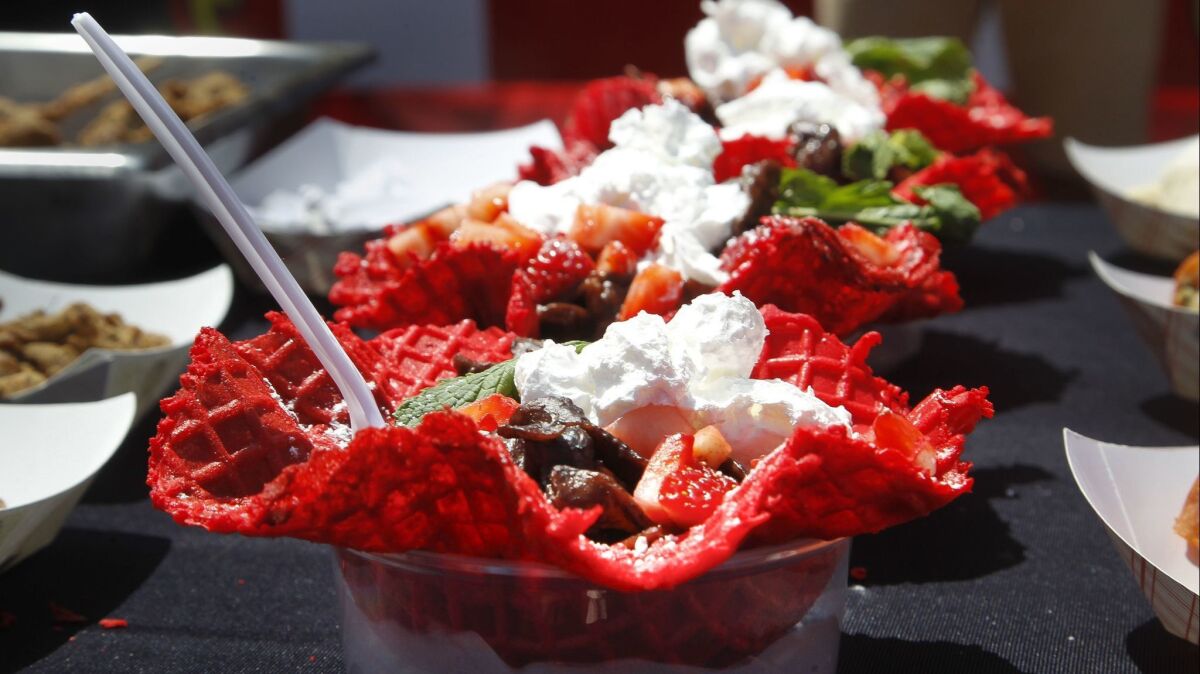 The packs-a-punch award: Unicorn party pineapple
Bacon A-Fair, run by Cardiff resident Matt Knox, soaks fresh pineapple slices in Fireball whiskey, smokes 'em, grills 'em and tops 'em with bacon. There's a lot going on in this hit-and-miss dish, but it absolutely delivers on the spirits.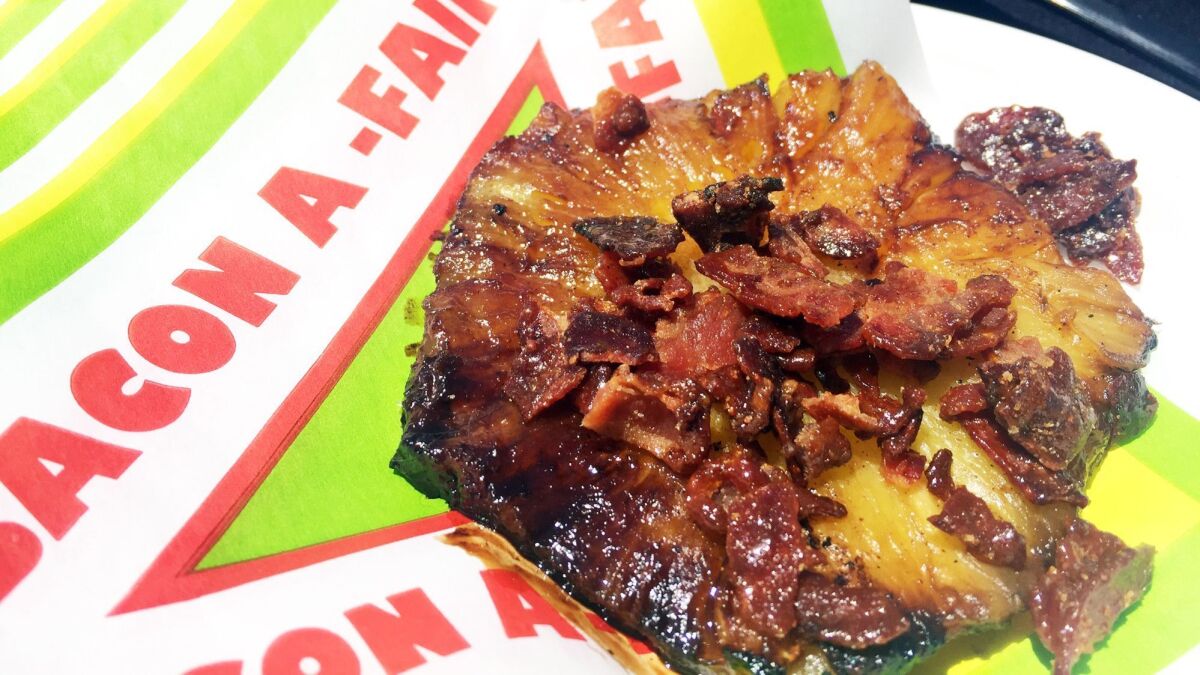 Best twist on an old favorite: Spaghetti donuts
Pignotti's, a North County-owned booth celebrating its 54th year at the fair, is introducing these bagel-shaped rings of compressed spaghetti and cheese topped with a flavorful "schmear" of family-recipe pesto, marinara and other sauces. Honorable mention goes to Pignotti's yummy and creative lasagna nachos.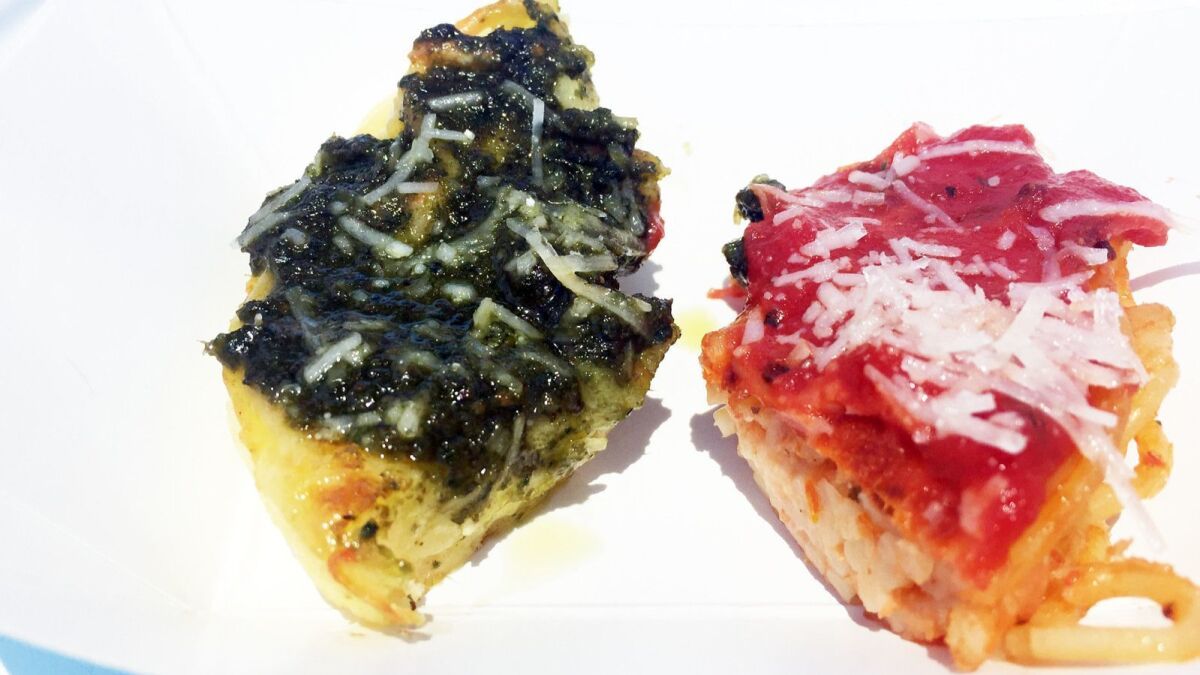 Yummiest dessert award: Whookie pies
San Diego's Sweet Cheeks Baking Co. makes its fair debut this year with a number of unicorn-themed pastries, including these sandwich cookies made from peanut butter oatmeal chocolate chip cookies, Italian buttercream filling and candy sprinkles. Extra props for the booth's Instagram-worthy "funfetti" unicorn cupcakes, with gold glitter-covered fondant "horns."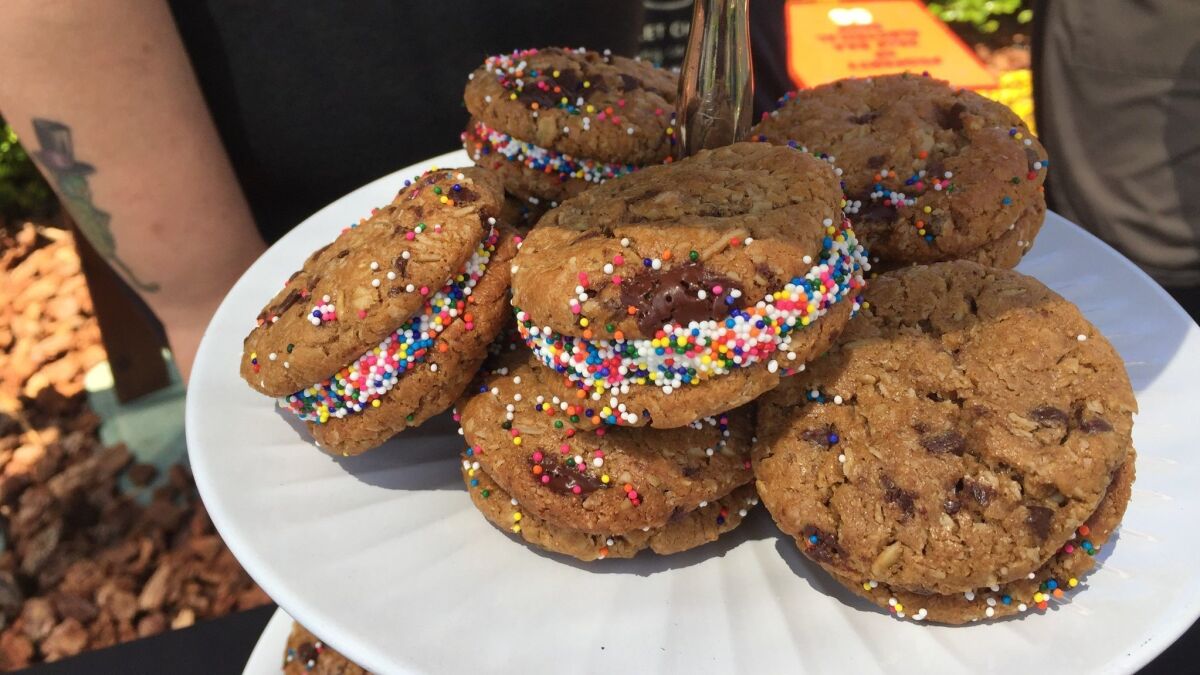 The not-quite-right award: Deep-fried filet mignon
Boghosian usually gets it right at Chicken Charlie's, but this generous skewer of a half-pound of tender and well-seasoned steak cubes loses its luster underneath the deep-fried batter.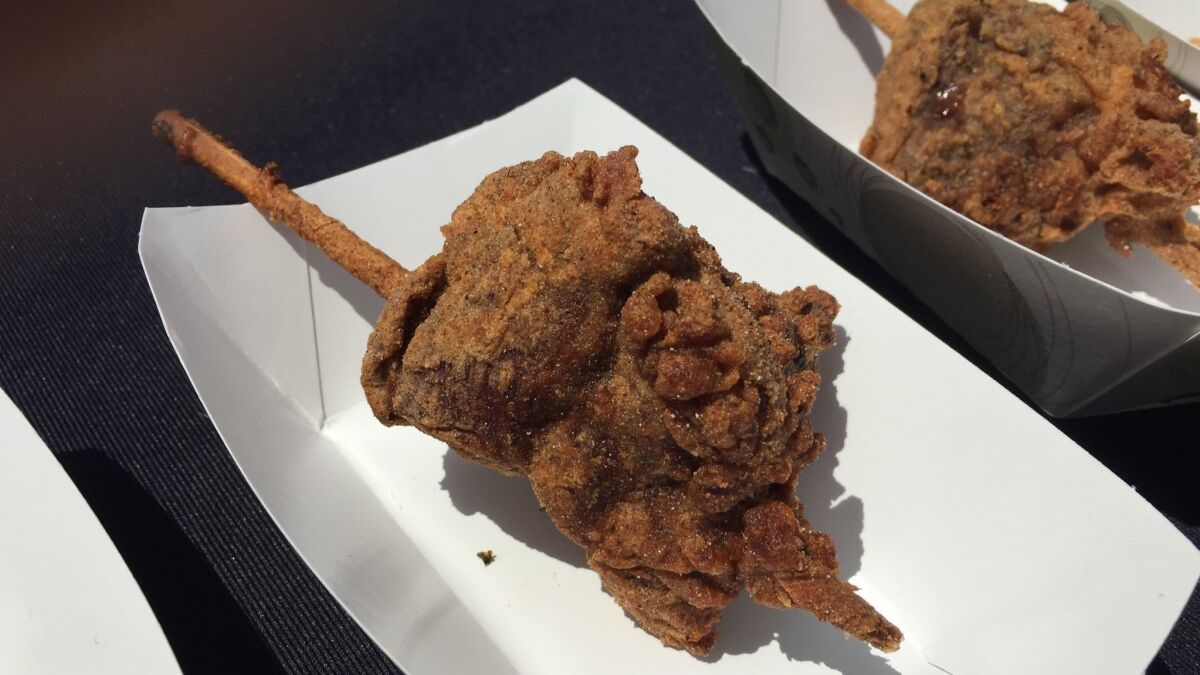 Honorable mentions
Here are some of the other new food items to hunt down at the fair this year:
Premier's glazed donut grilled cheese breakfast sandwich
TastiChips' unicorn burger with fried cheese curds and ghost pepper cheese
Mike Hess Brewing's Tangerine A-Fair!, a citrus IPA brewed specially for the San Diego County Fair
Reno's Fish & Chips' fish kabob, a tempura-fried skewer of cod, zucchini, onions and peppers
Chicken Charlie's ramen burrito, featuring grilled Maui chicken, ramen noodles tossed in Maui sauce, Funyuns and scallions in a flour tortilla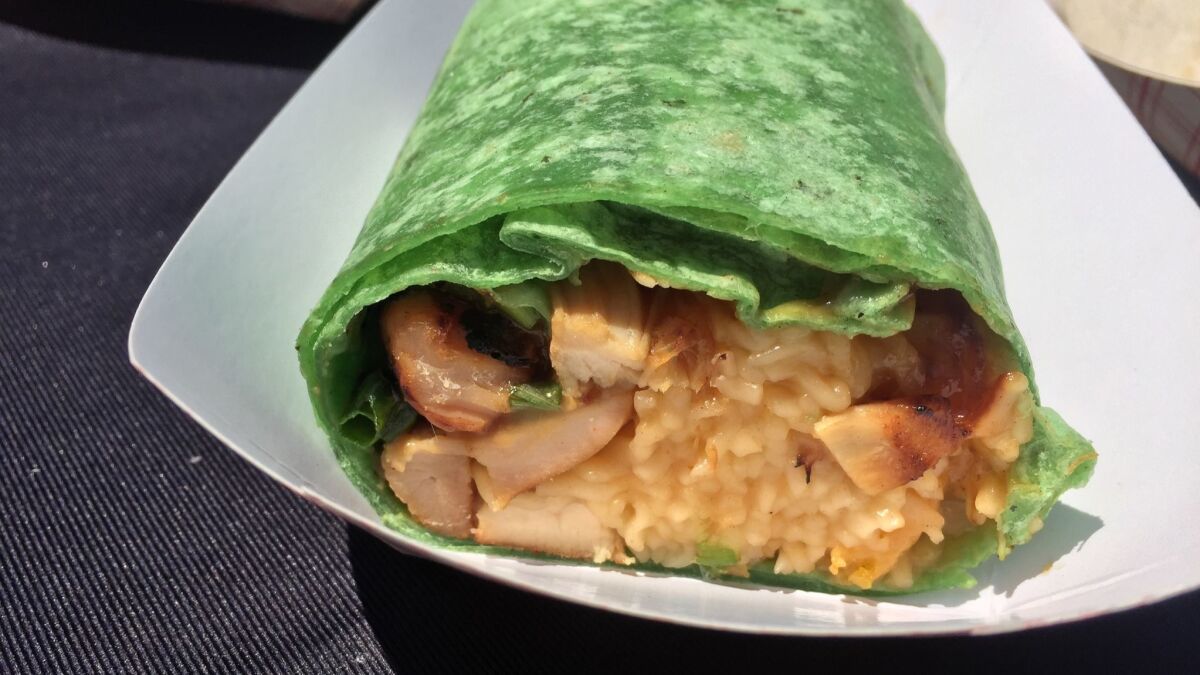 San Diego County Fair
When: Opens at 4 p.m. June 1 and runs through July 4. Closed Mondays and Tuesdays, except July 2 and 3. Gate hours vary, but generally open at 11 a.m. on weekdays and 10 a.m. on weekends. Gates generally close at 11 p.m.
Where: Del Mar Fairgrounds, 2260 Jimmy Durante Blvd., Del Mar
Tickets: $19 for adults, ages 13 to 61. $12 for seniors. $12 for children ages 6 to 12. Children 5 and under are free. A 26-day season pass is available for $28 at San Diego County Albertsons stores through June 30. Children 12 and under get in free on Fridays.
Parking: Onsite parking is $15 ($25 in the preferred lot). Free off-site parking with shuttle service is available (beginning June 2) during fair hours at the Del Mar Horsepark, 14550 El Camino Real, Del Mar; Torrey Pines High School, 3710 Del Mar Heights Rd, San Diego; and MiraCosta College San Elijo campus, 3333 Manchester Ave, Cardiff.
Public transit: For $20, adult fairgoers can buy a Fair Tripper combo ticket ($12 for children ages 6 to 12), which includes one-day fair admission and round-trip transportation on the Coaster and Sprinter trains to the Solana Beach station, where Breeze special route 408 buses leave every 20 minutes for the fair's west gate.
Phone: 858.792.4252
Online: sdfair.com
---
Sign up for the Pacific Insider newsletter
PACIFIC magazine delivers the latest restaurant and bar openings, festivals and top concerts, every Tuesday.
You may occasionally receive promotional content from the Pacific San Diego.