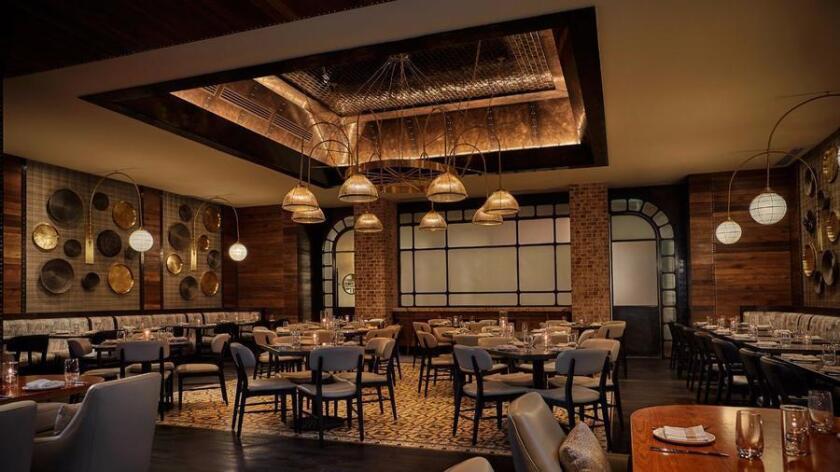 When the $120 million Pendry Hotel opened on J Street in the Gaslamp in February, it was big news for luxury travelers. But it was equally exciting for locals, who were hungry to sample the 317-room inn's six different dining and drinking establishments.
The options include a fine-dining restaurant, an all-day restaurant, a high-end cocktail bar, a beer hall/gastropub, a pool deck with food and drink service and a posh nightclub. Here's an early review of the hotel's fine-dining restaurant, Lionfish, and a look at where else to raise a glass or fork at The Pendry.

Executive Chef JoJo Ruiz, former chef de cuisine at Ironside Fish & Oyster in Little Italy, helms this dinner-only fine dining restaurant, which specializes in seasonal seafood. With its high ceilings and close tables, it's on the noisy side, though service is friendly and intimate. The atmosphere is elegant and upscale, a special occasion spot for locals and business travelers.
The diverse and wide-ranging menu is divided into multiple sections with an emphasis on shareable plates. There are soups, salads, cold and hot plates, a raw bar, fresh fish, sushi, sashimi and nigiri and a few plated entrees of chicken, beef, pork and duck for landlubbers.
Prices range from $16 for specialty rolls to $34 for seared diver scallops to $200 for an order of Israeli Golden Osetra caviar on croquette. For most diners, a three-course dinner with alcoholic beverage plus tip will run from $80 to $100.
In April, we tried items from most every section of the menu - sans the caviar - with a mix of great success and mild disappointment.
One of the best things we ate was the light and refreshing lobster carpaccio, served in a bright citric sherry ponzu sauce with savory brown butter aioli and a dusting of crispy onion rounds ($18). The wild mushroom and potato gnocchi, with a mushroom-dashi broth, sage brown butter and Humboldt Fog cheese was rich and savory and the potato dumplings were pillow-soft ($15).
One of the restaurant's top-sellers is the Surf & Turf specialty roll, topped with a seared slivers of Wagyu steak and a stuffing of Maine lobster and avocado ($18). It was pleasant, but not memorable. The spicy grilled octopus with marble potatoes is a generously portioned plate, but the heavy fermented chile sauce was overpowering ($16).
Under the fresh fish offerings, we enjoyed the ginger-soy glazed white seabass, which had a delicious lacquered glaze but a rubbery side of mushrooms ($29). The duck breast was tender and flavorful, but served without much sauce and the bland gnocchi and vegetables weren't a good complement the dish ($29).
The $9 desserts were also in the "not quite there yet" category, with a too-sweet lime meringue and a cream puff with strawberry sorbet that tasted like bubble gum.
Recent diners have reported that many of these dishes and presentations are still being fine-tuned, so I'm eager to go back for a second taste of what could become one of downtown's future crowned jewels of dining. Open from 5 p.m. daily. 435 Fifth Ave., 619.738.7200 or lionfishsd.com
Provisional, helmed by chef de cuisine Chris Osbourne, is the hotel's all-day restaurant, with both grab-and-go and sit-down service for breakfast, lunch and dinner. There's an espresso bar, streetside patio seating and a gift shop. The large glass-walled eatery is rarely full, like its next-door neighbor Lionfish, but it's a classy space for private events.
The breakfast and lunch menus are simple and rustic, with sandwiches, salads, pizzas and light dishes. The dinner menu is more ambitious with a broad farm-to-table menu of fish, fowl and red meats plus a generous selection of vegetarian options. Dinner entree prices range from $26 for pasta with mushroom ragout to $80 for a dry-aged 24-ounce rib-eye steak meal. Wines start at $12 by the glass and range up to $480 a bottle for an Opus One cabernet. Open from 6:30 a.m. daily. 425 Fifth Ave. 619.738.7300 or pendryhotels.com/san-diego/dining/provisional
This handsome candle-lit corner bar has a stamped tin ceiling, red velvet chairs and tables inlaid with the bar's namesake rose pattern. The cocktails, $12-$15, are modern twists on classics, like the Deconstructed Piña Colada and the Reverse Oaxaca Old Fashioned. They're served with traditional bar bites, like chips, peanuts and more. Opens at noon daily. 619.738.7050 or pendryhotels.com/san-diego/dining/fifth-rose
This craft beer and sports bar - named for the Nason & Co. farmers market that occupied this location in the early 1900s - has 24 beers on tap, including San Diego brews and a mix of national and international labels. There's also bottled beer, cocktails and wine that are discounted during "Happiest Hour" from 3 to 6 p.m. daily. The menu is typical gastropub fare, with burgers, brats, house-made potato chips and a Belgian waffle ham and cheese sandwich, among other rib-sticking items. Opens at 3 p.m. daily. 619.738.7060 or pendryhotels.com/san-diego/dining/nasons-beer-hall
Normally reserved for guests, this rooftop pool deck and indoor/outdoor restaurant/bar opens to the public at 5 p.m. Mondays-Saturdays and 1 p.m. Sundays for a Rooftop Social Hour, with discounts on drinks and menu items that include oysters, poke bowls, coconut ceviche, lobster rolls and frozen fruit. 619.738.7030 or poolhousesd.com
Inspired by the exclusive nightclubs of the 1930s and '40s, this glamorous nightclub features DJs, craft cocktails, bottle service, a dress code and a red velvet rope that in-the-know clubbers can bypass by getting on the advance guest list. Open from 10 p.m. to 2 a.m. Thursdays-Saturdays only. 619.738.7040 or theoxfordsd.com
Pendry Hotel
Where: 550 J St., Gaslamp Quarter
Online: pendryhotels.com/san-diego
---