Whisk taker: Pastry chef whips up thousands of treats from single-oven kitchen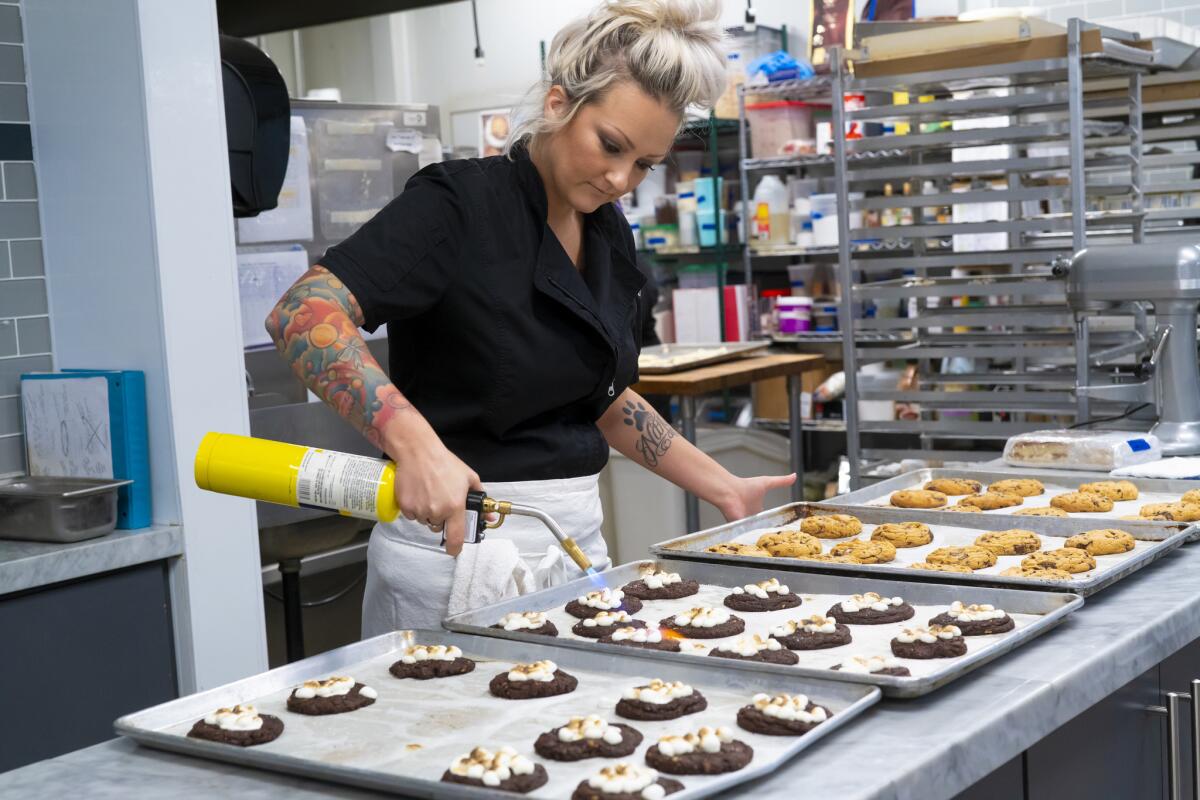 She bakes for numerous establishments and manages to do so with only one oven.
As the corporate pastry chef for Blue Bridge Hospitality, Lori Sauer produces hundreds of cupcakes, layer cakes and other confections every week for the company's constellation of Coronado restaurants. She also cranks out dazzling treats for the retail shelves of Crafted Baked Goods, located inside Point Loma's Liberty Public Market, which the restaurant group also operates.
Her modest, open kitchen resides within that space, where over a three-month period this summer she cranked out more than 14,000 cookies.
"People are blown away that I work with just a single oven," said Sauer, who rips into the flour sacks most days at 5 a.m. with support from her 18-member baking team.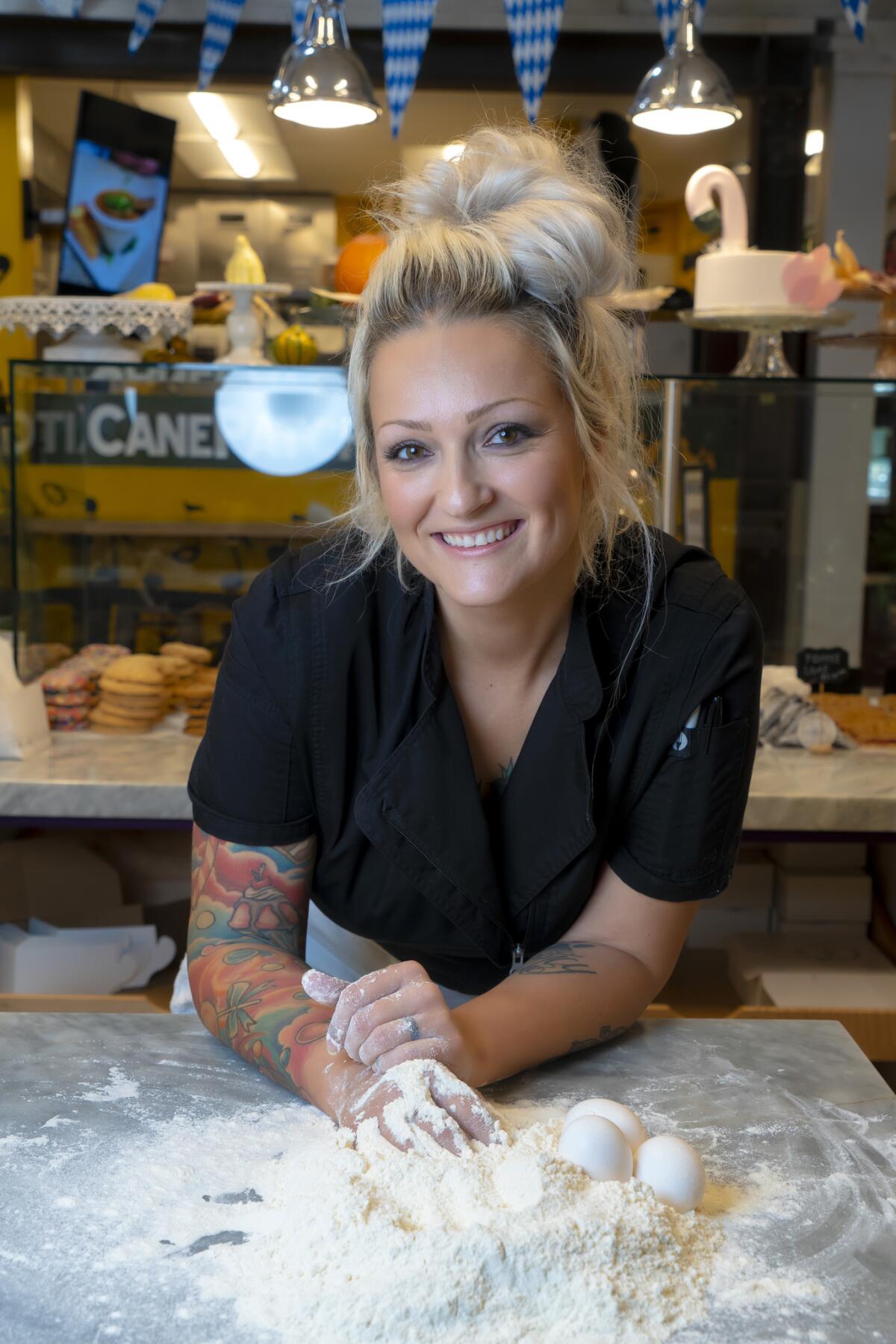 The toothsome parade of treats that follows includes browned butter cakes, snacky caramel and coconut bars, colorful fruit tarts and a bevy of whimsically frosted cupcakes.
Some of the goods are delivered to Blue Bridge's various enterprises: Olive cakes destined to be plated in strawberry consommé go to Maretalia Ristorante; banana pudding cups are sent to Lil' Piggy's Bar-B-Q; and Swiss rolls with mallow cream show up at Leroy's Kitchen + Lounge, where they're served with ice cream and fudge sauce.
Sauer began playing with pastry dough and rolling pins at an early age, "probably when I was like 3 or 4 years old while hanging out in the kitchen with my mother," she recalled. By the age of 6, she had learned how to make cookies.
"My father always wanted a cup of coffee with them and I didn't know why. He later admitted that he dipped the cookies into the coffee to make them somewhat edible."
An illustrious career unfolded after completing a culinary program at her hometown community college in Riverside, at which point she began working under acclaimed Belgian pastry chef Jean Marie Verhoeven at Pechanga Resort & Casino in Temecula.
"He taught me everything I know about pastry and he gave me a solid foundation," she said.
The experience readied her for the position of executive pastry chef at the former Anthology in Little Italy. She later fulfilled the same roles at The Lodge at Torrey Pines, The Bridges at Rancho Santa Fe, and then George's at the Cove before joining Blue Bridge two years ago.
Her most "talked about" dessert, she noted, is carrot cake from a recipe of Verhoeven's that she tweaked. Sauer debuted the dessert several years ago at George's and it became an instant hit. It has since carried over to Crafted Baked Goods. Unlike classic carrot cake, hers features pineapple juice in the crumb — and has no nuts or raisins.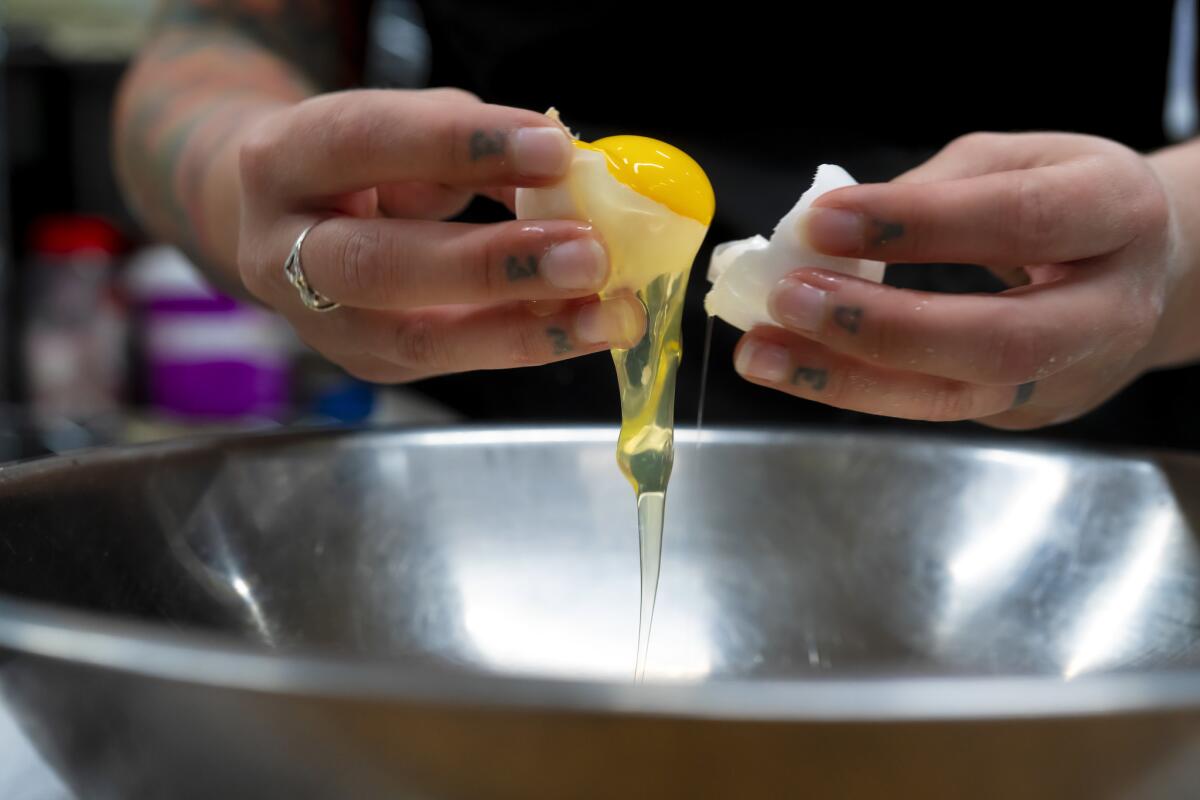 "It's extremely moist and with a nice orange color," she added.
Sauer's career has led to some gratifying adventures, such as an educational working stint on a chocolate plantation in the Peruvian jungle, a gig helping other chefs at the Gastro Vino Baja Wine & Food Festival in Todos Santos, Mexico, and an opportunity for creating desserts at this year's ChefsFeed Indie Week in both Houston and New Orleans.
With a firm handle on the craft, she admits to occasional mishaps that plague even the most seasoned bakers, such as when a delicate meringue blows over because it was accidentally placed too close to an oven fan, or when the sugar in buttercream crystallizes because it was stirred while boiling.
"There are so many natural anxiety attacks that come with baking," she quipped, adding that her fall-winter line will highlight ingredients ranging from pumpkins, apples and parsnips to cranberries, nuts and pineapples.
Crafted Baked Goods
2820 Historic Decatur Rd., Point Loma, 619.546.8885, craftedsd.com
Blue Bridge Hospitality
Smart cookie
5 trusty baking tips from Lori Sauer
Baking sheets with only one raised edge bring maximum airflow to your cookies, allowing them to cook evenly and slide directly off the pan onto serving dishes.
For uniform-shaped cookies, roll the dough into a log of any width, chill, and then slice with a sharp knife opposed to fussing with a scooper.
Roll out pie dough between two pieces of wax paper; it's cleaner and won't require dusting the dough with extra flour as you go along.
Rolling pins with handles (opposed to French pins without) make it easier to apply needed pressure to dense dough.
Thicken fruit-pie fillings with tapioca pearls instead of corn starch to achieve a better mouth feel and glossier look.
Read more...
Sign up for the Pacific Insider newsletter
You may occasionally receive promotional content from the Pacific San Diego.