Mixology 619: Bar manager Danny Kuehner shows us how to make Madison on Park's first cannabis-infused cocktail called Mr. Nice Guy.
Any stoners worth their salt have seen Dave Chappelle's 1998 cult classic, Half Baked, at least a dozen times ... though they might not remember the first 11 viewings. In the film, a trio of best buds sell some killer weed under the brand "Mr. Nice Guy" in an effort to raise enough money to bail their fourth friend out of jail for inadvertently killing a diabetic police horse.
And while Madison on Park's Mr. Nice Guy cocktail might not make you levitate like the movie's ganja, the cannabis-infused cocktail is an ideal cure for cottonmouth that's certain to deliver you to an elevated state of mind.
Dreamt up by Danny Kuehner, Madison's bar manager, the Mr. Nice Guy is crafted with mezcal, matcha, pineapple, lime, coconut milk and cannabidiol (CBD) oil. "I created it in honor of (famed PBS painter) Bob Ross," says Kuehner, "and most patrons begin singing A Whole New World after their first sip."
The venue's first cannabis concoction, the tropical cocktail has hints of citrus and a robust flavor profile. And though the CBD oil doesn't have the same psychoactive side effects as its cousin, THC, the cold-pressed elixir offers a host of claimed medicinal benefits, including mood elevation and lowered anxiety. It's even been reported to kill certain cancer cells.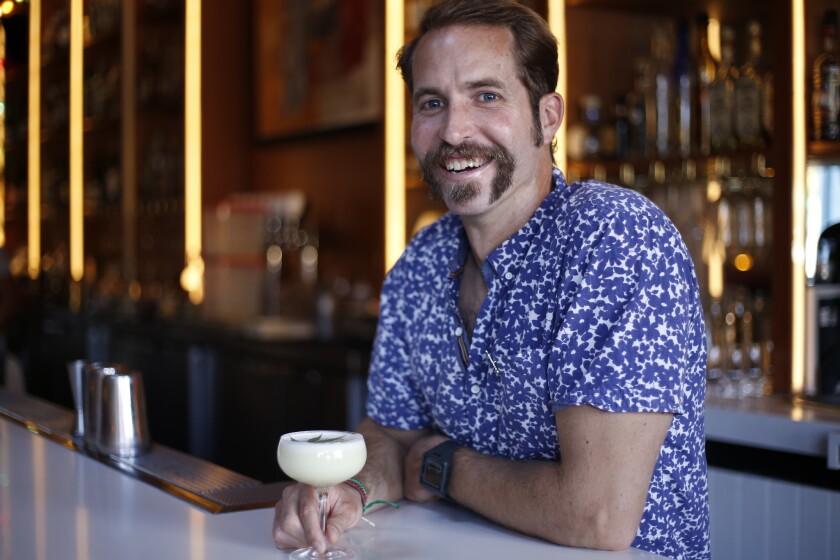 So the next time you want to enjoy some of Mary Jane's non-psychotropic benefits, skip pals Billy Bong Thornton and Wesley Pipes and head to Madison on Park for a Mr. Nice Guy instead.
Madison on Park, 4622 Park Blvd., University Heights, 619.269.6566, madisononpark.com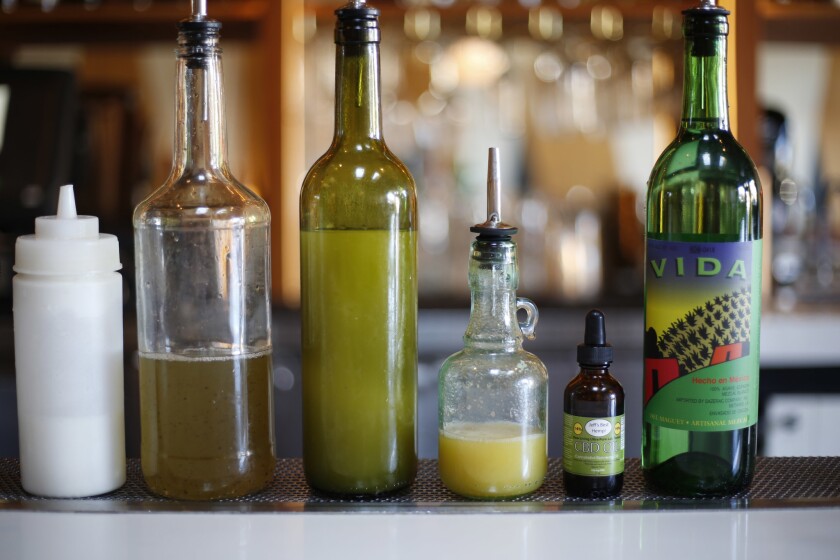 On Now
Mixology 619: The Opium Den
On Now
Mixology 619: It's Always in the Banana Stand
On Now
Video: Mixology 619: Avo-Colada
On Now
Mixology 619: Cucumber Stiletto from STK
On Now
Mixology 619: The Merlion
On Now
Mixology 619 Spicy Hacienda Margarita
On Now
Mixology 619: Tongue Twister
1:08
On Now
Mixology 619: Outlaw Heart
1:08
On Now
Mixology 619: The Painkiller
On Now
Mixology 619: Pine Street Sour
1:06
---