San Diegans dish about their favorite tacos
There are few foods in San Diego that locals love more than tacos. (We dare you to name something more lovable here.) With a bevy of Mexican restaurants and food trucks dotting the landscape, tacos reign supreme on menus and in foodie hearts countywide. And, it's for good reason.
The taco, much like pizza and donuts, has an endless range of filling options, and can satisfy everyone's belly including the carnitas-loving carnivore, the baja-style loyal pescatarian, and the tempeh devoted vegan. Paired with a local craft beer, San Diego's range of tacos create a perfect marriage that's the stuff of legend.
Tom Robbins, famous author of such irreverent classics as Even Cowgirls Get the Blues and Still Life with Woodpecker proclaims in Jitterbug Perfume, "Never underestimate how much assistance, how much satisfaction, how much comfort, how much soul and transcendence there might be in a well-made taco and a cold bottle of beer."
PACIFIC teamed up with the 14,000+ culinary enthusiasts of Facebook group Eating and Drinking in San Diego to find out what tacos captured their hearts for top favorites in the county.
Here are the top five vote getters:
Adobada, Tacos el Gordo
Known and beloved for serving up authentic Tijuana-style tacos, fresh guacamole and salsa since 1972, this shop wins top prize for favorite taco due to the one-of-a-kind Adobada (Spanish for "marinated") spiced pork.
Otay Mesa: 3265 Palm Ave., 619.575.7280; Chula Vista: 556 Broadway, 619.691.8848, tacoselgordobc.com
Fish Taco, TJ Oyster Bar
With three locations, this local favorite claims the lockdown on the classic fish taco in San Diego. Capturing second place, the taco is simple and delicious with deep fried fish in housemade batter, and served with cabbage, tomato, and cream.
Bonita: 4246 Bonita Rd., 619.267.4577 and 4410 Bonita Rd., 619.434.4780; Chula Vista: 601 E. Palomar St, Chula Vista, 619.421.4787, facebook.com/tjoysterbar
Ribeye Taco, LOLA 55
This East Village locale takes a fancy riff on a carne asada taco, with ribeye mash, avocado mousse, pasilla salsa, crispy leeks, and jalapeño toreado. EDSD member Lisa Schmidt proclaimed it as "perfection in a beef taco," and member Chris Henderson added, "The Ribeye Taco from LOLA 55 redefined 'steak tacos' for me. Crazy gourmet level without breaking the bank."
1290 F St., East Village, 619.542.9155, lola55catering.com
Chile Relleno Taco, City Tacos
Claiming fourth place, this local vegetarian favorite features beer battered chile cuero with oaxaca and cotija cheese, cilantro, onion and tomato on a house made flour tortilla. Look for two locations in North Park and La Mesa, with spots in Encinitas and Imperial Beach coming soon.
North Park: 3028 University Ave., 619.296.2303; La Mesa: 8325 La Mesa Blvd., 619.467.7999, citytacossd.com
Barrio Taco, ¡Salud!
With two locations under their belt, ¡Salud! by San Diego Taco Company has a third on the way in the Midway district, and has been featured on Travel Channel's Zimmern List in 2018. Amongst a variety of mouthwatering tacos on the menu, the neighborhood to the south of downtown San Diego takes the win with the Barrio Taco, which includes carne guisado with frijol, nopal and sour cream in a hand pressed flour tortilla. As they say at ¡Salud!, "Just like abuelita did."
Barrio Logan: 2196 Logan Ave., 619.255.3856; National City: 2333 Highland Ave., 619.434.6464, saludsd.com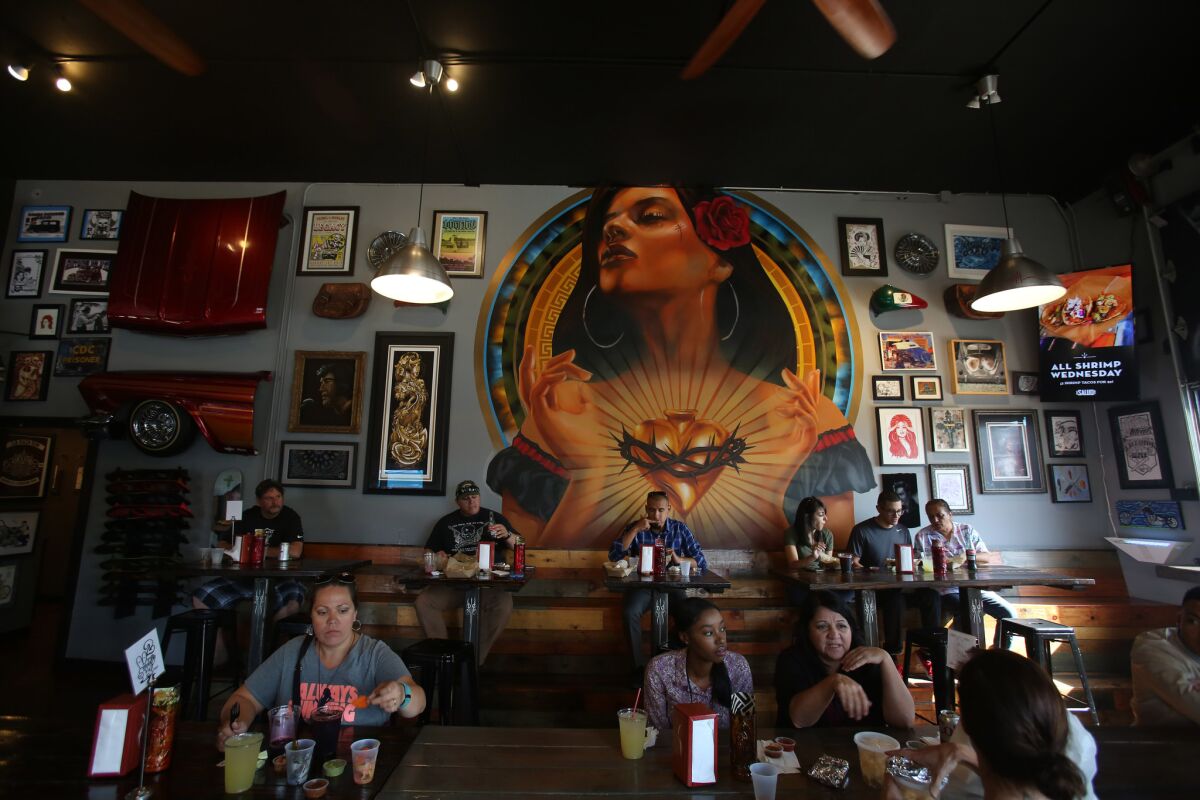 More taco favorites
Rounding out the top 10 are the Rainbow Cauliflower Taco at LOLA 55, Carne Asada Taco at La Fachada, Fish Taco at Kiko's Fish Taco Truck, Chicken Taco at Las Cuatro Milpas and the Smoked Tuna and Cheese Taco at TJ Oyster Bar.
More...
Holy donuts: San Diego sounds off on favorites
San Diegans share their favorite burgers
Sign up for the Pacific Insider newsletter
You may occasionally receive promotional content from the Pacific San Diego.