Brian Malarkey's perfect picnic
In the heat of the summer when I was a kid growing up in L.A.'s San Fernando Valley, my mom would often make a collection of sandwiches — peanut butter and jelly, bologna or tuna fish -that she would wrap up and package with carrot and celery sticks, whole peaches or plums and cookies. Strawberry Kool-Aid may have been involved back then, too. Then she would send my brother and sister and me out to the backyard with a blanket or towel so we could have a "picnic."
There were many other picnics in our life as a young family, including the big gatherings at L.A.'s Griffith Park with extended family. And as I got older, still more. As a young adult, I enjoyed the competitive preconcert picnics first on the Great Lawn in New York City's Central Park and when I returned to L.A., at the Hollywood Bowl, at which attendees would vie for the most decadent or elaborate collections of food and picnic décor. Back then, my friends and I would make or bring pasta salads, lobster and cheesecake - and be the envy of surrounding concertgoers.
Now, as a San Diego resident, my picnic experiences have been far more laid back — going to the beach and grilling burgers or chicken or sausages, accompanied by a spicy coleslaw, bread and butter pickles, olives and watermelon and/or lemon bars for dessert.
Chef Brian Malarkey has very different memories of picnics dating back to his childhood in Gearhart, Ore.
"Every summer, we'd go to the Oregon coast to visit my grandma, and she'd have these big beach barbecue picnics," he recalled with a smile. "We'd fill a big pot with water and put it over a fire made with driftwood. The grownups would grill clams, salmon and shrimp. They'd cook corn. My grandma made rolls and blackberry pies. We'd eat up that buttery, lemony shellfish, then rinse off in the ocean."
Today, Malarkey, who recently opened Herb & Wood and Herb & Eatery in Little Italy, makes up picnics for his young family, and both the setting — the family boat — and the food are different. Malarkey serves up cheese, crackers and salami — basically foods that won't get the boat dirty.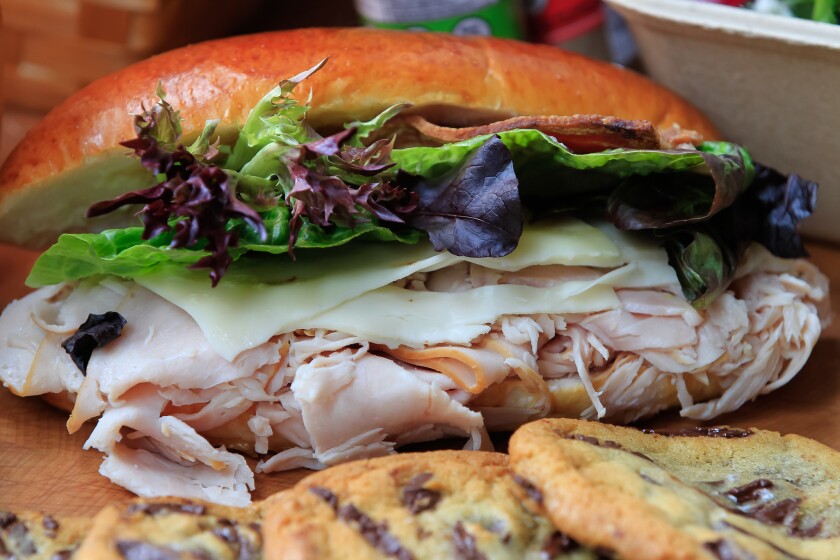 "A picnic for me is something you prep beforehand and enjoy at a destination," he explained. "It's usually around cold or room-temperature food so you don't have to rush to enjoy it. Food that travels well."
That means cold cuts or charcuterie, sandwiches, salads, cold chicken and the like. If you're bringing an ice chest, it opens up even more possibilities, like cheese and other dairy items. And finger food is always a great idea, as long as you bring plenty of napkins and wipes.
There are definitely tricks to putting together a successful picnic meal, Malarkey explained. You want the food to taste fresh and keep their textures. You want breads to stay dry, and crisp ingredients — like lettuce — to stay crisp.
In the case of Malarkey's beet salad, keep the lettuce and beets separate before serving and the dressing on the side. In fact, in general, dressing on the side for picnic prep is a must. And when preparing the beets to make the salad, roast them until they're fork tender, testing the largest piece, since if that's done all the rest will be as well. Let the beets cool and, Malarkey said, the skin will come off more easily. And, to keep your hands from staining red, wear gloves.
Making a charcuterie plate? Be sure you offset the fattiness of the meats with complementary foods with acid, like pickles or jam. Serve with bread or crackers. And keep the crackers in the package so they don't get soft.
When you're making sandwiches, use lettuce not just for flavor and texture, but also as a protective layer on top. For Malarkey's turkey sandwich with aioli, spread the aioli on the turkey on the bottom so it will hold onto the bun. And the bun? Make sure you get one with a good skin, like brioche buns or small sourdough loaves. If sliced bread is your thing, then package up the ingredients and assemble them into sandwiches before serving.
For dessert, Malarkey said cookies are always a safe bet, and if you want to bring chocolate, a good chocolate chip cookie is the best delivery vehicle since chocolate can melt. Or you can skip the sugar altogether and have a cheese course that includes fruit compote. Or bring fresh fruit.
What to drink is always a question. If you're planning a romantic picnic with wine, Malarkey advised a light red wine instead of white or a rosé, so you have a light summery wine that doesn't require chilling. (And, he added, make sure you know the local liquor laws before you bring alcohol to any location.) Want to skip the alcohol? Make an agua fresca, a flavorful fruit-forward blended drink, and add soft herbs like tarragon, basil or shiso. Depending on the sweetness of the fruit, you can enjoy it without additional sweeteners, but if they're needed, add honey or agave nectar.
Finally, all this terrific food needs to come together in a compelling package. First, Malarkey said, bring real silverware and utensils. It just makes for a nicer experience. And if you're worried about keeping food and drink cold, go shopping. There are all kinds of great contraptions, he said, to ensure the chill.
And don't put all your dishes into a sad shopping bag with handles. Go big! Malarkey is a wicker basket fan, and while he's selling them at Herb & Eatery so you can create your own picnics, he also suggested heading over to the antique shops in Ocean Beach and La Mesa to search out vintage wicker baskets.
"Baskets are the cutest part of the whole thing," he said. "They bring back nostalgia, fun and romance."
Golden is a San Diego freelance food writer and blogger.
Beet and Humboldt Fog Salad
Serves 1 to 2 people
2 large beets
½ cup cooked red quinoa
¼ red onion, julienned
3 cups mixed greens
4 ounces Humboldt Fog goat cheese (see note)
¼ cup candied walnuts (see note)
¼ cup red wine vinegar
½ cup canola or vegetable oil
Salt and pepper to taste
Put beets in a Pyrex dish with ½ cup water and cover with aluminum foil; cook the beets in the oven at 375 degrees for 1 hour. Let the beets cool and then peel the skins using paper towels. Cut each beet into 6 pieces or whatever size you prefer.
For the quinoa, bring 1 ½ cups salted water to a boil and cook quinoa for 14 minutes; drain and cool.
To assemble: Mix together the quinoa, red onion and greens. Top the salad with crumbled cheese and candied walnuts.
To make the vinaigrette whisk together the red wine vinegar and canola oil and season with salt and pepper. Reserve to take with you until ready to serve.
Note: The Humboldt Fog cheese and candied walnuts can be purchased at Whole Foods and other gourmet grocery markets or at Brian Malarkey's Herb & Eatery.

Recipe from chef Brian Malarkey.
S.D. Turkey Sandwich
Makes 1 sandwich
½ jalapeño, chopped, seeds removed
¼ cup mayonnaise
¼ avocado
1 tablespoon olive oil
Salt and pepper to taste
¼ medium red onion, julienned
¼ cup red wine vinegar
2 tablespoons sugar
1 torta roll
6 ounces oven roasted turkey
1 heirloom tomato
½ cup sprouts of your choice
To make the jalapeño aioli, mix the chopped jalapeño with the mayonnaise; reserve until ready to build the sandwich.
Crush ¼ avocado with a fork, add olive oil and season with salt and pepper to taste. Set aside.
For the pickled red onion, julienne ¼ of a medium red onion and set aside. In a small sauce pot combine the red wine vinegar and sugar and season with salt. Bring the vinegar mixture to a boil, then in a glass or nonreactive bowl combine vinegar mixture and julienned red onion. Let sit for 15 minutes or until the onions are soft. Reserve until ready to build the sandwich; these will keep covered in the refrigerator for up to 2 weeks.
To build the sandwich, spread the aioli on the bottom of the torta, add the turkey, followed by the tomato, red onion, then the sprouts. On the top of the bun, spread the crushed avocado and season with salt and pepper.
Recipe from chef Brian Malarkey.
Strawberry Agua Fresca
2 cups chopped fresh strawberries (preferably fresh Carlsbad berries)
3 cups filtered water
3 basil leaves
2 tablespoons honey
Remove the tops/greens from the strawberries and chop into manageable pieces. In a blender add all ingredients and blend on high for 20 seconds. Strain through a fine mesh strainer and chill until ready to serve.
Recipe from chef Brian Malarkey.
Sea Salted Chocolate Chip Cookies
Makes 6 dozen cookies
5 cups all-purpose flour
1½ teaspoons baking soda
2 teaspoons fine sea salt
1½ cups plus 2 tablespoons butter, at room temperature (65 degrees F)
1¼ cups granulated sugar
1¼ cups light brown sugar
4 large eggs, at room temperature
1½ teaspoons vanilla extract
3½ cups 64 percent L'Etoile du Bord E. Guittard Chocolate Pistoles/Chips (see notes)
Maldon Flaky Sea Salt, to taste (used as garnish; see notes)
Line 2 or 3 baking sheets with parchment baking paper.
Sift the flour, baking soda and sea salt together, set aside.
In a bowl of a stand mixer fitted with the paddle attachment, or a hand beater, cream the butter and sugars until light and fluffy on medium speed, about 4 to 5 minutes. Scrape down with a rubber spatula.
Add the eggs on medium speed one at a time; scrape down the bowl half way, continue mixing until combined. Add the vanilla extract.
Add the sifted dry ingredients one half at a time with the mixer on low speed. Be careful to not overmix the flour into the butter mixture. Add the chocolate and mix until combined.
Place the dough on a baking sheet (all of it) and refrigerate for at least 2 hours. Once chilled, take a portion of dough the size of your fist and knead until pliable. Roll the dough like a baguette into a log that's about 8 to 10 inches long (weighing 10 to 11 ounces). Roll each log of dough in parchment paper and freeze for 1 hour.
Preheat the oven to 350 degrees.
Cut the dough into ½-inch-thick slices using a serrated knife (cut straight down; do not saw at the dough).
Place 6 slices per baking sheet and bake for 7 minutes, rotate baking sheets 180 degrees and bake an additional 6 to 7 minutes. The center should be light but not wet and edges should be golden brown. Allow to cool onto sheet pan. Garnish with sea salt.
Notes: L'Etoile du Bord E. Guittard Chocolate can be found at Whole Foods, Sur la Table, Gelsons and some Ralphs and Vons stores. Maldon Flaky Sea Salt is available at Whole Foods and Sur La Table.
Recipe from Adrian Mendoza of Herb & Wood
---
Sign up for the Pacific Insider newsletter
PACIFIC magazine delivers the latest restaurant and bar openings, festivals and top concerts, every Tuesday.
You may occasionally receive promotional content from the Pacific San Diego.