Holey donuts: San Diego sounds off on favorites
Oscar Wilde once said, "The optimist sees the donut, the pessimist, the hole." By that rationale, we have a plethora of optimists in San Diego, as locals appear to love donuts as much as craft beer and fish tacos.
Descended from olykoeks, or "oily cakes," donuts were first introduced to America by Dutch settlers. However, it was Hanson Gregory in 1847 who claimed to invent the ring shaped donut aboard a ship after growing tired of the greasy character of the original.
Ever since, donuts (and their holes) have captured the American palate, with a bevy of artisan shops arising from the flour dust and handing veteran bakeries a sweet challenge.
PACIFIC teamed up with the gastronomes of Eating and Drinking in San Diego (EDSD) for a nail-biting battle to the finish for favorite donut shop in the county. It was a culinary showdown with plenty of drool-worthy options, making the most disciplined of dieters hanker for a sweet treat.
Here are the top five vote-getters:
Mary's Donuts
Taking top prize for favorite donut shop, Mary's in Santee wins the admiration of the most EDSD members for over 30 years of serving delectable donuts. Group member Christopher Henderson declared, "I'd sell a kidney for a fresh, hot, sweet and savory Maple Bacon Bar from Mary's Donuts. The balance of the chopped smoky bacon to the rich maple glaze is unparalleled. Yes, many donut shops have hopped on the maple bacon train, but nobody seems to be able to pull off the consistent greatness that this little mom and pop donut shop has for decades." Enough said.
8959 Carlton Hills Blvd, Santee, 619.749.2871, marysdonuts.com
Nomad Donuts
Fans love this shop for the unique variety of flavors, including chai, ube taro coconut (which member Sarah Ordene proclaimed "are the stuff dreams are made of") and the top-notch vegan options. In response to Henderson's vote for Mary's Maple Bacon Bar, fellow member Kari Helstern stated, "Find out when Nomad does their honey sesame ginger kimchi candied bacon donut!!! I'd give BOTH kidneys for that one."
3102 University Ave., North Park, 619.431.5000, nomaddonuts.com
Peterson's Donut Corner
One EDSD member Craig Rinehart loves this shop so much, he decided to have it at his wedding instead of cake, while voter Julie Sanders proclaimed, "the cronut changed my life." According to Leslie Koch, "When the raised donuts are fresh there's such a nice balance of a slight crisp and melt in mouth doughiness." Cue the craving.
903 S. Escondido Blvd., Escondido, 760.745.7774, petersonsdonutcorner.menutoeat.com
Rose Donuts
This dual-location shop on Linda Vista Road nabs fourth place, with EDSD members applauding the chocolate glazed with coconut, buttermilk old fashioned, red velvet and maple bar flavors.
Linda Vista: 5201 Linda Vista Rd., 619.294.8856 and 7612 Linda Vista Rd., 858.560.8452
VG Donut & Bakery
This North County classic had voters singing its praises, like the blueberry buttermilk bar, chocolate old fashioned, maple glazed, and the apple fritter. Member Robin Pennell loves the chocolate covered old fashioned, second bake, stating, "These donuts are not hipster, just old school and absolutely perfect in every way."
106 Aberdeen Dr., Cardiff, 760.753.2400, vgbakery.com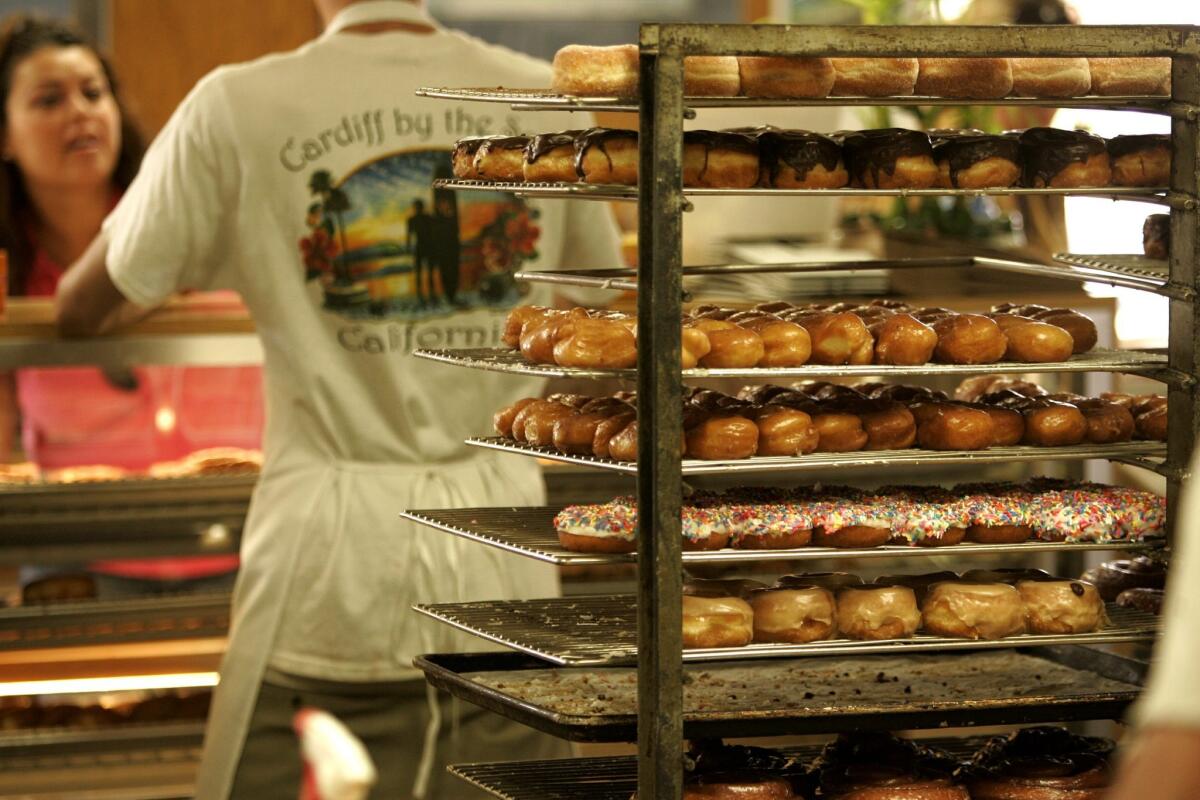 Rounding out the top 10 in spots six through 10 were: Donut Bar, Donut Star, Golden Donut, Star Dust Donut, and San Diego's Finest Donuts.
Sign up for the Pacific Insider newsletter
You may occasionally receive promotional content from the Pacific San Diego.