A dog lover's recipe for success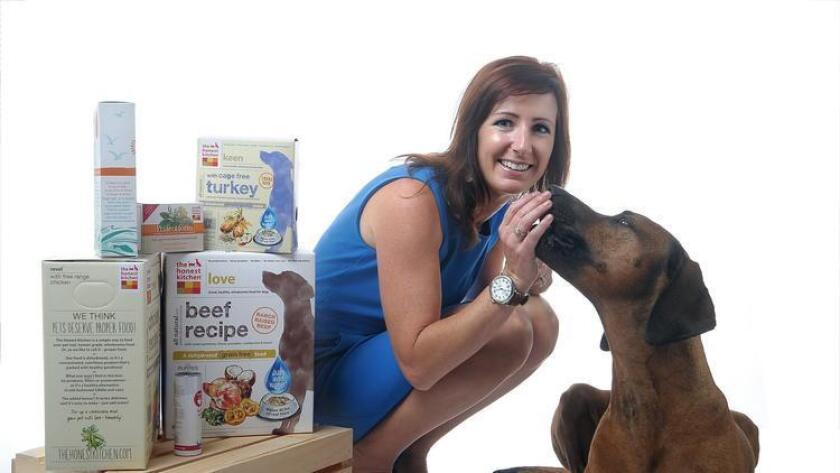 Consider Lucy Postins more than just a dog lover -- she is also a chef and a savvy business woman. A few years back, Lucy was making homemade raw meals for her dog who was facing some health issues. Her recipes were helping with his skin and his ears but she found the process extremely messy. So she came up with the incredible idea to dehydrate and remove the moisture from the whole food ingredients as a solution to the mess.
Realizing that there was nothing like this on the market, Postins found a human food facility that would help create the product. Her priority was making sure that the pet food had to be human grade to have the best possible quality. She started The Honest Kitchen in 2002 in Pacific Beach and has been creating healthy dehydrated pet foods ever since. Her organization is now 40 employees strong and working in a historic building in East Village. She is proud to mention that at least 14 dogs accompany workers every day and help oversee production.
Q: What was the inspiration behind Honest Kitchen?
A: I wanted to create a healthy, wholesome, honest-to-goodness product that people could really trust. Conventional pet food is heavily processed and contains lots of ingredients that we would never dream of eating ourselves. I think pets deserve better, and the recipe I first created for my own dog was the beginning of an amazing journey to where we are now - and there's so much blue sky ahead, too.
Q: Your favorite type of animal and why?
A: I'm torn on whether this answer is the horse or the dog. I'm fortunate to have both in my life. My Rhodesian ridgebacks are such great company; they can come across as slightly aloof to strangers and they're pretty strong-willed, but such tuned-in members of the family. I've been riding since age 5 and have three horses, including a rescued Thoroughbred former racehorse who's from Texas. I live for the time I can spend riding him in East County. The solitude of being out in the middle of nowhere and working with such a powerful animal to socialize him to 'civilian' life and build up his confidence has been a really great experience.
Q: Describe your perfect day in San Diego.
A: I actually really love coming to work! We're in a fantastic spot now with a great team of dedicated people and running the business is truly enjoyable. A perfect weekend day, however, probably starts with a hike with my family and dogs at one of our local trails. I'd head out to ride the horses with my two daughters and round off the evening with a family dinner at Beaumont's in our neighborhood of Birdrock.
Q: If you could be a superhero who would it be and why?
A: I never really had a thing for superheroes. I think it must have been my sheltered English rural upbringing. Our parents made us work in the garden too much so we never had time for TV or comics. Maybe I should try and correct that now that I'm living the American Dream.
Q: Best part about doing business in San Diego?
A: For starters, most of our vendors, customers and other business partners love an excuse to come here for meetings so I think it helps to keep the amount of business travel to a manageable level. It's super important to me that everyone at The Honest Kitchen enjoy a healthy work-life balance. One of our core values is being healthy, and of course the climate here really means we can be active and outdoors a lot. That's a huge benefit and something Charlie and I really notice, being natives of England.
Q: Explain the health benefits that come with shopping at The Honest Kitchen.
A: We do an annual benchmarking survey of our customers to track how we're doing as a company and to keep in tune with what they think of our products. One of the most incredible sections of the survey looks at health improvements that people see in their pets when they begin feeding our products. Last year, 77 percent saw improved general well being and energy levels, 80 percent saw an improvement in digestive problems, 78 percent saw improved skin and coat health and 42 percent saw an improvement in urinary tract or kidney issues. Good food really can be like medicine.
Q: Three things you would bring with you to a deserted island?
A: Homeoplasmine, which is a gorgeous French homeopathic skin and lip balm; some proper English Cadbury's chocolate, and my Rhodesian ridgeback Willow, who is feeling a bit left out after not being included in the photo shoot for this piece because Taro stole the limelight!
Amber Mesker is an entertainment and lifestyle reporter for DiscoverSD. She loves providing readers updates on Hollywood gossip, San Diego fashion and cool weekend events. You can follow Amber and laugh at her fun, crazy life at @ambermesker
Source: DiscoverSD
---
Sign up for the Pacific Insider newsletter
PACIFIC magazine delivers the latest restaurant and bar openings, festivals and top concerts, every Tuesday.
You may occasionally receive promotional content from the Pacific San Diego.