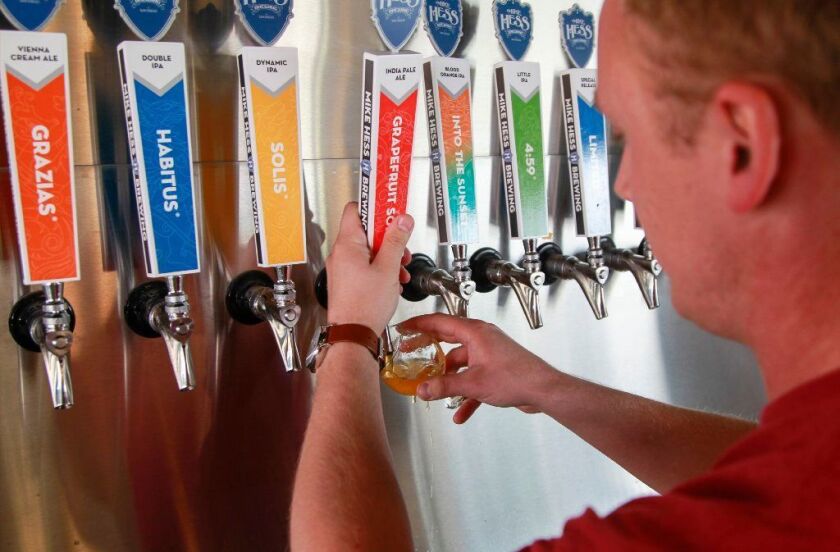 imperial beach —
Omar Flores and Leafar Delgado embarked on a bike ride last week that they had waited more than a year to undertake.
The ride itself was uneventful – it took the two contractors less than 10 minutes to complete. The destination is what made the event special.
The two Imperial Beach residents rode their bikes to a new Mike Hess Brewing that opened along Seacoast Drive over the weekend.
"We've been keeping tabs on it to see when it opens," Flores said.
He and Delgado used to go more than 26 miles to the Mike Hess Brewing in Miramar for a glass of Steel Beach, an "easy-drinking" American craft lager, according to the brewery's website.
To be clear, the two of them drove to Miramar. A bike ride from Imperial Beach is a bit too far.
"We're in shape, but we're not in that kind of shape," Delgado joked.
The brewery, which is still a work in progress, features a tap room, outdoor beer garden with picnic tables, a taco truck and a corn hole setup. The finished product will have an outdoor bar, commercial kitchen and a 60-foot deck with ocean views.
This is the company's fourth San Diego brewery. It is also the one closest to the beach, which was an important selling point for the brewery's owner, Mike Hess.
"My wife and I have a long history with San Diego beaches," Hess said. "We met on the dog beach in Coronado and we got married there 12 weeks later."
The new brewery is located between the Imperial Beach Pier and the Pier South hotel. It has beach access and is less than 200 feet from the sand.
San Diego has the best weather for drinking beer and the local craft beer scene lacks beach-side breweries. Hess said this will be the largest beach-side brewery in the county.
"There will be nothing like it in San Diego," he said.
The fact that Imperial Beach is a bit more isolated than some of San Diego's other beaches makes the place more appealing, Hess added.
"I personally love the fact that IB is not on the beaten path," he said. "I like that IB is a purposeful place to visit. I think that's part of the charm."
The brewery opened during a rainy weekend in Imperial Beach but still managed to attract a crowd. Hess didn't anticipate so much foot traffic. The brewery was busy despite the rain, he said.
On an afternoon last week, more than a dozen people sat outside at the picnic tables and drank beer. Several, like Flores and Delgado, rode their bikes to the brewery and a few even brought their dogs.
The new brewery also caught the attention of Valerie Acevez, the president of the Chamber of Commerce who unsuccessfully ran for mayor last year.
"I think it's a good fit for the city," she said. "I mean, you're in-between the pier and the hotel. You can't beat this spot."
---