Beer community steps up for girl with cancer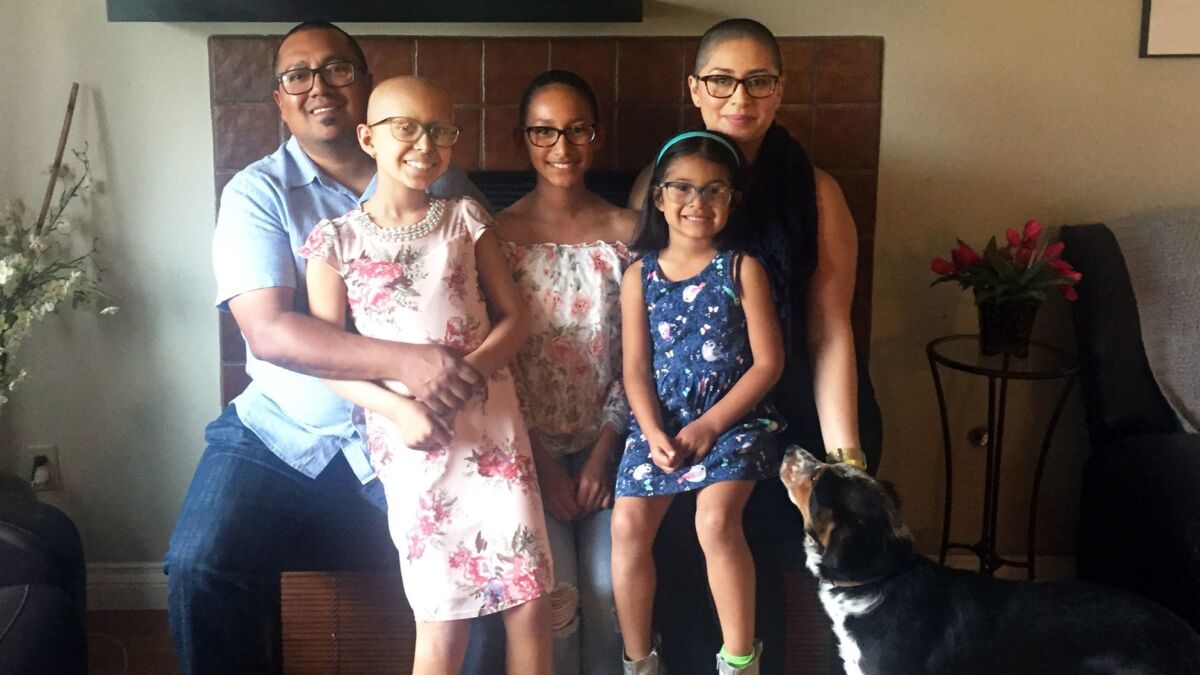 Rancho Penasquitos —
Beginning today, beer drinkers around the county can raise a glass for Sarah Loza, a 9-year-old Rancho Peñasquitos girl battling cancer.
This afternoon, 15 local bars and restaurants will tap kegs of #cheers4sarah, a session IPA beer that could raise as much as $9,000 for the family of Miguel Loza Brown and Maribel Loza. The money will go toward Sarah's medical bills.
On Oct. 10, the Deer Canyon Elementary fourth-grader was diagnosed with stage 4 Burkitt's lymphoma. In the months since, she has undergone an extreme regimen of chemotherapy in a St. Jude's Children's Research Hospital-sponsored clinical trial that has fortunately pushed her cancer into remission.
#Cheers4sarah is the latest outpouring of support for the family by San Diego brewers. Loza Brown is a much-loved member of San Diego's QUAFF, a 400-member homebrewers club named Quality Ale and Fermentation Fraternity.
Nick Corona, a QUAFF member who spearheaded the #cheers4sarah campaign, said this is the first time the club has done a project like this, and it couldn't help a nicer guy.
"When I met Miguel, it only took me a short time to recognize he's one of the most modest, kind and humble individuals I've ever known," Corona said. "The way the community came together for his family … it's a lovely thing."
Loza Brown, 41, and his wife, Maribel, 37, have three daughters: Ariana, 13; Sarah, 9; and Julieta, 5. He has worked for the past 20 years as a network project manager for AT&T. She ran a home daycare business for 12 years, until Sarah got sick.
For nearly a year before her diagnosis, Sarah was experiencing shock-like pains in her forehead, aches in her arms, legs and jaws, and seizures. Doctors misdiagnosed it as growing pains, epilepsy and dental problems.
By the time Sarah got a full body MRI on Oct. 5, there were tumors in her abdomen, legs, arms, cheeks, neck and behind her eyes.
Because the disease was so widespread and close to her brain, Sarah was immediately put on an aggressive chemotherapy program of eight to 11 drugs, 24 hours a day for 14 days a month. Although it killed off the active tumors, it may have done irreversible damage to her heart, lungs, brain and other organs.
Maribel said her daughter has been strong and positive throughout her treatment, which is now in the maintenance phase. One reason is Sarah's strong Christian faith. Another is the preparation she had last year when Maribel's cancer-stricken mom spent the last three weeks of her life on hospice in their home.
"She taught the girls how to be strong," Maribel said. "I don't know how we would've gotten through this as a family if she hadn't prepared them."
In October, one of Sarah's aunts started a Gofundme campaign ("Sarah's Miracle"), which has raised nearly $20,000. And the beer community has stepped up in a big way.
In mid-January, Brian Trout and Roleur Brewing in Carlsbad released a golden ale called "Cancer Fighter" that raised $2,100 for the campaign. That same week, Savagewood Brewing Co. in San Diego raised $600 with "Oh, Sweet!" an IPA that Sarah named herself.
But the biggest collaboration was yet to come.
Loza Brown is a five-year member of QUAFF, and he serves on the board for the craft beer-making program at San Diego State University.
He got serious about homebrewing in 2012, when he planted his own hops farm in Mexico's Valle de Guadalupe. A few years ago, he also launched a homebrew club in his native Ensenada. Last year, he was invited to speak about Baja's fast-growing homebrew community at 2017 Homebrew Con, a national homebrew conference in Minneapolis.
Verona said it was a "no-brainer" when the QUAFF membership voted to surprise Loza Brown's family with the #cheers4sarah brew.
In 2017, QUAFF was named the National Homebrew Club of the Year, a prize that came with a year's supply of malt. It didn't make sense to divide the small amount of grain among so many members, so instead they decided as a group to use the malt for a special cause.
Vista's Indian Joe Brewing offered its brewery space for free as well as some hops, and Savagewood, The Lost Abbey and Green Flash Brewing threw in some additional hops. The beer was brewed on Feb. 13.
Over the past week, Loza Brown has been driving the kegs around to various locations that will sell the beer. They include Indian Joe Brewing in Vista; Notorious Burgers in Carlsbad; Next Door Craft Beer & Winebar in La Mesa; Hoboken Pizza & Beer Joint in Pacific Beach; Brazil by the Bay in the Midway district; The Ugly Dog Pub in Rolando; Draft Republic in La Jolla and Carlsbad; Cocina del Charro and Old California Mining Co. in San Marcos; Monkey Paw Brewing in East Village; Whisknladle Bistro, Catania Italian Restaurant and Bella Vista Social Club in La Jolla; Phileas Foggs Bar in Poway; and Provisions Market in Orange.
Still to come is a party to celebrate Sarah's remission from 1 to 5 p.m. March 17 at Second Chance Beer Co., 15378 Avenue of Science, No. 222, San Diego. Organized by Joey Jubran of Hoppy Beer Gear, the event will raise money through sales of beer and custom-made "Remission Accomplished" T-shirts and hoodies. More details are available at sarahsmiracle.com.
Maribel is also organizing a bake sale that afternoon to help the family give back to the community for all the kindness they've received, including a meal train organized by neighbors.
With pro bono help from HechtSolberg law firm, the Loza Browns are launching a nonprofit called Chat With Friends, which will supply free walkie-talkies to children in isolation in hospital oncology wards.
When Sarah was undergoing treatment last fall, her immunity to germs was so suppressed that she couldn't leave her hospital room for weeks at a time. Maribel bought her a set of walkie-talkies to talk with other shut-in children on the ward at Rady Children's Hospital.
It was such a boost to her spirits that Maribel has since purchased a dozen more walkie-talkies and donated them to the hospital. She would like to offer the same for children's hospitals everywhere.
Loza Brown said he was raised to never take charity from others, so accepting the gifts of meals, beer and donations has been humbling.
"It's been hard," he said. "I've tried to thank everyone, but maybe I've missed some. The community has been so kind and generous to us, we just want to give back.
#cheers4sarah will be available March 10 at:
Indian Joe Brewing, 2123 Industrial Ct. Vista.
Notorious Burgers, 6955 El Camino Real Suite 107, Carlsbad.
Next Door Craft Beer & Winebar, 7235 El Cajon Blvd., San Diego
Hoboken Pizza & Beer Joint, 1459 Garnet Ave., Pacific Beach
Brazil by the Bay, 3676 Kurtz St., San Diego
The Ugly Dog Pub, 6344 El Cajon Blvd. San Diego
Draft Republi, 4282 Esplanade Ct., La Jolla
Draft Republic, 5958 Avenida Encinas Carlsbad
Cocina Del Charro, 1020 W San Marcos Blvd. #50, San Marcos
Monkey Paw Brewing, 805 16th Street, San Diego
Whisknladle Bistro & Bar, 1044 Wall St. La Jolla
Catania Italian Restaurant, 7863 Girard Ave. #301, La Jolla
Old California Mining Co., 1020 W. San Marcos Blvd., #118, San Marcos
Phileas Foggs Bar & Restaurant, 11385 Poway Road, Poway
Bella Vista Social Club & Caffe, 2880 Torrey Pines Scenic Drive, La Jolla
Provisions Market, 143 N Glassel St., Orange.
Sign up for the Pacific Insider newsletter
PACIFIC magazine delivers the latest restaurant and bar openings, festivals and top concerts, every Tuesday.
You may occasionally receive promotional content from the Pacific San Diego.