Tijuana brewery's Migrante beer raises funds for deportees
TIJUANA —
Tijuana's newest draft beer is called Migrante, and supplies of the light-bodied IPA with a hint of citrus have been running out fast.
Produced by Cervecería Insurgente, the beer is being sold as a fundraiser for Tijuana's sizable population of deportees, many of whom have struggled to adjust to life back in Mexico after years of living in the United States.
"The whole point is to spread awareness," said Iván Morales, co-founder with his brother Damian of the eight-year-old Insurgente craft brewery. "Migration is such an essential part of what Tijuana is, and what the people of Tijuana are."
Insurgente released Migrante on March 1, selling the beer at its tap room at Tijuana's Plaza Fiesta, and through nine fellow breweries that are supporting the effort.
"There were several places that ran out of that keg on the first day," Morales said. "It was very satisfying to see people respond."
Migrante beer is part of Insurgente's larger vision aimed at supporting events that "promote conversation or a dialogue about migration," Morales said. "We want to start this conversation, especially given the political climate between Mexico and the U.S.," he said. "The beer is just the first phase of this project."
One of the two beneficiaries is a documentary project that has focused on the plight of homeless deportees. Sociologist Juan Antonio del Monte has been working with Mexico City-based filmmakers to portray the daily lives of a group living near the U.S. border fence in Cañon del Matadero.
"The idea is to bring visibility to this issue that many times is invisible on the streets of Tijuana," del Monte said. "Everybody knows it exists, but nobody talks about it."
The other group to benefit is Fundación Gaia, a non-profit organization that works with homeless deportees through a project known as Proyecto Albo. In May, the group is preparing to open a center near the border to orient newly arrived deportees.
Founder Darinka Carballo said the aim is to open a job bank that could find them employment so they don't end up without support.
"Our proposal is to prevent these people from becoming part of the homeless population living on the streets of Tijuana," she said.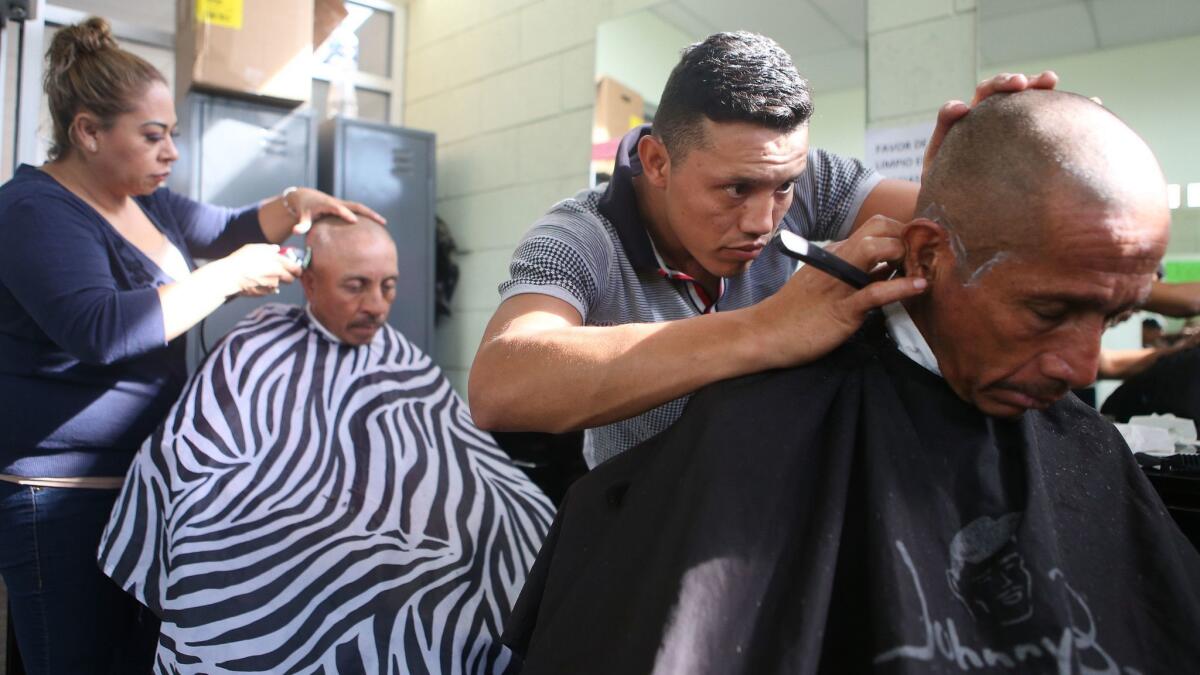 Since the Morales brothers in 2010 began brewing on a balcony of their mother's apartment in Tijuana's Río Zone, Insurgente has grown into one of the higher-profile breweries in the city. They are joined by dozens of brewers who are helping put Tijuana on the map as a leading center for craft beer production in Mexico.
This most recent release of Migrante beer follows a smaller effort by Insurgente in 2016 to raise funds for an unprecedented wave of Haitian migrants hoping to enter the United States, many of whom ended up stranded at the Tijuana border. Insurgente set aside three kegs of beer, sold it by the glass and used the proceeds to purchase food, toothbrushes, shampoo and other supplies for a church shelter in Tijuana's Cañon del Alacrán.
This year, Insurgente produced two dozen kegs of Migrante, capping the price at 50 pesos, or $2.75 for a 16-ounce glass, to make it affordable.
"We tried to make it with a lot of flavor, but also be light and drinkable," Morales said. "We wanted people to actually buy it."
Morales said he expects to raise $6,000 to $7,000 through the sales of Migrante.
Morales said he plans to brew Migrante once a year, and in a limited quantity. But Insurgente's vision is to also find other ways to help raise awareness about migration, by collaborating with cultural venues like Cine Tonalá on Avenida Revolución, or working with academic institutions such as the Colegio de la Frontera Norte.
"It's not about the beer," Morales said. "It's about us using the platform that we have and making an impact on our community."
Amid the labyrinth of small tap rooms in Plaza Fiesta, Insurgente was doing a brisk business one recent night, with patrons chatting over tall glasses of brews with names that include La Lupulosa, Tiniebla, Juan Cordero, A Toda Madre and Rompeolas. At the bottom left-hand corner: Migrante.
"In Tijuana, we are all migrants," said Juan José Quezada, seated at the bar. Quezada is co-founder of Mamut Brewery, which collaborated in the Migrante beer sales.
The Migrante beer, he mused, "is very Californian, very San Diegan — the sun, the caress of the waves, the sand. It speaks of a dream, something utopic, that in the end doesn't exist."
sandra.dibble@sduniontribune.com
Sign up for the Pacific Insider newsletter
You may occasionally receive promotional content from the Pacific San Diego.