For San Diego beer, stockings stuffed full of good news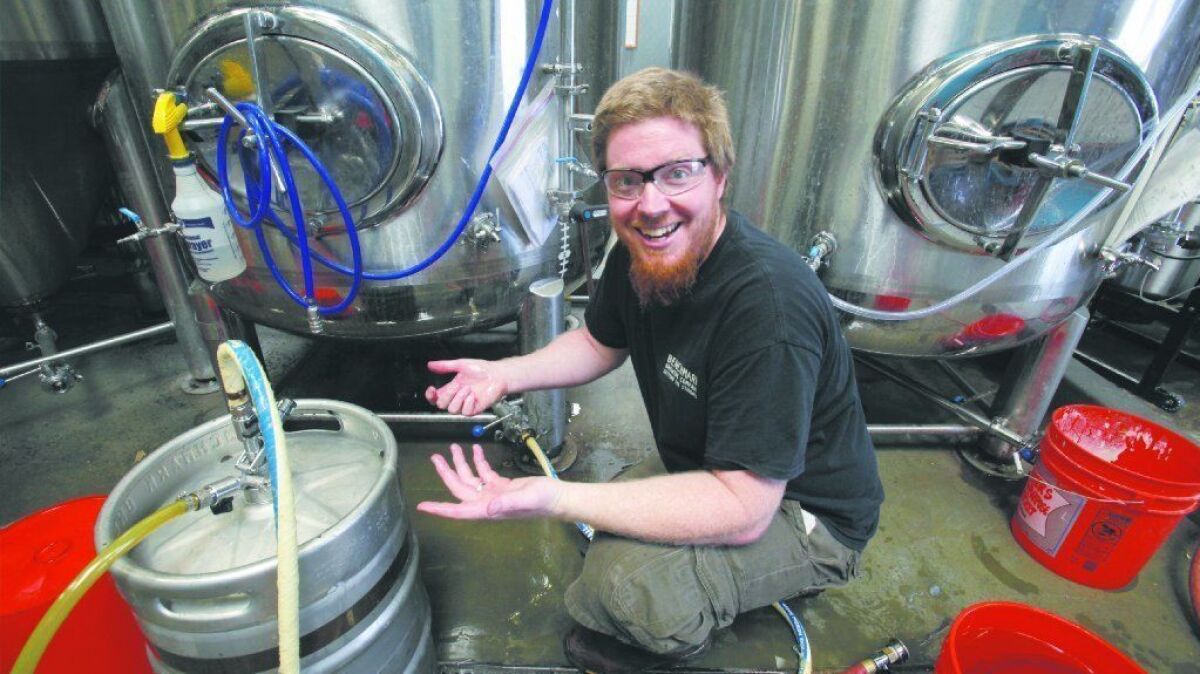 In the spirit of the season, let's banish all Scrooge-ian bah-humbuggery and focus on the good stuff.
As Tiny Tim probably said, "God bless us everyone, and bottoms up!"
Stave One: A Reprieve
Two weeks ago, Benchmark was circling the drain, after financial setbacks left it in imminent danger of closing.
.And now?
"We are making beer, we are selling beer, we are acting as if everything is normal," said co-owner Rachael Akin. "We are definitely in a precarious position, but I have hope we are going to work this out."
Last week, two publicans — Small Bar's Karen Barnett and Matt Cieslak, owner of Chula Vista's the Elwood and the Manhattan Bar — organized a one-night fundraiser, urging bars to feature Benchmark beers on Dec. 11.
More than 20 did, ordering more than 1,300 gallons from the little brewery. In Benchmark's five-year history, it was the single best day of sales.
While the brewery and its landlord are working out a better financial arrangement, Benchmark continues to boom. Matt Akin, Rachael's partner in life and business, is frantically brewing to keep up with demand.
"Stocks are low but we are working hard to replenish," she said. "Folks are coming in and buying beer by the case."
Stave Two: Suds Samaritans
'Tis the season of giving, and breweries across the nation — including more than a dozen in San Diego County — are giving to fire relief campaigns.
Chico's Sierra Nevada urged breweries to make "Resilience IPA," then donate all proceeds from this beer's sales to wildfire assistance.
Some local participants — including Societe, Burgeon, Mike Hess, Fall, Rock Bottom La Jolla and Savagewood — have already tapped their Resilience. Still to come:
Stone: Today.
Thorn: Today.
Mikkeller Brewing San Diego: Friday.
Green Flash: Friday.
Karl Strauss: Friday.
Second Chance: Saturday.
Pure Project: Dec. 27.
AleSmith: first week of January.
Home: Feb. 1.
Stave Three: Dousing the Flames
Saint Archer's wildfire relief effort features its California Strong (8.4 percent alcohol by volume), now on tap at the brewery's Miramar headquarters and Leucadia tasting room.
All proceeds will be donated to the California Fire Foundation.
Stave Four: A Happy Experiment
Second Chance co-owner Marty Mendiola enjoys making barrel-aged beers, but he feels positively Scrooge-like about bottling techniques that lost beer to spillage and exposure to the air.
"The amount of waste is just sickening," he said. "You'd see 30, 40 gallons of barrel-aged beer go down the drain."
The solution? Hand-bottle beer from a small batch, just one or two barrels.
The debut of Second Chance's "Barrel Experience" — 80 bottles of "Journey #1: S'Mores," an imperial stout aged 22 months in bourbon barrels and spiked with cocoa nibs, vanilla beans, lactose, Graham crackers and cinnamon — sold out last Saturday.
Missed the sale? Mendiola anticipates Journey #2 — perhaps a macaroon stout? — will be available in January.
Stave Five: Party like Fezziwig
To quote Fezziwig, "Chirrup!" On Dec. 31, a new year will be launched at beer-centric festivities across the county.
Project Bar & Grill, 3683 5th Ave., San Diego. Hosted bar offers beer, spirits, wine and champagne, plus a full buffet. $50. 9 p.m. to 2 a.m.
AleSmith's Second Annual New Year's Eve Hop Drop, 9990 AleSmith Court, San Diego. Dancing and a $20 holiday beer flight (four beers plus an IPA toast) or a $75 buffet dinner and wide range of brews. East Coast NYE toast at 9 p.m.
Kilowatt's Second Annual Ball Drop, 1875 Cable St., San Diego. An Eastern NYE toast at 9 p.m. No cover, festivities run from noon to 10 p.m.
32 North, 8655 Production Ave. Suite A, San Diego. Beer specials, wine, food trucks and a champagne toast. 8 to 11:59 p.m.
Stone is throwing two parties:
1. Craft Beer New Year, 1999 Citracado Parkway, Escondido. A la carte chef's menu, 4 to 10 p.m., plus beer specials, 11 a.m. to 1 a.m. No cover. Reservations are recommended and can be made at (760) 294-7899.
2. Brewer's bash, 2816 Historic Decatur Road, #116, San Diego, $99. Tickets include light bites, three draft beers or house wines, dancing, live music, cigar lounge, midnight toast with souvenir glass.
Stave Six: Kings of Beer
Karl Strauss' golden stout, 9 Bonfires Blazing (7.5 percent alcohol by volume), has stout aromas (sweet coffee) and flavors (Italian roast, half and half, a touch of alcoholic heat).
But that golden glow? It's like hearing E.T. say "Phone home" in James Earl Jones' rumbling baritone.
Nothing wrong with that, or 9 Bonfires, but I'd enjoy it more blindfolded.
Stave Seven: Final Festive Words
"There were more dances, and there were forfeits, and more dances, and there was cake, and there was negus, and there was a great piece of Cold Roast, and there was a great piece of Cold Boiled, and there were mince-pies, and plenty of beer." Fezziwig's party in Charles Dickens' "A Christmas Carol" (1847).
Twitter: @peterroweut
Sign up for the Pacific Insider newsletter
PACIFIC magazine delivers the latest restaurant and bar openings, festivals and top concerts, every Tuesday.
You may occasionally receive promotional content from the Pacific San Diego.