Is your favorite San Diego IPA part of our contest's Final Four?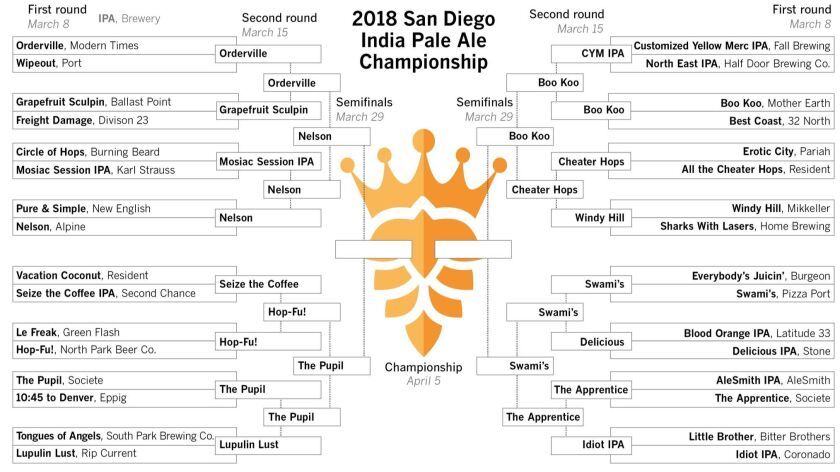 Clash of Titans
And then there were four.
Starting with 32 hopefuls, our San Diego IPA March Madness competition has been whittled down to four beers engaged in two epic battles: Alpine's Nelson v. Societe's The Pupil, and Mother Earth's Boo Koo v. Pizza Port Swami's.
Polls are now open. You can vote until midnight Sunday at the Union-Tribune's Twitter page, @sdut, or online at peter.rowe@sduniontribune.com.
San Diego is known for bold, assertive, delicious India Pale Ales. But which of these four standouts will be known as the greatest local exemplar of this great beer style?
Boo Koo by @MotherEarthBrew vs. Swami's by @PizzaPortBeer

— San Diego Union-Tribune (@sdut) March 29, 2018
Nelson by @AlpineBeerCo vs. The Pupil from @SocieteBrewing

— San Diego Union-Tribune (@sdut) March 29, 2018
Kings of Beer
What's your tolerance for funk? I'm not referring to the musical genre — long may you wave, Bootsy Collins! — but the distinctive earthy, sharp, sour flavors and aromas found in wild ales. For a current example, pop open a bottle of Avarice Dekkera (6.8 percent alcohol by volume), a wild ale from North Park's Pariah.
My bottle, which was dated last Nov. 25, was bone dry and acidic, with wood, blue cheese and tart berry flavors emerging from the funk. This is a "wild ale" because it was fermented with yeast falling from the air — in this case, the air around a Bougainvillea plant in the backyard of the brewery's founder.
Pariah took a gamble with Avarice Dekkera, and to reward this bold move I'm bestowing this week's crown on this daring-to-be-different beer. Unlike pilsners or pale ales, wild ales are not straight-forward crowd-pleasers. Flavors zig and zag, taking unexpected detours — horse blanket? — but arrive at a joyful, rewarding destination.
Last week's King, Bitter Brothers Golden Child (5.2 percent) is a mellow hefeweizen with a splash of California lemon juice adding unexpected zest to the clove-and-banana notes ordinarily found in this Bavarian style. Wouldn't life be dull without surprises?
Best of the Week, Local
If, like me, you were you too late to score tickets to Burning Beard's second anniversary party, here's a fallback: Pony up $10 to attend Rouleur's first anniversary party, noon to 8 p.m. Saturday at the brewery, 5840 El Camino Real, Suite 101, Carlsbad.
Admission includes a souvenir glass and one ticket for the raffle. Beer and food are extra. Keep an eye out for Rouleur's anniversary offering, a New England-style double IPAs, debuting here in cans.
Tickets can be bought at bit.ly/rouleur1st.
Closing and Opening
See if you can untangle these threads:
By summer, Miramar's Council Brewing will open a Santee brewery and tasting room at 9962 Prospect Ave., Suite E...
Which was the home of the now-defunct Finest Made Ales…
Which was founded as Butcher's Brewing…
Which succeeded in that same spot the now-defunct Twisted Manzanita Ales…
Which had been founded as Manzanita Brewing.
That's one location, three breweries, five names and a fresh opportunity for Liz and Curtis Chism, Council's husband and wife owners. I sincerely hope they enjoy many years of prosperous brewing in a spot that has attracted — and foiled — numerous other brewers.
Twitter: @peterroweut
---
Sign up for the Pacific Insider newsletter
PACIFIC magazine delivers the latest restaurant and bar openings, festivals and top concerts, every Tuesday.
You may occasionally receive promotional content from the Pacific San Diego.