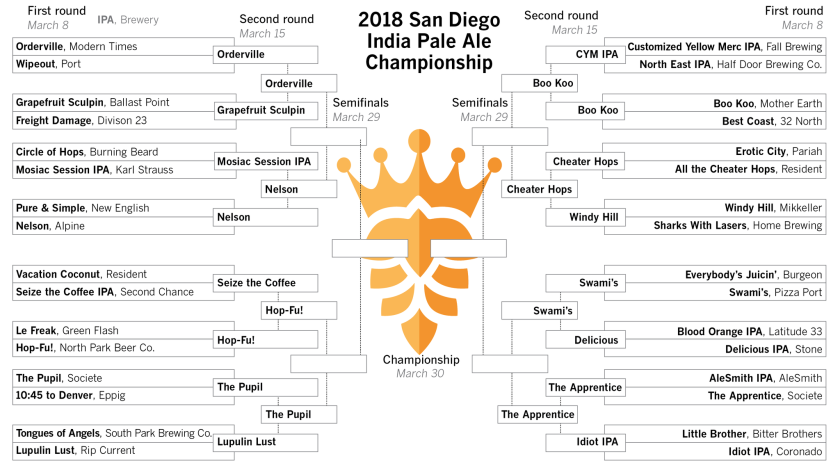 Elite Eight
And your favorite local IPA is…
The March Madness Mash Tun, a contest overseen by Union-Tribune data reporter Daniel Wheaton and myself, is racing toward its Final Four. Readers have already winnowed the field from the original 32 to today's Elite Eight, with upsets — farewell, Stone Delicious! adios, Grapefruit Sculpin! — adding spice to this hop-forward competition.
From 10 a.m. today to midnight Sunday, you can cast your at the San Diego Union-Tribune's Twitter page or by emailing your picks to peter.rowe@sduniontribune.com.
Now, let's start voting: @ModernTimesBeer Orderville vs. Alpine Nelson @AlpineBeerCo

— San Diego Union-Tribune (@sdut) March 22, 2018
Kings of Beer
Even the most avid IPA fan sometimes wants something smoother and gentler. One enticing option: Bitter Brothers Golden Child (5.2 percent alcohol by volume).
The San Diego brewery markets this beer as a Bavarian-style hefeweizen, but this German has a mellow SoCal soul. While you'll taste the traditional banana and clove notes, there's also a zingy layer of lemon zest. Malted wheat softens the mouthfeel and Champagne-like bubbles make this a relaxed brew that shines with food.
Golden Children being over-achievers, it was probably inevitable that this beer would become King. Like its predecessor, Dorothy's New World Lager (5.5 percent) from Iowa's Toppling Goliath, Golden Child proves that fizzy yellow beers can be interesting and rewarding.
Three Fates
Scanning the Brewers Association's recently released annual rankings of the nation's top 50 breweries, this much was clear:
For San Diego County's largest three breweries, 2017 was a good, bad and middling year.
Good: Stone, in 2016 the nation's ninth largest craft brewery, rose to eighth place. The Escondido-based company was lifted by a popular new beer, Ripper, and the first full year of production at its Richmond, Va., and Berlin breweries.
Bad: Few would be surprised to learn that 2017 was Green Flash's annus horribilis. Last December, co-founder Mike Hinkley announced the Mira Mesa brewery was retiring four poorly-selling beers. In January, 15 percent of the company's workforce — 33 people — were laid off as the Flash abandoned plans to sell beer in all 50 states to focus on its strongest markets.
In other words, Green Flash fell from 37th to 43rd place.
Middling: Karl Strauss, the county's oldest brewery, held steady at 41st place. This could be regarded as a victory — '17 was not a good year for beer sales — or perhaps a reflection of Karl Strauss' cautious decision to sell exclusively in California.
Top 10
The country's 10 largest craft breweries in 2017, and their respective rankings in 2016:
1. D.G. Yuengling & Son, Pottsville, Penn. (1st in 2016)
2. Boston Beer Co., Boston. (2nd)
3. Sierra Nevada Brewing Co., Chico. (3rd)
4. New Belgium Brewing Co., Fort Collins, Colo. (4th)
5. Duvel Mortgaat, Paso Robles; Kansas City, Mo.; and Cooperstown, N.Y. (6th)
6. Gambrinus, San Antonio, Tex.; Berkeley; and Portland, Ore. (5th)
7. Bell's Brewery, Inc., Comstock, Mich. (7th)
8. Stone Brewing Co., Escondido. (9th)
9. CANarchy, Longmont, Colo.; Tampa; Salt Lake City; and Comstock Park, Mich. (A new company, CANarchy's brands include Oskar Blues, 10th last year.)
10. Deschutes Brewery, Bend, Ore. (8th)
Twitter: @peterroweut
---