Sweet 16: Cast your votes for San Diego's best IPAs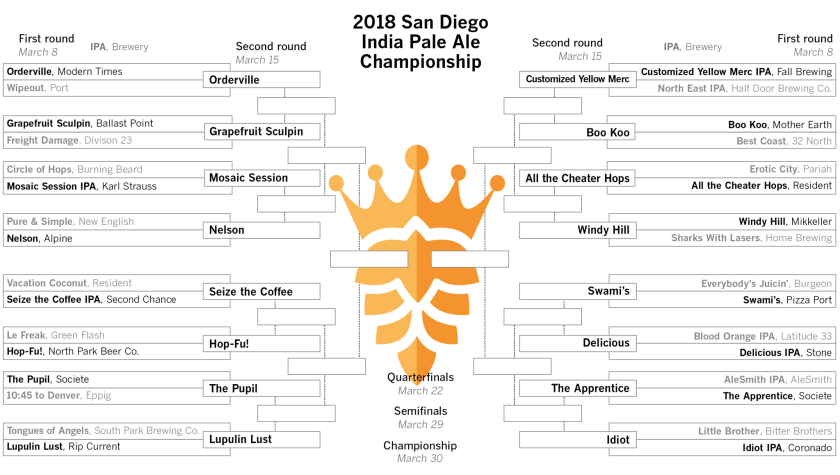 Round II
If your favorite San Diego IPAs survived the first round of Brewery Rowe's March Madness Mash Tun, congratulations — and get back to work! We need your votes in the second round of this contest hosted by yours truly and Union-Tribune data-and-beer expert Daniel Wheaton.
Instructions: Check out the Sweet 16 survivors, then follow the link below to The San Diego Union-Tribune's Twitter account. You can vote until midnight Sunday.
Now, let's start voting: @ModernTimesBeer Orderville vs. @BallastPoint Grapefruit Sculpin

— San Diego Union-Tribune (@sdut) March 15, 2018
Click through to see all of the polls.
Vote weekly as we winnow down the Elite Eight (March 22) and Final Four (March 29). We'll announce the victorious beer on March 30. Readers who choose the final four beers and ultimate winner will be entered into a raffle to quaff a pint with the Day Drinkers, Wheaton and me.
Good luck and may the best beer win!
Kings of Beer
Decorah, Iowa, is known — if known at all — for its trout fishing streams, Norwegian-American Museum and Toppling Goliath, the town's brewery. For nine years, tiny Toppling has been knocking down Iowa's image as a craft-beer-free zone.
Toppling's flagship beer is Dorothy's New World Lager (5.5 percent alcohol by volume). Named for the founder's grandmother, Dorothy is the color of spring sunshine and tastes like a day at the beach. Light-bodied, it smacks of lightly-toasted bread, lemon curd and just a hint of spicy hops.
Dorothy is this week's King, because a.) I'm over-eager for spring and b.) this is the sort of smartly-crafted, easy drinking beer that I grab while watching a baseball game.
Dorothy succeeds last week's King, Relax (It's Just a Hazy IPA) from Offshoot Beer. That fruit-forward ale is so laid-back, it may not even notice that it's been dethroned.
Luck o' the Chinese, Chileans…
Everyone may be Irish on St. Patrick's Day — that's Saturday, in case you forgot — but not every beer is Ireland-bound. I asked several San Diego breweries: where in the world are your beers especially popular?
Canada: For Coronado, Guava Islander is hot in British Columbia. "We don't have a large amount of fruit IPAs in our portfolio but the ones we do sell well," said Sara Gill, Coronado's distributor in Vancouver.
Chile: "IPAs and Belgian strong ales are what sell the most as a category," said Perry Hirsch, who distributes Coronado beers in Santiago, Chile. "And even though IPAs aren't to everyone's liking, it's what really stands out and makes American craft beer unique to the foreign consumer who does get into good beer."
China: Stone's biggest hit in Beijing and Shanghai? "Stone IPA, possibly because we lead with that," said Steve Wagner, Stone's president and co-founder. "There is definitely an appreciation of the more tropical IPAs, though, as Vengeful Spirit also did well."
Germany: For Stone, its IPA is the top seller, then Arrogant Bastard and Stone Go to IPA. "However," Wagner said, "both Stone Berliner Weisse and Stone Ripper were introduced fairly recently and early indications are that they will be both be top three by the end of this year."
United Kingdom: Mike Hess Grapefruit Solis is strong in the U.K. – and beyond. "That beer has translated to every one of our markets," said Lynda Hess, the brewery's chief operating officer. "There's something about the fruit in it that wins people over."
Words to Drink By
"The sun was going down. I walked, after a few cold beers, to the edge of town, and it was a long walk." — Jack Kerouac starts his travels in the 1957 novel/memoir, "On the Road." Kerouac, who died in 1969, would have been 96 on Tuesday.
Twitter: @peterroweut
---
Sign up for the Pacific Insider newsletter
PACIFIC magazine delivers the latest restaurant and bar openings, festivals and top concerts, every Tuesday.
You may occasionally receive promotional content from the Pacific San Diego.