Telling it like it is at Toronado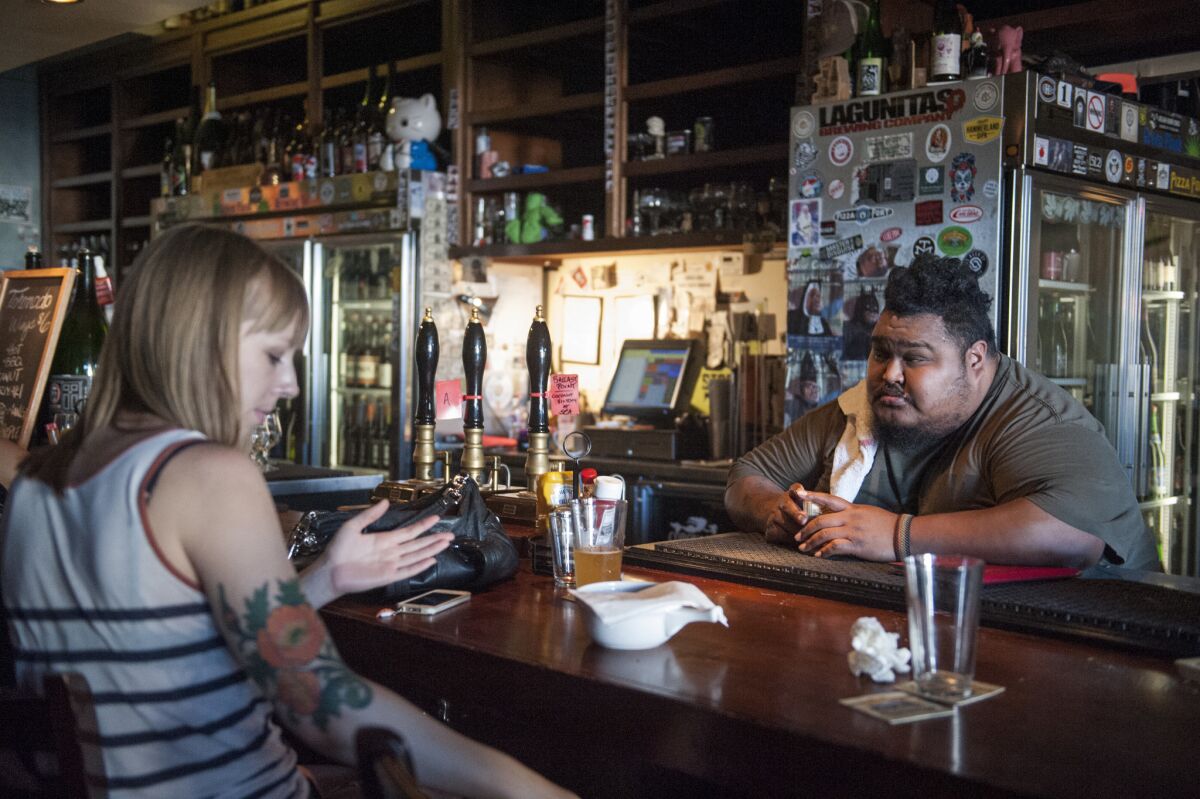 Nate Soroko is forthright, knowledgeable, hilarious and immensely popular for it. Besides being an all around rad dude, he's tended bar at vanguard local craft beer establishments over the last decade, like the now defunct Liar's Club, and has seen the evolution of the brewing community first hand, including its impact on San Diego's food scene.
Craft beer enthusiasts travel from near and far to sit where Soroko now tends bar - Toronado North Park, where he also organizes regular beer brunch events with primo guest chefs, pairing each course himself; or at Modern Times Lomaland. Across the board, Soroko's recommendations are trusted, because he's honest, and doesn't let his personal tastes stand in the way of what someone else might dig.
"I'll tell people all the time 'I don't like that beer' - and what I don't like about it, that others do, and, offer them a sample," he said. "Look, if I said I loved every beer we have (at Toronado and Lomaland], then when I tell you a beer's really great, it means nothing."
For a couple of years now, Soroko - whom I've only met in person a handful of times - has regularly tipped me off to some of the most killer food that you've read about in DiscoverSD's pages. He's never asked for any kind of credit, a meal on me - nothing. We've formed a bond for which I'm grateful, based our shared passion of rooting for the underdog. I trust him, and so should you.
"Not that I hate on The Patio Group or Consortium Holdings or anyone for being successful, but I don't see any reason why Juniper & Ivy should be any more well known than a place like The Cork and Craft ... Especially with that caliber of food, and they're making their own beer and wine," he said.
"It's cool to give the smaller restaurants that don't have the big public relations firms a voice - and I find the people who seek out good beer are also seeking out good food."
According to Soroko, long gone are the days when you could get away with serving bad food at your craft beer pub. He points to places such as Ballast Point, Tiger! Tiger!, Brothers Provisions and South Park Brewing Co. for thinking outside of the box with their food offerings, and not just serving up more salty, fried stuff.
But that's not to say Soroko isn't down to get nasty, which is another reason why I'm dedicating this column to his selfless ambassadorship of all things awesomely delicious in San Diego. He cares about great tasting food whether it's haute cuisine made by chef Chris Osborne from Cowboy Star during one of Toronado's beer brunches, or a bag of greasy egg rolls from A'Chau in City Heights. Nate's also a regular at Empire House, and Cantina Mayahuel; he also digs Churchill's Pub & Grill in San Marcos, and said he was most recently blown away by the vegan food and drink at the brand new Kindred in South Park.
"I think people are going more toward comfort food," said Soroko, who hears all kinds of industry gossip from behind the bar - from trends to who's about to get fired to new opens and closures. "There isn't as much kale on menus now, and a lot more people are doing soup, which I think is cool."
Soroko also predicts that with labor costs rising to $10 an hour, there will be a thirst for streamlining menus so they're short, focused and do a few things really well to keep costs down and clientele returning. Recently, he assisted in paring down the menu at Toronado - pay him a visit and check it out.
"I tell people, 'I don't care if you support craft beer one way or the other,'" he said. "If you buy a beer from Colorado, that's good, but if you buy one from San Diego, even better because that delivery driver lives in town, so does the bar owner and the kitchen staff, and the brewery - so it's all trickle down - you're basically paying your own city. Everyone wins."
Visit Soroko at Toronado, 4026 30th St. in North Park, and Modern Times Lomaland, 3725 Greenwood St. in Midway District. You can also follow @toroislander on Instagram.
Amy T. Granite is a dauntless eater who has written about food in San Diego since 2006. You can follow Granite and her tasty adventures on Twitter and Instagram @saysgranite. Send your mouthwatering ideas to her at amytgranite@gmail.com.
Source: DiscoverSD
Sign up for the Pacific Insider newsletter
You may occasionally receive promotional content from the Pacific San Diego.