A homebrewing home away from home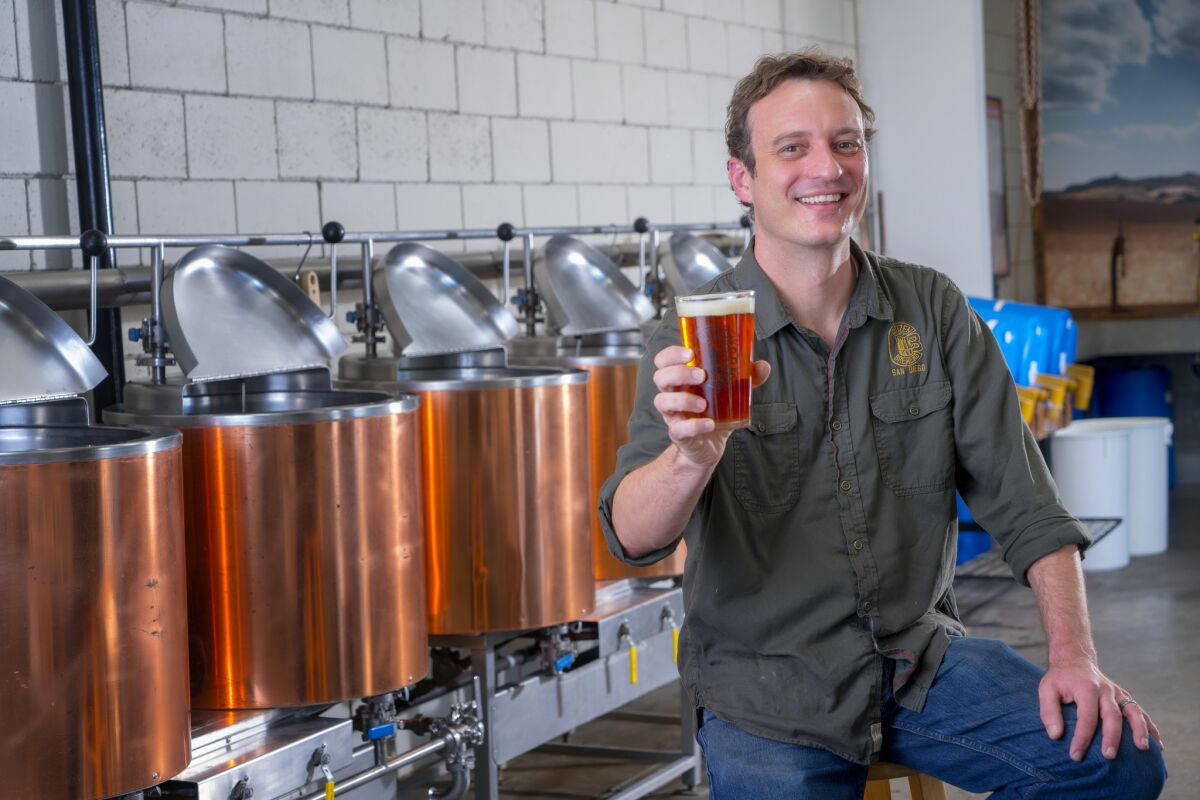 If 2018 goals include learning to make beer, consider a visit to Citizen Brewers.
At this "brew-on-premises" shop in San Diego's Mission Gorge area, customers make beers with expert help. The tidy 2,000-square-foot space is fully equipped with brew kettles, fermentation tanks, malts, hops and yeast strains.
Judd McGhee, the owner, makes it look easy.
It's not.
"It's a Wizard of Oz thing — don't look behind the curtain," McGhee said. "There are so many things that can go wrong, it's always a triumph when it works."
The triumphs come with impressive regularity. Since the business opened in 2015, 13 customers have rated it on Yelp. All awarded Citizen a perfect five stars.
McGhee, 39, was working for a framing and art restoration shop in Little Italy when he began making wine. Two years later, he shifted to beer. When his hobby outgrew his home, he considered renting commercial space.
That was too expensive, but what if he shared that same fully-equipped space with paying customers?
This business model is neither new nor failsafe. More than 20 years ago, a similar local enterprise — Brewers Union — came to an unprofitable end. Success requires a deft hand with business, human nature and the science and art of brewing.
"A lot of it is about the experience," McGhee said. "There is quite a bit of magic to it."
Citizen's dozen standard recipes can be customized or augmented with specialty ingredients. Some customers require little attention as they brew. Others want step-by-step instruction. McGhee is happy either way.
"I enjoy hosting," he said. "It's a lot of fun."
The price of this fun varies with the group's size and the beer's recipe. Typically, a party of four to six people can make a batch in under five hours, for about $300. The tab includes bottles, caps, labels and five or six cases of beer.
While customers can brew anything from coffee-infused stouts to lemony hefeweizens, one style dominates. This is San Diego, after all.
"It's still IPA all the time," McGhee said. "I've brewed as much IPA and derivatives of IPA as everything else combined."
Citizen Brewers, 5837 Mission Gorge Rd., Ste. A, Mission Gorge
760.587.7989, citizenbrewers.com
---
Sign up for the Pacific Insider newsletter
PACIFIC magazine delivers the latest restaurant and bar openings, festivals and top concerts, every Tuesday.
You may occasionally receive promotional content from the Pacific San Diego.