Booze 101: All about the hops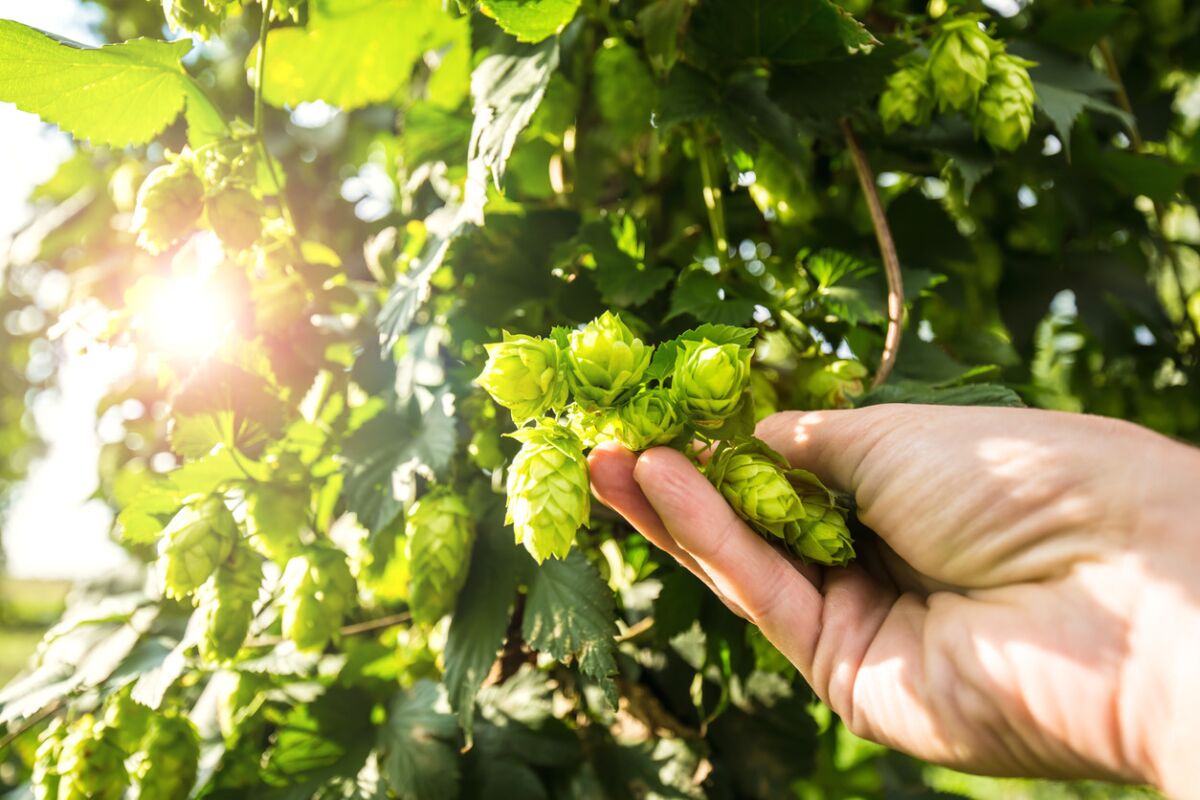 The precious hop - as revered as gold in San Diego - is the source that brings about liquid happiness for many IPA drinkers around the world. With their pleasing array of aromatics, hops are one of the key ingredients in beer, along with yeast, grain, and water.
Hops are measured in a variety of ways, including alpha acids, beta acids, cohumulone, total oil, and fractions of citrus, pine, and floral esters (amongst others). In terms of beer, hops can be used for aroma, flavoring, and bitterness, equaling a sensory rabbit hole for brewers and beer lovers.
Did you know?
Have you ever raised a glass of beer for a first sip and noticed a skunky smell? Well, it's not just in your (high) imagination. Hops are genetically related to cannabis (both are in the Cannabaceae family), and similarly have been used for natural medicinal purposes (hops have been used as a treatment for anxiety and insomnia).
In a nutshell, alpha acids (or humulones) affect bitterness, with lower alpha acid hops often contributing to lagers and British-style ales, while higher alpha acid hops lend more bitterness to the beer and are found in American pale ales and IPA's. Beta acids on the other hands can be unfavorable and brewers look for low beta acid content. Other oils found in the hops give the incredible aromas and flavors beer lovers crave when picking up a hoppy brew.
Here are some (there are WAY too many to cover them all) of the most popular varieties, with a few newer hops on the local block to look out for.
The types
The 3 C's: Cascade, Columbus, and Centennial. This trifecta reigns supreme in IPAs and form the baseline of American IPA. Cascade lends notes of grapefruit, citrus and floral; Columbus is known for its resinous, earthy profile; and Centennial, with its higher alpha acid content, lends bitterness and additional grapefruit, floral, and citrus notes.
Find in: Fall Brewing Spirit of 77 IPA (6.8 percent ABV). Fall trades out the Columbus for Chinook and declares the 3 C's as a tribute to "the punk ethos of 1977." (Chinook is known for pine, grapefruit, and spice.)
Amarillo: A popular aroma hop, with notes of grapefruit, lemon, orange, and melon.
Find in: Bitter Brothers Prodigal Son Amarillo IPA (6.8 percent ABV)
Simcoe: A pleasantly pungent variety, it exhibits pine, musk, wood and citrus notes - it's distinctive and you won't forget it.
Find in: The famous Duet (7 percent ABV) from Alpine. A blend of Simcoe and Amarillo, this brew is not to be missed by any tried-and-true craft beer lover. Those who enjoy this hop will also like Mikkeller San Diego's Simcoe Eyes (6.5 percent ABV).
Citra: Enjoying fame in IPA production, this popular hop is an aromatic ace, with vibrant citrus and tropical notes of grapefruit, passion fruit, and lychee.
Find in: Green Flash Tangerine Soul Style IPA (6.5 percent ABV), blended with Cascade. (This brewery formerly produced a Citra Session IPA.)
Mosaic: Currently enjoying the local limelight, this popular daughter of Simcoe and Nugget exhibits tangerine, mango, herbs, and flowers.
Find in: Karl Strauss loves this delicious hop, presenting beer lovers with Mosaic Session IPA (5.5 percent ABV) and Double Mosaic IPA (7.5 percent ABV).
Nelson Sauvin: Sauvignon Blanc wine drinkers will love this variety, with notes of citrus, gooseberries, and grass.
Find in: Thorn Street Brewery Got Nelson? (7.2 percent ABV)
New(ish) hops on the block
The following are newer hop varieties that are making their way into local pale ales and IPAs.
Cashmere: A cross between Cascade and Northern Brewer, it exhibits lemon, lime and melon.
Find in: Societe's The Bachelor with Cashmere Single Hop IPA (6.5 percent ABV)
Loral: A child of Glacier and Nugget varieties, Loral lends spice, herbs, eucalyptus and floral notes to IPAs.
Find in: Stone Ghost Hammer IPA (6.7 percent ABV)
Motueka: According to New Zealand Hops Limited, this Kiwi variety is "an aroma hop with a distinctive fresh crushed citrus 'Mojito' lime character." Yes please! Also known as Belgian Saaz.
Find in: Modern Times Booming Rollers (6.8 percent ABV) alongside Citra and Centennial and the City of the Sun (7.5 percent ABV) blended with Mosaic and Simcoe.
With 18 years in the restaurant and beverage industry and more than 850 reviews under her belt, Laurie Delk is a one-stop guide to all things craft beer, wine and spirits. You can follow Delk on Twitter @lauriedelklife or Instagram @sandiegobeer. Send ideas for featured drinks to lauriedelk101@gmail.com.
Sign up for the Pacific Insider newsletter
You may occasionally receive promotional content from the Pacific San Diego.