Brunch cocktails: Simple, fun and fresh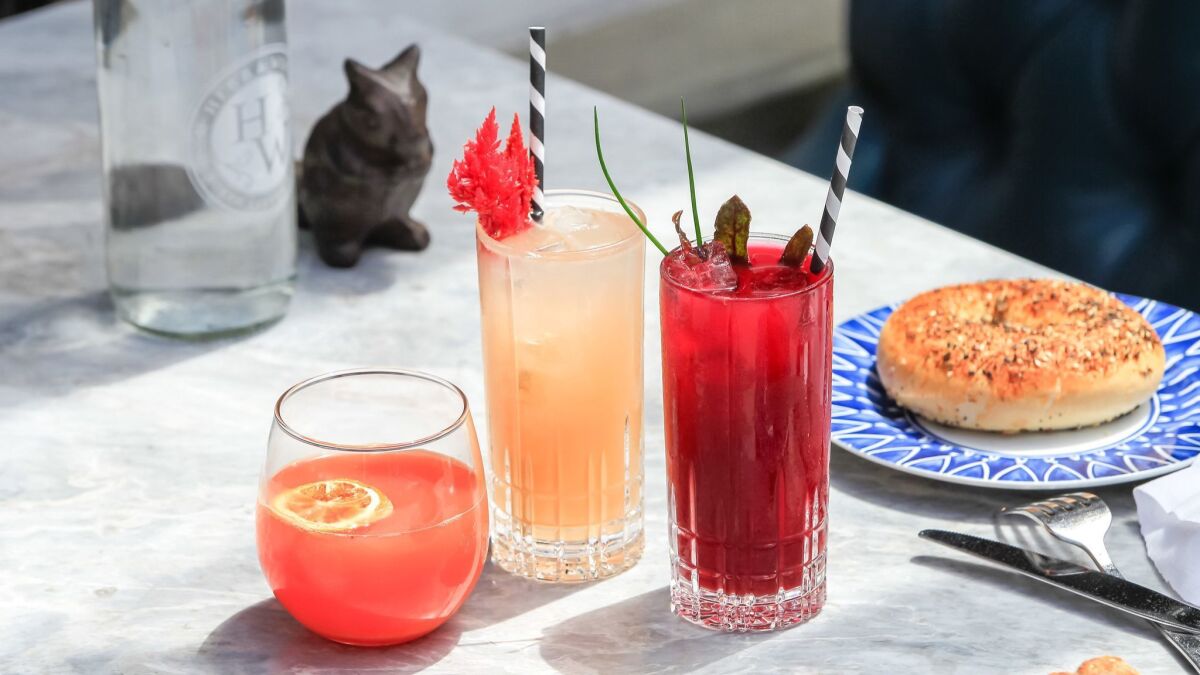 The beauty of brunch is that it has something for everyone. In the mood for a stack of carbs drenched in syrup? It's got that. Want to go Paleo with a rich and juicy steak? It's got that, too. Craving a cocktail before 5 p.m.? No problem.
Now, Little Italy's Herb & Wood restaurant has elevated Sunday brunch. While they lounge in plush booths, chatting with friends, guests can choose from stylish dishes ranging from a sweet, pillowy Dutch Baby soufflé pancake with huckleberries, lemon curd and vanilla chantilly cream to a sturdy, savory pozole rojo, or Mexican stew of short ribs, cabbage, jalapeño and queso fresco.
And what about the cocktails, you say? Herb & Wood's new cocktail curator, Meghan Balser, has created an array of alluring libations. While you won't find build-your-own Bloody Marys here, you will discover inventive twists on classics.
"We're trying to keep it fun and light," says Balser, which may explain her Tomatillo & Mezcal Bloody Mary. She explains that the tangy tomatillo provides a distinct vegetal note, while the mezcal errs on the side of smooth rather than smoky. "It's like a green juice with booze," she says, laughing.
The Beet & Gin Bloody Mary, laced with zesty fresh ginger, spicy sriracha and pungent black pepper, manages to be both bold and smooth. "It's the beet," explains Balser. "It's sweet and starchy and earthy ... and it ties everything together." She also prefers locally made You & Yours Sunday Gin, which is pleasantly bright, floral and citrusy, perfect for brunch cocktails.
Mimosa lovers can try the restaurant's lively Blood Orange Fennel version made with fragrant toasted spices, including star anise, allspice berries and cinnamon sticks. Created by Herb & Wood's executive pastry chef, Adrian Mendoza, it dances between warm and spicy and tart and bright.
There's also a selection of simple yet sophisticated refreshing cocktails. Think pale-pink and buttery-white, bubbly drinks.
There's Grape & Grapefruit, an effervescent, fruity cocktail made with white brandy, Lillet blanc, grapefruit juice and soda water. For more herbaceous notes, try the Gin & Lavender, made with lavender-infused gin, thyme-honey syrup, lemon and soda water.
Balser also offers a handful of playful mocktails, such as the Strawberries & Cream, the gourmand's answer to childhood's strawberry milkshake, made with strawberry vanilla syrup and heavy cream.
When it comes to making your own brunch cocktails at home, Balser offers a few pointers:
1. Bright, effervescent, bubbly drinks are highly versatile and go well with a wide range of food.
2. Choose high-quality bubbles, whether Champagne, Prosecco or sparkling wine.
3. Opt for lighter spirits, liqueurs and juices, saving more full-bodied whiskeys and scotches for evening affairs.
4. Use fresh-squeezed fruit juices for added flavor and brightness.
5. Use fresh herbs for muddling and infusing spirits.
6. Experiment with liqueurs such as green chartreuse or elderflower liqueur, which provide intense yet not aggressive flavors.
7. Offer nonalcoholic drinks made with quality juices, craft sodas and nonalcoholic wines.
When I ask Balser if she has any other advice for making memorable brunch cocktails at home, she says, "Yeah! Have fun! Don't be afraid to experiment! It's brunch!"
Grape & Grapefruit
Meghan Balser garnishes this cocktail with Firestix, brightly colored flowers of the amaranth plant that are available locally at Specialty Produce. They are beautiful but not essential when making at home.
Makes 1 cocktail
1 ounce Domaine d'Arton Fine Blanche (white brandy)
1 ounce Lillet Blanc
2 ounces grapefruit juice, preferably fresh squeezed
Soda water
Garnish: Firestix
Combine brandy, Lillet Blanc and grapefruit juice in a Collins glass and stir. Add ice and top with soda water. Garnish with Firestix.
Created by Herb & Wood's Meghan Balser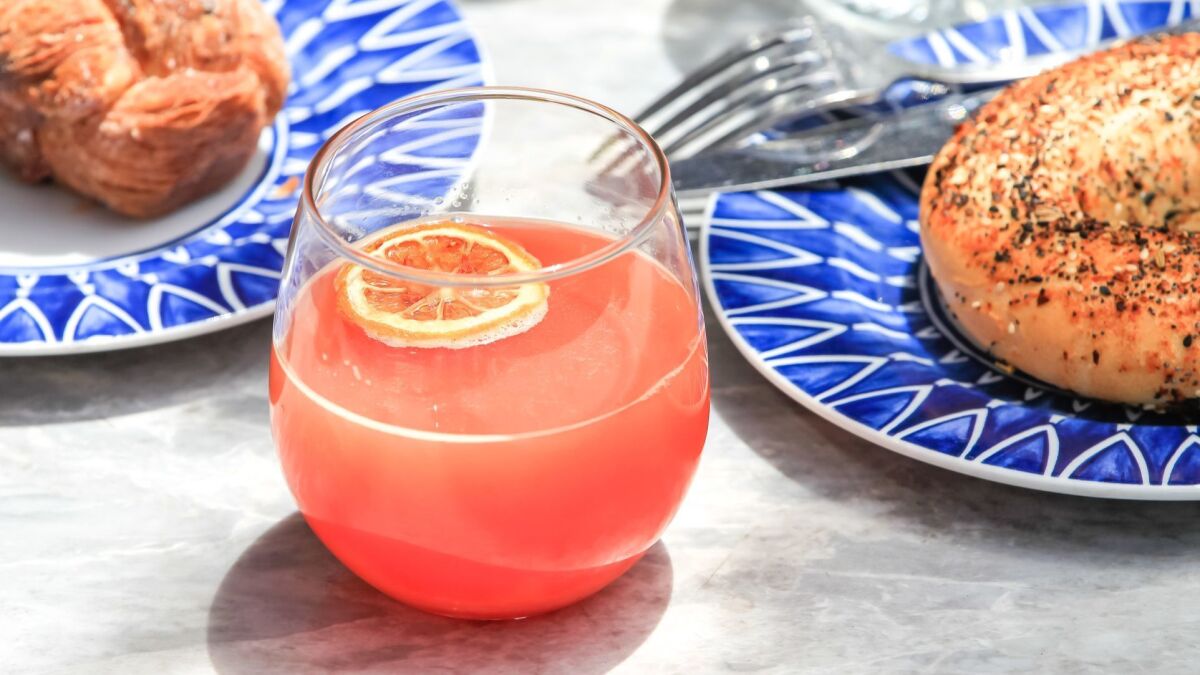 Blood Orange Fennel Mimosa
This is a big-batch cocktail. The blood orange syrup created by Herb & Wood's executive pastry chef Adrian Mendoza makes enough for 16 to 18 cocktails. If you don't use it all at once, store in an airtight container and refrigerate for up to 1 month. Meghan Balser uses Perfect Puree brand blood orange puree, which can be found locally at Specialty Produce or online.
1 tablespoon star anise
1 tablespoon whole peppercorns
1 tablespoon whole allspice
1 cinnamon stick
1¼ cups water
1¼ cups sugar
1¼ cups orange juice
15 ounces blood orange puree
1 bottle chilled Prosecco, or as much as needed
Place spices in a small dry skillet over medium-low heat and toast until just fragrant. Transfer to a medium plastic container.
Bring water to a boil in a medium pot over high heat. Add sugar and stir until dissolved. Add toasted spices. Remove from heat and steep for 1 hour. Add orange juice and blood orange purée and stir. Cover and refrigerate overnight. The next day, strain the mixture through a fine-mesh sieve and discard the spices. Store the blood orange mixture in a tightly sealed container in the refrigerator for up to 1 month.
For each mimosa add 1 ounce chilled blood orange mixture to a flute glass and top with 5 ounces chilled Prosecco.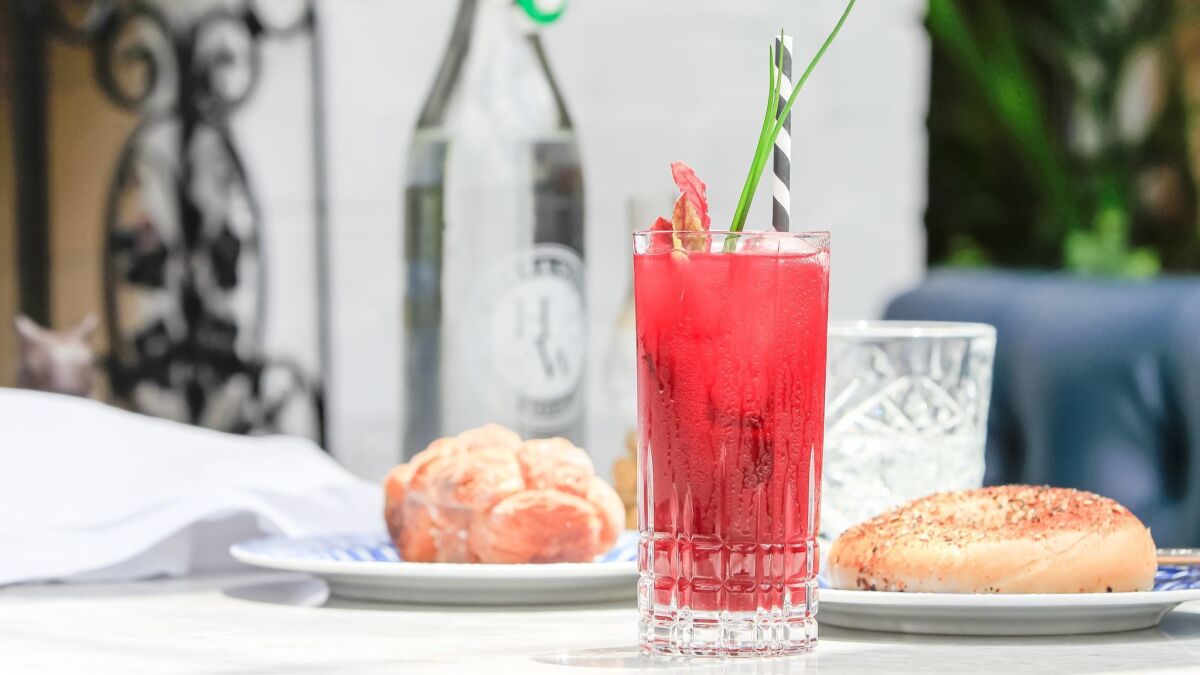 Beet & Gin Bloody Mary
Makes 1 cocktail
2 ounces gin (Meghan Balser uses You & Yours Sunday Gin from San Diego's You & Yours Distilling Co.)
1 ounce beet juice
3 ounces tomato juice
1 teaspoon pepperoncini juice
The juice of ¼ of a small lemon
¾ teaspoon black pepper
¼ teaspoon fresh grated ginger
½ teaspoon Worcestershire sauce
Sriracha, to taste
Garnishes: fresh chives and beet microgreens
Combine all ingredients in a highball glass, add ice and stir. Garnish with fresh chives and beet microgreens.
Created by Herb & Wood's Joshua Landrum.
Russo is a San Diego freelance food writer and cookbook author.
---
Sign up for the Pacific Insider newsletter
PACIFIC magazine delivers the latest restaurant and bar openings, festivals and top concerts, every Tuesday.
You may occasionally receive promotional content from the Pacific San Diego.