Today is National Margarita Day, and whether you prefer your drink on the rocks, frozen or with a kick of flavor, local restaurants and bars offer plenty of options that will have you singing a chorus — or two — of "Margaritaville" by the end of the evening.
Coasterra's bar menu features seven types of margaritas, including Deb's Coconut Margarita. The sweet tropical sipper is blended with Olmeca Altos Reposado Tequila, coconut cream, lime juice and a coconut-salted rim. 880 Harbor Island Drive, San Diego. (619) 814-1300 or dinecrg.com
Indigo Grill chef/partner Deborah Scott has combined an earthy sweetness with the classic tart flavor in her aptly named, Deb's Rosemary Margarita. The icy cocktail spotlights house-infused rosemary Olmeca Altos Plata Tequila, fresh lime juice, agave nectar and Cointreau (a brand of triple sec), rimmed with rosemary salt. 1536 India St., Little Italy. (619) 234-6802 or dinecrg.com
SEA180 Coastal Tavern has created a Spicy Mango Tango for those who want a kick to their drink. The margarita is made with jalapeño-infused tequila, mango syrup and sweet and sour mix. The rim is lined with fresh jalapeño slices. 800 Seacoast Drive, Imperial Beach. (619) 631-4949 or dinecrg.com
Mess Hall Bar inside Liberty Public Market's main dining room will offer the classic flavors of a Blue Bridge Margarita or the house-infused Jalapeño Cucumber Margarita. $5 specials will be served until 9 p.m. Mess Hall, 2820 Historic Decatur Road, Liberty Station, San Diego. libertypublicmarket.com
Hotel Republic will serve signature cocktails at its Topside Terrace Kitchen & Bar, including its Topside Marg, a mix of Angelisco Reposado Tequila, Grand Marnier, fresh lime juice and local chiles, rimmed with sea salt and Tajin seasoning. 421 W. B St., San Diego. hotelrepublic.com
The Bar at Moniker General invites guests to belly up to the 1950s-inspired cocktail counter and have a Moniker Margarita, an infusion of El Jimador Silver Tequila, Cointreau, lime and agave nectar. 2860 Sims Road, San Diego. (619) 255-8772 or monikergeneral.com
The Local is serving Local 'Rita, made with El Jimador Tequila, Cointreau, lime juice, agave nectar and Li Hing Mui Rum. 1065 Fourth Ave., San Diego. (619) 231-4447 or thelocalsandiego.com
OB Surf Lodge has crafted Las Rocas (the rocks), a mix of El Jimador Blanco Tequila, Cointreau, lime juice, rosemary-ginger simple syrup garnished with black salt. 5083 Santa Monica Ave., Suite 1F, San Diego. (619) 955-5475 or obsurflodge.com
Upper East Bar in the Gaslamp Quarter will toast to the day with its Spicy Cucumber Margarita, made with serrano chile-infused tequila, cucumber, agave and lime juice. 435 Sixth Ave., San Diego. (619) 531-8744.
Events
The second annual InTents Flavors Celebration, a farm-to-fork event, will team local farm-focused chefs and farmers at tasting stations, all for a good cause. Indulge in creative bites, beer, wine and spirits and live music on the water at Marina Village on Mission Bay. Discover what bread should taste like at the Heritage Grain Bake Off, mix and mingle with your favorite farmers market professionals and cheer for your favorite team in the Top Tents Booth Design scramble. A portion of the proceeds will benefit Kitchens for Good, a nonprofit that trains the underemployed for culinary careers. 6 to 9 p.m. Monday. Marina Village Conference Center, 1936 Quivira Way, San Diego. $95 per person. Tickets: bit.ly/2EvSRkg
Campfire has launched "Monday's Don't Suckling," a weekly series of brining and roasting a whole suckling pig — snout to tail. Serving will vary each week and the dish will be an ode to the warm weather and tropical vibes. Libations will be tiki-ish, embracing global influences ranging from the Mediterranean to Thailand. In the coming weeks, local bartenders will be invited to showcase their menus and drinks. Mondays from 5 p.m. until they run out. 2725 State St., Carlsbad. (760) 637-5121 or thisiscampfire.com
The Good Seed Food Company and chef Chuy de la Torre of Urge Gastropub have partnered to create a four-course beer-and food-pairing dinner that will take guests on a culinary journey around the world. Dishes include: shrimp carpaccio, Nigerian peanut stew, Ecuadorian lamb roast and for dessert, apple rose. 6 to 8 p.m. Monday. Longship Brewery, 10320 Camino Santa Fe, Suite C, San Diego. $50 per person. Tickets: longshipbrewery.com
The United States Bartenders' Guild "Make It Exotico" San Diego Semifinal Cocktail Competition takes place from 6 to 8 p.m. Tuesday at barleymash, 600 Fifth Ave., Gaslamp Quarter. Participants will each have a maximum of seven minutes to make their cocktails live for four judges. Cocktails will be judged on appearance, aroma, creativity, taste and overall impression. One winner will be announced and will receive an all-expense paid trip to compete in the final round of the competition in New Orleans in July. The event is free and open to the public, space permitting. bit.ly/2EKQ4XG
People in the news
Chef Brian Malarkey has named Patrick Cabido as the new general manager of Herb & Wood in Little Italy. Cabido, who has worked for The Soho House and Le Charlot restaurants in New York, brings more than 20 years of experience in the hospitality industry. Charged with overseeing the day-to-day operations of the restaurant, he plans on implementing the world-class service he grew up with in his father's European hotels. Cabido, who speaks seven languages, attended Lausanne Hotel School (EHL) in Switzerland graduating with a bachelor's degree in Hotel Management. He went on to receive a business degree from Lausanne Business School. 2210 Kettner Blvd., San Diego. (619) 955-8495 or herbandwood.com
LJ Crafted Wines was named Surfrider Foundation's first fully registered Platinum Level recipient in the Ocean Friendly Restaurants program. The platinum level is the most recent addition to the foundation's program, and restaurants are recognized when they meet all 10 of the environmental criteria — ranging from no plastic bags offered for takeout to energy efficiency efforts such as LED lighting and Energy Star appliances. "We are grateful to the Surfrider Foundation for this recognition," said Lowell Jooste, owner of LJ Crafted Wines. "Our business uses our own patent-pending technology to support a zero-waste lifestyle which aligns with the environmental values of the Surfrider Foundation." ljcraftedwines.com; surfrider.org/programs/ocean-friendly-restaurants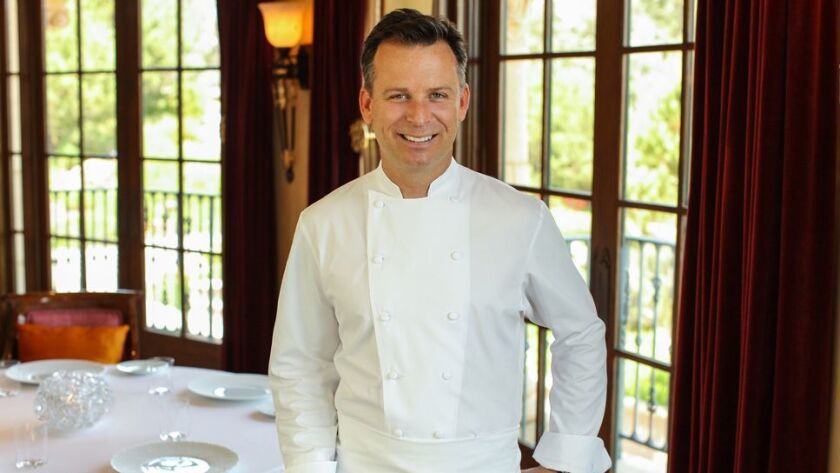 Director and executive chef William Bradley of Addison Restaurant will be one of 20 participants in the 2018 Relais & Châteaux GourmetFest March 15-18 at Carmel-by-the-Sea. The four-day foodie extravaganza features an exclusive roster of Relais & Châteaux chefs and the world's best wine estates. Guests will indulge in 20 uniquely planned events, including a strolling welcome party, wine tastings, cooking demonstrations, lunches and dinners, off-site tours and lunches, VIP parties and the closing celebration. Relais & Châteaux is a global fellowship of individually owned and operated luxury hotels and restaurants, currently with more than 500 members in 60 countries on five continents. To purchase tickets or for more information, visit gourmetfestcarmel.com
Openings
Swami's Cafe will open its 11th location soon — in the space formerly occupied by Busalacchi's A Modo Mio in Hillcrest. The breakfast and lunch destination will offer its signature dishes with items ranging from acai bowls and smoothies to bacon burgers and vegetarian and vegan options. 3707 Fifth Ave., San Diego. swamiscafe.com
---