Let these local spirits lift you up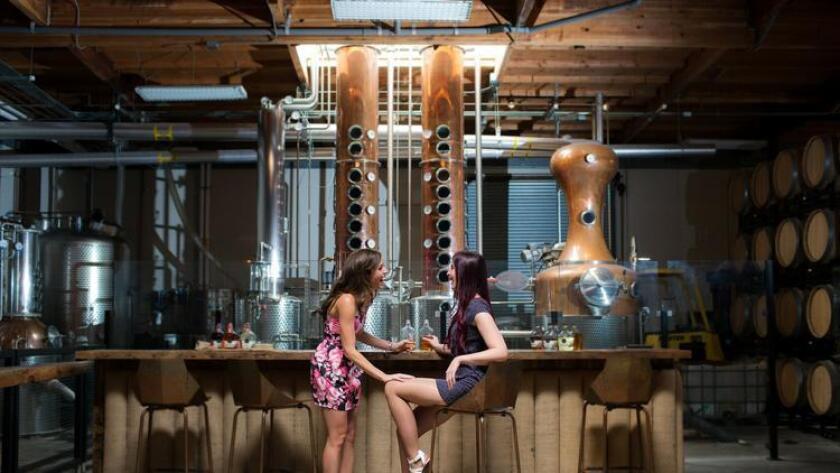 San Diego might be known nationwide as the mecca of craft beer, but our fabulous city is also turning out classic and inventive distilleries. Exploding on the scene like the birth of the craft beer movement, San Diego's craft distilleries are spiriting their way into International award festivals, major retail chains, and into the shakers of the city's top mixologists. Don't miss out trying these incredible local producers:

Cutwater Spirits (formerly Ballast Point), San Diego
"We not only want to challenge our own tastes, but expand yours."
Spirits produced: Old Grove Gin (also Barrel Rested), Three Sheets Rum (white, Spiced, & Barrel Aged), Fugu Vodka (also Horchata, Habanero, Pina, Jamaica), Devil's Share Whiskey (Single Malt, Bourbon and Moonshine), Opah Herbal Liqueur.
Rundown: From one of the most popular craft breweries in San Diego, co-founders and distillers Yuseff Cherney and Jack White head up the most prolific distillery in San Diego, quenching the spirited thirsts of every taste bud in the county. Check out their website for recipes, or go to almost any craft cocktail bar in the city to find the delicious selections of Ballast Point.
Awards: More than could possibly be listed here. Multiple awards include medals from the American Distilling Institute, San Francisco World Spirits Competition, Beverage Tasting Institute, World Spirits Awards, and International Spirits Competitions in Los Angeles, New York, and Denver.
Visiting the distillery: Head to the Old Grove location for daily tastings at 1 p.m., 3 p.m., 5 p.m. and 7 p.m. For $10, receive six spirit samples.

Kill Devil Spirit Co., Spring Valley
"Spirits that will keep mixologists inspired and imbibers buzzing."
Spirits produced: Rx Unfiltered Vodka, Ugly California Moonshine, Valor West Coast Gin, Ugly California Rise & Shine.
Rundown: Craft beer fans will enjoy their West Coast Gin, made with Chinook hops and California grapefruit. Their "cane-to-glass" vodka is distilled 12 times and uses balanced pH alkaline water from a local artesian well, while their most unique offering is Rise & Shine, a caffeinated collaboration spirit with Dark Horse Coffee, blending moonshine with Brazilian coffee beans.
Visiting the distillery: Wait for their website to be fully functioning for more info.

Malahat Spirits Co., San Diego
"We have to be proud of every drop."
Spirits produced: Rum, Spiced Rum, Ginger Rum (also currently barrel aging Bourbon, rum and rye whiskey)
Rundown: The product of Ken Lee, Tom Bleakley and Tony Grillo, three friends racing cars, homebrewing and making rice wine. Using nothing but top, natural ingredients, everything at Malahat is made from scratch. Give your Mojito a delicious, spicy twist with the Ginger Rum.
Fun fact: Malahat is the name of the largest and longest lasting "rum runner" ship off of the West coast. With deliveries to boats, caves (and ultimately speakeasies), the Malahat was where West coasters got their booze during Prohibition.
Awards: 2014 Gold Medal Winner at the San Francisco World Spirits Competition.
Visiting the distillery: Noon to 7 p.m. Thursday and Friday, 2-6 p.m. Saturday.
Where to find: Malahat can be found in every Bevmo (impressive accomplishment), Krisp and Seaside Market in Cardiff.

Old Harbor Distilling Co., San Diego
"We want to be a catalyst for the area."
Spirits produced: San Miguel Southwestern Gin, Barrel Flag Navy Strength Rum, Ampersand Cold Pressed Coffee Liqueur.
Rundown: Located in the East Village, an area bursting with growth, the incredible Old Harbor Distilling guys are treating San Diegans to locally made spirits. Handmade and hand-numbered with care, this distillery is quickly becoming a craft favorite.
Fun fact: Their still is named The Belafonte, after Wes Anderson's film "The Life Aquatic with Steve Zissou." Fermentors take the name of characters Ned "Kingsley" Zissou, Klaus Daimler & Pele dos Santos
Visiting the distillery: Tours include six ¼-ounce tasters and a signature tasting glass, are held at 4 p.m., 5 p.m. and 6 p.m. weekly .
Where to find: Old Harbor graces the shelves at top bars, restaurants and bottle shops citywide. Look for a craft cocktail at Starlite, Fairweather, Lion's Share, Noble Experiment, and Polite Provisions, or buy your own at Krisp, Baron's, Wine Bank, and Spirits of St. Germain, to name just a few.

Twisted Manzanita, Santee
"Craft Distilling truly is an art."
Spirits produced: Orange Vodka, Rebellious Rye Whiskey, SoCal Moonshine (also in Oaked, Oaked Bacon and Matured), Limoncello.
Rundown: Craft beer fans of Twisted Manzanita Ales are sure to love the spirited side of the business and their award-winning offerings. Made with all natural ingredients such as fresh lemons, oranges and cane sugar, Twisted Manzanita strives to maintain the highest standards for their spirits. Try the Rebellious Rye in your next Mint Julep, mix their Orange Vodka in a Spring cocktail or end your al fresco picnic with friends with a Limoncello.
Awards: 2014 International Wine and Spirits Bronze, San Diego International Spirits Festival Silver and Bronze.
Visiting the distillery: Only open 5-10 p.m. on Fridays and Saturdays. $5 for six tasters.
Where to find: Look for Twisted Manzanita spirits in hot craft cocktail bars such as Sycamore Den and Seven Grand, or a multitude of bottle shops around the city including Keg N Bottle, Clem's Bottle Shop, Holiday Wine Cellar, and KnB Wine Cellar.
With 15 years in the restaurant and beverage industry and more than 700 reviews under her belt, Laurie Delk is a one-stop guide to all things craft beer, wine and spirits. You can follow Delk on Twitter @100beers30days or Instagram @sandiegobeer. Send ideas for featured drinks to laurie@promiscuouspalate.com.
Source: DiscoverSD
---
Sign up for the Pacific Insider newsletter
PACIFIC magazine delivers the latest restaurant and bar openings, festivals and top concerts, every Tuesday.
You may occasionally receive promotional content from the Pacific San Diego.