Canna-confused? One Minute Cannabist wants to answer your marijuana questions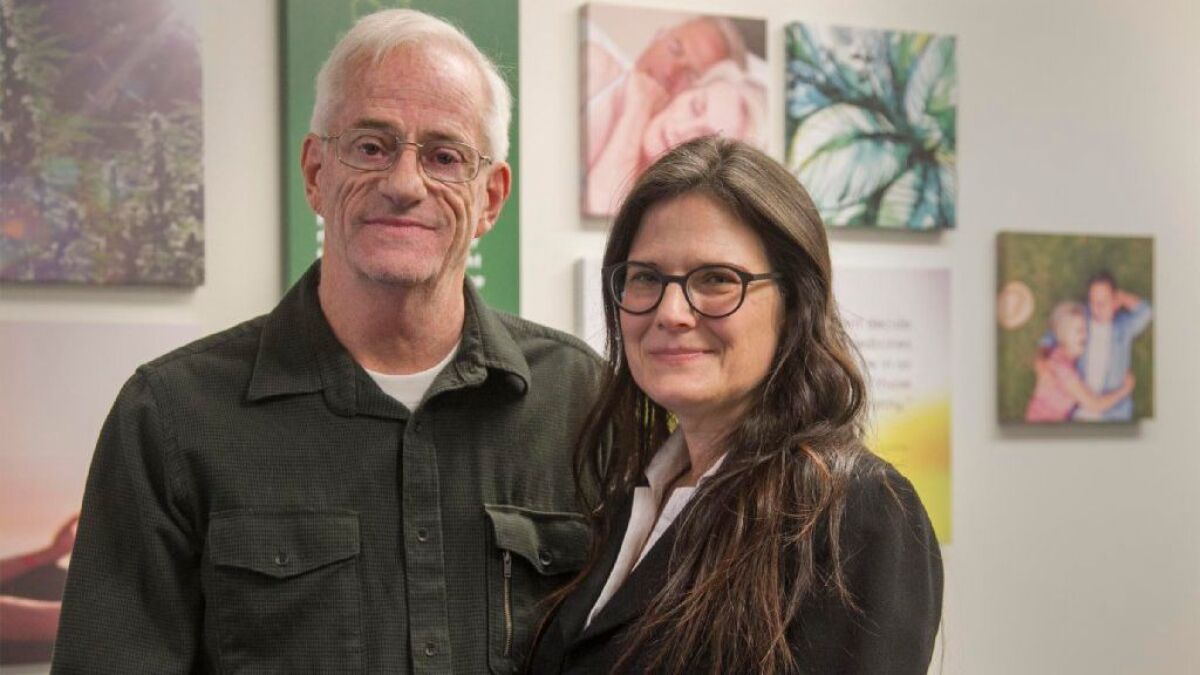 If you're lost in a sweet, dank fog of canna-confusion, Robbin and Terry Lynn want to hear from you.
The couple are launching The One Minute Cannabist Saturday, hosting a grand opening from 11 a.m. to 3 p.m. They hope that visitors will come to see this as a one-stop clearinghouse of advice and insight on medicinal marijuana.
"There is so much information that it can be overwhelming." Robbin said.
And a lot of that information, Terry added, is misinformation of the "Reefer Madness" variety.
"We are on a mission to dispel 80 years of negative societal stigma," he said, "and educate adults who want to learn more about this plant."
One Minute is at 3041 Industry St., Suite B, Oceanside, a city that has not yet issued any cannabis business licenses. While brochures in the waiting room advertise a range of pot products — cannabis oil elixers for arthritis, vape cartridges for insomnia, chews for pain relief, tinctures for sexual stimulation— the only product sold on premises is education.
The couple sells books and one-on-one consultations, in person or via Skype. A series of hour-long workshops are planned, on topics ranging from "How to Use Cannabis Safely and Effectively" to "How to Talk to Your Adult Parents About Cannabis."
Conversations between cannabis users and non-users can be tricky, Robbin said, fraught with misunderstanding and judgment. She recently counseled a woman who wanted to use cannabis as a sleep aid, seeing it as a safer and healthier alternative to Ambien.
A friend's reaction: "Oh, so you are going to be a stoner."
"She immediately put her in that basket," Robbin said.
Hope and answers
Robbin, 53, and Terry, 61, grew up across the street from each other in Rosemead, a San Gabriel Valley community. Terry's family ran the neighborhood liquor store, but alcohol was never his thing. Instead, he took up marijuana as a teen.
"To be cool, I guess," he said.
In 2010, he started RxC, a medical marijuana delivery service. He figured his clientele would be blissed out 20- and 30-somethings, latter-day Beavis and Buttheads. Instead, most were in their 50s or older, hoping that cannabis could help them heal.
"These people are coming to me and they want help," he said. "I realized that I had a lot to learn."
Robbin, who had spent years in high-tech firms' marketing and communications department, and Terry began researching. They examined local, state and federal laws; dug up the few scientific studies of cannabis' therapeutic uses; and surveyed marijuana products, how they were used and misused.
"If you have a cannabis chocolate bar in bag, how do you take this?" Robbin asked. "How much? How often?"
What's the difference between THC and CBD, cannabinoids that are both found in cannabis?
What tropical fruit amplifies THC's psychoactive effects? (Mango, Robbin said.)
What natural substance decreases that high? (Black pepper, she said.)
As the couple prepared to open One Minute, the questions kept coming. Robbin recently took a call from an 80-year-old woman in Oregon who had visited a local dispensary, looking for something to calm her Parkinson's tremors.
Online, Robbin scanned the dispensary's menu. "Here's what could work for you," she told the woman.
Is she giving medical advice?
"No," Robbin said, "I'm giving cannabis advice. I've heard that cannabis can be effective with Parkinson's and I'm telling her what I've seen."
'In for the ride'
The One Minute Cannabist takes its name from a book the Lynns wrote in 2016. In it, they tried to present in simple, brief chapters what they've learned about marijuana.
They worry that many first-time consumers are dabbling in marijuana without understanding their own tolerance or various products' potency. Be especially cautious, Robbin counseled, with cannabis-infused edibles.
"They are the most potent, take the longest to have any effect and is the longest commit," she said. "And once it's in, it's not coming out. You are in for the ride."
Yet the Lynns argue that cannabis in all its forms is safer than opioids and other heavy duty painkillers prescribed today.
"There's such a stigma," Robbin said. "It's OK to drink a glass of wine, it's OK to take a shot of whiskey. But it is not OK to smoke a joint?"
Sounds like a question for the One Minute Cannabist.
---
Sign up for the Pacific Insider newsletter
PACIFIC magazine delivers the latest restaurant and bar openings, festivals and top concerts, every Tuesday.
You may occasionally receive promotional content from the Pacific San Diego.