Mind your canna-manners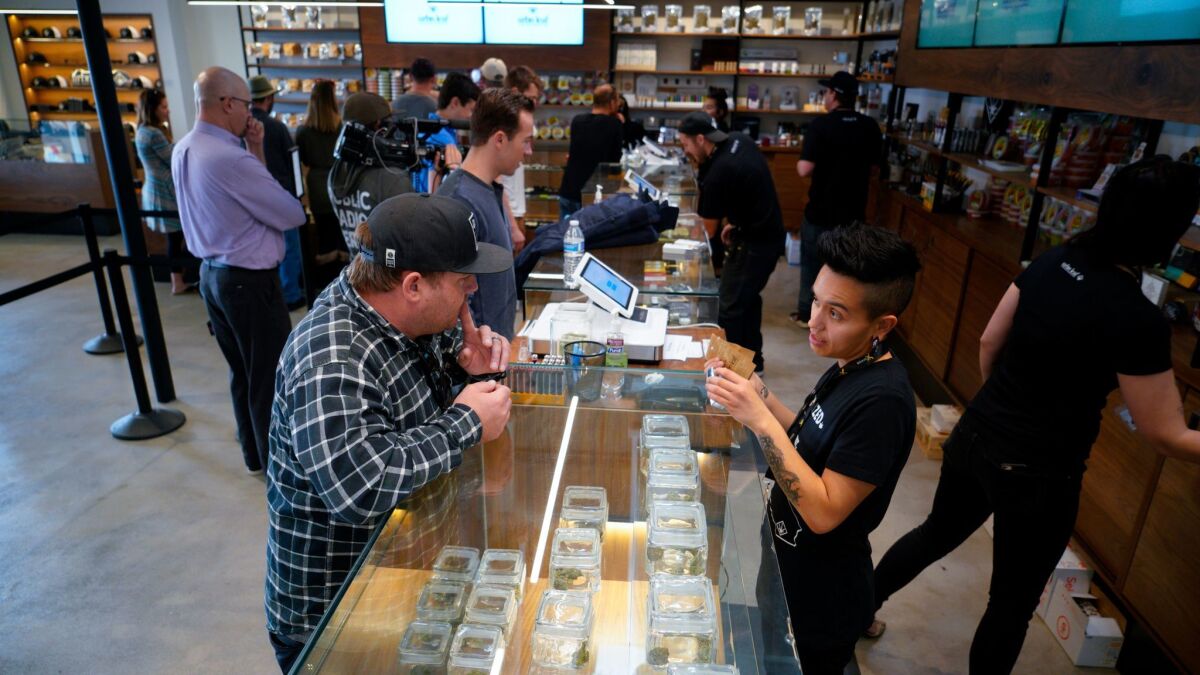 With the lifting of marijuana prohibition in California, San Diegans are facing a lot of firsts. But whether it's someone's first or thousandth time in a dispensary, it's always a good idea to be in the know. PACIFIC checked in with dispensary staff at Torrey Holistics and Urbn Leaf to ask them their etiquette advice, including everything from sparking up on site to whether or not you can bring your dog.
Be cool…
...but not that cool! The age of discretion is over. Thanks to legalization, nobody has to worry about admitting they're visiting a dispensary simply for fun, nor do they have to try and disguise their needs under medical talk or other coded language. It's OK to be stoked!
Be prepared to wait
Currently, there are only about a dozen dispensaries that are licensed to sell recreational marijuana in San Diego. This means concentrated demand and, when coupled with the hype of the new laws (or lack thereof), big crowds.
"Recreational patients will have the longest lines," said Jay Frentsos of Urbn Leaf, adding that medical patients will likely feel the changes the most, as previously, crowds at any one dispensary were thin.
Kyle Dukes, Operations Manager for Torrey Holistics, echoes this sentiment. "Many of the returning members were very upset at the long lines to get inside the dispensary, while many new recreational visitors were happy to wait over an hour at times to purchase recreational cannabis," he said.
Both Dukes and Frentsos advised dispensary shoppers to be aware of this ahead of time and plan accordingly — weekday mornings are the least crowded.
Don't be afraid to speak up
Be polite but vocal if something isn't working well.
"The most important piece of advice we can give to our members is to give us your honest feedback," Dukes explains. "Change this abrupt is very frustrating for everyone involved, but with open lines of communication between dispensaries and our members, we can all work together to continue blazing this trail."
Frentsos agrees, saying that it's, "the first time for everyone for everything so be patient with us and let us know if something's up."
#InstagramIt
Gone are the days of no picture or phone policies. With this in mind, dispensaries are glamming up their interiors and adding social media-worthy touches, such as cheeky t-shirts and other gear, well-designed spaces and other bells and whistles — like Urbn Leaf's "A Feel Good Drug Boutique" wall display — to encourage customers to snap away and share with their friends.
Tip your budtender
Not only is it perfectly acceptable to tip your budtender, it's the right thing to do. Like bartenders, budtenders are a wealth of skill and facts, often having studied many hours to know the ins and outs of the products they're selling to make personal recommendations based off of that knowledge. Whether or not there's a jar, don't forget to tip.
Bring your own pet (seriously)
Many dispensaries are pet-friendly to the point they allow animals inside the building or bud room. Some leave out water bowls and dog treats and almost all sell cannabis products designed for dogs, like non-psychoactive CBD treats and tinctures that are believed to lessen pain and anxiety.
Come with questions and an open mind
The same story was heard over and over at dispensaries: come loaded with questions — workers know that it may be intimidating, especially for first-timers, and the last thing anyone wants is for cannabis to become exclusionary.
"You don't have to know anything," Frentsos said. "Our workers all have dispensary experience and are trained from top to bottom. If you're curious at all, just give us a chance."
Don't forget cash!
Because marijuana remains federally illegal, banking is a tricky business for anyone in the cannabis industry. Because of this, dispensaries are still cash only, though most will have at least one ATM on-site.
Do not use marijuana anywhere on the premises
Not only will someone be risking arrest should they so much as roll a joint or open a package while anywhere on a dispensary's property, they'll also be risking the licensing of their host. Don't be that person.
More...
High there: Legal recreational cannabis dispensaries
Crowds swamp San Diego's pot shops on first day of recreational marijuana sales
---
Sign up for the Pacific Insider newsletter
PACIFIC magazine delivers the latest restaurant and bar openings, festivals and top concerts, every Tuesday.
You may occasionally receive promotional content from the Pacific San Diego.