Behind the (joy)stick: Coin-Op Gaslamp's master mixologist is at the top of his game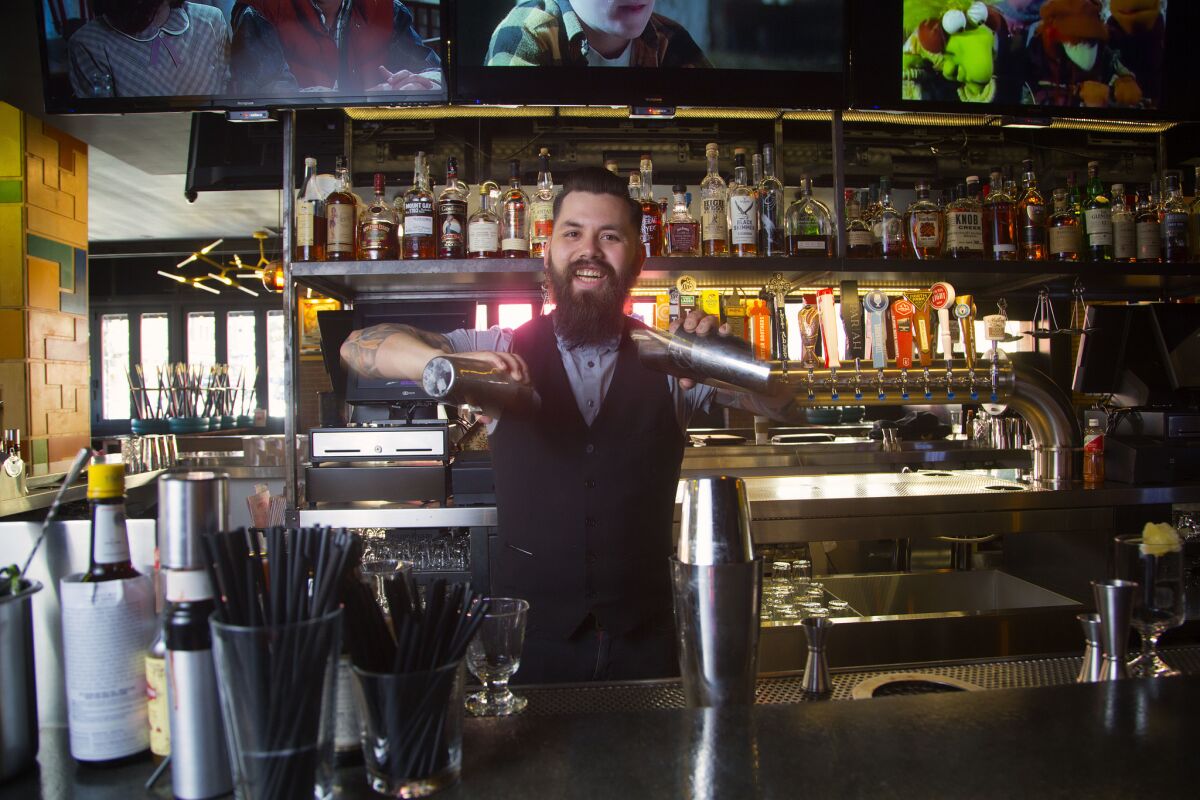 While turning 21 can be a boozy rite of passage for many, for East County native D.J. Mull, his first legal drink led him to his destiny.
"On my 21st birthday, I was living in San Francisco," says Mull, a former professional BMX cyclist. "My friends took me to a bar called the El Dorado, which had just opened up. I had a Moscow Mule, and I asked the bartender — who was actually the owner — what was in the drink. He said, 'If you want to know, come back tomorrow.' So I went back the next day, and the next day, and the next day, and kept on learning, and learning, and asking a ton of questions. I became infatuated with the cocktail culture and acquired every book about it I could get my hands on."
Nine years later, and Mull has worked at a variety of bars both in the Bay Area and at home in San Diego. But it was up north where he met the minds behind Coin-Op Game Room, who had recently opened a NorCal incarnation of their North Park hot spot. Mull picked up a weekly shift at the bustling barcade, and it ultimately evolved into a full-time gig. Surrounded by fellow San Diegans, he fit right in with his co-workers, but little did Mull know, he'd soon return to his roots.
"While on vacation in San Diego, I met a girl and fell in love," says Mull. "I told the owners of Coin-Op that I needed to transfer down to San Diego, and that I'm going to spend the rest of my life with this girl. That's when they told me they were opening up a Coin-Op in the Gaslamp and asked me to be part of the team. I made the move down a few weeks after that."
Coin-Op Gaslamp opened in September, and as chief cocktail conjurer at the sprawling new game haven, Mull is responsible for creating the cocktail menu. And he couldn't be happier.
"This is where my heart is," he says. "This is what I love."
We caught up with the self-proclaimed "encyclopedia of cocktail and spirit knowledge" for a quick chat about life, liquor and The Guy who lives at the bar.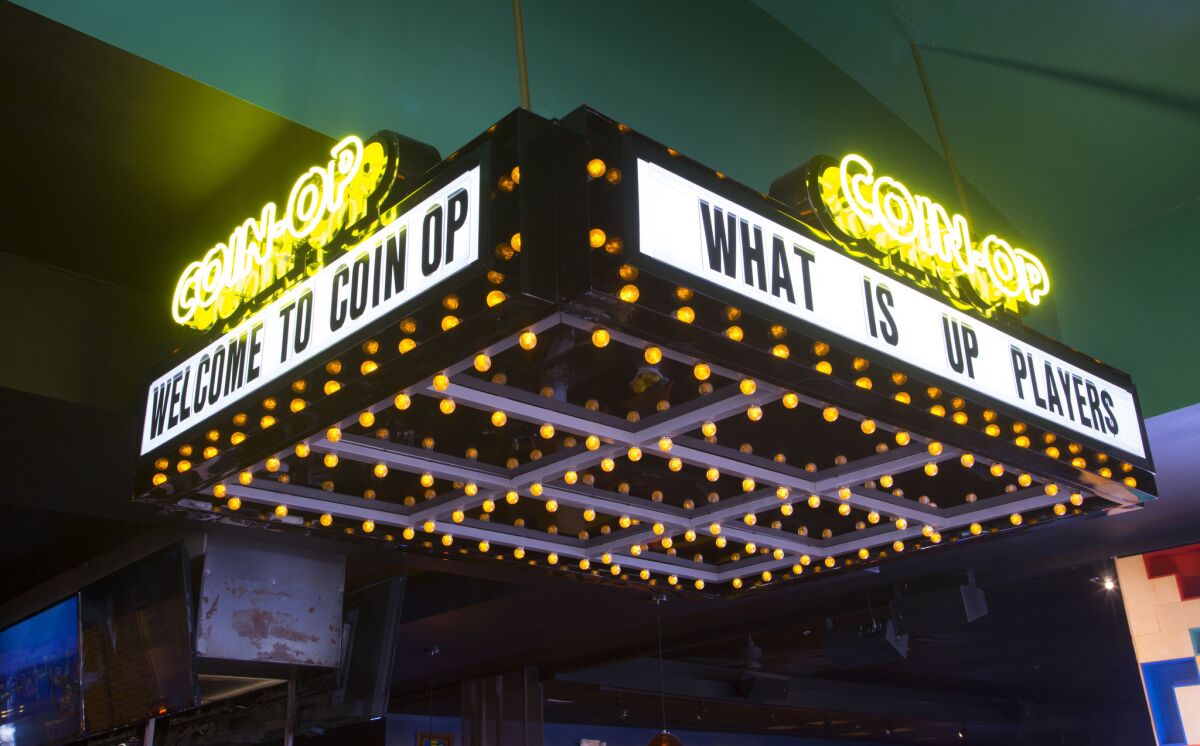 PACIFIC: How would you describe your bartending style?
D.J. MULL: I like to create an experience for any guest I come into contact with. It's about making sure that every single person who gets a drink in front of them is getting — if not the best — close to the best cocktail they've ever had. I create that experience through a little bit of education, a lot of fun, and hitting the taste buds just right.
What's your favorite thing about working at Coin-Op?
The family aspect of it, for sure. I've worked at a lot of different bars that threw around the term bar family, but Coin-Op is definitely one of them where everybody genuinely cares about each other. It starts with the ownership, and it goes all the way down to the barbacks.
How does Coin-Op Gaslamp compare to the ones in North Park and S.F.?
The one in North Park has a very close-knit, small-neighborhood vibe to it, because that's exactly what it is. The one in San Francisco is fantastic, and it's a huge space; I want to say it's at least five times the size of the North Park location. We have a lot bigger groups up there, and it's a lot more food driven. The new Coin-Op in the Gaslamp is a perfect blend of those two.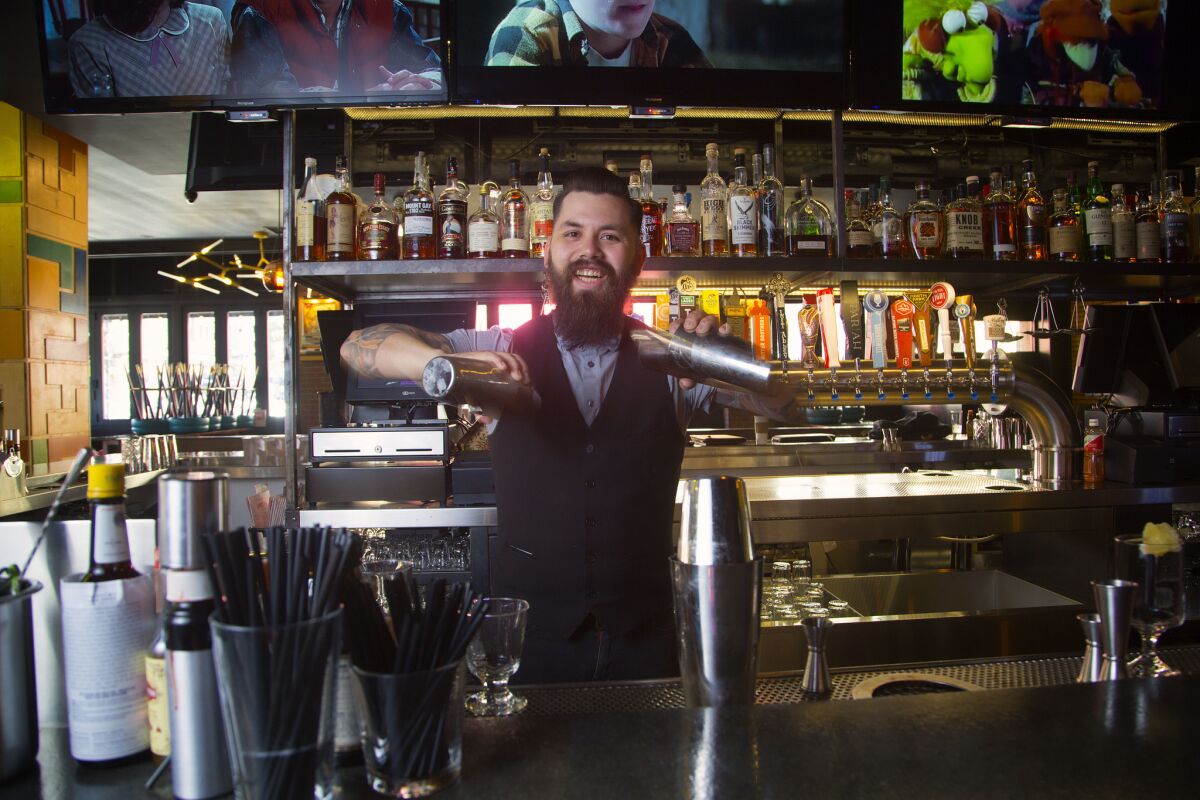 What's up with that back room everyone's been buzzing about?
So we have a glass-walled dream room in the back, right behind the bar. None of the other Coin-Ops have this. It's a little bit of a contemporary art exhibit that's stacked with a ton of nostalgic things like old CDs, movie posters, guitars and video game consoles. Everything that you dreamed of having when you were a kid. There are only two keys to this room, and The Guy has one of them. He's in there anywhere from four to six nights a week, but nobody really knows his schedule. He just shows up when he shows up and lives in the room as if it was his own. He'll watch movies, play video games, take a nap, read comic books, and re-enact WWF scenes while watching them on TV. I've even seen him get pizza delivered. No matter when you go, he's always doing something different.
How do guests react to The Guy and vice versa?
We have groups of people who come into Coin-Op and gravitate toward that room. Then, before you know it, we'll have a crowd of people almost as if you were at the zoo or something. Everybody's watching him to see what he'll do next. Sometimes he breaks the fourth wall, but most of the time, he's just living in his own world. Every once in a while, though, somebody will start knocking on the window and acting crazy. That's when The Guy will just glare at them, which drives everyone wild.
Have you spent much time in the room?
I don't have a key, but The Guy will call me every once in a while when he wants to hang out. So I'll go and hang out with him. We've actually had sleepovers, where we played video games, and when I crashed out, he and some of his other buddies drew on my face. It's happened before.
What's unique about Coin-Op's cocktail program?

We make a house melon liqueur, because although we all like Midori, we don't really like how sweet it is. So we have an amazing melon liqueur that tastes similar but has a lot less sugar. And instead of using Fireball, we've made our own cinnamon whiskey through trial and error. We also have two cocktails on the menu that change every single month. The only thing that stays the same is the citrus and the base spirits. We're always trying to do cool, different infusions. I've always got something cooking in my head, and that's what I love.
What are a few signature drinks on your cocktail menu?
One of my favorites is the Peach Panther, which is a peach tea-infused gin with a little bit of Peychaud's Bitters, and lemon juice, and topped with a little bit of champagne. It's delicious. Another one I really like is the Hop, Hammertime!, a hop-infused tequila cocktail. The next one that I love on the menu, and this is probably my favorite, is the Sunset Riders. It's a gin-and-bourbon lemon cocktail. We also make a rosemary shrub in-house that has juniper and black pepper and allspice in it. It has a lot more depth than a regular rosemary cocktail, and the raspberry and the rosemary pair so well, I could probably have about six of them in a sitting.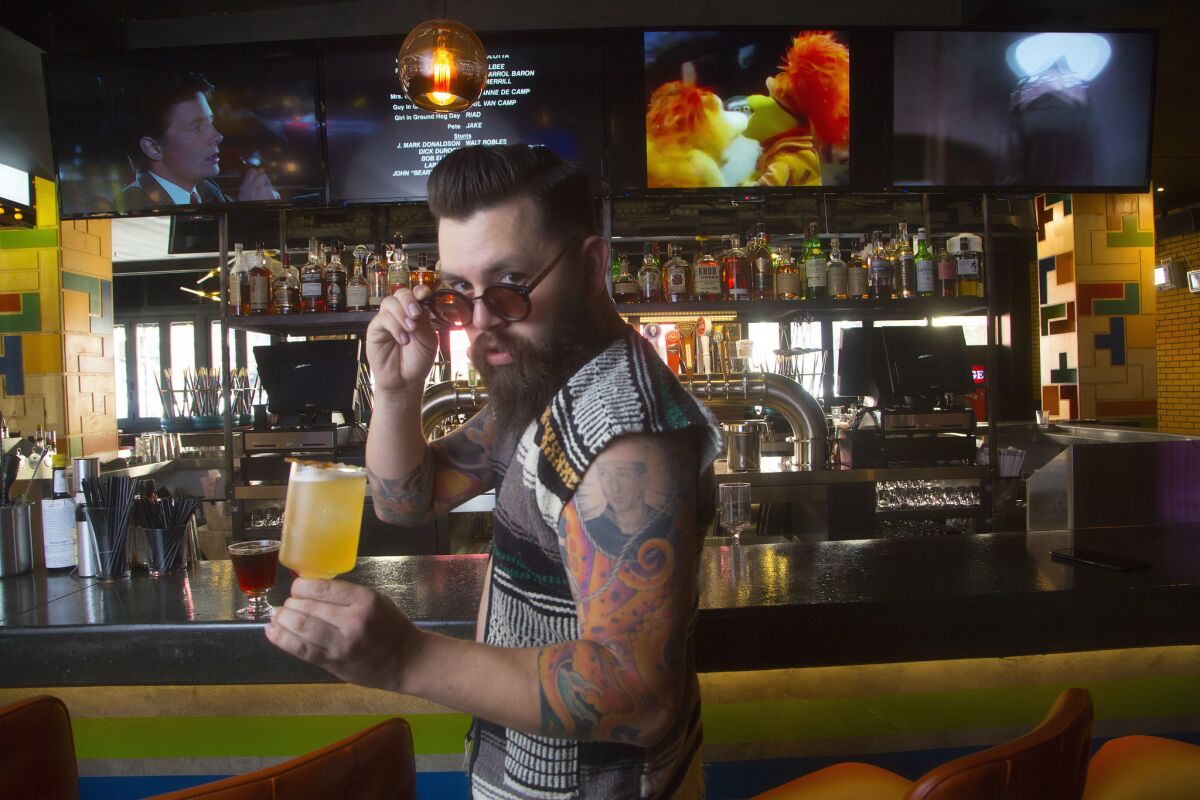 What are some of your favorite dishes on the menu?
I love the buffalo cauliflower. It's a lot like a popcorn chicken. It's so delicious and makes me feel good on the inside. Also, I'm a sucker for the green apple and caramel doughnuts. All the doughnuts are super good, but the green apple and caramel doughnuts, with extra caramel sauce — that's me.
What's the game selection like?
All of the Coin-Ops have different games, and we switch them out just about every week to keep things fresh. The one thing that does stay, though, and I'm so glad, is Skee-Ball. I could play Skee-Ball all day. And I really enjoy playing The Walking Dead pinball machine. The pinball machines nowadays, I swear, there are so many contraptions to them. We just got the new Star Wars one in, and holy smokes! It's got TVs in it and everything. It's crazy! And we have a great variety of the older ones, the classics.
Are there any big differences between the types of gamers in San Diego versus S.F.?
We have a huge pinball community in San Diego. That's something that I couldn't believe. We have people who come in just to check their pinball scores and make sure they're still on top. And if they aren't, oh man, they're gonna be in front of that game for the next two or three hours.
What do you do when you're not working?
I enjoy hanging out with my fiancée, hanging out with my bulldog and riding my motorcycles. I have a few Harley-Davidsons, and I probably work on them just as much as I ride them, but just spending time with them. And riding my BMX bicycles with friends also.
Coin-Op Game Room, 789 Sixth Ave., Gaslamp , 619.546.6441, coinopgaslamp.com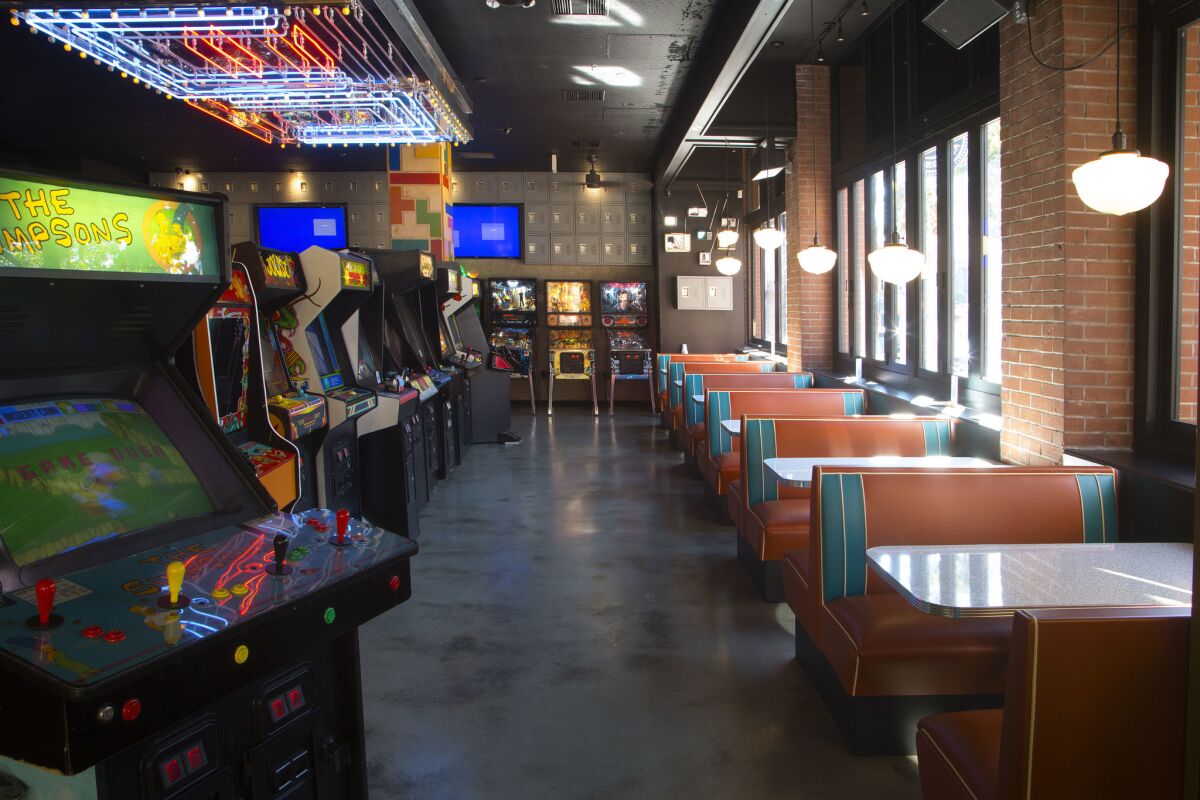 Sign up for the Pacific Insider newsletter
PACIFIC magazine delivers the latest restaurant and bar openings, festivals and top concerts, every Tuesday.
You may occasionally receive promotional content from the Pacific San Diego.