Hakkasan Group brings new nightlife to SD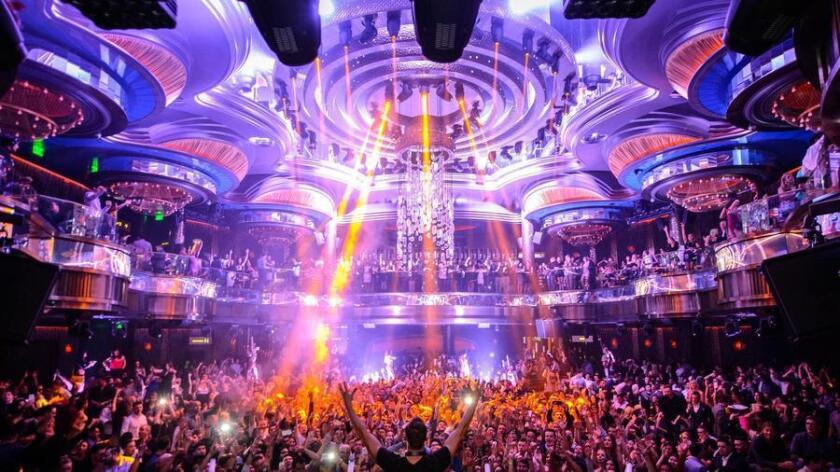 The Gaslamp District will get a shot of hyper-styled adrenaline on April 30 with the opening of superclub Omnia in the former Stingaree space. The ownership of this nightlife Mecca, Hakkasan Group, isn't new to creating dazzling, high-end scenes and has, in fact, changed the face of Las Vegas nightlife over the past several years. How will all of this play in San Diego? Las Vegas lifestyle and entertainment expert Don Chareunsy takes a look behind the scenes.
Hakkasan Group has made an indelible mark in Las Vegas in only a few years, and the entertainment, dining, nightlife and hospitality empire is about to expand its nightclub grip in San Diego with the opening of Omnia on April 30.
Omnia will open in the former downtown home of Stingaree, but Hakkasan Group isn't a stranger to the scene in San Diego, as it oversees "Top Chef" star Brian Malarkey's Herringbone and Searsucker restaurants. In recent weeks, Searsucker also opened at Caesars Palace adjacent to the brand new $100 million-plus nightclub Omnia.
What does this new opening mean for the San Diego scene? For starters, locals can expect the celebrity and star-DJ components of Omnia and Hakkasan in Las Vegas to be shared at Omnia San Diego.
The March opening weekends for Omnia at Caesars Palace in Las Vegas included pop music stars Justin Bieber and Miley Cyrus, and Hakkasan Group's top-notch DJ roster has included Calvin Harris, Martin Garrix, Afrojack, Armin Van Buuren, Chuckie, Oliver Heldens, Krewella, Nervo, Nicky Romero and Showtek. Harris and Garrix led the opening-weekend celebrations for Omnia in Las Vegas.
Along with star-studded glamour, Hakkasan Group holds itself to high standards for service, design, innovation and the experience.
"We pride ourselves on bringing a level of incomparable service to our guests across all facets and in a variety of markets," said Hakkasan Group President Nick McCabe. "The Hakkasan brand has undoubtedly been a huge success for our company, and we are always looking for continued growth."
Related stories
OMNIA San Diego announces opening night
Omnia San Diego announces major DJ lineup
OMNIA San Diego May talent lineup: Krewella, Tiesto, Armin van Buuren
He added, "We look forward to our future endeavors where we have the opportunity to introduce the brand to future guests and continue our relationships with loyal customers, whether it be a restaurant, nightlife venue or soon-to-come hotel destination."
Hakkasan Group properties stretch beyond the United States and into Europe, the Middle East and Asia, and its namesake is from its Michelin-star restaurant. The five-level Hakkasan at MGM Grand is the only location that also includes lounges and nightclubs: Ling Ling Lounge and Ling Ling Club on the third level and the fourth- and fifth-floor main club room that is home to DJs Harris, Afrojack, Tiesto and more.

Why San Diego?
Hakkasan Group chose Las Vegas as the flagship location for Omnia to take the place of nightlife venue Pure, which had a decade-long run on the Las Vegas Strip and was known for celebrity hosts and performances, the Pussycat Dolls Lounge, main room dance floor and terrace patio view of the Strip.
So why San Diego as the second location for Omnia?
"We selected San Diego as the ideal feeder market that could support what we wanted to achieve, as the city is already home to a successful and bustling nightlife scene to locals and tourists alike," McCabe said.
"We are confident that the Omnia brand is unlike anything our guests have experienced in a nightlife venue before. Omnia means 'all,' and the space is just that - an all-encompassing venue with a glamorous and worldly feel, yet still approachable to our club goers."
McCabe said that with the the arrival of Hakkasan Group's Omnia in the San Diego market, the company is aiming to bring an innovative take on the nightlife experience to guests.
"The Gaslamp District is a historic location in the city, known for amazing restaurants and entertainment options - the ideal location and demographic for Omnia San Diego," he said.
"With our recent debut of Omnia in Las Vegas, we wanted to translate the brand into the San Diego market for club goers looking for Las Vegas-level performances."
McCabe said the Omnia brand has been designed to withstand trends and translate into a variety of markets, so expansion is always a possibility when the timing is right.
"For the time being, we are solely focused on our Las Vegas and San Diego locations," he said.
Hakkasan Group acquired Enlightened Hospitality Group in January 2014, where it partnered alongside chef Brian Malarkey for the Searsucker restaurant, also located in the heart of San Diego.
"We look forward to continuing our work with chef (Malarkey) for a multitude of projects to come in addition to our nightlife and hospitality endeavors," he said.
Hakkasan Group's restaurant portfolio is vast, much of it in Las Vegas: the flagship Hakkasan Restaurant (with 12 global locations), Yauatcha, HKK, Sake No Hana, Herringbone, Searsucker, Social House, Kumi, Yellowtail, Fix, Stack, Citizens, Red Square, Diablo's Cantina and Bianca.
So is its nightclub and daylife holdings, also predominantly in Las Vegas: Hakkasan Nightclub, Wet Republic, HQ Nightclub, HQ Beach Club, The Blind Dragon, Bootsy Bellows, Hooray Henry's, The Nice Guy, Shorebar, Light Nightclub, 1OAK, The Bank, Alibi Cocktail Lounge, Lily Bar & Lounge, The Deuce Lounge, FDR, The Beatles Revolution Lounge, Gold, Liquid, Bare and Omnia.
In 2014, Hakkasan Group and MGM Resorts International announced a joint-venture hotel-management company, MGM Hakkasan Hospitality, with hotel and resort projects already under development including MGM projects in the Americas, the Middle East and Asia along with Hakkasan projects in Abu Dhabi and Dubai. Hakkasan Group is owned by Tasameem Real Estate LLC, an Abu Dhabi-based investment company.

Stacking up against competition
One pause for concern for nightlife in Las Vegas, and elsewhere, is the perceived oversaturation of nightclubs.
Jesse Waits, managing partner and co-owner of XS and Tryst at Wynn (rivals of Hakkasan Group in Las Vegas), recently told the Las Vegas Sun in response to a question about too many nightclubs and not enough people:
"The mega-club market right now is killing off the bar/lounge-type nightclubs. I think most clubs have a cycle, like a lifeline around two to three years, then afterward they fall off and live off the reputation or the hotel guests and stay alive," Waits said.
He added, "It's still a business like everything else. It's just like getting more guests and then sharing it. The weak will die, and the strongest ones will stay up top. In six years, I think that the future of the nightclubs will eventually evolve into the customer experience again with a five- to six-star experience for the guest."
Don Chareunsy is the senior editor for arts and entertainment at the Las Vegas Sun, where he has worked since 2008. He worked in news and features at The San Diego Union-Tribune from 2002 to 2008.
Source: DiscoverSD
---
Sign up for the Pacific Insider newsletter
PACIFIC magazine delivers the latest restaurant and bar openings, festivals and top concerts, every Tuesday.
You may occasionally receive promotional content from the Pacific San Diego.