Preview Night at Comic-Con on Wednesday in San Diego offered many interesting visuals. Here's what we saw.
Comic-Con has returned to downtown San Diego, and Preview Night on Wednesday had much to offer in terms of visuals inside and outside the San Diego Convention Center.
FULL COMIC-CON COVERAGE: Comic-Con 2022
Comic-Con schedules, downtown dining recommendations and more
Preview Night is typically a chance for fans to check in, get their badges and roam the exhibit hall before the next four days of panels, activations and activities really get going. In the Gaslamp Quarter and throughout downtown, the buildings are already wrapped with advertisements for upcoming shows and films, including Prime Video's "The Rings of Power" and Apple TV+'s "Severance."
Throughout the Gaslamp, finishing touches were being put on everything from sand castles to slides. Here's some of what we saw at Preview Night.
1. A giant inflatable replica of Ozzy Osbourne
Across from the Convention Center, outside of the Metropolitan Condos, a giant, inflatable version of Ozzy Osbourne can be seen during Comic-Con. The "Prince of Darkness" himself will be in attendance at the convention this year, promoting new music and revealing the cover artwork for his comic book collaboration with Todd McFarlane.
2. TinyTAN Tamagotchi devices for each member of BTS
Now BTS fans can carry the band members around in their pockets, at least in Tamagotchi form. The TinyTAN Tamagotchi is inspired by the world-famous K-Pop band and allows fans to interact with digital characters representing RM, Jin, SUGA, j-hope, Jimin, V and Jung Kook. The products are on display at Booth #3735 in the exhibit hall.
3. Professional, highly detailed sand castles created for Audible
Across from the Convention Center, near First Avenue and the Martin Luther King Promenade, Audible is presenting highly detailed sand castles at a place it is calling "The Audible Beach." The sand castles celebrate original storytelling from Audible, which visitors can sample as they take in these exquisite sand sculptures.
4. A giant 'Dragon Ball Z' character statue
Behind the Marriott Marquis San Diego Marina, another big statue can be seen. This is Vegeta Great Ape, who is part of a larger "Dragon Ball Z" experience and full on takeover of Comic-Con. Inside, fans can check out product displays, game experiences and more.
5. A very life-like replica of Grogu from 'The Mandalorian'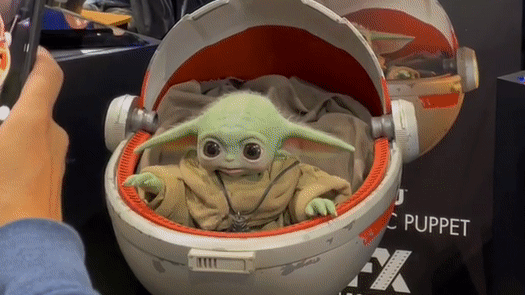 At EFX Collectibles' booth (#3635), a very life-like replica of the character Grogu from "The Mandalorian" is on display. Crowds gathered around to take pictures and admire the closest thing they've probably seen in real life to the character also known widely as "Baby Yoda."
6. A massive slide high above Comic-Con
FOX entertainment's KRAPOPOLIS outdoor activation features a 70-foot slide and photo opportunities with characters from the upcoming animated series. The space will also offer visitors the opportunity to enter a contest to win a trip for two to Greece. Located at the New Children's Museum park at West Island Avenue and Front Street, the activation will be open to the public from 10 a.m. to 7 p.m. on Thursday, Friday and Saturday and 10 a.m. to 4 p.m. on Sunday.
7. The extremely realistic 'Severance' activation
At the Hard Rock Hotel, fans of the Apple TV+ series "Severance" can fully immerse themselves in the world of Lumon. Character actors lead you through your "orientation," and there are full-sized sets to walk through. Fans can participate every step of the way, including a wellness check-in, "The Break Room," and an office dance party. Reservations for visiting the "Severance" experience are available starting Thursday at 6 a.m. on welcometolumon.com.
8. Fans already in line for Hall H at 1:34 p.m. on Wednesday
Hall H at Comic-Con has become famous for its long lines ahead of some of the biggest panels of the year, but it's still always incredible to see the dedication of fans setting up days in advance to make sure they're approved for entry. Siblings Anthony and Mai Vang, attending San Diego Comic-Con for their second time, are among the first to set up camp outside of the San Diego Convention Center to obtain the coveted Hall H wristband.
9. Fans running on top of a tram at 'The Gray Man' activation
In Netflix's "The Gray Man" Training Program, attendees must complete a series of modules testing their skill, strength and speed as they race through an immersive re-creation of a tram car from the movie. While racing through the escape experience, each individual must protect a data chip medallion — which you can take home as a souvenir — and will be filmed as if starring alongside Ryan Gosling and Chris Evans in the film. At the end of the course, attendees will be able to email themselves a copy of their scene. With bursts of smoke, flying sparks and rubble all around, this action-packed experience allows attendees to step right into a movie scene.
10. An incredible, hand-crafted Poison Ivy costume and cosplayer
Emily Echevarria attends her 13th San Diego Comic-Con, cosplaying as DC character Poison Ivy, her longtime favorite character. Echevarria made the costume herself and feels connected to Poison Ivy's character as a member of the LGBTQ community.
11. A fire-y scene at the 'House of Dragon' activation
Outside the Hilton Gaslamp, fans anticipating the new HBO Max show "House of the Dragon" can journey through a 60-foot-long dragon den. Attendees are led through the space by character actors as they pick their own dragon eggs and take a seat on the Iron Throne. They can then download the free "The House of the Dragon: DracARys" app to virtually hatch their dragon egg and meet their dragon. The immersive experience is filled with smoke, gusts of wind and dragon noises around every corner. It will remain open from 10 a.m. to 6 p.m. Thursday, Friday and Saturday and 11 a.m. to 4 p.m. on Sunday.
---