In San Diego, comic world's heavy-hitters remember the legendary Stan Lee
When Todd McFarlane was 16, he had only soft hopes of getting into comics. Then while visiting a baseball camp in Florida, he ran into Stan Lee at a small comic convention.
In those days, conventions were small affairs sequestered to one lone ballroom in a hotel, but still there was Lee — a man McFarlane viewed akin to the Pope — sitting alone at a table.
"I asked him, 'Do you mind if I ask you a few questions?'" McFarlane recalled Friday. "Without hesitation, he grabbed an empty chair, put it next to himself and he said, "Sit here and fire away."
McFarlane sat beside Lee and began peppering him with questions for six hours that day, and when McFarlane went back to his home in Canada, he really started to believe that his dream of creating comics could become a reality.
Today, McFarlane is one of the most well-known names in the comic book world. On Friday, he joined a panel of trailblazers at Comic-Con who all fondly recalled memories of their time with Lee, the titan of comics and the superhero genre who died last November.
During the hourlong event, panelists reflected on their time knowing Lee, a man described as funny, genuine, patient, kind, and seemingly always joyful even during the years where comic books were really struggling.
Paul Levitz, former president and publisher of DC Comics, reflected on the nice relationship he developed with Lee despite working for Marvel's chief competitor and said one thing he always admired about Lee was he had unique ability helping creative people produce high-quality work that were truly passionate about.
Marv Wolfman, former executive-editor of Marvel, recalled the amazing work environment Lee created at Marvel. Wolfman, who helmed iconic runs on "The Amazing Spiderman and Daredevil" for Marvel, as well as "The New Teen Titans" for DC, praised Lee's constant positivity and said he was as outgoing behind closed doors as he was when interacting with fans.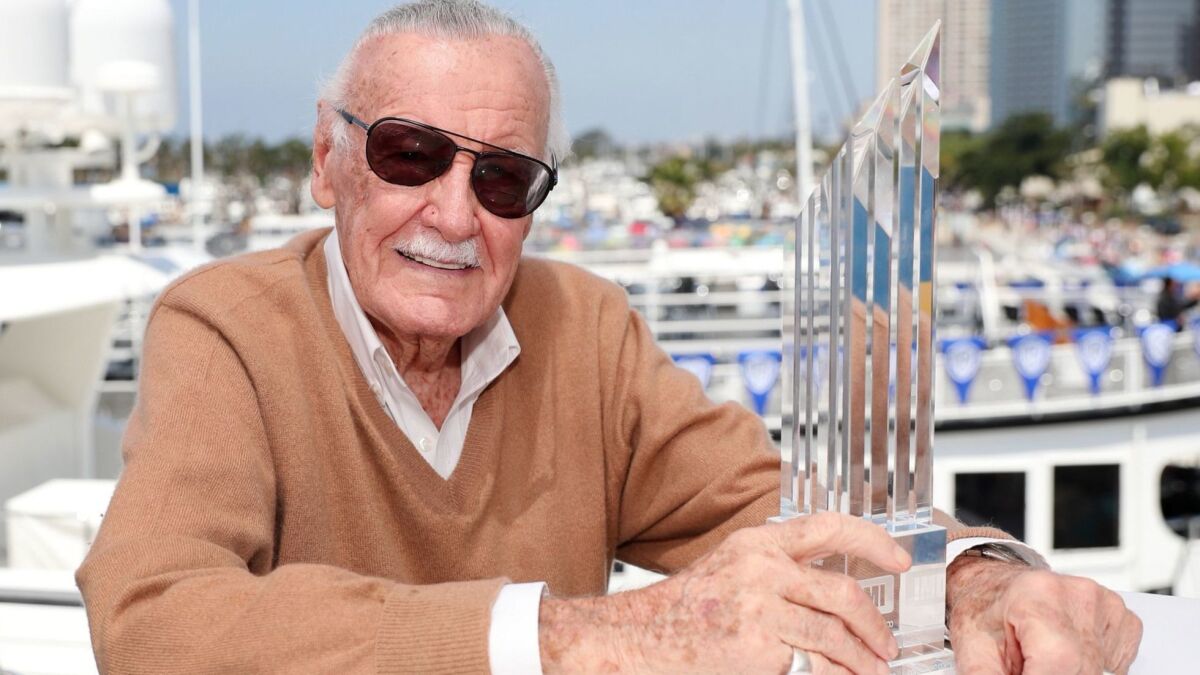 Wolfman said Lee was always good at providing a laugh, recalling how one crazy Friday night at Marvel a couple of guys started play wrestling and ended up cascading out the door just as Lee was walking by. Lee, he said, stepped over the men lying on the floor and said will a smile, "keep it up men!"
"It made working there fun, it made working there something you enjoyed because the guy in charge loved it," said Wolfman. "He loved it, he showed it, and he exuded the love he had for telling these stories."
Maggie Thompson, former editor of The Comic Buyer's Guide, recalled how during her early years working on a fan zine she wrote a six-page letter to Lee, explaining everything he was doing right and wrong with his Marvel stories. Lee wrote back saying how wonderful it was to have such enthusiastic fans, Thompson said with a laugh.
She also praised Lee's crazy work ethic, which was unmatched. At one point, he was overseeing and mostly writing 12 titles, many anthologies, while no editor at rival DC was handling more than seven, most of which were written by other people.
"People say, 'Stan was just a PR guy. Oh Stan he didn't do anything,'" said Thompson. "I challenge you to match that workload."
Others, like McFarlane, reflected on just how much Lee meant to the industry, recalling how momentous it was when Lee was awarded a star on the Hollywood Walk of Fame.
"The reason it was such a big deal, for me and for our industry, (is that) it was the first time they acknowledged somebody in our industry," said McFarlane. "He broke the barrier to say we're worthy enough to be on the same stage as all these main names we grew up with."
John Semper, who worked with Lee extensively while developing the Spider-Man animated series that ran in the 1990s, similarly talked about how Lee helped popularize comics on television and film, as well as how gracious he was with giving people opportunities.
Semper, a longtime fan of Marvel prior to meeting Lee, came from a comedy background and was an unlikely choice to helm the animated series on Fox. However, Lee pushed for Semper because he said Semper was someone who he knew understood the value of Marvel Comics stories.
The panel also had a good laugh about the passion Lee had for his film cameos, and Semper remembered that during the last time he spoke with Lee, Lee had a theory on what made the Marvel movies so commercially successful.
"The success of these movies, I know what the element is," Semper recalled Lee telling him. "It's me! They keep going to all the movies because they're waiting to see my cameo!"
"The superpower of this man is that in 30 seconds he could make you feel special," McFarlane said. "I saw him dozens and dozens of times make that 30 seconds as important to that person as he could possibly do.
"He had two great joys in life, from my perspective," added McFarlane. "Being around people who like comics, and his wife Joan."
Sign up for the Pacific Insider newsletter
PACIFIC magazine delivers the latest restaurant and bar openings, festivals and top concerts, every Tuesday.
You may occasionally receive promotional content from the Pacific San Diego.