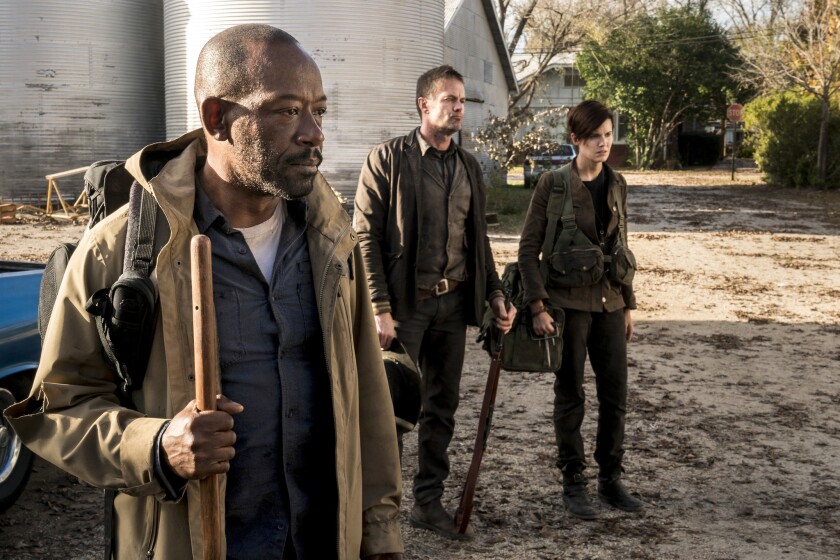 At the "Fear the Walking Dead" Comic-Con panel Friday afternoon, executive producer Scott M. Gimple revealed that more spinoffs of the zombie-apocalypse franchise are in the works.
"Other civilizations [also] survived the apocalypse," said Gimple, also an executive producer on the original "Walking Dead." "We're getting ready to show more of the world in a bunch of different shows." Gimple also joked that as many as 10 spinoffs were in the works about the "Walking Dead" universe.
The first spinoff, the official teaser for which will be available July 29, will follow a new group of young people who experienced the apocalypse from behind the secure walls of a first-world-style community. Gimple teased that the group will leave their safe home "to risk everything on a dangerous quest." The as-yet-untitled series will be the third "but probably not the last 'Walking Dead' show coming to TV," said the panel's moderator, Chris Hardwick.
Audience reaction for the series was tepid at best. Comparatively, when Hardwick took the stage at the start of the panel, a small portion of the audience cheered and whooped — to which Hardwick replied, "Glad to be back." Later in the panel, while asking a question, a female audience member told Hardwick, "We missed you last year," and members of the audience cheered and clapped again.
Last year, the "Talking With Chris Hardwick" host stepped down from moderating back-to-back "Walking Dead" and "Fear the Walking Dead" panels following allegations of misconduct.
In 2018, Hardwick was accused of sexual and emotional abuse by his ex-girlfriend actress Chloe Dykstra. He was scrubbed from the Nerdist website he founded and suspended from his AMC talk show for five weeks before being cleared to return.
"After a very careful review, including interviews with numerous individuals, we believe returning Chris to work is the appropriate step," the company said in a statement at the time.
Additionally, AMC announced today that Andrew Lincoln, who played "The Walking Dead" protagonist Rick Grimes until the first half of Season 9, will return to the franchise in a series of feature films that will play in theaters.
Following the double-decker panel, a 24-second teaser featuring a shot of the helicopter that carried away a near-death Grimes was aired with the text "Rick Grimes Returns: Only in Theaters." The show's official Twitter account confirmed the news, noting that the as-yet-untitled "Walking Dead" movie would be distributed by Universal Pictures. A release date has not yet been announced.
By contrast, Danai Gurira, who has been on the show for seven of the 10 years it has aired, confirmed that this would be her last season.
"This has been one of the purest joys of my life," she said. "I'm very, very thankful for the experience I've had in ways I can't even express right now. My heart will not leave in any way, shape or form. ... It was a very difficult [decision] and it was about my calling and other things I feel called to and the opportunities I've had, wanting to explore them for others as the other thing I do as a creator of work. All I'm filled with is a lot of pain about leaving and a lot of gratitude. TWD family is forever."
---