Here's what we're looking forward to as the pop culture convention turns 50
San Diego becomes the center of the pop culture universe this week when Comic-Con International kicks off its 2019 edition, marking the convention's 50th year. To celebrate this momentous occasion, we came up with 50 things we're looking forward to at this year's Comic-Con.
"Star Trek"
"Star Trek" will touch down with a trio of back-to-back panels in Hall H celebrating the franchise's ever-expanding universe. First up, CBS All Access producers and the stars of "Star Trek: Discovery," Sonequa Martin-Green and Tig Notaro, will preview the series third season. Next comes a preview of "Star Trek: Lower Decks," a new animated comedy series for adults. But most fans will queue up for the highly anticipated third panel, a preview of "Star Trek: Picard," an upcoming CBS All Access series starring Patrick Stewart, reprising the role he played for seven seasons on "Star Trek: The Next Generation." Stewart will appear with six of his castmates. 11:30 a.m.-1 p.m. Saturday, Hall H. (Pam Kragen)
Arnold Schwarzenegger
When he said "I'll be back," he meant it. Arnold Schwarzenegger will bring his new film, "Terminator Dark Fate," to San Diego. Scheduled to be the first presentation in the king of all halls — Hall H — the panel will also feature film footage and stars Linda Hamilton, Natalia Reyes, Mackenzie Davis, Gabriel Luna, Diego Boneta and the movie's director, Tim Miller. The movie is set to release on Oct. 24. Thursday, 11 a.m., Hall H. (Alexander Oleksyn)
"Top Gun: Maverick"?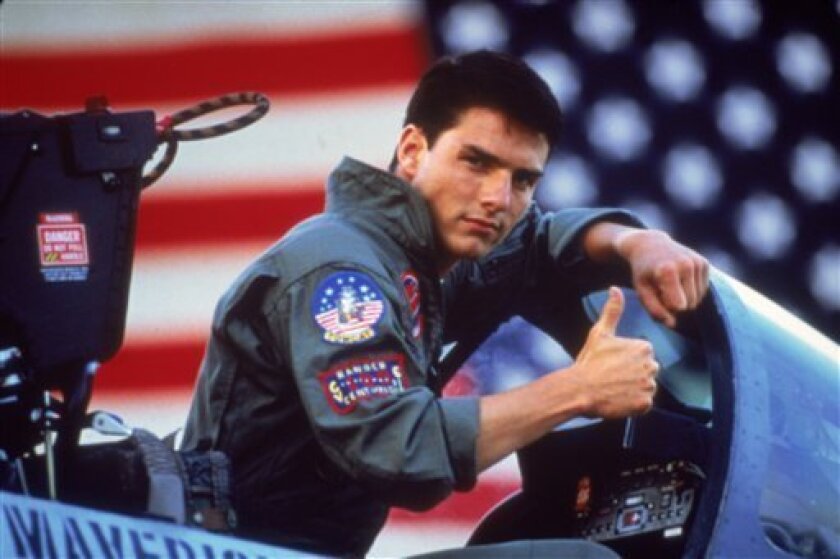 As of press time, an appearance by the cast of the "Top Gun" sequel was still unconfirmed. But the buzz as of late is that the movie, a Paramount and Skydance Media production, might just land at Comic-Con. "Top Gun: Maverick," much of it shot in San Diego last year, is directed by Joseph Kosinski from a screenplay by Peter Craig, Christopher McQuarrie, Justin Marks and Eric Warren Singer. Tom Cruise is one of the producers. Will he make a Comic-Con appearance? We'll have to wait and see. (Michael James Rocha)
The Batman Experience
Holy Batman! Why take Lyft or Uber when you can fly through Gotham City as part of The Batman Experience Powered by AT&T at the San Diego International Comic-Con Museum in Balboa Park (to officially open in 2021 in the vacated San Diego Hall of Champions). The city has granted Comic-Con permission to erect a temporary wind tunnel in front of the museum Wednesday through Sunday. Adventurous guests, age 13 and up, will be outfitted with flight suits, helmets, goggles and ear plugs. After a training session with a professional instructor and a test flight, they will don a virtual reality headset and individually venture into the wind tunnel for a one-minute, 360-degree Gotham City action video. Afraid of heights? No need to panic. An instructor will hold onto one leg throughout the airborne adventure. More good news: a queueing app will minimize the lines. Just sign up and wait to be buzzed while visiting the museum's all-encompassing exhibit on Batman, who is being inducted this week as the first member of the Comic-Con International Hall of Fame. Wednesday through Sunday, Comic-Con Museum, Balboa Park. (Diane Bell)
"The Witcher"
Most people know "The Witcher" as a series of popular video games based on the books by Polish author Andrzej Sapkowski. But now Netflix is bringing this epic fantasy to life in eight episodes later this year. Comic-Con goers will get to learn about the strange and magical land of The Witcher, which follows Geralt of Rivia (Henry Cavill), a loner who possesses supernatural abilities and has trained all of his life to battle monsters and beasts that threaten the people. The main storyline follows Geralt as he protects Ciri (Freya Allan), a princess whose country has been conquered and who becomes a witcher-in-training. And of course there's a love story with a sorceress named Yennefer (Anya Chalotra). Maybe Cavill will talk about his silky, silver locks, which kind of remind you of an aging Legolas. Expected to appear: Henry Cavill, Anya Cholatra, Freya Allen, showrunner Lauren Schmidt Hissrich. Friday, 2:15 p.m.-3 p.m., Hall H. (Diana McCabe)
"The Rook"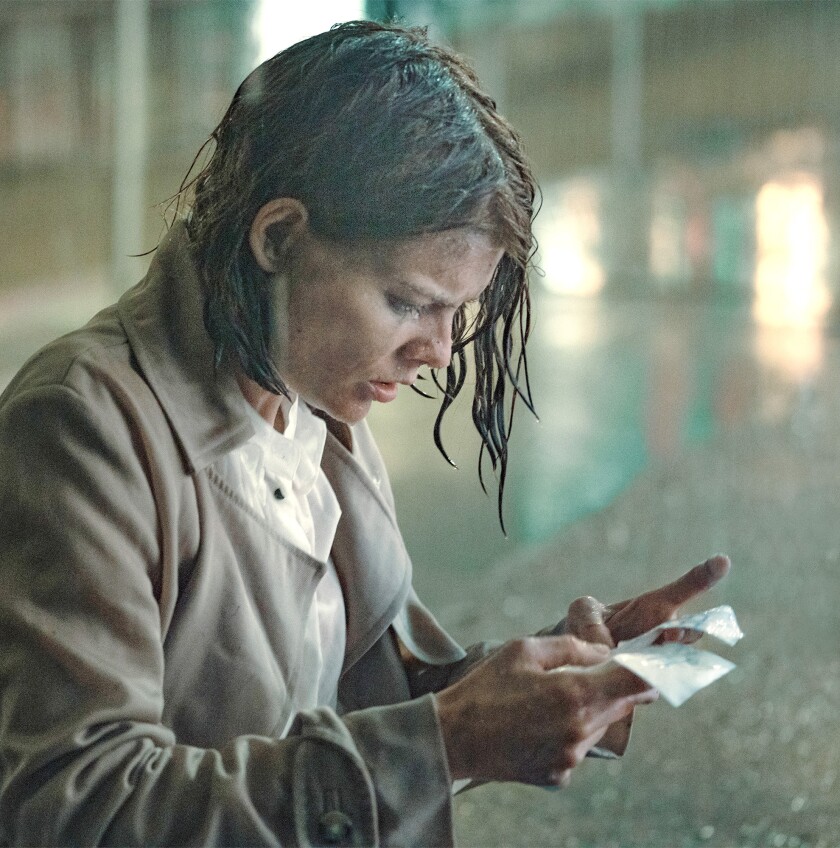 Another year without "Outlander" at San Diego Comic-Con, but Starz isn't leaving viewers totally out in the cold. It's bringing "The Rook," a new series based on the novel by Daniel O'Malley. The show tells the story of Myfanwy Thomas (Emma Greenwell), who wakes up in the rain beside London's Millennium Bridge with amnesia. She not only can't remember who she is but also has no explanation for the circle of dead people around her. But there's something different — some would say sizzling — about Myfanwy, who soon discovers she is a member of the Checquy, Britain's last secret service for people with paranormal abilities. She has to figure out who wiped her memory and why people are trying to kill her. In the interim she must contend with her protector/boss Linda Farrier (Joely Richardson) and an American agent named Monica Reed (Olivia Munn). And yes, this certainly does sound a lot like Matt Damon in The Bourne Identity with a bit of X-Men thrown in. Starz has already aired a few of the episodes but fans will get to see an early airing of the fourth episode. Expected to appear: Emma Greenwell, Olivia Munn and Joely Richardson. Friday, 5:45 p.m.-7 p.m., Room 6A. (Diana McCabe)
Batman anniversary keycards
Souvenir Batman anniversary keycards will be given to 40,000 hotel guests staying at participating hotels during Comic-Con weekend. They keycards — including images promoting the CW series "Batwoman" and the EPIX series "Pennyworth" — are being designed in honor of the 80th anniversary of DC Comics' Batman. HBO is also sponsoring "Watchmen" keycards. The cards will be distributed to guests at nearly 40 hotels. (Pam Kragen)
Lin-Manuel Miranda
The capacious Hall H will officially stand for "Hamilton" on Thursday, when the Broadway superstar Lin-Manuel Miranda — who created that smash-hit musical and starred as its title statesman — takes his shot at the Con. He'll be on a panel with fellow cast members of the HBO fantasy series "His Dark Materials," based on the Philip Pullman novels. (Miranda plays Lee Scoresby.) His own tweeted plea: "Be gentle, it's my first Comic-Con." Thursday, 4:45 p.m., Hall H. (James Hebert)
Russo brothers
Anthony and Joseph Russo, the sibling directorial duo behind Marvel blockbusters like "Captain America: The Winter Soldier" and "Avengers: Endgame," will discuss their work, their larger Marvel Cinematic Universe journey and a few of their future projects. The panel will be moderated by Steven "Frosty" Weintraub, the creator of the Collider website and YouTube channel. Friday, 11 a.m., Hall H. (Alexander Oleksyn)
Snoopy
Good grief, Comic-Con! NASA and Peanuts have teamed up to celebrate the 50th anniversary of the Apollo 10 mission, a May 1969 human space mission that was a test run for what would eventually be a successful landing on the moon by the Apollo 11 crew two months later. In the early 1960s, Peanuts creator Charles M. Schulz gave his blessing for NASA to use Snoopy as part of the agency's spaceflight materials. NASA even went as far as calling Apollo 10's modules "Charlie Brown" and "Snoopy." At Booth No. 1635 on the convention floor, check out a new video showcasing the NASA and Peanuts partnership, historic photos of Snoopy and Charlie Brown in space and a plethora of commemorative merch. (Michael James Rocha)
"Snowpiercer"
"Snowpiercer," the post-apocalyptic movie illustrating the struggles of Earth's last survivors trying to maintain harmony on a perpetually moving train, will be getting a television adaptation on TBS, and stars Academy Award-winner Jennifer Connelly, "Hamilton's" Daveed Diggs and executive producer Graeme Manson will discuss the show. Premiering in spring of 2020, the series already has been renewed for a second season, and those attending the panel will see an exclusive first look. Saturday, 3 p.m., Indigo Ballroom. (Alexander Oleksyn)
Comic Pop Up Market and Comic-Con Inspired Art Show
Comic Pop Up Market & Comic-Con Inspired Art Show, an event outside the Convention Center and open to those without passes, will include handmade goods, face painting, a cosplay contest, raffles and more. There will be vegan food vendors and kombucha on tap. Most of the event is free, but musical performances starting at 2 p.m. will require a ticket costing $10. The event benefits the WorldBeat Center and small-business events hosted there. Saturday, noon to 6 p.m., WorldBeat Center, Balboa Park. (Alexander Oleksyn)
"The Expanse"
"The Expanse" shows no signs of stopping after Amazon Prime saved the TV series from extinction last fall after its cancellation by the Syfy network. The brave crew of the Rocinante spaceship were last seen piloting their spacecraft through a portal into another universe at the end of season 3. What happens next? Find out at the season four preview panel featuring stars Steven Strait, Dominique Tipper, Cas Anvar, Wes Chatham, Shohreh Aghdashloo and Frankie Adams, as well as series producers Naren Shankar and Ty Franck. 1 p.m. Saturday, Indigo Ballroom, Hilton San Diego Bayfront. (Pam Kragen)
45th Masquerade Costume Competition
Masquerade, Comic-Con's annual costume contest, will give amateur costume designers the chance to model their creations. They will be judged by Hollywood costume designers and art directors, and winners from a variety of categories will receive award medallions and free four-day passes for Comic-Con 2020. Tickets are available to those already attending the convention and are required for all those hoping to watch the show in Ballroom 20, but the program will also be broadcast to TVs within Ballroom 20, the Sails Pavilion and Room 6A. More information at https://www.comic-con.org/cci/masquerade-0. Saturday, 8:30 p.m. to 11:30 p.m., Ballroom 20. (Alexander Oleksyn)
"Vikings Battle Axe Training"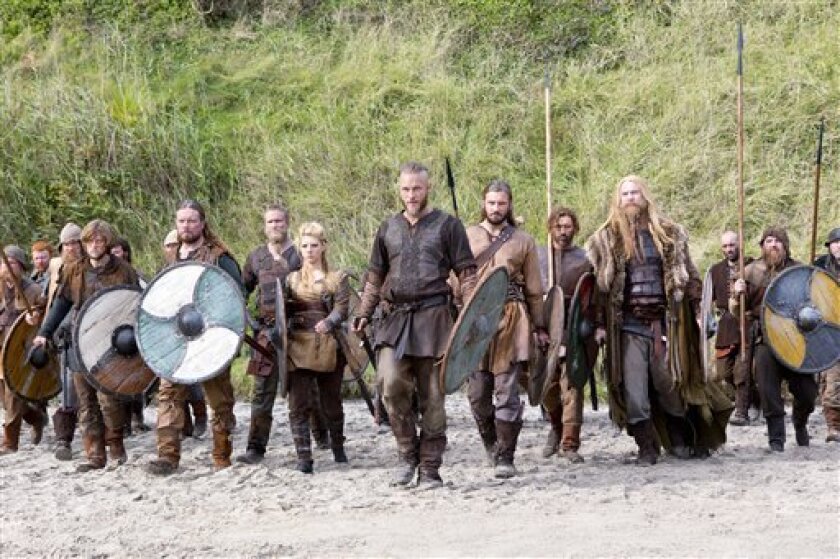 The History Channel hit "Vikings" returns to San Diego with, what else, an axe-training activation. The daylong event — "Vikings Battle Axe Training" — is meant to expose fans to the ancient skill of axe throwing. Need more of an enticement? How about the chance to meet two of the series' most popular actors: Katheryn Winnick (Lagertha) and Alexander Ludwig (Bjorn Ironside). Saturday, 11 a.m. to 9 p.m., Throw It, 339 Seventh Ave., San Diego. Actor appearances: 2-3:30 p.m. for Alexander Ludwig and 3:30-5 p.m. for Katheryn Winnick. (Michael James Rocha)
Pokémon Detective Pikachu
Pokémon Detective Pikachu will provide an immersive experience for fans of the movie to enjoy outside of the main convention. The walkthrough exhibit will give guests the chance to win prizes, take pictures and meet characters from the movie. Sights will include the neon cityscape, Ryme City marketplace, film prop displays, an infinity room and more. This event is open to the public and will be staged outside the Omni Hotel adjacent to Petco Park. Wednesday, 5 p.m. to 7 p.m.; Thursday-Saturday, 10 a.m. to 7 p.m.; Sunday 10 a.m. to 4 p.m. Omni Hotel. (Alexander Oleksyn)
Godzilla
To celebrate its 65th anniversary, Godzilla will make its first-ever appearance at Comic-Con this summer. TOHO Studios will showcase the monster at a booth with props, including the suit from "Godzilla 2000." Exclusive products made for San Diego's Comic-Con will celebrate the "King of the Monsters." The event will include a green screen photo booth for fans to take photos amid a Japanese Godzilla event. An artist for Godzilla films, Shinji Nishikawa, will paint a mural on site. Wednesday-Sunday. Booth No. 3535. (Linda Velasquez)
"The Musical Anatomy of a Superhero"
Composers of Marvel and DC films and shows will stage "The Musical Anatomy of a Superhero" panel to discuss the musical scores behind their popular on-screen characters. Moderated by Michael Giacchino ("Spiderman: Far From Home," "Dr. Strange"), this year's panel features composers such as Pinar Toprak ("Captain Marvel"), Benjamin Wallfisch ("Shazam!," "Hellboy"), Sherri Chung ("Batwoman," "Supergirl"), Blake Neely ("Arrow," "The Flash"), and Christopher Lennertz ("Marvel's Agent Carter," "The Boys"), and shows exclusive scenes from upcoming shows "The Boys" and "Batwoman." Thursday, 11 a.m., Ballroom 20. (Kate Duffy)
Lego Star Wars
Fans of "Star Wars" will want to see the debut of two new Lego Star Wars sets: Obi-Wan's Hut and Luke Skywalker's Landspeeder. These sets recreate popular scenes from the film that started it all, "Star Wars: A New Hope." They will be available for fans to view at Comic-Con, months before their official release on Jan. 1. (Kate Duffy)
"Veronica Mars"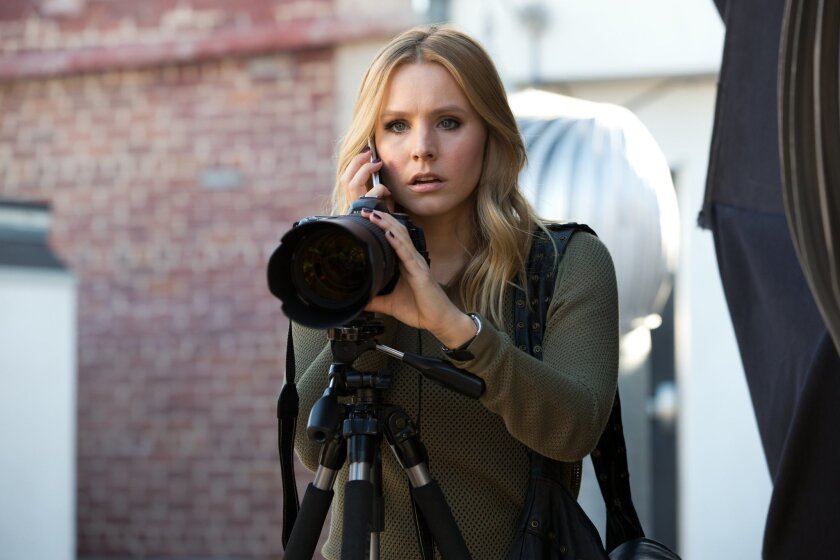 "Veronica Mars" will return to the world of television after nearly a decade. Comic-Con attendees will be the first to see the San Diego high-schooler-turned-private-investigator, played by Kristen Bell, in the premiere of season four. The show was filmed at a studio in Kearny Mesa as well as familiar locations such as Belmont Park, Balboa Park and Newport Avenue in Ocean Beach. Cancelled in 2007 after three seasons, fans of "Mars" rallied around a Kickstarter campaign started by creator Rob Thomas to produce a feature film in 2014. Recently, Hulu revived the show for a fourth season, which will premiere at Comic-Con. A Q&A session will follow the premiere. Friday, 11:30 a.m. to 12:45 p.m. Ballroom 20. (Emma Taila)
Cirque du Soleil
Cirque du Soleil will debut an exclusive preview of the new show "R.U.N." at this year's Fandom Party atop the Hard Rock Hotel. The spectacle is inspired by the upcoming show premiering at the Luxor in Las Vegas. The preview will include pyrotechnic elements, an epic rooftop battle, adrenaline-inducing motorcycle tricking, live-action stunts, and a voice-over narration written by filmmaker Robert Rodriguez. Tyler Bates, music composer, also will perform live. The Fandom Party will take place Thursday, 7 p.m. to 11 p.m., Hard Rock Hotel, Float rooftop bar. (Alexander Oleksyn)
"Game of Thrones"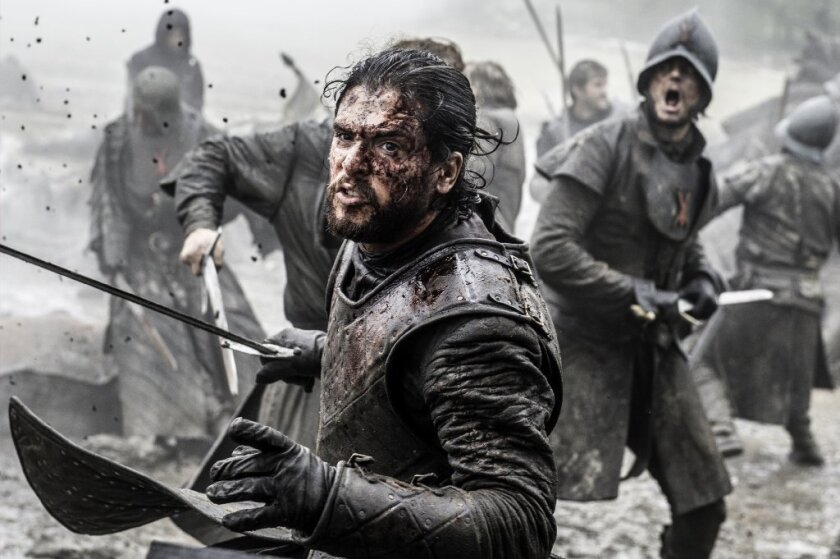 Still seething about the "Game of Thrones" finale? Perhaps all will be forgiven when cast members John Bradley (Samwell Tarly), Nikolaj Coster-Waldau (Jaime Lannister), Maisie Williams (Arya Stark), and many others convene for a chat about the past and — dare we hope? — maybe some news about the future. Prepare to love the gang all over again. Friday, 5:30 p.m., Hall H. (Karla Peterson)
"Marvel's Agents of S.H.I.E.L.D."
The cast of "Marvel's Agents of S.H.I.E.L.D." and its producers will give their first-ever Hall H panel. Actors Clark Gregg, Ming-Na Wen, Chloe Bennet, Elizabeth Henstridge, Iain De Caestecker, Henry Simmons, Natalia Cordova-Buckley and Jeff Ward, as well as executive producers Maurissa Tancharoen, Jed Whedon, Jeff Bell and Jeph Loeb, will discuss the upcoming season six finale, and what's in the works for season seven, which is already in production. Thursday, 3:30 p.m. to 4:30 p.m. Hall H. (Emma Taila)
Lucas Museum of Narrative Art
George Lucas' new museum is currently under construction at Los Angeles' Exhibition Park. The $1.5 billion, 300,000-square foot Lucas Museum of Narrative Art's curators Erin M. Curtis, Anastasia James, and Ryan Linkof will discuss its collection of visual storytelling artifacts that span everything from ancient art to illustration, comic art, photography, and the arts of filmmaking, including storyboards, costumes, props and visual effects. Set next to the Museum of Natural History of Los Angeles, the Lucas museum is planned to open in 2021. Thursday, 10 a.m.-11 a.m., Room 5AB. (Michael Price)
DC Universe Saturday Night
DC Universe Saturday Night will be two hours of news, sneak peeks and first looks for several of the rookie streaming service's live-action programs, including "Titans," "Doom Patrol" and animated offerings like the second half of "Young Justice" season three, "Outsiders," and the new comedy series, "Harley Quinn," during the special event on Saturday night. Launched last fall, DC Universe offers original programming and digital comics as well as a library of vintage DC and Warner Brothers superhero films, TV series and shorts. Saturday, 7 p.m.- 9 p.m., Hilton San Diego Bayfront, Indigo Ballroom. (Michael Price)
"Arrow"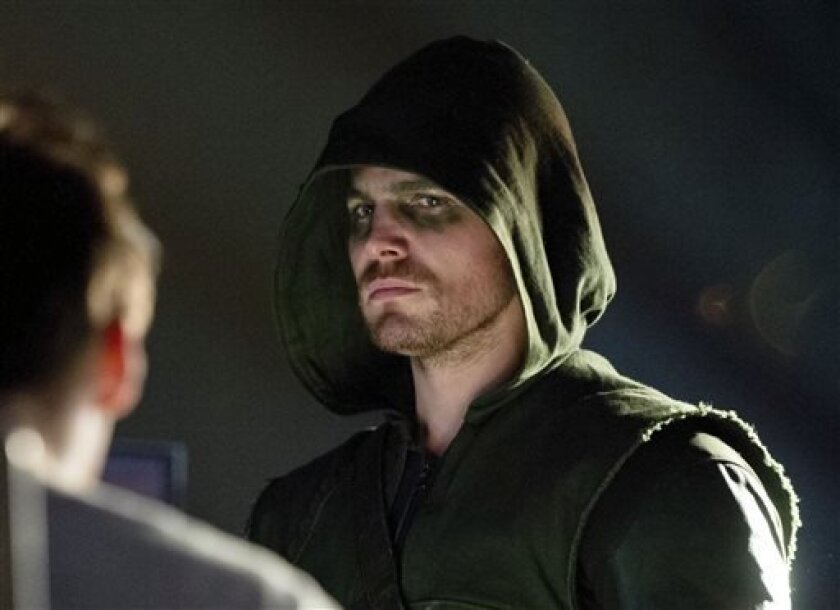 Oliver Queen fans will have their chance to pay respects to the cast of The CW's "Arrow," which will sign off after eight seasons of chronicling the exploits of Green Arrow, Spartan, Red Arrow, Black Canary, Felicity Smoak and the rest of the Star City team. Expect cast members Stephen Amell, David Ramsey and Emily Bett Rickards to thank their loyal fans and promote the final season's 10 episodes, which will begin airing Oct. 15. Saturday, 3:30 p.m.- 4:15 p.m., Ballroom 20. (Michael Price)
Comic-Con International Independent Film Festival
The CCI-IFF, better known as the Comic-Con International Independent Film Festival, will celebrate its 15th year as a juried event. With categories that include action/adventure, animation, comics-related, pop-culture documentary, horror/suspense, humor and science fiction/fantasy, the 95-minutes-or-less film submissions are shown throughout the four-day event. The Judges' Choice Award is selected from the winners of each category. Past judges have included celebrities Kathy Najimy, Michael Gross, Orlando Jones and Valerie Perez. The science fiction/fantasy entry, "Bullies," won the Judges' Choice last year. (Michael Price)
"SpongeBob SquarePants"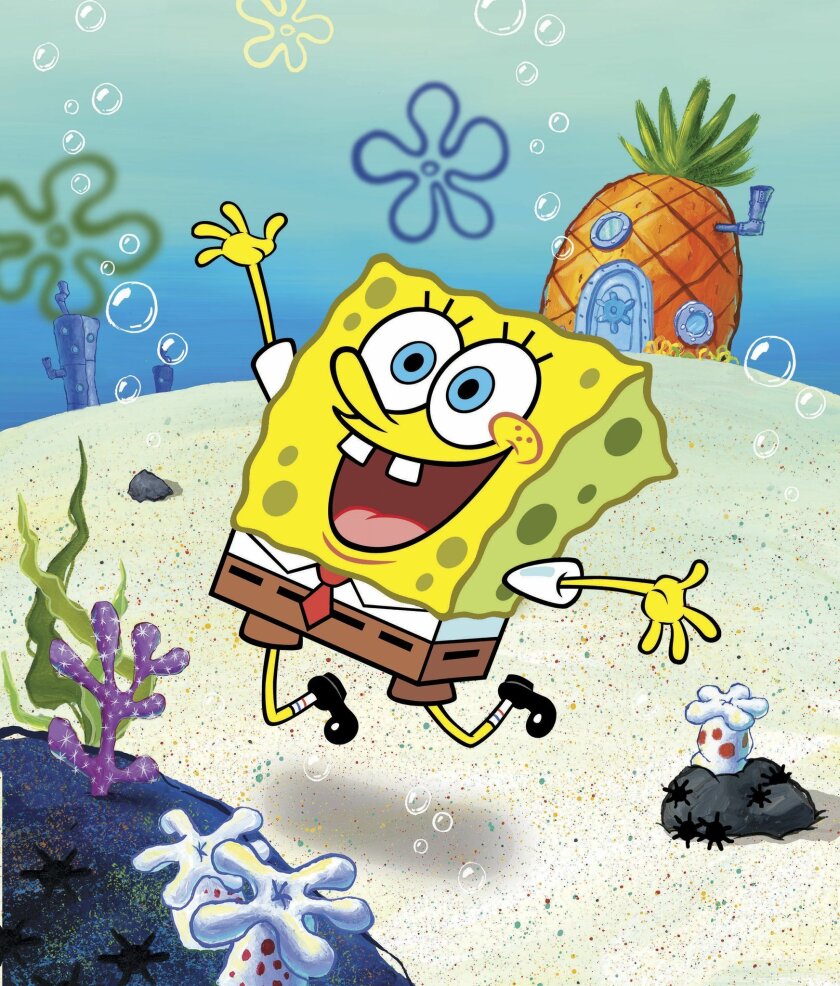 "SpongeBob SquarePants" is celebrating 20 years of nautical nonsense from Spongebob, Patrick, Squidward and our other favorite under-sea friends with a chance to visit Bikini Bottom inside the convention center and other special activities. Twenty years?! Time flies when you're having F.U.N. Fans can visit The Krusty Krab, hang with costumed characters and attend panels with cast and creators. Arrrrrrrrre ya ready? Through Sunday. Booth 4113 for merchandise and activation. (Abby Hamblin)
Her Universe Fashion Show
The Her Universe Fashion Show highlights the magic of fandom through fashion with designers competing for prizes and showing off their inspired "geek couture" designs. Each year, the runway is filled with surprises and one-of-a-kind outfits. Join founder Ashley Eckstein (voice of Ahsoka Tano, "Star Wars") for what's become one of Comic-Con's most dazzling events. This year's theme is "the power of fashion." Thursday, 6 p.m., Harbor Ballroom, Manchester Grand Hyatt. Free. (Abby Hamblin)
"Supernatural"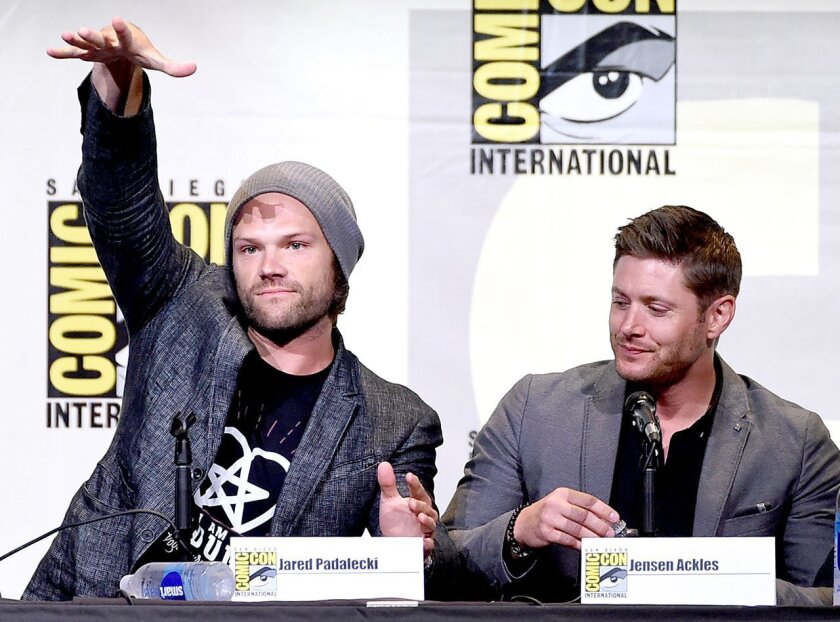 Say it ain't so, bros! On Oct. 10, the CW network begins airing the 15th and final season of "Supernatural," a prospect that's as terrifying as a clown car filled with vampires. And what better way to begin the long goodbye than with the traditional killer Hall H panel featuring video treats and appearances by stars Jared Padalecki, Jensen Ackles, Misha Collins and Alexander Calvert. There will be mega-tears. Sunday, 10:30 a.m., Hall H. (Karla Peterson)
"Doctor Who"
"Doctor Who" fans will be disappointed there's no cast panel for the 56-year-old BBC series this year, but a couple of fan-led panels may fill the gap. On Friday, members of the Time Travellers (un)Ltd. cosplay group will discuss their favorites Doctors at "Classic vs. Current Doctor Who" at 3 p.m. Friday, Grand 10 and 11, Marriott Marquis San Diego. Doctor Who will also be discussed on Thursday in the "SuperheroIRL" panel. Sci-fi series actors, authors, peace activists and NOH8 campaign leaders will discuss how benevolent characters like Doctor Who encourage fans to battle hate, racism, bullying, misogyny, homophobia and other injustices. 11 a.m. Thursday, Room 7AB. (Pam Kragen)
"The Orville"
Seth MacFarlane will head a spaced-out panel discussion about his series, "The Orville," which is back for a third season. The full crew will be there: MacFarlane, Adrianne Palicki, Penny Johnson Jerald, Scott Grimes, Peter Macon, Jessica Szohr, J Lee and Mark Jackson. They will show a look back to some never-before-seen moments of the second season and a look forward to the upcoming season. Saturday, 2:30 p.m.-3:15 p.m., Ballroom 20. (Michael Price)
"Westworld"
"Westworld" fans who've stuck with Jonathan Nolan and Lisa Joy's mind-bending series about rampaging robots have lots of questions about last season's time-hopping WTF finale. Maybe there will be a few answers when HBO hosts a preview for season three, which returns in 2020. Appearing with Nolan and Joy on the panel are series stars Ed Harris, Evan Rachel Wood, Jeffrey Wright, Thandie Newton, Tessa Thompson and series newcomer, Aaron Paul. Details about the "Breaking Bad" star's new character have been kept mostly under wraps. 1:15 p.m. Saturday, Hall H. (Pam Kragen)
"Women Who Kick Ass"
Entertainment Weekly's "Women Who Kick Ass" panel returns this year with five of the fiercest ladies on television. Shohreh Aghdashloo, the Earthly prime minister in "The Expanse," is joined by "Doctor Who" companion and "New Amsterdam" doctor Freema Agyeman; lady wrestler Betty Gilpin of "GLOW"; Ruby Rose of CW's "Batwoman" series; and Cobie Smulders as an Army vet turned private investigator in "Stumptown." 4 p.m. Saturday, Hall H. (Pam Kragen)
"Critical Role"
The cast of "Critical Role," a streamed show that chronicles the epic Dungeons & Dragons adventures of a crew of voice actors, is returning for this year's Con. It's sure to be a blast for all — whether or not you indulge in your own 20-die-centric shenanigans. Saturday, 4 p.m., Room 6BCF. (Lyndsay Winkley)
"Conan"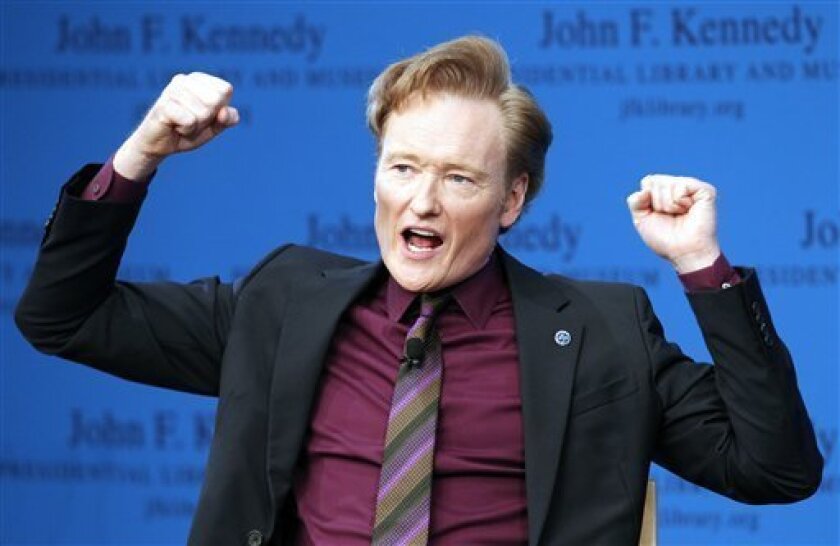 Conan O'Brien is once again bringing his TBS show to Comic-Con, with "Conan" episodes taping Wednesday through Saturday at the Spreckels Theatre. Tickets are hard to come by, but no one can get between you and your TV. The guest lineup includes: The cast of "It Chapter Two" (Wednesday), the cast of "Veronica Mars" (Friday) and the cast of "Carnival Row" (Saturday). Thursday's "Surprise Guest" is TBA. Airing on Wednesday through Saturday at 11 p.m. on TBS. (Karla Peterson)
Amazon
Amazon is taking this super hero business seriously with a 60-000 square-foot, immersive fan experience highlighting three upcoming shows: "The Boys," "The Expanse" and "Carnival Row." The massive installation is packed with panels, parties and previews — some which will be featured on a 40-foot tower outfitted with LED screens. Thursday through Sunday. At the corner of the MLK Promenade. (Lyndsay Winkley)
"The Simpsons"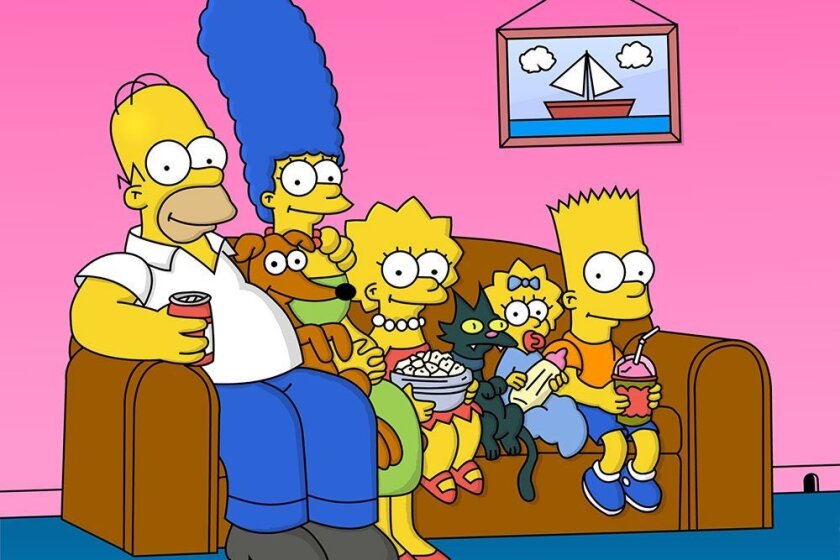 "The Simpsons" marks its 30th anniversary this year, and for many of those years, it has been a regular presence at Comic-Con. Producers are tight-lipped on what will happen at this year's panel, but they've released the panel guest list. Series creator Matt Groening will be there along with creatives Al Jean, Mike B. Anderson and Stephanie Gillis, along with Yeardley Smith, the voice of Lisa Simpson, who will moderate. Noon Saturday, Ballroom 20. (Pam Kragen)
Prop Store
In a convention crawling with cosplay copies, we love visiting the Prop Store booth (No. 3845) with authentic movie collectibles. The memorabilia merchant is teaming with Marvel Television for a first-of-its-kind auction of original items that include props and costumes like Matt Murdock's Daredevil costume from two seasons of Marvel's "Daredevil" (bidding starts at $30,000!). Featured collectibles set for a later London auction include items from big blockbusters you might have heard of: "Back to the Future," "Indiana Jones" and "Star Wars." Through July 21. Booth 3845. (Teri Figueroa)
Comic-Con International Art Show
Art lovers can acquire original works — in all types of media — at the Comic-Con International Art Show, and you don't need a badge! The exhibit, open to the public, presents the creations of professional and amateur artists, which can be purchased by anyone over the age of 18 having proper identification. The exhibit also displays the comics and books nominated for this year's Will Eisner Comic Industry Awards along with a special showing about Will Eisner Hall of Fame members. Thursday–Friday, 9 a.m. to 9 p.m.; Saturday, 9 a.m. to 6 p.m.; Sunday, noon to 7 p.m. Grand Hall CD, Manchester Grand Hyatt. (Michael Price)
Comic-Con chocolate
For a fifth year, the Convention Center will offer Comic-Con-themed chocolate bars at its Con-Fections concession stand outside Ballroom 20. The bars are $5 each and include the Battle Bar, Dragon Smoke, Stranger Smores and the 50/30 bar, celebrating both the 50th Comic-Con and the center's 30th anniversary. Don't throw that wrapper out too fast — golden tickets are hidden in four of the bars. They won't get you a tour of the Chocolate Factory, but they are good for a $100 Starbucks gift card. (Lyndsay Winkley)
Artists' Loft, BarrioHaus
Comic-Con is expanding its footprint this year, with more off-site programming, including a host of no-badge-required panels at the Artists' Loft, BarrioHaus. The venue intends to bring into focus the impact of Latinx contributions and culture on the popular arts. Noon and 1 p.m., Thursday through Sunday, BarrioHaus on National Avenue. (Lyndsay Winkley)
Comic-Con Talkback
'Normally a late afternoon staple of the Sunday schedule where attendees get to vent about what went wrong during the convention, "Talkback" is taking a different form this year. With the passing late last year of longtime Comic-Con President John Rogers, who always led the session, there will be a memorial where friends and colleagues will honor Rogers' memory. Also planned the same afternoon is a quasi-talkback session called Comic-Con Now during which board members and staffers will discuss the state of Comic-Con and where it's headed. Comic-Con Now: Sunday 2:30 p.m. Room 23ABC; Memorial: Sunday 3:30 p.m. Room 23ABC. (Lori Weisberg)
"Batwoman"
"Batwoman" will take to the streets of Gotham this fall, and the cast and showrunners will screen the series pilot and host a Q&A at Comic-Con. Producers Greg Berlanti, Caroline Dries, Geoff Johns and Sarah Schechter will join cast members Ruby Rose (Batwoman), Rachel Skarsten, Meagan Tandy, Nicole Kang, Camrus Johnson, Elizabeth Anweis and Dougray Scott. "Batwoman" will air Sundays on The CW and chronicles the adventures of Kate Kane, an out lesbian and costumed crime fighter. Saturday, 10:30 a.m. to 11:45 a.m., Ballroom 20. (Michael Price)
Pop!
Pop! will release limited-edition Funko figures for collectors attending the convention. Available on opening day, the special figures will display a 50th-anniversary SDCC logo. Interested collectors need to register their badge number ID online. From there, the 50th anniversary collectibles can be preordered from the "Exclusives" page. A variety of characters, including the Comic-Con International Toucan mascot, will be available. Thursday-Sunday, Booth 5341. (Linda Velasquez)
W00tstout
Stone Brewing Company will release Stone Farking Wheaton W00tstout 2019, which is an imperial stout brewed with rye, wheat malts and pecans and is partially aged in bourbon barrels. This beer has an 11.5 percent ABV and is a collaboration between actor Wil Wheaton, Drew Curtis and Greg Koch. This year's bottle features artwork from Alan Davis, who drew Uncanny X-Men and Justice League of America. The beer will be packaged in 12-ounce cans, 22-ounce bottles and will be on draft — the closest location to the Convention Center is the Stone Tap Room at Petco Park. (Daniel Wheaton)
"Friends"
If you're wondering if your friends from "Friends" will be there for you, wonder no more. In observance of the hit TV show's 25th anniversary, Warner Bros. is bringing the iconic Central Perk couch to Comic-Con. Stop by the Warner Bros. booth, near Artists' Alley, for the Instagram-ready setup (hashtag #WBSDCC or #Friends25). Thursday-Sunday, Booth 4545. (Michael James Rocha)
Fluxx Nightclub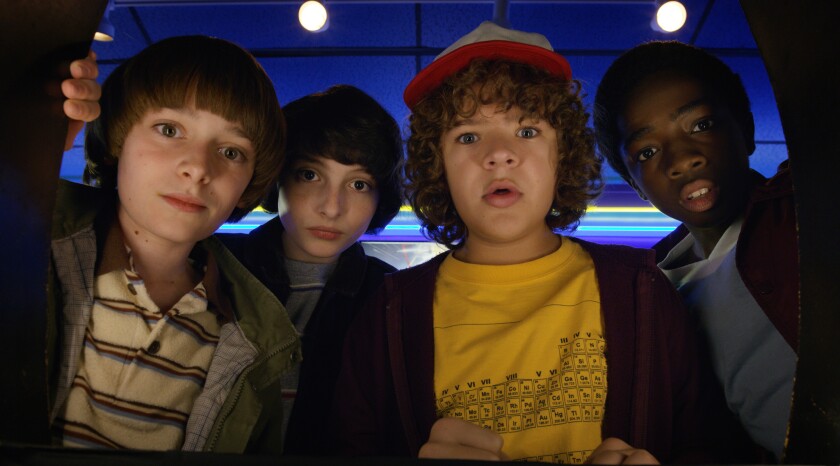 The Upside Down is coming to San Diego's Fluxx Nightclub during Comic-Con. The themed party, based on the Netflix show "Stranger Things," will feature recreated sets and 1980s style music. The host, Nerdist, will present celebrity guests without the long lines of a mainstream industry party. While there is no dress code, partygoers are encouraged to suit up in their best nostalgia wear. Tickets start at $35 and VIP passes are $100. Thursday, 8 p.m., 500 Fourth Ave., San Diego. (Kellen Foster)
"Ripley's Believe It or Not!"
Because we can't not watch the new "Ripley's Believe It or Not!" series on Travel Channel, we are so gonna swing by Booth 4015 to see Ripley's Garage and check out the strange, the weird and the true — you know, like shrunken heads. Plus, we hear they will have the newest edition of the Ripley's annual book, "Ripley's Believe It or Not! Beyond the Bizarre," on sale at Comic-Con before it hits stores. Oh, and the people who bring you the peculiar will also have a "car lot" at the Petco Park Interactive Zone. Curiosities include the world's smallest street legal car and a Hummer made out of lottery tickets. A lucky few might win a spot at a Saturday noon to 2 p.m autograph signing with Bruce Campbell, host of the new series on Travel Channel. Thursday-Sunday, Booth 4015, San Diego Convention Center, and Petco Park. (Teri Figueroa)
"The Walking Dead"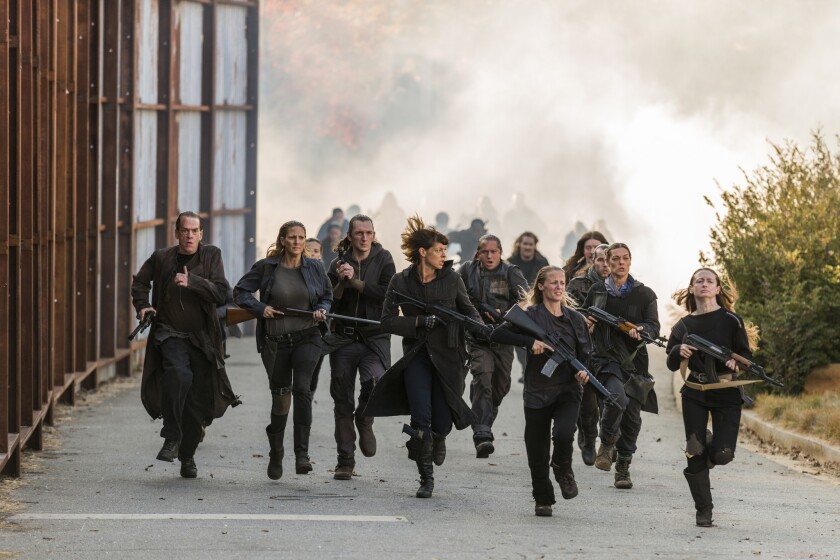 The dead will be walking into Hall H when "The Walking Dead" panel takes the stage. Cast members Norman Reedus, Melissa McBride, Danai Gurira, Ryan Hurst, Jeffrey Dean Morgan, Avi Nash, Nadia Hilker, Eleanor Matsuura and Cailey Fleming are expected to attend, as well as showrunner Angela Kang, executive producers Robert Kirkman, Dave Alpert, Gale Anne Hurd and Greg Nicotero. The hit TV show is entering its 10th season. Friday, 1 p.m., Hall H. Kirkman also will stage the panel "In Conversation with Robert Kirkman" the day before. Thursday, 3 p.m., Room 6A (Kellen Foster)
---