Comic-Con 2019: Where superheroes can drink, eat near the convention center and beyond
San Diego area restaurants and bars have whipped up comic-themed menus worthy of any caped crusader.
San Diego Comic-Con opens for its first full day Thursday, and downtown restaurants will be "command central" for thousands of cosplayers, superhumans and just plain people-watchers to take a break from the convention frenzy and refresh with a theme-inspired bite and/or cocktail. Most Comic-Con menus and cocktails are available through Sunday, unless otherwise noted.
Barleymash will serve a lineup of comic bites like The Caped Crusader mac and cheese, topped with grilled chicken thighs and whiskey buffalo sauce; ale-braised pork and barbecue sauce Gotham Pizza; and Suicide Squad Wings tossed in house-made teriyaki, mango mojito and sriracha; and for dessert, The Riddler, double-fudge chocolate cake with house-made mint ice cream. Barleymash teamed up with Thorn St. Brewing to craft a few Comic-Con specialty drinks like Brews Wayne Juicy Hazy IPA; Poison Ivy, made with Herradua Blanco Tequila, cucumber, mint, agave, lime and Tajin; and Detective Gordon, with Skyy Cold Brew Vodka, Kahlua, cream and graham cracker. 600 Fifth Ave., Gaslamp Quarter. (619) 255-7373. barleymash.com
Bleu Bohème is honoring Spider-Woman with its Femme d'Araignee cocktail. Priced at $14, the drink is made with rye whiskey, Ramos Pinto Fine Ruby Port, lemon juice and simple syrup, topped with soda water. 4090 Adams Ave., San Diego. (619) 255-4167. bleuboheme.com
Bootlegger welcomes heroes and villains to try a selection of craft beers and an expansive food menu featuring tastes like buffalo cheese curds, Lagunitas IPA pulled pork sliders and a "Build-Your-Own Buger" bar. 804 Market St., San Diego. (619) 794-2668. bootleggersd.com
Breakfast Republic (East Village only) will offer conventioners a special evening menu of Marvel-inspired creations like the Justice League Mac 'n' Cheese loaded with shrimp, Jurassic Pork bacon, cheddar cheese sauce and Parmesan cheese; Daredevil Burger piled high with asadero cheese, roasted jalapeño, roasted tomatoes, avocado, jalapeño aioli and fried egg; Hunky Hulk, infused with muddled basil and cucumber, gin, lemon juice and simple syrup; the Dark Knight, a cold brew with horchata vodka, Kahlua and chocolate bitters; and Marvel-Rita, made from muddled serrano, pineapple, mezcal, tequila, lemon juice with a Tajin rim. 3 to 9 p.m. today through Sunday. 707 G. St., San Diego. (619) 501-8280. breakfastrepublic.com
Death by Tequila will offer a cocktail inspired by the Avengers' supervillain — Thanos. This big, bad-boy of a drink features flavored layers of citrus dragon fruit puree, lime, mezcal and Ancho Reyes, garnished with an orange peel. 569 S. Coast Highway 101, Encinitas. (760) 782-2240. deathbytequila.com
El Chingon will 'strike back' with three Empire-themed cocktails: Vader-rita ($25), is made with Agave Blanco Tequila, fresh lime juice and organic agave nectar, topped with a paleta and served in a goblet; Palpatine's Paloma ($12), is made with El Jimador Blanco Tequila, fresh lime, salt and choice of Jarritos (Mexican soft drink); and Kylo's Kooler ($12), made with Azuñia Blanco Tequila, house-made watermelon cordial, lime and Tajin. 560 Fifth Ave., Gaslamp Quarter. (619) 501-1919. elchingon.com
Fifth & Rose at Pendry San Diego is where superheroes can sip on some Comic-Con-inspired aperitifs like the Black Widow, made with Grey Goose Vodka, activated charcoal, Elderflower, ginger beer and lime; The Hulk, made with Belvedere Vodka, cucumber, lime, honey and Moet & Chandon; I Am Groot, made with Hendricks Gin, Chareau, eucalyptus and lime; and Gamora, made with jalapeño Casamigos Reposado, cucumber, orgeat and lime. 550 J St., San Diego. (619) 738-7050. bit.ly/2XVoCQt
The US Grant's Grant Grill mixologists have traveled to the seven kingdoms to create their latest cocktail menu: a Game of Thrones-inspired tribute to Comic-Con. Ranging from The Mother of Dragons, White Walker and King of the North to the Three-Eyed Raven, Red Wedding and the Imp and The Mountain, each celebrated drink can be paired with a decadent Cersei's Scottish Egg. 326 Broadway, Gaslamp Quarter. (619) 744-2077. grantgrill.com
Havana 1920 toasts to the Star Wars Rebel Alliance with three featured cocktails, each priced at $12. The Dantooine Daquiri, made with Havana Club Anejo Rum, fresh lime juice and fresh sugarcane syrup; Mon Calamari Mojito, made with Havana Club Anejo Rum, fresh lime juice, yerba buena, fresh-pressed sugarcane juice, sugarcane syrup and club soda; and Yavin Four, made with Diplomatico Rum, fresh pineapple juice, fresh lime juice, apricot liqueur and R&D Aromatic Bitters. 548 Fifth Ave., Gaslamp Quarter. havana1920.com
Manchester Grand Hyatt will offer a variety of themed food and cocktails during Comic-Con week at several of its establishments. 1 Market Place, San Diego. (619) 232-1234. manchester.grand.hyatt.com
Seaview Breakfast Buffet Restaurant: Today: Baja Buffet with choices like chipotle Caesar salad and cilantro rice. Friday: Pizza, pasta and salad bar for lunch, and Italian night for dinner. Saturday: Summer barbecue for lunch and Made in Asia Night with pineapple fried jasmine rice. Sunday: Deli Day. (619) 358-6735.
Sally's Fish House & Bar: Star Wars-inspired sushi menu and light saber chopsticks. Out-of-this-world Galactic Cocktails ($13 each) will also be offered. (619) 358-6740. sallyssandiego.com
Brew 30: Hulk Smash Burger ($22), double meat, double cheese, double bacon and guacamole, smashed between a green bun. Pair it with the Dark Phoenix ($12), made with vodka, peach, schnapps, Sprite and cranberry juice. brew30.com
Top of the Hyatt: Shazam! ($12) is a wizardry mix of Malibu Rum, Mountain Dew and a splash of pineapple juice. topofthehyatt.com
Mezé Greek Fusion will jettison guests to Star Wars' Old Republic with drinks like Darth Revan Cooler, made with RumHaven Coconut Rum, fresh lime, pineapple, mint, vanilla and Allspice; Ebon Hawk, a choice of Nolet's Gin or Ketel One Vodka, fresh lime, ginger beer and bitters; and Grey Jedi Jungle Juice, made with Dobel Diamante GBOD single-barrel Tequila, mango purée, Ancho Reyes Verde, fresh lime and R&D Fire Bitters. Each cocktail is $13. 345 Sixth Ave., Gaslamp Quarter. (619) 550-1600. gaslampmeze.com
Primavera Ristorante will offer two specialty dishes and a cocktail based on the Super Mario series. The Super Mario Brothers house-made pork and beef meatballs ($12), are stuffed with creamy ricotta and served with house-made marinara; the Mario Marsala ($28) is a sauteed chicken breast with fresh mushrooms in Marsala wine sauce; and the Luigi Martini ($14) is made with gin, dry vermouth, Cointreau, grenadine and orange juice. 932 Orange Ave., Coronado. (619) 435-0454. primavera1st.com
Comic-Con fans will be one with the Force with Prohibition's three Jedi-inspired cocktails: Crazy Old Ben, made with Russell's Reserve single-barrel Bourbon, demerara and R&D Bitters; There is Another Skywalker, made with bourbon, lemon, honey and R&D Sarsaparilla Bitters; and Use the Force Luke!, a combination of Dobel Anejo Tequila, lime, honey and R&D Bitters. 548 Fifth Ave., Gaslamp Quarter. (619) 501-1919. prohibitionsd.com
Punch Bowl Social has created its drinkable ode to the annual convention with Dr. Banner's Wellness Elixir, a blend of Malahat Spiced Rum, RumHaven Coconut Rum, coconut milk, fresh lime juice, Coco Lopez Coconut Cream and matcha (green tea leaves), garnished with fresh mint. 1485 E St., San Diego. (619) 452-3352. punchbowlsocial.com
Rendezvous at The US Grant will serve defenders of justice a limited-time French-inspired cocktail menu that includes: Bronze Era, made with Cognac Brandy, St. Raphael (a French aperitif), Le Coq d'Or (a French aperitif) and orange bitters; Recton, a mix of gin, Elderflower, lemon and rose water; and The Dark Knight, made with absinthe, rye whiskey, Amaro, orange and Angostura bitters and activated charcoal with a bat signal ice cube. 326 Broadway, Gaslamp Quarter. rendezvoussd.com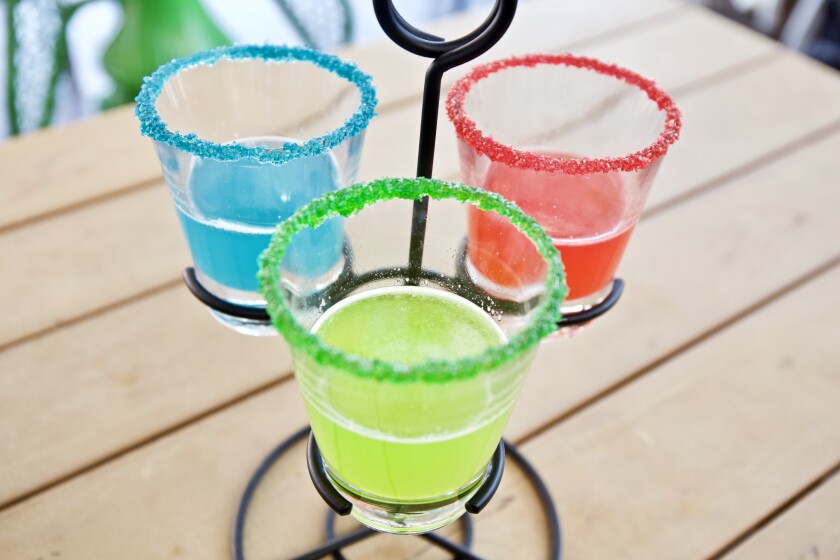 Rustic Root has crafted a cocktail inspired by Thanos' Infinity Gauntlet. Split into three different colored "stones," The Infinity Gauntlet 3-in-1 ($16), is made with Grey Goose, triple sec, lime juice and simple syrup, that may just give guests the power to manipulate matter (red: reality stone); the power to createa portal from one part of the universe to the other (blue: space stone); and the power to rewind or fast-forward in time (green: time stone). 535 Fifth Ave., Gaslamp Quarter. (619) 232-1747. rusticroot.com
The Local offers fuel-worthy Comic-Con eats like street fries, grilled fish tacos, green chicken enchiladas and the ahi tuna wrap, topped off with a beer from its lengthy brew menu. 1065 Fourth Ave., San Diego. (619) 231-4447. thelocalsandiego.com
The Smoking Gun's "Walking Dead"-themed cocktail menu offers the Zombie Blood, a blend of Cutwater Gin, Aperol, fresh lemon and pomegranate juice; The Rick, made with El Jimador Blanco Tequila, house-made Curaçao liqueur, fresh lime juice and soda water; and Carol Is A Badass, made with Old Forester Whiskey, fresh lemon juice, honey and ginger, Angostura bitters and Blood Orange Ale. 555 Market St., San Diego. thesmokinggunsd.com
Theatre Box will serve a limited-edition menu of food named after fan-favorite comic-book characters: The Deadpool Wrap ($17), a tomato tortilla filled with crispy chicken, romaine lettuce, Parmesan, croutons and buffalo dressing; Do or Do Not Yoda Wrap ($17), a spinach tortilla filled with turkey, bacon, tomato, lettuce, avocado and chipotle aioli; The Wonder Woman Salad ($14), tossed with quinoa, kale, tomato, cucumber, carrots, mint, basil and lemon vinaigrette; The Iron Fist Salad ($14), a mix of strawberry, farro, baby arugula, goat cheese, shaved fennel, crispy shallots and balsamic vinaigrette; Captain America Burger ($21), a blue brioche bun topped with certified Black Angus beef, Vermont white cheddar, lettuce, tomato, pickles, crispy onions and Sugar Factory sauce; Shazam! Hot Dog ($12), topped with aged cheddar cheese and relish, served on a brioche bun; and Hulk Sliders ($25), Sugar Factory's classic miniature burgers served on green buns with American cheese, crispy onions, house-made sauce and a take-home duckie. The menu is available in Sugar Factory American Brasserie and TCL Chinese Theatre. 701 Fifth Ave., San Diego. theatrebox.com
WhipHand is going post-zombie apocalypse with "Walking Dead" food and drink items. Come in with your Comic-Con badge and/or in costume for a half-priced Walker cocktail, a blend of White Rum, Jamaican Rum, Overproof Rum, citrus, falernum, orgeat and pineapple. Pair it with a plate of $7 potato skins covered in sour cream, cheese and bacon, with truffle dressing on the side. There also Happy Hour pricing on food and drinks at any time during the convention. 935 J St., San Diego. (619) 450-5515. whiphandsd.com
---