How Comic-Con transforms San Diego, turning the mundane into the magical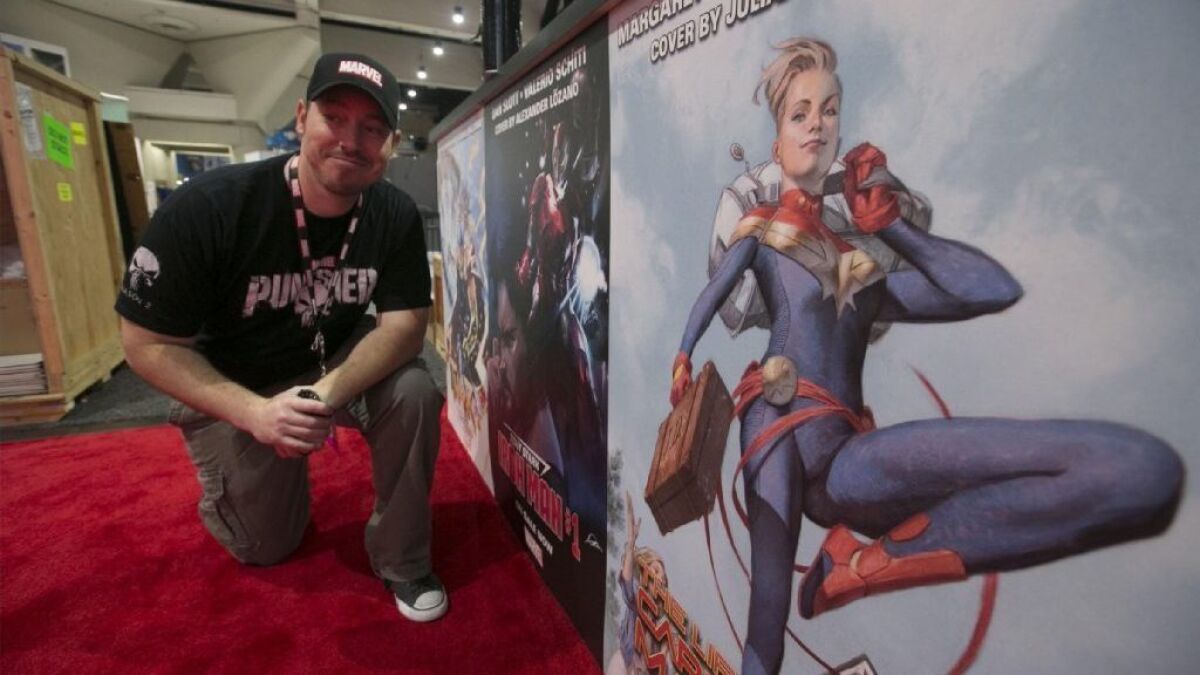 San Diego, do not attempt to adjust the picture. Downtown, that epicenter of coastal SoCal normalcy, has been temporarily banished.
In its place is a zone where the laws of gravity and thermodynamics are gleefully broken, where ordinary citizens dress as extraordinary superheroes, where mundane urban features — everything from parking lots to hotels — are transformed into something magical.
Until Sunday evening, this real city will be an unreal realm, thanks to the 49th annual Comic-Con International.
"Fun things happen when you least expect it at the convention," said Monica Perez, a 35-year-old San Diegan, attending her 15th Comic-Con. "And it still looks like there is a lot of excitement."
"Still" because Comic-Con opened after a round of unwelcome headlines. HBO's fan favorites "Game of Thrones" and "Westworld" aren't here with their auditorium-filling casts. Another no-show: Marvel Studios, whose "Black Panther" and "Avengers: Infinity Wars" are box office smashes.
"We were super disappointed that they were not going to be here this year," said Mark Carter, 23, a Grossmont College student of public health.
Yet he showed up for Wednesday's Preview Night, the kickoff event, and plans to attend each of the four following days.
"And," he said, "I'm going to try to get into Hall H."
That may be a silver lining if Comic-Con fails to attract the sidewalk-clogging, line-extending crowds of previous years. On Wednesday, veteran Congoers wondered if maybe — just maybe — the show might be a little easier to navigate.
David Glanzer, Comic-Con's director of marketing and public relations, noted another potential benefit. With some big Hollywood players absent, more attention may be paid to offerings with low profiles but large impact.
"There are I don't know how many hours of programming that are like master classes," he said.
For example: today's 1:30 p.m. panel on Nazi propaganda. Speakers will include Ruth Goldschmiedova Sax, who survived four years in Auschwitz and two other concentration camps; Sandra Scheller, author of "Try to Remember: Never Forget," an account of her mother's Holocaust experiences; and Esther Finder, founder of Las Vegas' Generations of the Shoah.
"It's living history," Glanzer said, "at something people think is just a comic book convention."
But Comic-Con has always been about more than comics. At its founding in 1970, it was also dedicated to science fiction and movies. Over the years, it's been a destination show for artists, animators, toy enthusiasts, electronic gadget fanciers.
Hollywood studios have been major factors here for at least a decade (some insist the turning point came in 1976, when a modest booth promoted a then-obscure movie, "Star Wars.") Fans wait in line for days to get into Hall H, the auditorium where the latest movies and TV shows are previewed, with cast members sharing inside tidbits and taking questions from the audience.
Yet the show, which fills the entire convention center as well as ballrooms in the surrounding hotels, is so vast it can appeal to people who never set foot in Hall H.
Like Sarah Reveles, a 30-year-old Phoenix resident back for her third Comic-Con. "I can see those previews on TV," she said. "There's so much to do. I don't need to waste every day on line."
On Wednesday morning, the enormous exhibition floor was empty of fans but full of activity. Forklifts moved crates that were large enough to contain Dracula's coffin. Three-wheeled electric carts delivered boxes of comic books, stuffed animals, T-shirts, DVDs.
Unwary pedestrians tripped over metallic arms destined for larger-than-life models of Mechs, robotic warriors from the electronic game "Anthem."
Comics publishers like BOOM! Studios, San Diego's IDW, Dark Horse and DC were busy laying out their latest wares.
Oh, and one other publisher seemed determined to make a big statement.
"The idea that Marvel is not coming to Comic-Con is totally inaccurate," said Brian Crosby, creative director at Marvel Themed Entertainment. "Marvel's definitely about Comic-Con and we're not going anywhere."
While the movie studio is nowhere to be seen, Marvel's large, multi-leveled booth will feature hundreds of comics and their creators, panels about its live and animated TV shows, demonstrations of the new Spider-Man video game, even an Ironman-themed Hyundai car.
There's plenty of free swag at the show, everything from pins to comics, and a vast array of books and movies and collectibles in the $40-and-under range. But it wouldn't be difficult to drop four or five figures here.
Dark Horse has branched out beyond comics and manga to offer collectibles like its 18-inch replica of the Iron Throne from "Game of Thrones." List price: $499.
"These are not for the casual fan," said Megan Connor, Dark Horse's publicity manager. "These are for the super fan."
Most of the finely detailed maquettes at Sideshow are in the $350 to $1,000 range, but there are exceptions. A life-sized BB-8, a droid from the "Star Wars" cinematic universe, runs around $4,000.
Collectors like Naira and Jack Timourian of Los Angeles are willing to spend their money and their time. The couple was part of a 15-person team holding down front-of-the-line spots in the queues for Preview Night and for 10 a.m. Thursday, when the exhibition floor opens.
Their group staked out their position around 10 p.m. Tuesday, each person responsible for several multi-hour shifts.
"We are all helping each other out," explained Naira, 33, an assistant banker.
This was critical because Jack, a 35-year-old lab supervisor, had his eyes on some figures from the Funko toy company.
"Bruce Lee," Jack said. "Exclusives!"
While attending Comic-Con can be an expensive proposition, some of the most memorable experiences are free fantasies. At the Nickelodeon booth, fans can have their photos taken with any of the 11 characters from "The Loud House," a popular children's TV show.
"And because Comic-Con is all about waiting in line patiently," said David Bittler, a Nickelodeon spokesperson, "while you are in line here you can design a T shirt."
And this keepsake is printed while you wait.
Only 135,000 tickets were available for Comic-Con attendees, which may seem like a large figure until you realize the show sold out in less than an hour. For fans who weren't able to land a ticket, there's still plenty to do.
In this alternative downtown San Diego, you might bump into men and women clad in dark suits, toting clipboards and asking a series of ominous questions.
"Have you come into contact with Godzilla? Seen any unusual-colored clouds lately?" asked one of these characters, Sara Otten, an emissary of "Monarch Sciences."
(Monarch is a sinister outfit that has a habit of appearing in Legendary Pictures films, such as the 2014 "Godzilla" movie and 2017's "Kong: Skull Island." Rumor is, it will resurface in 2019's "Godzilla, King of Monsters.")
Mundane corners of downtown have been transformed into magical enclaves. The "Castle Rock Historic Bed and Breakfast," a two-story New England inn complete with dormer windows, materialized in a park near Harbor Drive.
You probably don't want to check in — this is a promotion for the new Stephen King-inspired "Castle Rock" TV series.
Nearby, a large parking lot has been commandeered by Amazon to stir interest in its series, "Tom Clancy's Jack Ryan." The enclave includes a full-scale replica helicopter, a zip line and some sinister-looking windowless buildings with well-guarded entrances.
So, is this Comic-Con smaller and less impressive than previous editions? Not to Ashley Eckstein.
In 2010, that actor founded Her Universe, which she describes as "a fashion and lifestyle brand for fangirls."
"Comic-Con is so important to us," she said at her company's booth. "It's our main event every year. Comic-Con is the Mecca for all things geek."
---