Comic-Con 2018: Batman writer Tom King on the Catwoman wedding fuss and death threats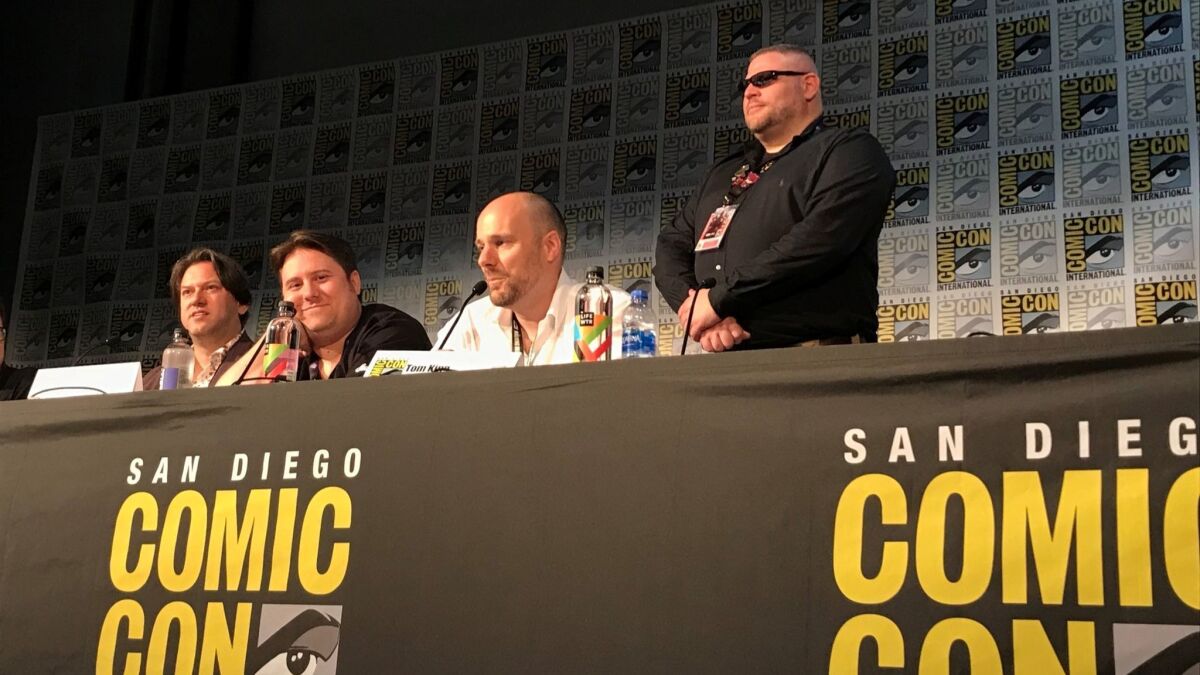 Batman and Catwoman were supposed to get married.
At least, that's what DC Comics had teased for months — in their much-publicized Batman No. 50 "wedding" issue and plenty of tie-in books that fans eagerly bought.
Then, it didn't happen.
To the shock of many readers, Catwoman called off the engagement at the last minute and many readers went to the Internet to express outrage that they had been misled.
To make matters worse, the big reveal of what would happen appeared in The New York Times several days before the issue hit the shelves.
A lot of the blame has been thrown at Batman writer Tom King, who addressed fans at the DC Nation panel Friday at Comic-Con International. He also had a bodyguard standing behind him throughout the panel, which he said came from death threats over the issue.
"The anger you guys felt, the disappointment you felt, that passion, is exactly what Batman felt," King said to the room of roughly 600 fans. "He was on that roof. He thought he was getting married. He bought every (expletive) tie-in."
King said he wanted readers to actually feel the same pain as Batman, which is why it was necessary to have readers believe it was going to happen.
He asked readers for patience because they were in the middle of a 100-issue story and to not walk away from the book now.
"From day one, this was always going to be a story about someone breaking Batman," he said.
King said the point of the story was finding a way to hurt Batman, because the physical ways that he has been hurt have been done before. Even emotional pain over his sidekick dying has happened more than once.
"Even his Robins. He has a Robin die every third Sunday," King joked.
He said the story will examine whether Batman will ever be able to rebuild himself and find some sort of happiness again.
It's unclear from King how serious he took the death threats over Batman No. 50. It seemed from Twitter that the bodyguard seemed to be enjoying himself and signing autographs.
"We're aware of the comments directed at Tom King on Twitter and are supportive of his decision to engage security to ensure a perfectly safe environment in San Diego," said DC in a statement. "We take any and all threats against DC talent and employees seriously. Comments such as these go against everything our company and industry represents."
Threats over something that happened in a comic book do have precedent.
In 2016, Captain America writer Nick Spencer got death threats when the character went evil for a story arc. It turned out Captain America had just been manipulated by his arch-nemesis Red Skull, but that wasn't explained in the first issue.
Even as more was revealed, the story line showing that it was not really Captain America who become a fascist, fans and retailers still had plenty to say. Like King, Marvel Comics issued a statement to ABC News asking fans them to allow the story to unfold before coming to a conclusion.
phillip.molnar@sduniontribune.com (619) 293-1891 Twitter: @phillipmolnar
ALSO
San Diego's new single-family homes are pricey, modern and in short supply
Tijuana condo craze continues in to 2018
Last year's housing market broke records
---
UPDATES:
July 23: This article was updated with a longer statement from DC Comics that included it was "supportive of (King's) decision to engage security."
---