Post #MeToo, Comic-Con tackles pop-culture's female problem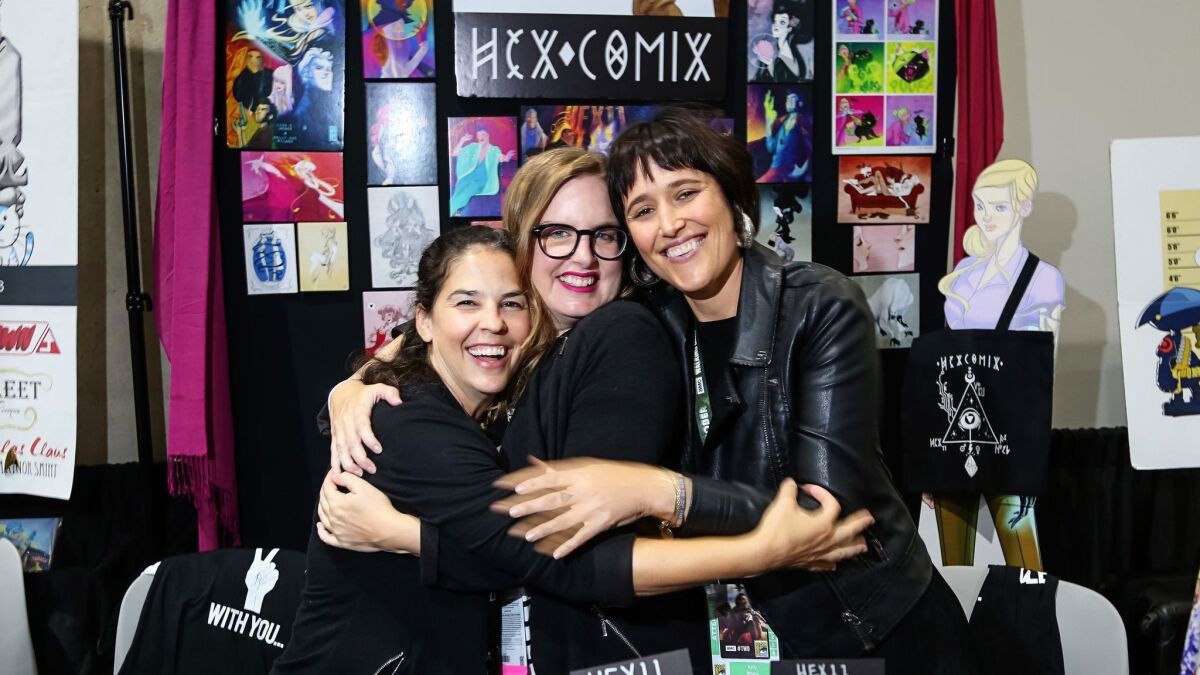 With attendance of more than 135,000 and a Godzilla-sized geographical footprint, Comic-Con San Diego is probably the biggest event in the pop-culture universe. And with the fan convention in residence at the San Diego Convention Center through Sunday, it is the perfect place to tackle one of the entertainment-industry's biggest questions:
Does pop-culture have a female problem?
"Of course pop-culture has a female problem," said Jessica Shaw, the longtime Entertainment Weekly writer and EW Radio host who is moderating "EW's Women Who Kick Ass" panel at Comic-Con on Saturday.
"If you are a heterosexual white boy, and you see endless versions of yourself on screen, the possibilities you see of what you can do or who you can be are endless. But if you are a woman or a person of color or you are transgender, you are watching things on the screen and thinking, 'Where am I? Where do I fit in? I like movies. I like TV. Where am I?' "
In the wake of last fall's revelations about the decades of abuse and harassment allegations against Hollywood mogul Harvey Weinstein and in light of the #MeToo anti-harassment movement that followed, many people are asking many questions about women in the pop-culture world.
How are women and girls in the entertainment industry being treated? How are women and girls being portrayed in films, TV shows and in the comic books that inspire so many of the entertainment franchises that bring so many fans to Comic-Con?
And if the answer to all of the above is "Not great," how do we make it better?
In keeping with the teeming big-tent event that Comic-Con has become, the fight to give women a bigger and better place at the entertainment table was being fought on multiple fronts by armies big and small. Their battle plans were different, but their goal was the same. To make make pop-culture love women as much as women love pop-culture.
For Ashley Eckstein, it started with her search for a T-shirt.
Eckstein founded the Her Universe fashion and lifestyle brand in 2010 with a line of "Star Wars"-theme clothing designed for female bodies. Her Universe now sells clothes, accessories and home goods for fans of Marvel and Disney movies, BBC America's "Doctor Who" and anime pioneer Studio Ghibli. Earlier this year, Eckstein published "It's Your Universe," an empowerment primer for teen girls.
"I founded this company because the stereotype of the genre was that it was just for men and boys," Eckstein said on Wednesday, as she prepared her booth for the fans who would be piling into the Convention Center's Exhibition Hall in a matter of hours.
"I've been coming here since 2007, and it always seemed like the crowd was almost 50-50 men and women. Women have always been here, and now we are finally changing the stereotype."
For proof that women loom large at Comic-Con, just look around the Exhibition Hall floor. In the shoulder-to-shoulder masses, you will see tons of women. There are moms pushing strollers and little girls in "Frozen" gowns. There are teen girls with violet anime hair, Wonder Women of all ages and sizes and grandmothers who can still rock a steampunk ensemble.
According to 2015 survey by Forbes magazine contributor Rob Salkowitzand the Eventbrite ticketing platform, the gender breakdown of fan events in North America was 49 percent male and 49 percent female, with 2 percent opting for the "non-binary/other" gender option. The breakdown for fans under 40 was 51 percent female and 46 percent male.
The female fans are everywhere. But who is there for the female fans? Marvel, for one.
The super-hero multimedia company that brought you the muscular likes of Captain America, Thor and Iron Man — and sadly squandered the powers of its female super heroes in "Avengers: Infinity War" — is expanding its comic universe, and a big part of its future is female.
In 2019, film-goers will be introduced to Captain Marvel (a.k.a. Carol Danvers),the most powerful member of the Avengers and the first female superhero to get her own Marvel movie.
In the meantime, there is "Marvel Rising." The new animation franchise — which was the subject of a Thursday panel — will showcase the adventures of some of the strongest female characters in the Marvel Universe, including Squirrel Girl, Ghost-Spider and Ms. Marvel, a Pakistani American Muslim teenager who has become one of Marvel's most loved new comic-book heroes. Episodes of "Marvel Rising" will debut on the Disney XD digital cable channel next month. The feature-length movie debuts on the Disney Channel in the fall.
"These characters are funny, weird and powerful, and there is just as much variety as there is with our male characters," said Brian Crosby, Marvel's creative director for themed entertainment. "That's what we're trying to put out there. And while we are certainly targeting female fans, the boys are excited about this, too."
Thursday's "Marvel Rising" was just one of a slew of Comic-Con panels devoted to female characters and to women in the entertainment industry. The empowerment lineup includes panels on female scientists, women in behind-the-scenes entertainment jobs and powerful young women in Disney comics.
Best of all, there was the Thursday panel led by Jodie Whittaker, the actress who will play the first female "Doctor Who" in the 55-year history of the British TV sci-fi franchise.
"That's huge," Shaw said. "I grew up watching 'Doctor Who,' and what would it have meant for me to have Doctor Who be a woman? It can be frustrating to see all of the inequality in pop culture, but sometimes you see a glimpse of the future, and it's reassuring."
Let's hope so. Because when they are dressed up as their favorite female icons, 17-year-old Leah Sprenger of Vancouver and 16-year-old J.C. LoBianco of Ocean Beach get a glimpse of the pop-culture present that is not always encouraging.
In 2014, Comic-Con and other fan conventions came under fire for the way women in costume (cosplayers) were treated by male attendees. Women complained of being groped, propositioned and harassed. Like other conventions, Comic-Con will kick out anyone accused of bad behavior and confiscate their badge. But bad behavior still persists in the fan world.
"Harassment is really common," said Leah, who — like LoBianco — came to Comic-Con dressed as Harley Quinn, the DC Universe's resident loose-cannon anti-heroine. "People view you as a sex item, when you are just trying to have fun. Female cosplayers learn to go out in a group, because you know there are creeps out there."
From their small booth on the sprawling Exhibition Hall floor, the women of HEXComix are trying to give fans of all stripes a reason to believe that strong female characters are a win for all of humanity. In their Hex11 comic-book series, writer Kelly Sue Milano, artist Lisa K. Weber and producer/editor Lynly Forrest chronicle the adventures of Elanor, a witch-in-training who must battle such recognizable creeps as corporations, mercenaries and body snatchers.
The story is sci-fi themed and female focused, but like all of the best hero stories, the struggle is universal.
"Men can relate to a female point of view just like we can relate to a male point of view. It's about being human," Forrest said. "In the beginning, we thought we would have a whole bunch of female fans, but the first person to ever buy our book was a dude."
Power panels
Check out the following female-focused Comic-Con panels:
Saturday: The Most Dangerous Women at Comic-Con: One Token to Play (10 a.m., Grand 1 & 2, Marriott Marquis); Her Universe: It's Your Universe (11 a.m., Room 29A); Women Rocking Hollywood 2018 (1 p.m., Room 23ABC); EW's Women Who Kick Ass (4 p.m., Hall H); Women Below the Line (8 p.m., Room 28DE).
Sunday: Emily the Strange Panel Experience (10 a.m., Room 32AB); You Do What? Women in Film Production (12 p.m, Grand 9, Marriott Marquis); DC Super Hero Girls: Legends of Atlantis (12:15, Room 6BCF); Women of Marvel (12:30 p.m., Room 6DE); Powerful Young Women in Disney Comics (12:30 p.m., Room 23ABC)
Twitter: @karla_peterson
---