At Comic-Con, fans of a cult show brave long lines, big crowds and dashed hopes
The Mendozas got up at 6 a.m. Friday to prepare elaborate costumes for Comic-Con International that included loads of green paint, wigs and props.
Inspired by characters of the "Young Justice" TV show, Meghan Hiatt-Mendoza, 26, dressed as the goth-looking Raven, and Isaac Mendoza, 26, was the green-skinned Beast Boy.
They rushed up the stairs around 9 a.m. to get to the highly anticipated "Young Justice" panel — which started at 10 a.m. — that they had prepared for, only to run into a wall of fans with the same idea. Despite waiting outside for the length of the panel, they never got in.
Last year, "Young Justice" was in a nearly filled room with a capacity for 2,000 people, but this year was in a room that held 638. For Comic-Con organizers, judging what room to put a show in can be a challenge.
"It's not a science. It's more nuanced," said Comic-Con spokesman David Glanzer. "The reality is, we only have so many super big rooms."
He said Comic-Con organizers are fans themselves, so they usually have a good idea of what panels will be the biggest draw. But, he said, sometimes what room an event goes in depends on what studio commits to a room first.
At the same time as the "Young Justice" panel Friday, the space it was in last year — Room 6BCF — was being used by Netflix's "Voltron Legendary Defender," which still had space available while the room nearby for "Young Justice" reached capacity.
Glanzer said if a popular TV show asks for a panel too late, they might turn them down if they don't have a big enough room. Other times, they try to fit them in best they can.
"It's like a gigantic Rubik's Cube," he said. "You try to accommodate best you can."
In the case of "Young Justice," its cult status could make it harder to judge the crowd.
The cartoon debuted in 2010 and featured teenage sidekicks of DC Comics 'biggest heroes. It became a big hit with fans because of its adult themes and animation style. After it was canceled, it became a cult show with fan groups lobbying Warner Bros. to bring it back — an effort that included a Kickstarter-style campaign. The company announced in late 2016 it was starting production on a new season.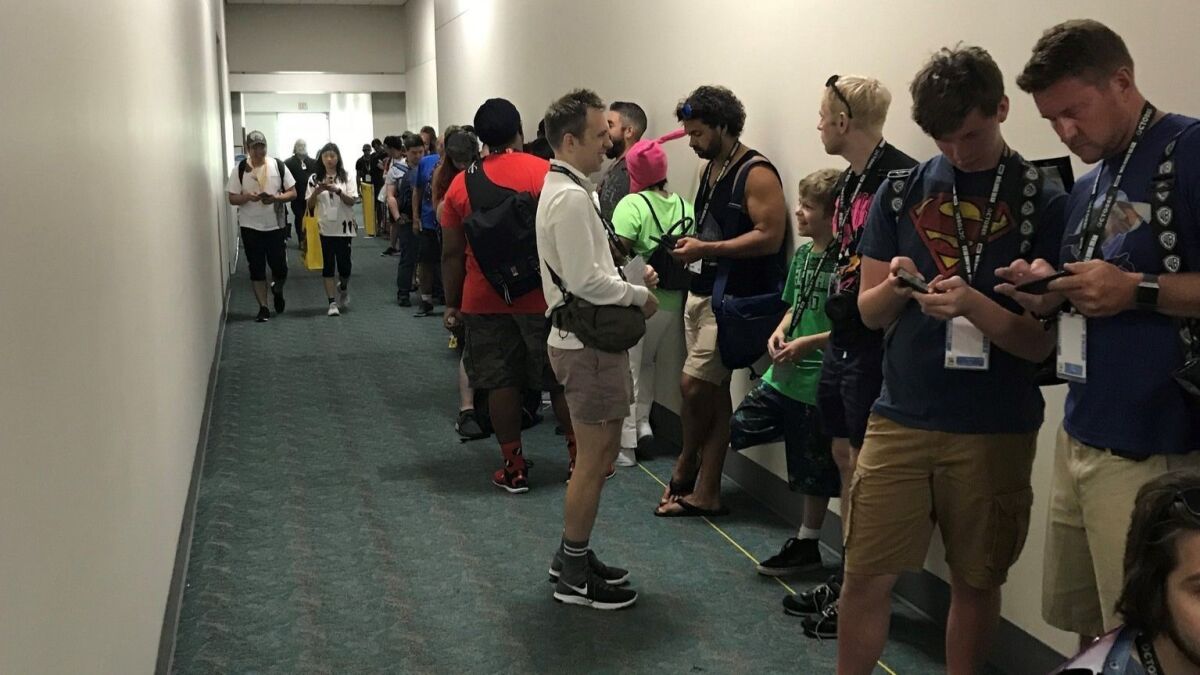 Mallory Sunshine, 27, of Palm Springs got to the panel an hour early, but she, too, didn't get in.
"It's disappointing," she said. "This was a high priority for me."
Sunshine said she was amazed at the quality of the show and was thrilled to be part of a fan group that got to have a favorite show revived.
Like many people stuck outside the panel, she kept a good attitude. Sunshine has been going to Comic-Con for nine years and said the key is not sweating it when you can't get in.
"You do your best," she said.
San Diegan Alexander Magers, 24, was one of the most chatty "Young Justice" fans stuck outside the room. Wearing a Green Arrow shirt, he talked at length about his love of the show and other aspects of pop culture without seeming to care he was stuck outside.
He said he was disappointed to not be in the room, but figured the panels that followed — almost all DC Comics panels — made it the best room for him to spend the day.
"You have to stay positive," he said, now at his eighth Comic-Con. "You paid all this money. Why be miserable?"
At the end of the day, fans still were able to instantly find out what happened inside, thanks to the Internet.
Warner Bros. uploaded a five-minute preview of the show after the panel, featuring scenes from the first two seasons, as well as new footage to appear in the new season. The show is set to air on the new streaming service, DC Universe, in 2019.
phillip.molnar@sduniontribune.com (619) 293-1891 Twitter: @phillipmolnar
ALSO
San Diego's new single-family homes are pricey, modern and in short supply
Tijuana condo craze continues in to 2018
---