Comic-Con 2018: 5 new video game demos you won't want to miss
If you're a fan of video games, this year's Comic-Con selection will not disappoint. Gamers cruising the convention will have the opportunity to get their hands on some of the hottest, upcoming titles.
Here are five you shouldn't miss.
Resident Evil 2
Release date: Jan. 25, 2019
Platform: PlayStation 4, Xbox One, and Windows PC
Survival-horror video games are already heart-stoppers, so imagine playing one in a recreation of a zombie-infested police station with haunting messages like "help" smeared on the walls in blood.
That's what you'll experience at Capcom's demo of Resident Evil 2 — a full remake of the 1998 classic — which is situated on the far side of the convention hall.
The line is a bit long (think more than an hour) but the setting is worth it. The gaming space is situated in a pop-up recreation of the Raccoon Police Department. That's the city rookie cop Leon Kennedy and college student Claire Redfield have to escape from after a virus transforms the citizenry into bloodthirsty undead.
Speaking of undead, before you sit with the game for 15 or 20 minutes, you'll have the opportunity to take some Instagram-worthy photographs in a wrecked and bloody police car with a zombie actor as a back-seat passenger — say "brains!"
Lego DC Super-Villains
Release date: Oct. 16, 2018
Platform: Nintendo Switch, PlayStation 4, Xbox One and Windows PC
Have you ever wondered what you'd look like as a super villain? Would you wear an eye patch? A hot dog suit?
Put some thought into it, because in the Lego DC Super-Villains game, you'll get to design your own baddy with a unique mission — partner with some favorite evildoers to take down a band of even worse guys.
The game's trailer — which debuted at Comic-Con Thursday morning — introduces the "Justice Syndicate," a new group of supers who initially look and act like good guys, but soon reveal their evil natures.
Players will unleash mischief and mayhem alongside some favorite DC bad guys — think Harley Quinn, Lex Luthor and Darkseid — to take down these new troublemakers.
The demo can be found on the convention floor at the DC and LEGO booths, which are both packed with other cool things to do as well.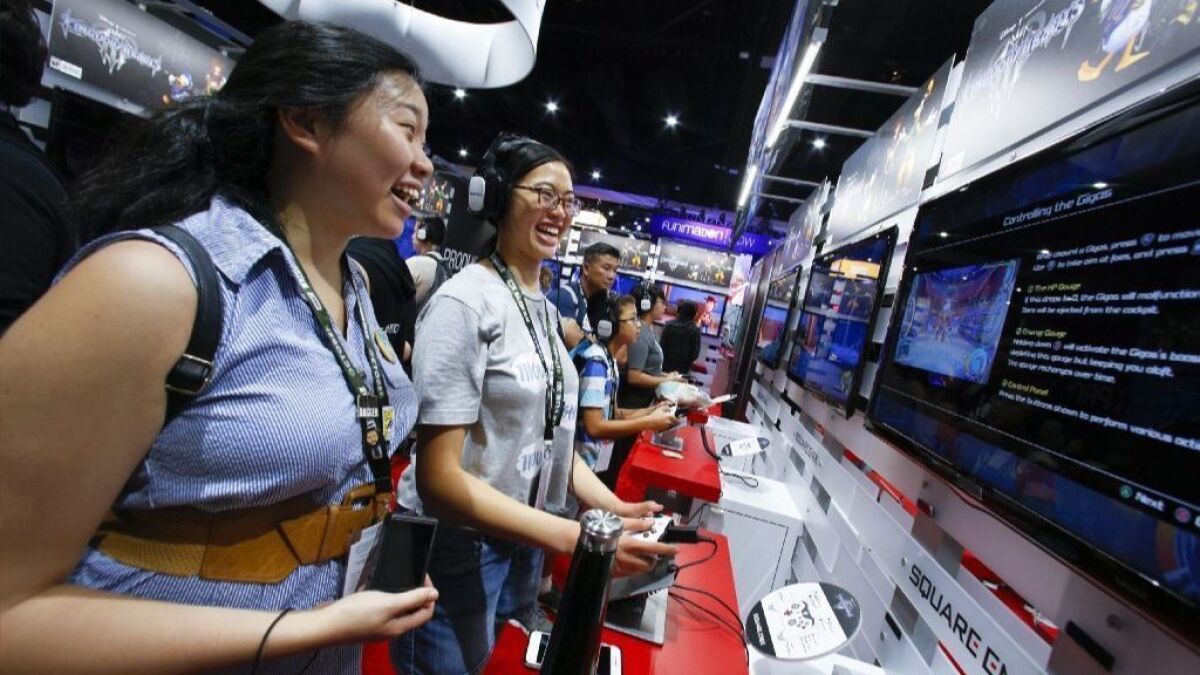 Kingdom Hearts III
Release date: Jan. 29, 2019
Platform: PlayStation 4 and Xbox One
It's taken a decade, but the Disney-Pixar-fueled world of Kingdom Hearts III is finally almost here — and you can get a taste at Comic-Con.
In the latest installment of the popular gaming series, Sora, Donald Duck and Goofy unite to defeat the Heartless, an evil force intent on overtaking the universe.
Players will partner with loads of familiar faces during their perilous journey, including beloved characters from the movies Frozen, Pirates of the Caribbean and Toy Story.
Unlike most demos at the convention, you can't just wait in line to take a turn. Instead, folks at the Square Enix booth will start doling out tickets to play the 15- to 20-minute demo when the convention floor opens about 9:30 a.m.
Tickets are handed out on a first-come, first-served basis, and once they're gone, that's it. But don't fret — if you don't get one, the booth has other cool games on hand including Shadow of the Tomb Raider, Dragon Quest XI, Mobius Final Fantasy and Star Ocean: Anamnesis.
Marvel's Spider-Man
Release date: Sept. 7, 2018
Platforms: PlayStation 4
There might not be a better setting to check out Marvel's upcoming Spider-Man video game than a comic book convention.
Spidey's PlayStation exclusive seems to be shaping up to be one of the better super-hero themed video games with elements that are reminiscent of the popular Batman games.
At Comic-Con on Thursday, Marvel unveiled a new game trailer, which included fun details like the apparent ability to play in the web-slinging hero's classic red and blue get up.
The footage makes it clear that that Mayor Norman Osborn isn't taking any chances during his bid for re-election. He hires Silver Sable and her band of mercenaries to help him clean out the city — including Spider-Man.
To prevail, a costumed Peter Parker will have to take on some of his greatest nemeses, including The Scorpion, The Vulture, Electro, Rhino and Negative Man.
The 15- to 20-minute demo is set up at the Marvel booth, which is jam packed with other attractions as well.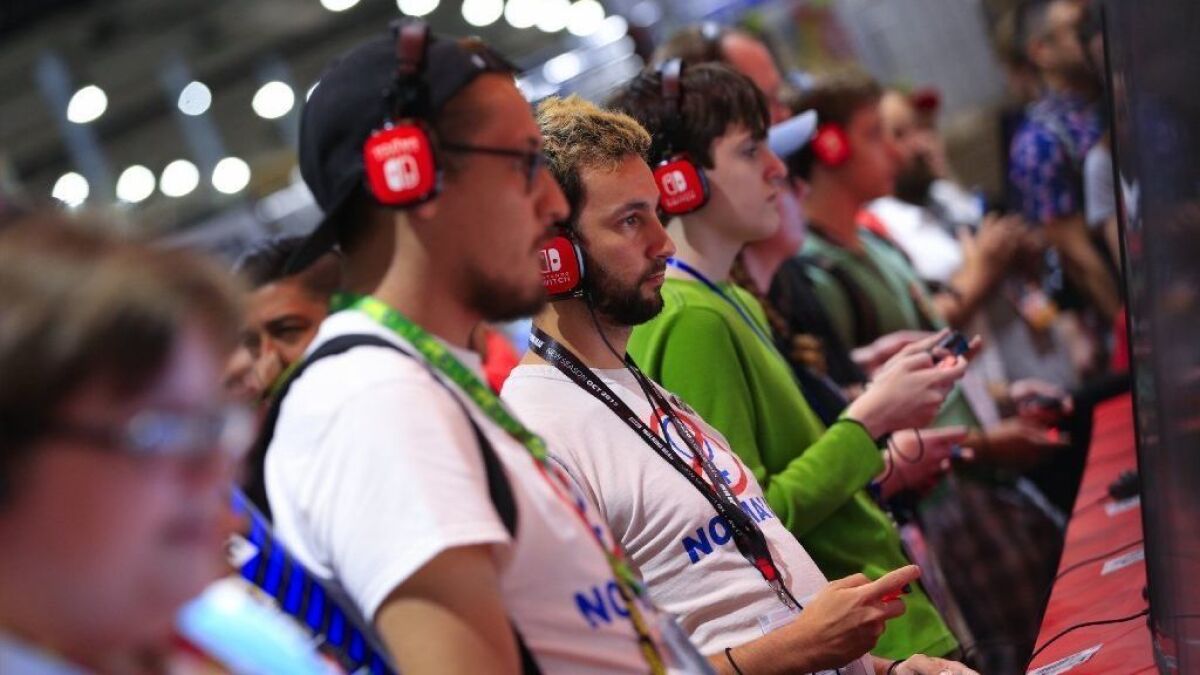 Super Smash Bros. Ultimate
Release date: Dec. 7, 2018
Platform: Nintendo Switch
Prepare yourself for the ultimate showdown in the latest installment of one of the most beloved fighting game series of all time — Super Smash Bros.
Super Smash Bros. Ultimate is a huge attraction at the Nintendo Lounge — located in the San Diego ballroom of the Marriott Marquis & Marina hotel — with more than 30 gaming stations. There are more spaces to play at the Nintendo booth on the convention floor as well.
Get ready to hit harder and faster in this most recent iteration, which promises fresh stages and new characters like Metroid antagonist Ridley and Inkling from Splatoon.
If you have a favorite toon already, don't worry — every character is included in the game's massive roster of nearly 70 fighters.
The line to get to a station is a bit long (we spoke with people who had waited more than an hour) but there's no time limit once you get there, making the line ride feel like a worthwhile investment.
There are also tons of other games in the lounge, including Mario Tennis Aces, Super Mario Odyssey, Mario Kart 8 Deluxe, Captain Toad: Treasure Tracker, Donkey Kong Country: Tropical Freeze, Overcooked! 2 and FIFA 19.
The space is open from 9:30 a.m. to 7 p.m. Get your game on.
Twitter: @LAWinkley
(619) 293-1546
lyndsay.winkley@sduniontribune.com
---