Comic-Con 2018: 5 takeaways from the DC Comics panel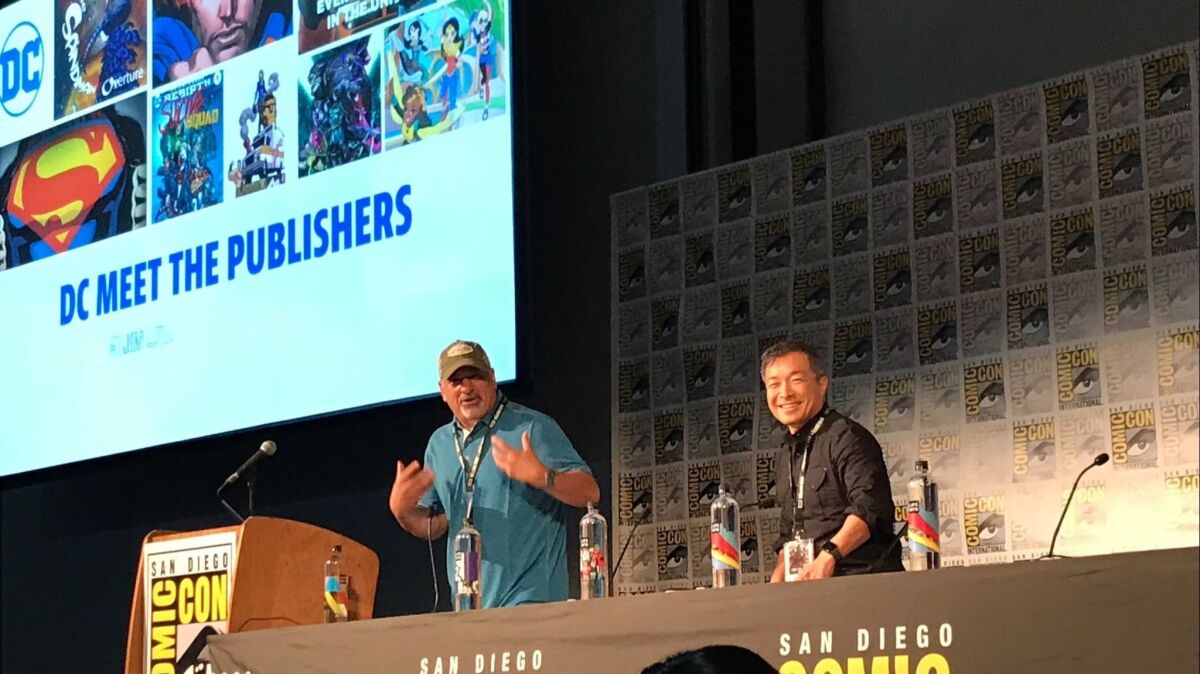 DC Comics is in the middle of a banner year with the launch of a new streaming service, several movies coming out and major comic book talent signing with the company.
At Comic-Con International on Thursday, co-publishers Dan DiDio and Jim Lee emphasized that the large entertainment company — including everything from video games to stuffed animals — starts at the ground level with comic books.
"If anybody wants to know who our characters are," DiDio told the crowd of roughly 600 fans, "they should be reading our books to understand it. Then, they can understand and enjoy all the movies and TV shows around it."
Here are the biggest takeaways:
Black Label
The publisher is launching a new adult-themed imprint called Black Label that will be outside of the normal continuity of its comic books. That means, for example, Superman could become a bad guy in Black Label and it wouldn't affect its regular books where he is a hero.
A lot of DC Comics' most popular books have been outside of continuity and are much darker in tone.
"Generations have been reading things like 'Watchmen' and 'The Dark Knight (Returns)' and books of that nature," DiDio said. "It's great to see if we can keep on adding and building from that more."
The first book from the imprint will by "Batman: Damned" in September, from writer Brian Azzarello that centers around the death of the Joker and Batman investigating. It will also include the fan-favorite character Constantine.
"Batman doesn't know who did it. But Constantine does," said Azzarello, who was a special guest on the panel.
Young Adult
Lee and DiDio were not shy about their plan to reach new fans when they are young. DC will launch two young adult lines called DC Ink and DC Zoom.
The co-publishers said they are always thinking of new ways to grow the business. Lee said they get good sales through comic book shops and graphic novels sold at bookstores, but the company has to continue to find new paths to find fans.
"It's all about reaching new audiences in the mass market chain," Lee said. "It's about doing our books at a different size and format."
DC Zoom is for readers 7 to 12 years old and DC Ink will be 13 years old and up.
DC Universe
The company's new streaming service, DC Universe, is getting a major push at Comic-Con ahead of its launch later this year. Similar to Netflix, the channel will include original TV shows, but also include classic DC movies, such as the Christopher Reeve "Superman" films.
It will also have digital comics, which the publisher clarified at the panel would include comic books that inspired its newest live-action shows, such as "Titans."
Comic-Con attendees have a special deal where if they pay $75 for a year of service at the DC booth on the convention floor, they get three months free, a T-shirt and a chance to win tickets to the premiere of "Aquaman."
New Talent
DC has been grabbing major talent away from its rival Marvel Comics and others this year, and it was announced it had grabbed someone few would expect.
Image Comics co-founder Marc Silvestri was a surprise guest, announcing he would write and draw a Batman and Joker team-up book. Silvestri was part of a handful of Marvel Comics artists and writers that left mainstream books in 1992 to start their own company, Image.
Aside from Lee, who later sold his Image Comics work to DC and joined that company, most of the creators have stayed independent of the two big publishers. Silvestri said he had been waiting 20 years since he came up with the idea to get the chance to do the book.
"It's fun. It's Batman," Silvestri said. "This is like a bucket list thing for me."
Guinness Book of World Records
DC received an award from the Guinness Book of World Records for publishing the longest-running superhero comic book. It was for "Action Comics, "which recently hit issue No. 1,000 and introduced the world to Superman.
"The reason we wanted to (get the award) here," DiDio said. "This book does not exist and get to 1,000 copies without the fans here."
"Action Comics" was first published in 1938 and its 1,000th issue was 80 pages with some some of the biggest talents in the industry contributing.
phillip.molnar@sduniontribune.com (619) 293-1891 Twitter: @phillipmolnar
ALSO
San Diego's new single-family homes are pricey, modern and in short supply
Tijuana condo craze continues in to 2018
Last year's housing market broke records
---