Comic-Con 'activations' reach new levels of realism, no badge required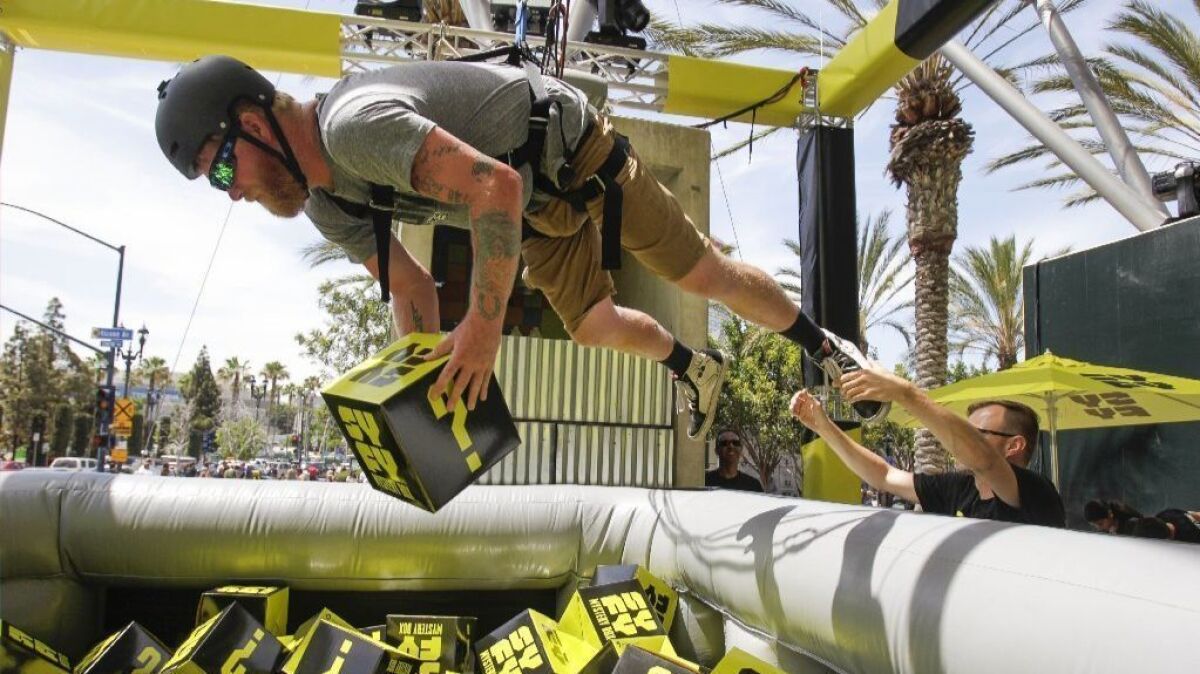 downtown san diego —
While the helicopter jump looks like the most difficult part of the "Jack Ryan" experience outside San Diego Comic-Con, a simple wooden plank turned out to be the obstacle most capable of weakening knees this weekend.
For Enrico Leano of Chula Vista, a combination of real-world physics and virtual reality trickery was able to produce a real, if brief, touch of panic.
"I wasn't too afraid of jumping off the helicopter, that was fun, but I was afraid of that plank of wood. They made it rickety, and, with the goggles on, it really looks like you're 20 feet off the ground while you're walking across it," Leano said.
He and his wife, Holly, lined up at 4:30 a.m. to try Amazon's special operations training simulator, a hybrid setup that overlays the visceral sensations of moving through a real obstacle course with dramatic action scenes delivered by a wireless virtual reality headset.
Though the line was so long that the couple didn't finish the main course until seven hours after they arrived, both said that combining high-resolution digital graphics with physical sensations of gravity, acceleration and balance were truly transportive.
"It really felt like I was in a different world," Leano said.
And that's exactly the point of the ever-more-realistic "activations" that filled the Gaslamp Quarter outside Comic-Con 2018. Studios have learned that engaging experiences built around their shows are an effective way to get potential viewers excited enough to share their ever-more-wild rides on social media, creating buzz that spreads organically, often before a new show premieres.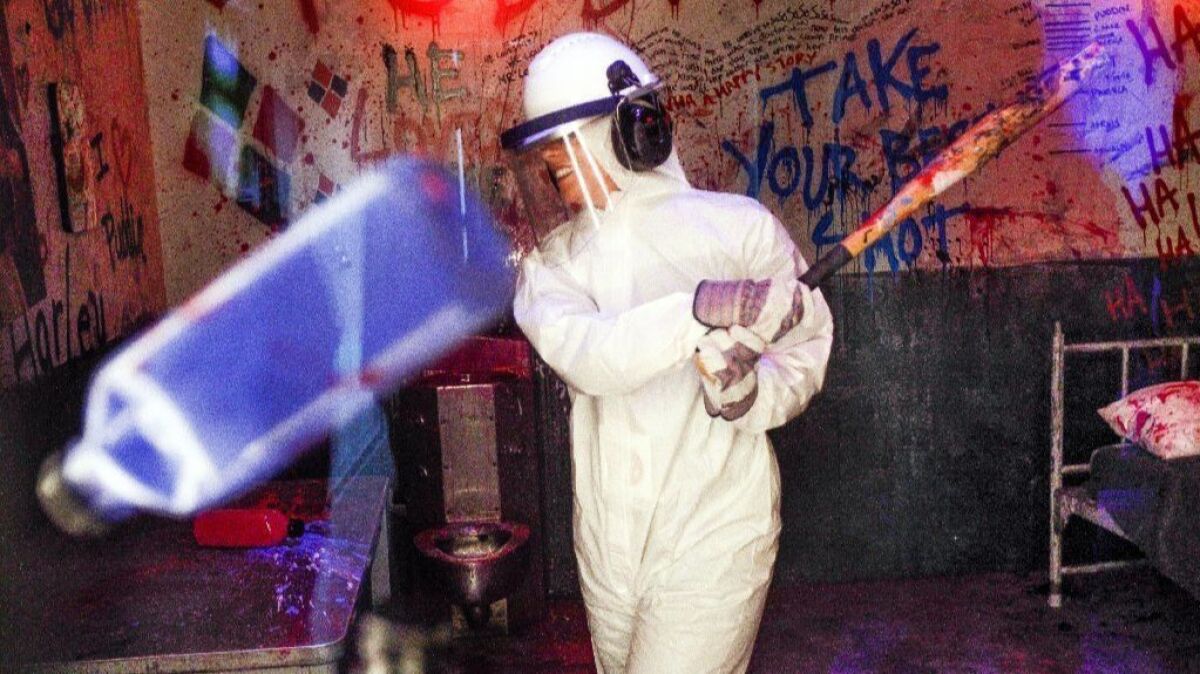 The "Jack Ryan" activation, which promotes a forthcoming Amazon streaming series based on the protagonist in many of novelist Tom Clancy's most popular books, took the shareability quotient to new heights. ID badge radio tags allowed Amazon to generate a custom website for each person who navigated the gauntlet, complete with virtual-reality-enhanced video of their accomplishments. Once assembled, those sites could be shared, spreading friend-to-friend awareness of the upcoming show.
Further south, near Petco Park, similar tags allowed each person passing through "The Good Place" activation at the Tin Fish restaurant to assume a unique identity accessible to actors playing characters from the NBC sitcom.
Standing in the long "Good Place" line, Seema Johnson of Los Angeles said she came down to San Diego to do activations for three days even though she was unable to buy a badge that would have let her enter the nearby convention center for the main show.
"There's just so much to do. You can enjoy maybe 50 percent of what's here without a badge," Johnson said.
Though there are plenty of elaborate set pieces, some opted for more straightforward playfulness.
SYFY Network had the let's-just-have-some-fun angle covered with a double-decker karaoke bus that hauled 30-or-so people at a time through busy downtown streets, creating a popular mobile sing along.
And for those with a desire for literal suspense, there was the Human Claw Machine, a giant winch-operated contraption that hauled people in harnesses over an inflatable pit filled with prizes inside large black-and-green SYFY boxes.
One by one, an operator wielding a giant joystick dropped screaming fans before pulling them quickly back up again, giving them a few quick seconds to grab their swag just like the ubiquitous claw crane games found in arcades everywhere.
Only able to dangle about 25 people per hour, getting a chance to experience the human version of the game meant hours in line. Nine-year-old James McGee of Phoenix managed to snag the first spot in line by keeping an eye on the Island Avenue location from the window of his grandmother's nearby condo.
Though he said hanging from a harness "hurt bad," the pain, he said, was worth it for the chance to grab a loot box with a "Blade Runner" figure and a toy from the "Futurama" TV show inside.
Others might not have such a pragmatic view of the physical strains brought on by this year's crop of extra-active activations.
Watching a woman slide down the zip line back at the "Jack Ryan" activation, Chris Byrne, an employee of Media Monks, the company that Amazon hired to build the highest of high-tech obstacle courses, said that many didn't have an easy time making it across the plank with the 20-foot virtual drop.
"Since we opened, I've seen people shake, crawl on their hands and knees and, at times, start crying," Byrne said, "and that board's only a few inches off the ground."
On Now
Video: Leaders urge public to help extinguish hepatitis outbreak
On Now
San Diego starts cleansing sidewalks, streets to combat hepatitis A
On Now
Video: Scripps to shutter its hospice service
On Now
Video: Scripps La Jolla hospitals nab top local spot in annual hospital rankings
On Now
Video: Does a parent's Alzheimer's doom their children?
On Now
On Now
Kids can add years to your life
paul.sisson@sduniontribune.com
(619) 293-1850
Twitter: @paulsisson
---