No Marvel or HBO? No big deal, San Diego Comic-Con observers say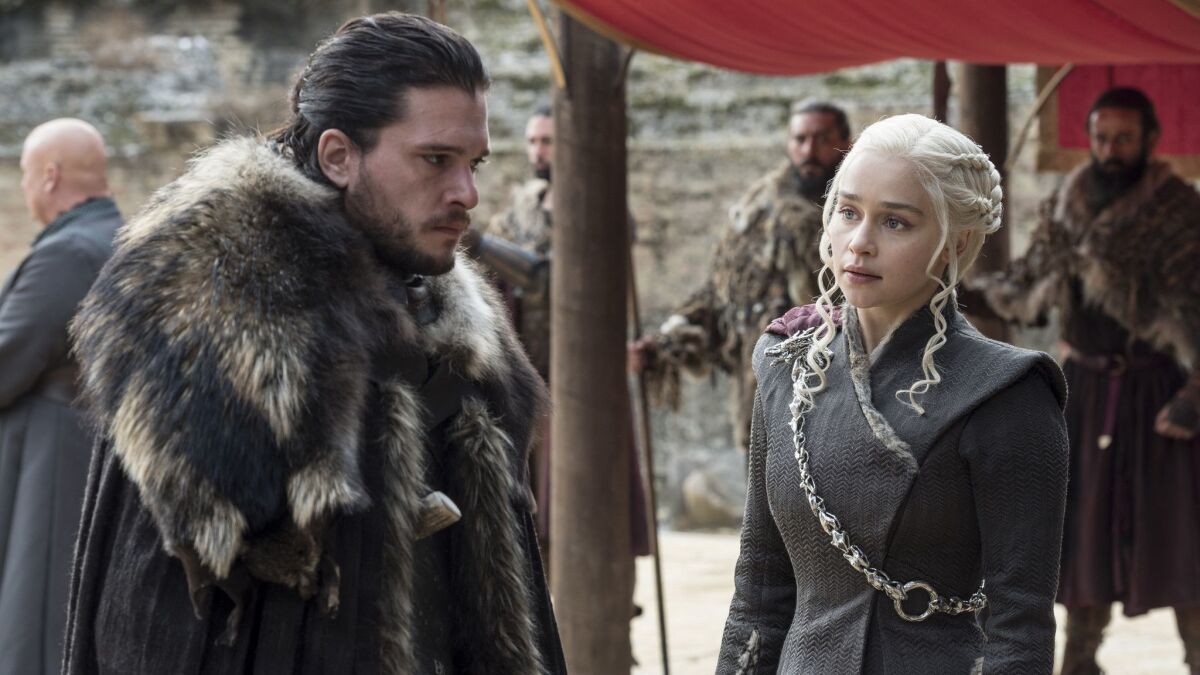 A cold wind from Westeros haunts this year's Comic-Con.
HBO stunned fans last week when it announced that for the first time since its debut in 2011, the hugely popular "Game of Thrones" would be absent from San Diego's annual pop culture gathering. If that weren't bad enough, convention attendees also learned that HBO's newer series, "Westworld," will be a no-show as well.
As will Marvel Studios, another Comic-Con staple, along with Starz's historical time-travel drama "Outlander."
Despite official explanations from studios about scheduling issues, this year's absence of franchises that never fail to pack the Convention Center's legendary Hall H with 6,500 screaming super fans has raised some doubts about Comic-Con's cachet in the entertainment world.
Is it no longer the epicenter of Hollywood's marketing machine for superhero-centric films, TV zombies and aliens, and romantic fantasy, wondered some of the buzz?
For those in the business of mounting these gargantuan tributes to popular entertainment and all things comic books, consternation over the no-shows is overblown. There are plenty of examples, they say, of where a studio misses a convention one year and returns two or three years later.
Better not to rush a much anticipated trailer in time for Comic-Con and risk bad reviews from devoted fans who are one tap of a finger away from Twitter and Instagram.
In an interview last week, Comic-Con International spokesman David Glanzer attributed the periodic absence of big franchises to the cyclical nature of the convention scene, which means a high profile studio may sit out a year, but come back in force the next.
"I know people get nervous," he said, when they see major players like HBO and Marvel skip the show. "I would look at next year," he added. "It sounds weird, but some of these people will be returning next year."
True enough. In HBO's statement on "Game of Thrones' absence, it hinted at a return visit "in the future." The final season of the long-running blockbuster will not air until 2019. And Marvel Studios dismissed the lack of a Hall H panel as simply an off year.
Marvel last bypassed Comic-Con in 2011 and 2015 but later returned. The same is true for other studios like Universal, which do not attend every single year.
No question, Hollywood benefits financially from the viral marketing reach that comes from Comic-Con's 135,000 attendees.
Warner Bros. Television Group, which regularly showcases its content at Comic-Con, each year tracks the return on its investment, and it's no small amount. Last year, across its 22 shows, Comic-Con was responsible for $30.5 million in audience reach, said Lisa Gregorian, chief marketing officer for Warner Bros. Television Group. The studio also credits the convention with helping its shows reach a global audience of more than 3 billion.
"Most of the fans there are hardcore fans who will sleep overnight to get into Hall H, they are the evangelists and they all have the tools on their mobile devices to talk about and share their love for a particular show," Gregorian said.
Warner Bros.' portfolio of TV series includes "Riverdale," "The Flash," and "Westworld," which it produces for HBO.
"Being there is all about timing," Gregorian said. "If it makes sense, the studios will be there. If you can't deliver a great fan experience you don't want to go."
Still, that doesn't mean that Hollywood isn't looking at Comic-Con a bit differently, said Heidi MacDonald, editor of comic book news website The Beat. She said promoters are now concerned that footage that isn't ready for the general public gets leaked or something else goes wrong that could affect the perception of their properties.
"They think if we're really not ready, we shouldn't go out there," she said. "The danger of getting bad buzz is so huge."
MacDonald said changes in how studios view Comic-Con is not the result of the actual convention, but how quickly social media reaction floods the Internet following something that happened there.
Of course, good buzz is not a guarantee that a big push at the convention is worth it. MacDonald pointed out that films with great momentum out of Comic-Con — "Scott Pilgrim vs.The World" and "Snakes on a Plane" — do not always equal success.
Explosion of the 'Cons
As San Diego's Comic-Con has steadily mushroomed in size and popularity over the years so, too, has the sheer number of comics-centric conventions around the U.S. and the world.
There are dozens of similar gatherings across the country, from Baltimore and Boston to New York and Detroit. While there is healthy competition among the largest such enterprises, they all still are at the mercy of studios' distribution schedules as to which marquee properties are showcased at a particular convention — and which ones are not.
New York Comic Con, for example, is not a regular stop for "Game of Thrones" but it is for AMC's "Walking Dead," which tends to premier each season not long after New York's October convention. ReedPop, which produces the New York convention along with more than 30 other pop culture events, estimates that 227,000 will be coming to this year's Comic Con.
"It's a tough blow," ReedPop president Lance Festerman said of HBO's decision to skip San Diego this year. "I've been on that side, and because of that, I also understand that it's much more benign than what it appears. We are biased but we believe there is a ton of value for the studios to have that face-to-face ability to touch those hardcore fans who become apostles and evangelists for them.
"Of course it will vary greatly from producer to producer but I haven't seen evidence that those producers are losing interest in these fan platforms."
Marvel vs. DC
Disney-owned Marvel's decision to sit out next month's Comic-Con could prove to be a silver lining for its rival DC Comics, which needs to make up for "Justice League's" box office failure last year.
The age-old rivalry between Marvel Comics and DC Comics is now playing out on the big screen, with Marvel the clear winner in terms of the box office and critical accolades.
DC has three upcoming films that look to reset public opinion: "Aquaman" in December, "Shazam!" in April and "Wonder Woman 1984" in late 2019. "Aquaman" director James Wan already announced on Twitter that the trailer would debut at the convention, and there are rumors the other two films will have a presence.
MacDonald, of The Beat, says Comic-Con is critical for DC being able to make an impact because it is always seen as No.2 to Marvel.
"If they fail, it will be like, 'Oh, so what? DC failed again,'" she said. "But, if they succeed, it's going to be a huge story."
Miro Copic, a lecturer in marketing at the Fowler College of Business Administration at San Diego State University, tends to agree. Marvel has four films coming out in between this year's Comic-Con and next year's, but it's hard to know how far along they are, he said.
"If they don't have enough story-boarded, or enough digital animation done, it could be a little early to tease," he said.
Box Office MojoBox Office Mojo
What we don't know
Do not sell Comic-Con short just yet, say longtime observers, because it may well have some surprises in store that will soon make fans forget their grief over a missed opportunity for a Hall H rendezvous with "Game of Thrones" stars Peter Dinklage or Emilia Clarke.
Comic-Con's most shocking moments were chronicled in Slash Film's "Coolest and Most Important Moments in Hall H History," which details the humble beginnings of major franchises and eventual flops.
In 2008, Disney announced a sequel for "Tron" was in the works during a panel for its upcoming "Race to Witch Mountain" film, making it one of the most talked about events that year. In 2015, one of the biggest surprises came at the end of the "Star Wars: The Force Awakens" panel when director J.J. Abrams invited the entire Hall H crowd to a live Star Wars concert behind the convention center.
New York Comic Con has benefited from a few surprises as well. Four years ago George Clooney cut short his honeymoon to show up to promote the film "Tomorrowland."
"I can't remember a year when there hasn't been a big surprise guest or some reveal that people didn't think would happen at Comic-Con (in San Diego)," said Tim Leong, executive editor of Entertainment Weekly, which extensively covers the convention each year.
"Comic-Con has very big years and then they have big years. I've talked to a lot of people in the industry and no one is saying that this is it for Comic-Con. I think it will be just as strong next year if not stronger."
Staff writer Peter Rowe contributed to this report.
phillip.molnar@sduniontribune.com (619) 293-1891 Twitter: @phillipmolnar
ALSO
San Diego's new single-family homes are pricey, modern and in short supply
Tijuana condo craze continues in to 2018
Last year's housing market broke records