Comic-Con 2018: 5 things to know about Eisner-nominated artist Ryan Benjamin
San Diego comic book artist Ryan Benjamin is riding the biggest wave of his life this weekend as a first-time nominee for a 2018 Will Eisner Comic Industry Award at San Diego Comic-Con.
The Eisners are the comics industry's equivalent of the Oscars and Benjamin is nominated in the Webcomic category for "Brothers Bond," an epic journey tale set in ancient Asia, co-written by Kevin Grevioux.
Whether he walks away with the trophy or not, the 47-year-old Benjamin — who counts President Barack Obama among his Twitter followers — said he feels like a winner already for being nominated among such prestigious company. Here's a five-point snapshot of one of San Diego's most in-demand and prolific artist/entrepreneurs.
1. How it all started
A native of St. Croix, Benjamin was drawing trees and portraits before he entered grade school. By fourth grade, teachers were pulling him out of class to do schoolwide art projects. He was 13 when he moved to Ft. Lauderdale, Fla., with his single mom and three siblings. Despite an impoverished existence in a housing project, he continued to excel in art, representing the state of Florida in a national high school art competition at age 17. A champion Junior Olympics swimmer, he turned down a college athletic scholarship to instead enroll on his own dime at what is now the ArtCenter of South Florida in Miami.
2. The inspiration
As an aspiring artist, he worked in paint, clay, papier-mâché and wood. His idols included surrealist Salvador Dali, illustrators Norman Rockwell and Burne Hogarth and Italian master Michelangelo. His advice to young comic artists is to be accomplished in multiple disciplines to broaden their marketability.
3. The big break
Benjamin broke through in 1993, when his art school buddy Brett Booth (co-creator of "Backlash") joined Jim Lee's fledgling Wildstorm Comics in La Jolla. Booth passed along some of Benjamin's drawings to Lee, who critiqued them and asked for more. After six months of critiques, Lee invited Benjamin out for a part-time internship, where he was tutored by now-famed artists Whilce Portacio, Marc Silvestri, Mat Broome, Scott Williams, J. Scott Campbell and Travis Charest. "I couldn't help but fine-tune my craft around those guys." Four months after he arrived in San Diego, Lee offered him a full-time job.
4. The work
Over the years, Benjamin has had a diverse career working for DC Comics (which purchased Wildstorm in 1998), Image Comics, Valiant, Acclaim, CapCom, Marvel, Disney, Warner Bros., Dark Horse and Sony PlayStation. He has contributed to "WildC.A.T.S," "Stormwatch," "Phantom Guard" and "Wonder Woman." His 2011 "Batman: Beyond" comic book was a New York Times No. 1 bestseller. He's now at work on a "Vampire Hunter" graphic novel project and an expansion of "Brothers Bond" into both a board game and a video game. His prolific output and talent has attracted a lot of attention. Among his many Twitter followers is former President Barack Obama.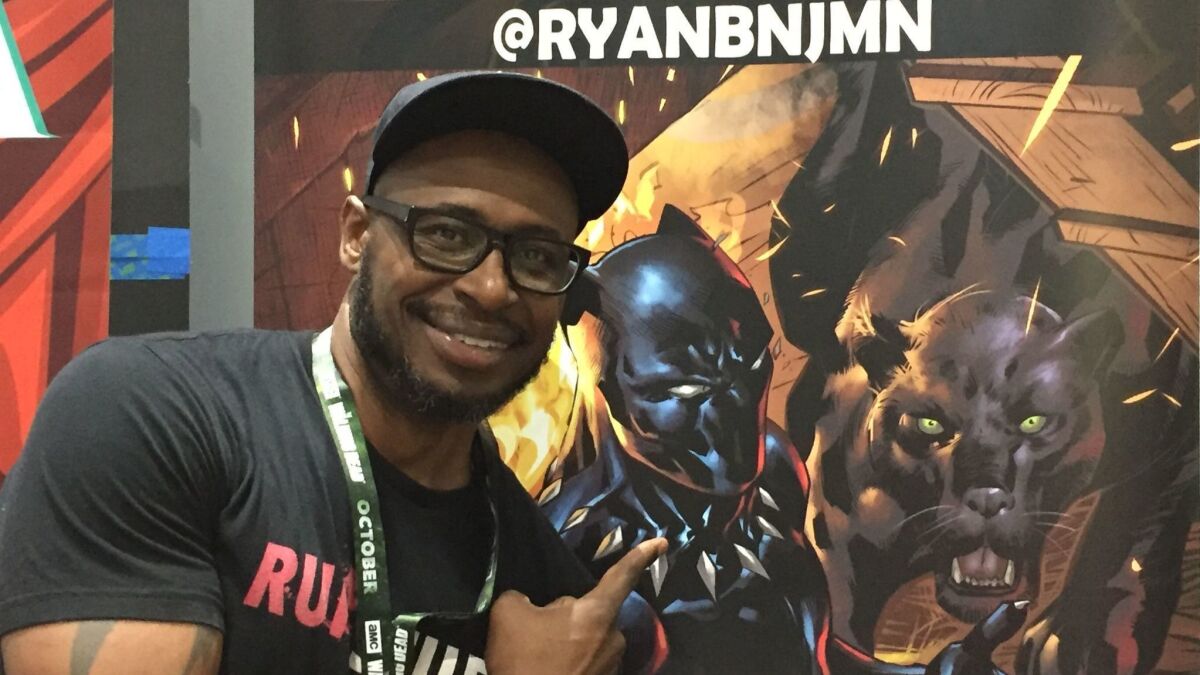 5. The future
Benjamin works, often all night long, from a studio in the Mission Valley home he shares with his fiancee Hannah Yoon and their 3-year-old daughter, Elle. His dream is to one day open a demonstration studio in San Diego, where he can work and mentor young artists as he was at Wildstorm in his 20s. That will be the launchpad for his own multi-discipline studio that will work in comics, graphic novels, videogames, animated film, art design and more.
Benjamin is selling signed copies of his artwork from Booth EE-08 in Artist Alley in the main exhibit hall of Comic-Con through Sunday. At 7 p.m. Friday in Room 4, he will take part in the Webtoons panel "Breaking in and Monetizing Your Comics with Webtoons." He'll also attend Friday night's Eisner Awards. And he'll be signing artwork from 10:30 a.m. to 11:30 a.m. Sunday in the DC Entertainment booth in the exhibit hall.
---