Comic-Con 2018: Dispatches from Comic-Con's looooong lines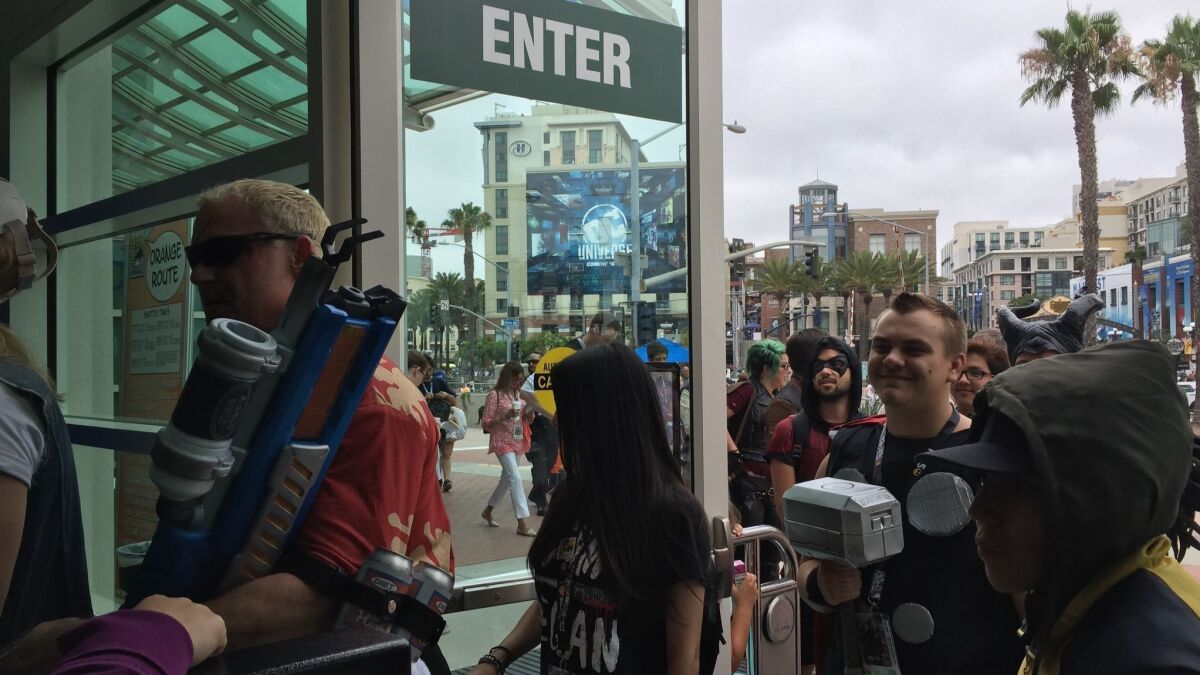 Ahh, Comic-Con: The celebrities, the costumes, the one-of-a-kind merchandise and the surprise sneak peeks. And the lines.
You can't always depend on your favorite film studios and stars to show up each year, but you can always count on the gargantuan lines that snake in, around and through the San Diego Convention Center.
On Friday morning, we talked to people in lines, people who survived the lines and people who manage the lines for their take on one of the convention's most reliable constants.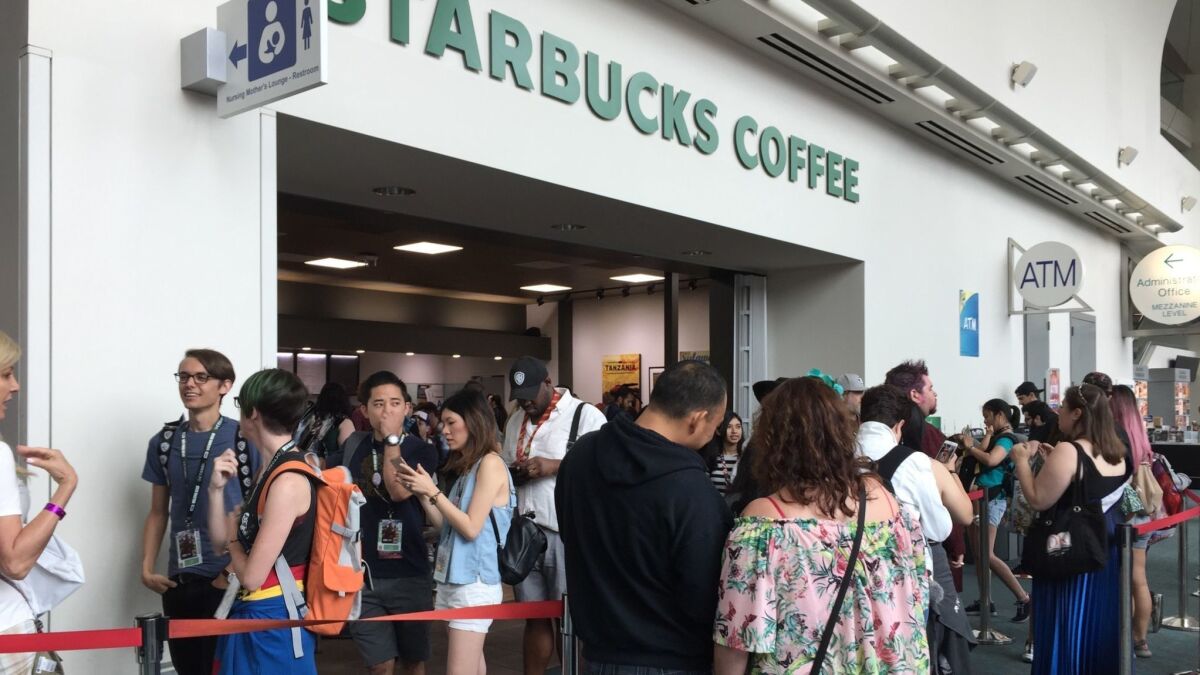 Coffee break
After a 40-minute wait in a Disneyland-worthy zig-zag cordoned queue, Greg Schiller emerged exhausted from the Starbucks shop inside the San Diego Convention Center with two Venti-size coffees. He and his wife, sculptor and leather mask artist Dee Schiller of Los Angeles, have been coming to Comic-Con for 28 years. In those days you could walk up to any table to buy merchandise. But at this year's 135,000-strong convention, Schiller said: "You have to wait in line to wait in line to buy a ticket to wait in line."
Lost and found
The line is shorter, but its waitees are usually more anxious at the convention's lost-and-found booth. In just the first 24 hours, hundreds of missing items had been logged, including cellphones, purses, wallets, military IDs, a border crossing certificate, convention badges and newly purchased "Star Wars" books. Among the most unusual items to go missing were a Harry Potter wand, a light saber, a Pokemon Go tracker and a baby stroller. As hopeless as it may seem, booth worker Dina Soliman of Corona said there are many happy reunions. Last year, a woman walked away from her $2,000 designer purse with $3,000 cash inside. It was found and turned in by security with everything accounted for, Soliman said.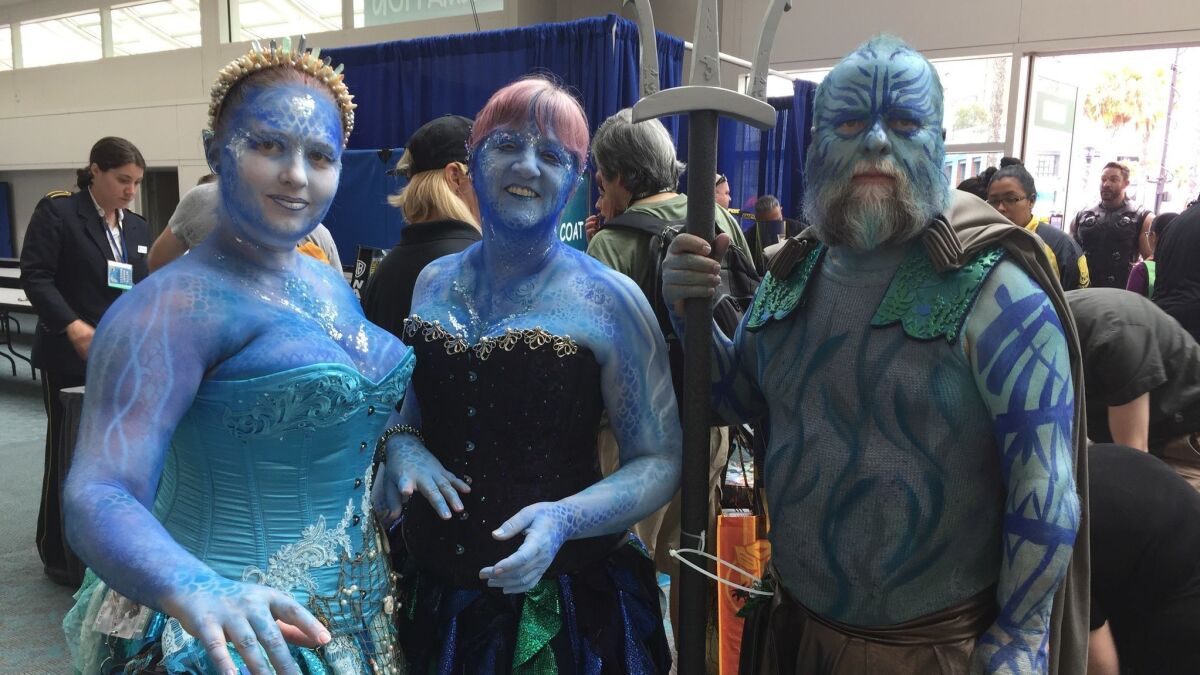 Weapons check
The line stretched out the convention center doors Friday for pass-holders arriving in costume with weapons or seemingly sharp objects that required examination by center security. Among those in the queue were movie serial killer Jason with his bloody hockey stick, Thor and his hammer, Negan and his barb-wire-wrapped baseball bat Lucille and Malificent in her sharp-horned headdress. After a 20-minute wait and a frustrating go-round with center security, Jon Ringard of Reno was allowed to enter the convention center with his wood-and-foam triton security twist-tied to his leather belt. Ringard, his wife, Lynn, and their daughter Kristin, arrived Friday costumed as King Neptune's family, each covered from head to literally toe in blue body paint. They didn't get far before being sent to the weapons check by security. He didn't mind the wait, but he did mind the inconsistency. On Thursday, he walked around all day with a sword and pistol and nobody stopped him.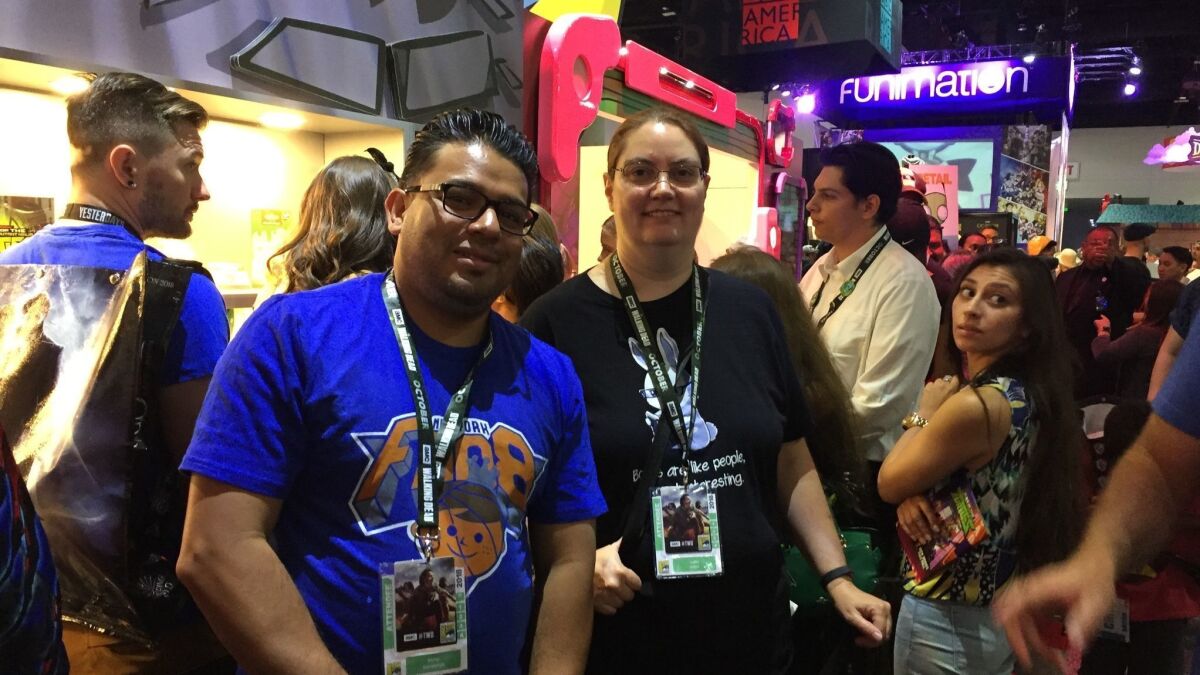 Collectible cravings
Mary Rivas of San Diego held the "Start of Line" sign for more than 100 conventioneers waiting along the exhibit hall wall for their turn to shop in the Nickelodeon booth. Most wait about an hour to get to the cashier, Rivas said, and only discover when they get inside if the item they want is still available. She said most customers are in good spirits because the process this year is faster and more orderly. Victor Sanabriga of New Jersey was near the head of the line, optimistic that he'd be able to buy Teenage Mutant Ninja Turtle dolls for his son. Behind him was seven-year attendee Cathi Miles of Tucson, who said she has stayed overnight in line in the past to buy Hasbro items and she's much happier with this year's line program.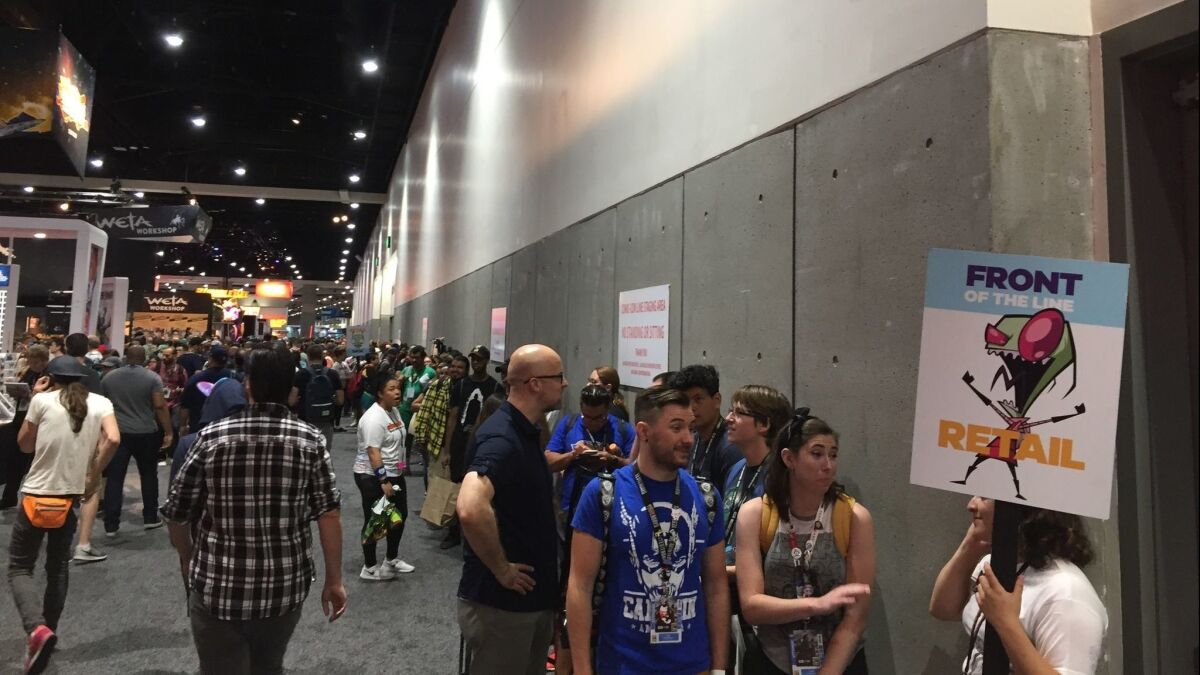 The infamous Hall H
No lines are more intimidating than those for Hall H, the 6,000-seat room where the biggest movie and TV show presentations are held. This year's longest waitee was a local teen boy who began camping out on the grass outside the hall on July 9, according to volunteer line attendant Melissa Leonard of Escondido. Friday's biggest draw was "The Walking Dead" panel, for which customers began lining up two days ahead. Early arrivals get wristbands that preclude the necessity of sleeping in line overnight, but Leonard said many people choose to camp for the sheer experience of it all. "Most people do it because they're part of a community and they all love the same thing," Leonard said. "They say 'I really like this thing and I want to share my support for it.'"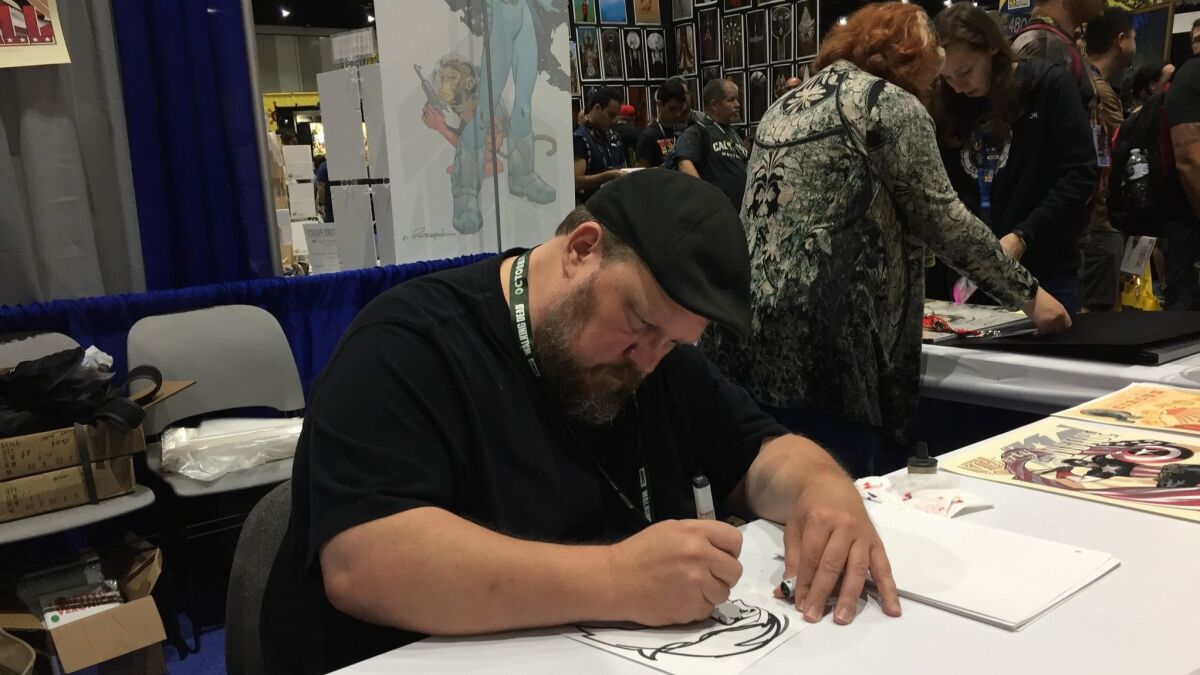 Art on the fly
More than 40 people, mostly men, stood patiently in line to buy $40 custom-drawn portraits by Adam Hughes, an illustrator known for his '40s pinup-style artwork. Hughes' wife and fellow artist Allison Sohn said her husband whips out the head-and-shoulder portraits in about three to five minutes, each drawn to the customer's desire, so they all seem happy to wait. She said there's enough demand for her husband to draw all day long but she limits the sessions to 90 minutes to keep up his stamina. Hughes said he's been coming to Comic-Con since 1990 or '91 and Sohn has come since 1998. She can't get over how the convention has grown and how, in spite of the lines, everyone seems to be in a happy mood.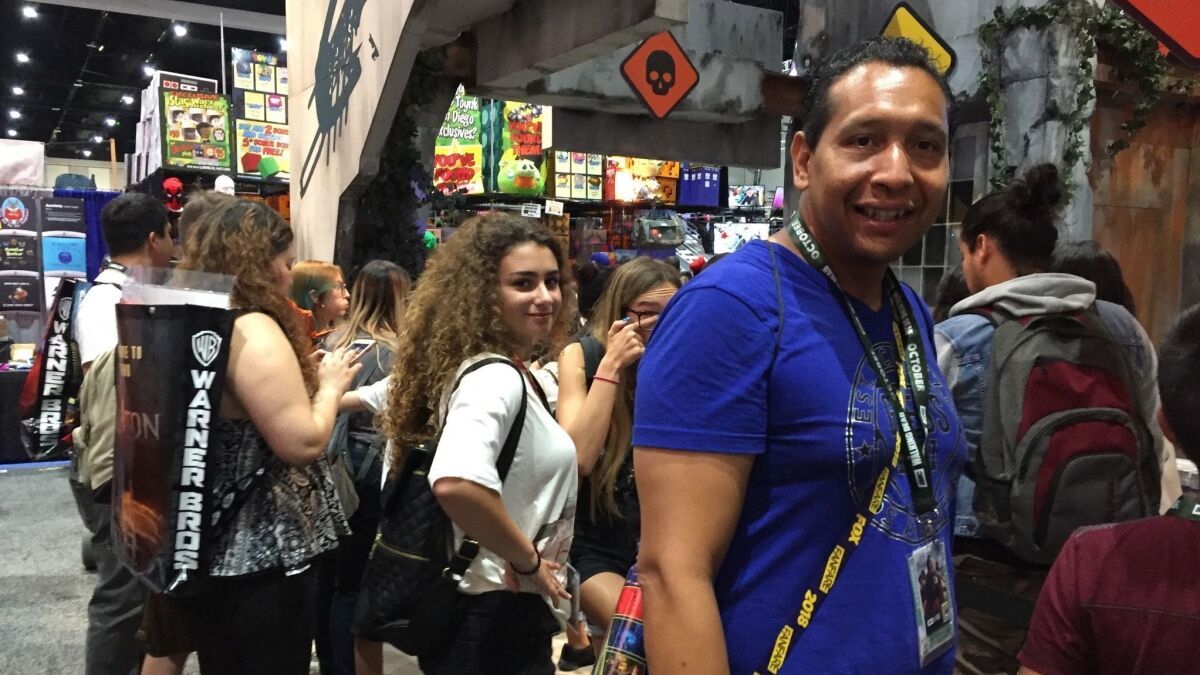 The waiting 'Dead'
For 16 years, Point Loma resident Jose Polo has been coming to Comic-Con and waiting in lines for autographs for his favorite movies and TV shows. His chief goal this year was to get one of 75 coveted tickets for Friday afternoon's autograph session with the cast of "The Walking Dead," including its lead actor Andrew Lincoln, who is leaving the series at the end of the upcoming season. To even stand in line at the AMC booth, fans had to register online for a random drawing, then wait an hour in line on the exhibit hall floor for yet another drawing to win. Polo went through the line 11 times Thursday and his friend cycled through 20 times with no luck. Line attendant Jabril Muhammed said most fans in line are patient and orderly, but they tend to get frustrated when they see someone win because it reduces their own chances. That was the case at 11:30 a.m. Friday when Brazilian Rafaela Nascimento and Kristina Salvati of San Clemente won two of the last 10 autograph tickets one right after the other. Nascimento said she'd planned to stalk the hotel where the "Walking Dead" actors were staying and now she would get to meet them all in person. "I can't believe my luck," she said.
---