Chris Hardwick out at Comic-Con and KAABOO after sexual assault allegations surface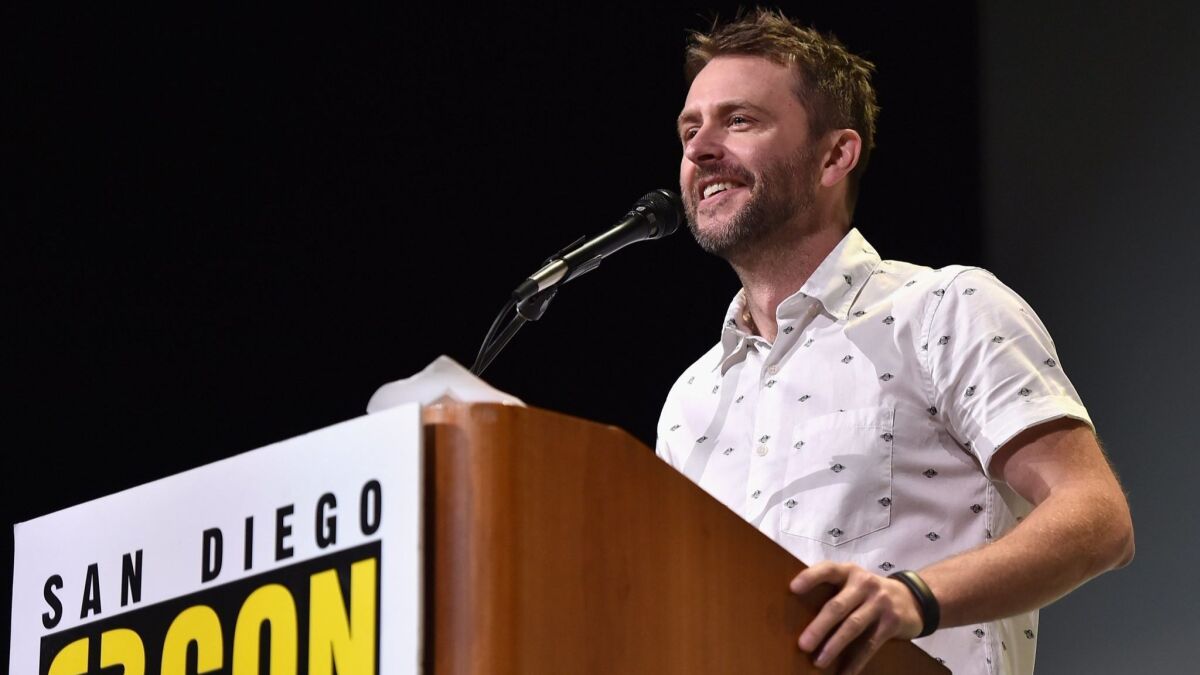 Comedian Chris Hardwick, under fire after ex-girlfriend Chloe Dykstra's allegations of sexual assault and emotional abuse surfaced Friday, has pulled out of Comic-Con and won't be appearing at KAABOO Del Mar — the news Saturday coming on the same day AMC announced it was temporarily shelving the second season premiere today of "Talking with Chris Hardwick" as the situation continues to unfold.
Hardwick, 46, has been a Comic-Con regular, known for co-hosting "The Nerdist" podcast and emceeing numerous panels at the annual pop-culture convention, scheduled to begin in San Diego on July 19. He was set to moderate two panels here, one for AMC and another BBC America, which had him hosting the ever-popular "Doctor Who" panel. For AMC, he had been scheduled to moderate "The Walking Dead" panel.
"We have had a positive working relationship with Chris Hardwick for many years," reads the AMC statement released Saturday. "We take the troubling allegations that surfaced yesterday very seriously. While we assess the situation, 'Talking with Chris Hardwick' will not air on AMC, and Chris has decided to step aside from moderating planned AMC and BBC America panels at Comic-Con International in San Diego next month."
KAABOO Del Mar, meanwhile, reacted to the news Saturday by taking Hardwick out of the comedy lineup for this year's edition of the annual all-ages festival.
"We have made the decision to pull Chris Hardwick from the KAABOO Del Mar 2018 comedy lineup following detailed accusations of substantial abuse," the Southern California festival said in a statement. "KAABOO is an experience dedicated to providing a safe community and fostering an inclusive environment for all of our guests, performing artists and comedians, chefs, visual artists and team members. KAABOO does not condone, and will not tolerate, any type of abusive behavior or harassment."
Also on Saturday, NBC released a statement about Hardwick, who hosts the game show "The Wall," recently renewed for a third season on the Peacock Network: "These allegations about Chris Hardwick took us by surprise as we have had a positive working relationship with him. However, we take allegations of misconduct very seriously. Production on The Wall does not begin until September, and in the meantime we are continuing to assess the situation and will take appropriate action based on the outcome."
Legendary, the parent company of Nerdist, has scrubbed its website in response to Dykstra's allegations, removing any mention of Hardwick, who founded Nerdist. In a statement, the studio said: "Chris Hardwick had no operational involvement with Nerdist for the two years preceding the expiration of his contract in December 2017. He no longer has any affiliation with Legendary Digital Networks. The company has removed all reference to Mr. Hardwick even as the original Founder of Nerdist pending further investigation."
The avalanche of backlash came after an essay by Dykstra, who broke up with Hardwick in 2014, was published Thursday evening. In the piece, titled "Rose-Colored Glasses: A Confession," Dykstra, 29, writes, "I've struggled with such a great fear of talking publicly about my experience with long-term abuse." She shared details about repeated abuse, sexually and emotionally.
Hardwick was not named in the essay, but certain details led many to guess he was the subject of the online post.
Hardwick denied the allegations, releasing a statement: "These are very serious allegations and not to be taken lightly, which is why I've taken the day to consider how to respond."
He continued: "I was heartbroken to read Chloe's post. Our three-year relationship was not perfect — we were ultimately not a good match and argues — even shouted at each other — but I loved her and did my best to uplift and support her as a partner and companion in any way and at no time did I sexually assault her."
On Twitter, Dykstra thanked people for their support.
"I quietly posted an article today, unlisted on Medium. It clearly made the rounds," Dykstra said in a tweet. "I'm overwhelmed and I want to thank all of you for your support and kind words — they mean so much to me. I may take some time off the internet, please know your support means everything to me."
Twitter: @outdoorlivingsd