Comic-Con 2018: Where to get your beer in San Diego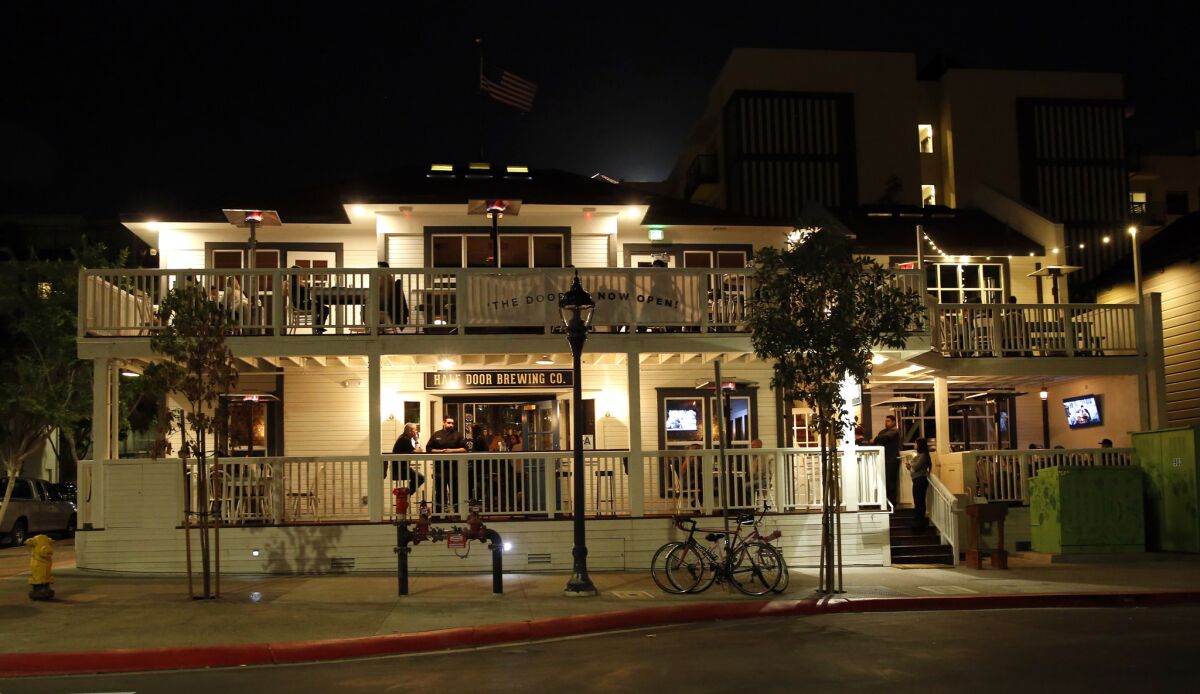 Even for visiting superheroes, Comic-Con can be super exhausting. After one final Hall H preview, Artists' Alley sojourn or round of cosplaying beneath the Sails Pavilion, the last thing you want is to aimlessly stumble around San Diego in search of good beer.
We're here to help.
Peter and Daniel, the Union-Tribune's resident bhagwans of beer and hosts of the Facebook Live "Day Drinking" segment — Thursdays, 2 p.m., at the PacificSD Facebook page — know exactly where you need to go.
On Foot
Breweries are always your best bet for fresh, peak-condition beers. Praise be, the convention center is within walking distance of several. We recommend:
Half Door Brewing, 903 Island Ave., (619) 232-9845. Irish brewpub in restored 19th century manor, Half Door has a wonderful stout, Coleman's, and a nifty ESB (Extra Special Bitter), Young Danny Boy.
Monkey Paw, 805 16th St., (619) 358-9901. A dive bar with a welcoming, if shambolic, vibe, the Paw makes award-winning beers like Sweet Georgia Brown and Lab Monkey, the latter a howling example of a San Diego IPA.
Mission Brewery, 1441 L St., (619) 544-0555. Inside the landmark turn-of-the-century Wonder Bread building, enjoy a wide range of ales in the spacious tasting room.
On Dockless Bike/Scooter
Three that are a little further away, but still in the downtown area:
The Bell Marker, 602 Broadway, (619) 756-7598. There's a menu of New American dishes, a full bar and an in-house brewery. Ask for the lastest from Nacho — brewer Ignacio Cervantes is a local legend with award-winning ale in his veins.
Resident Brewing Company, 1065 4th. Ave, (619) 717-6622 This brewery is "a resident" of The Local. Try the Vacation Coconut IPA, for a tropical surprise.
Karl Strauss, 1157 Columbia St., (619) 234-2739. San Diego's oldest craft brewery (established 1989) is also one of its best, named the country's top mid-sized brewery of the year at the 2016 Great American Beer Festival.
By Car and Foot
No more than 15 minutes away by car, enjoy a couple of pints on Shelter Island:
Eppig Brewing Waterfront Biergarten, 2817 Dickens St., (619) 756-6825. One of San Diego's newer breweries, Eppig is making a name for itself with crisp lagers and spot-on ales. The main brewery is in North Park, but this breezy spot on the bay is within walking distance of…
Fathom Bistro, Bait, and Tackle, 1776 Shelter Island Dr., (619) 222-5835. Beer-friendly oasis on a fishing pier, offering a smartly-curated lineup of local beers and food. And, yes, bait is available, too.
Best of the Beer Bars
Pop in for a pint and/or a nosh at these spots:
Neighborhood, 777 G St., (619) 446-0002. A terrific beer list, one of the area's best burgers, excellent fries — no wonder this is a Gaslamp Quarter mainstay.
Nason's Beer Hall, 570 J St., (619) 738-7060. A comfortable beer bar inside the Pendry hotel. Just off of 5th Ave., it's a great spot for Comic-Con people watching.
Quad Alehouse, 868 5th Ave, (619) 239-3339. Solid beer lineups and a full bar in an upstairs loft that provides a great perch for Con-related people watching.
Brew30: California Taps, 1 Market Place, (619) 232-1234. Convenient — a hotel bar in a Comic-Con-adjacent hotel, the Manchester Grand Hyatt — and, even better, devoted to local beers.
Events
San Diego hosts at least one beer festival each weekend, and this one is no exception:
Hop Con 6.0: Thursday, 7 to 11 p.m., at Stone Brewing World Bistro & Gardens — Liberty Station, 2816 Historic Decatur Road, (619) 269-2100. Tickets, $75, include 15 three-ounce samples and unlimited access to gourmet food stations; stonebrewing.com/events.
San Diego Pizza and Beer Fest: Saturday, 7 to 10 p.m., at Liberty Station's Ingram Plaza, 2751 Dewey Road. Tickets, starting at $35, include 100 beers to sample at no extra cost plus at least 15 pie shops peddling slices, $3 to $5 each: eventbrite.com.
Kings of Beer
Nan Coffey's graphic design on the cans of Fall Brewing's Goo Goo Muck (7.8 percent alcohol by volume) gives a cheery indication of the happy beer inside.
I thought I was over New England unfiltered IPAs, that the style was too thick and goopy. Goo Goo Muck proved me wrong. From the Bazooka bubble gum aroma to the peach cobbler flavor, this India Pale Ale is light on its toes, lifted by sparkling carbonation.
A big hop bouquet, featuring Citra, Centennial, Crystal and Simcoe varieties, provides an astringent frame around the fruity body.
This is an ideal ale to toast one of the world's greatest celebrations of the popular graphic arts. Comic-Con-goers are not legally required to order a round of Goo Goo Muck, true. But to quote the can, "Let's go!"
Twitter: @peterroweut
---