Tom Hardy's 'Venom' villain revealed, but when will he face off against Spidey?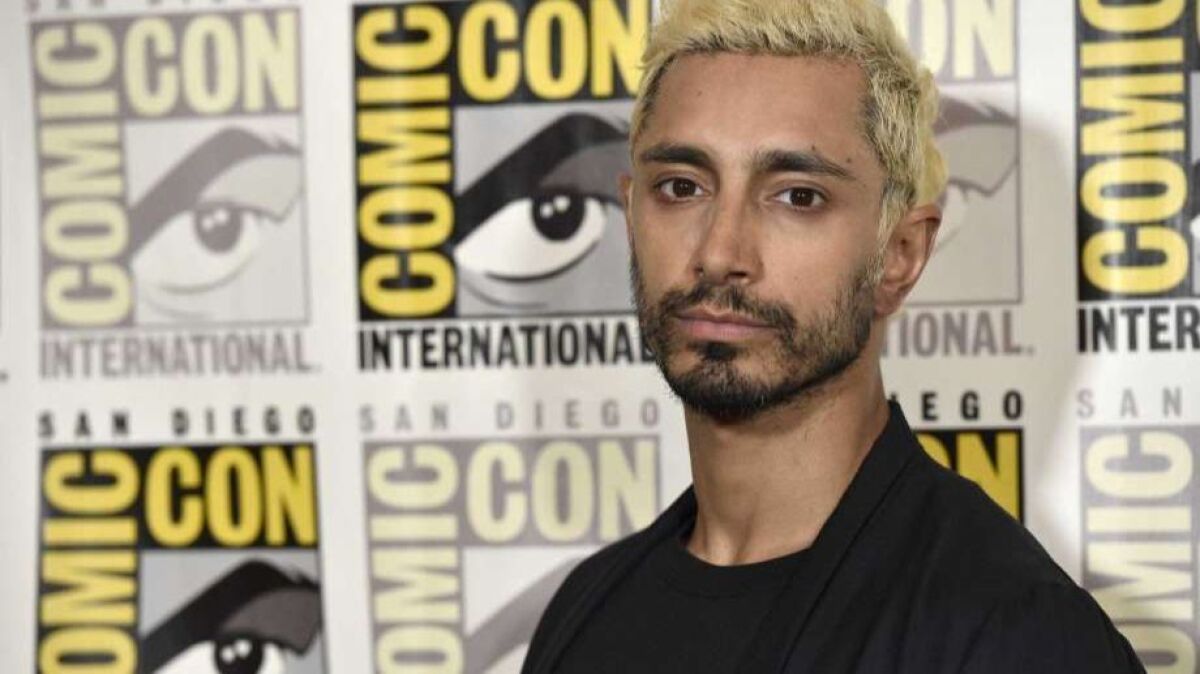 Reporting from San Diego —
Sony's "Venom" unveiled its villain Friday at Comic-Con, dropping an impressive trailer for the Oct. 5 action release that wowed Hall H as director Ruben Fleischer and stars Tom Hardy and Riz Ahmed teased the studio's next foray into the Marvel universe.
"Unlike other Marvel films, this is a much grittier, grounded, complicated character, more violent, and unlike most superhero movies there are no heroes in this movie," said Fleischer. "It's full of complicated and complex characters."
The trio took the stage as audience members chanted, "We are Venom," which also happens to be the catchy line Hardy utters as the titular symbiote at the end of a crowd-pleasing extended trailer that premiered to the Comic-Con crowd.
"I don't want to upset anyone, but I think he's the coolest Marvel superhero," said Hardy.
The Marvel antihero gets his own standalone movie Oct. 5, with Hardy playing both disgraced journalist Eddie Brock and the alien parasite that bonds with him, lending him superhuman powers whenever he transforms into the slick-skinned, razor-toothed alter ego.
His adversary? A fellow symbiote named Riot who is stronger and more powerful than Venom and, Fleischer added, has the ability to jump from host to host: "You never know quite where Riot's going to show up."
Hardy pulled double duty recording lines in his Venom voice before playing scenes as the human Eddie Brock, acting against his own recording. "I'm a bit of a geek about acting," he said, referring to his 2015 film "Legend" in which he played real life identical twin criminals.
That experience, he said, gave him insight into playing two disparate characters sharing the same body. But it was his son's love for the Venom character that convinced Hardy to do the role."I wanted to do something my son could watch. Because a lot of the films I've done I'm pretty aggressive or violent, or I swear a lot… in this one, I bite people's heads off," he laughed.
His Eddie Brock is a disgraced journalist with a "questionable" moral code investigating a shadowy organization called the Life Foundation — a group run by Ahmed's supervillain Carlton Drake.
Ahmed, dressed head to toe in black like the megalomaniac Drake and sporting bleached blond hair, offered a glimpse into the psyche of his "Venom" character.
"He's trying to answer the question of, 'What does the future for humanity look like?' Because Planet earth is almost done," said Ahmed. "We're on the brink of ecological and environmental collapse. He thinks to space, and it's in exploring that, that he comes across the symbiote."
Notably absent from Sony's high profile Hall H panel was filmmaker James Gunn, who was never officially announced as a panel guest but had teased his involvement in the panel on Twitter earlier in the week.
Any chance of a surprise Gunn appearance was squashed by midday after Disney publicly severed ties with the "Guardians of the Galaxy" helmer over controversial older Tweets of his resurfaced online, losing him the "Guardians of the Galaxy Vol. 3" gig.
Sony also brought the makers of their December animated Spidey film "Spider-Man: Into the Spider-Verse" onto the Hall H stage where rollicking footage drew enthusiasm from the audience, and from stars Shameik Moore, Jake Johnson, and Hailee Steinfeld.
One of the biggest reactions erupted from the audience reacting to the appearance of alternate universe hero Spider-Ham, while producers Phil Lord and Chris Miller revealed that the animated film's Spider-Man Noir is voiced by Nicolas Cage.
Back on the "Venom" panel, further expansions into comics canon were also teased, hinting at the future Sony might be planning for its Marvel properties.
Fleischer said that beyond Riot, additional unnamed villains will show up in the film, which also stars Michelle Williams and Jenny Slate. "We're planning a huge world with this 'Venom' story and we want to be able to satisfy our own desires and the desires of fans to explore all beloved characters from the universe," he said.
He also hinted that he'd like to see Hardy's Venom meet the MCU's Tom Holland's Spider-Man onscreen.
"I think we can all agree it would be pretty amazing to see Spider-Man and Venom face off in a film," said Fleischer, "so I have to think that the studio's thinking the same way, and at some point down the road they're going to run across each other's paths."
---