'The Walking Dead': An emotional Andrew Lincoln confirms his departure at Comic-Con
Reporting from San Diego —
There was an "elephant in the room," at Comic-Con, in the words of Andrew Lincoln, just after "The Walking Dead" cast took the stage at the always crowded Hall H on Friday, and that was whether this would be his last season on the show.
And, indeed, despite all the promising footage revealed in the new trailer teasing the time-jumped new season, it will be.
Citing a recent "zombie poll" of whether he would address the speculation at Comic-Con, Lincoln confirmed this would be his final run as Rick Grimes to a chorus of disappointment in the crowd. "Now hear me out, please," he went on. "I love this show; it means everything to me — I promise not to cry. I've done enough crying on the screen."
He went on to describe his love for the show and its fans, calling it "the most extraordinary experience of my career." After speaking more about how much the show has meant to him, Lincoln paused and asked a question of the crowd, sounding leery of his moment resembling an Oscar acceptance speech. "I'm talking too much, aren't I?" he asked finally. The crowd assured him he was not.
"Yeah," growled Jeffrey Dean Morgan, better known as Negan, at the other end of the table.
FULL COVERAGE: San Diego Comic-Con 2018 »
"My relationship with Mr. Grimes is far from over," Lincoln went on, his voice shaking, and he added that he would always on some level be the "Stetson-wearing sheriff's deputy from London, England" while assuring the crowd that the show has always been about the ensemble before the panel continued to preview the new season, whose trailer premiered before the cast took the stage.
"We wanted this to be a love-fest," said moderator Yvette Nicole Brown, who replaced Chris Hardwick after he was accused of sexual assault. "Let's just love on what we have left and what we have to come."
And there was much discussed, including new showrunner Angela Kang ("Terriers") and the introduction of Samantha Morton as a new character called Alpha for what looks to be a transitional season as the show turns to the wilderness after two years of war.
But until the show returns in October, fans will most likely already be considering what will soon be missing.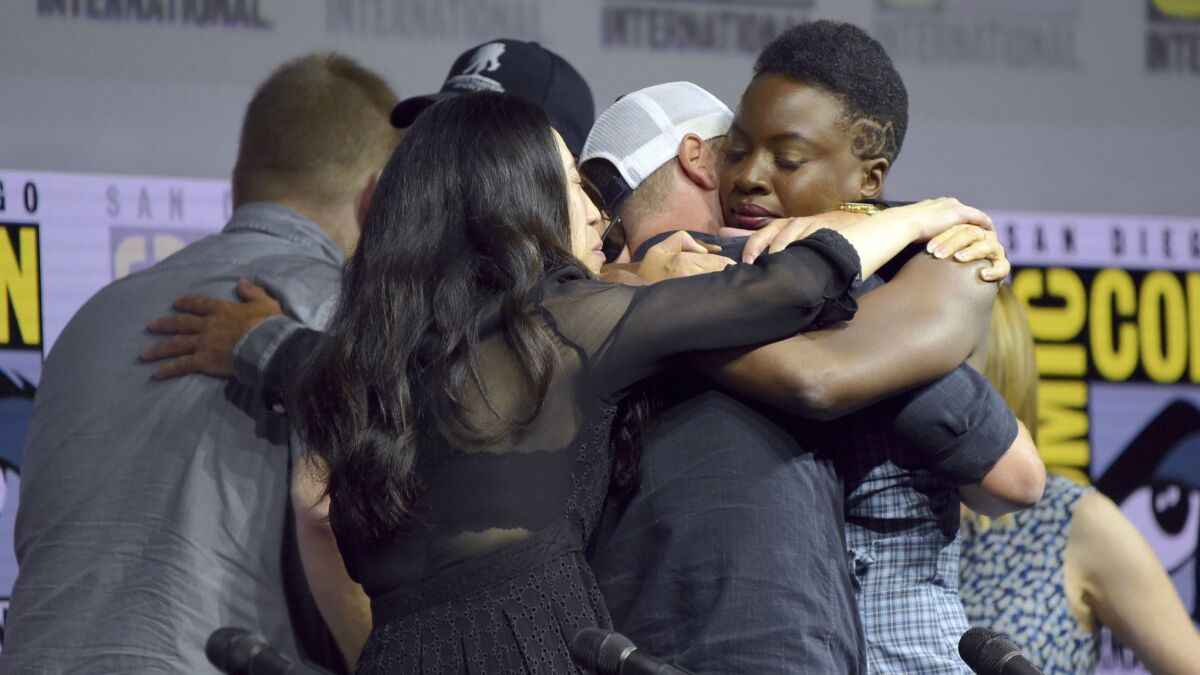 But despite that vaguely somber note, the panel itself was upbeat and lived up to the "love-fest" Brown wanted. Lincoln and Norman Reedus, who plays Daryl, swapped stories of an ongoing prank war that began with Reedus giving his cast mate the incorrect translation for saying hello while they were both on live television in Japan, and even the audience Q&A ultimately had a celebratory tone.
One attendee asked Lincoln to speculate about what his character might most miss about the show. Lincoln paused then, after a sharp elbow from cast mate Danai Gurira, replied with "Michonne. Michonne. Michonne."
Later in the Q&A, a couple — in matching "Rick Grimes dies, we riot" T-shirts — expressed gratitude to the show's creators for bringing the two of them together and, to Lincoln, for dedicating 10 years of his life to "The Walking Dead." The question was then posed about what Lincoln might do next. He didn't sound sure.
"It's funny, these guys and the crew back in Atlanta are the greatest surrogate family I could've wished for," he said. "But I do have a real family and it is time for me to go home, you know?
"I'm so in love with Rick Grimes I don't know if I can put him down yet," he added. "The short answer is no, I'm going to bed for three months."
And then Reedus pulled the panel and all of Hall H to their feet for a long standing ovation for Lincoln that culminated in an extended onstage group hug. The love-fest had been achieved.
---