The cast of 'The Good Place' is in a good place at Comic-Con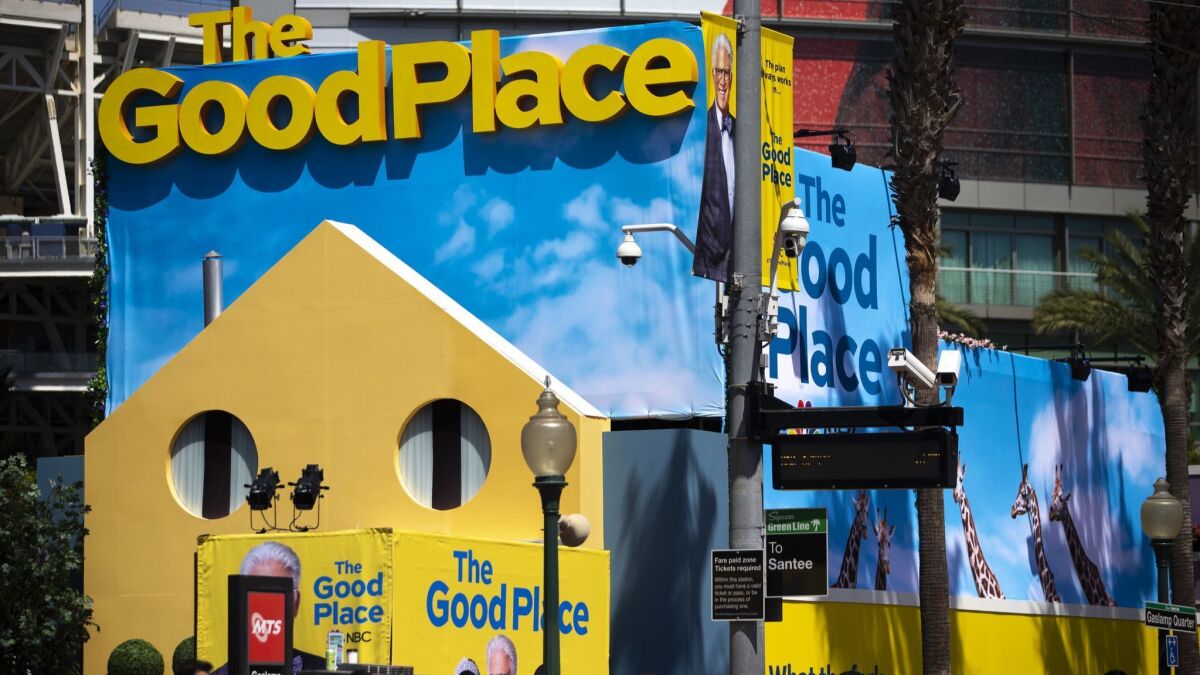 Reporting from San Diego —
On the surface, "The Good Place" seems like a strange fit for Comic-Con.
A half-hour comedy with a gently supernatural core, the NBC series about ethics, the afterlife and what it means to be a good person doesn't so readily fit among the many movies and shows involving superheroes and zombies that hit San Diego every year.
And yet there was a big activation for the show that drew fans to the foot of the city's ever-packed Gaslamp Quarter on Saturday. And the series' morning panel at the Hilton Bayfront's Indigo Ballroom was standing room only with a line stretching outside the hotel before it started. "The Good Place" panel could have easily found a home in, say, the larger, usually more action-oriented venues of the convention center.
The crowd was big enough that an ethics test, seemingly drawn from the show's playbook, awaited fans: A cluster of seats reserved for the Make a Wish Foundation were vacant as the room kept filling up. Half of those seats finally ended up being claimed by a few fans, but fear not — the Make a Wish group looked to have been already seated a few rows ahead.
Marc Evan Jackson, who portrays the show's demon Shawn, moderated the panel and maintained a similarly mock-imperious delivery when questioning the cast members, who entered to rapturous cheers. And though Comic-Con is all about fans and their subjects sharing the love, "The Good Place" panel felt exceptionally affectionate for what Jackson introduced as "the smartest, dumbest show on TV."
Showrunner Michael Schur described the show as drawn from a combination of a "hobby-level" interest in ethics and a habit of assigning point values to people's behavior as he navigated Los Angeles. Centered as it is on the afterlife, the show was credited as starting a religion for one fan Jackson referenced, which led Schur to joke, "This is Phase 1 of a very long plan."
Ted Danson (Michael) — playfully addressed by Jackson as "Emmy nominee Ted Danson" — deferred all praise but finally admitted, "This is Emmy time and you have to adopt some false humility."
Jameela Jamil (Tahani) confessed that Manny Jacinto (Jason) was her seventh kiss of her whole life, which alarmed some on the panel. "I think I kissed seven people in junior high," said D'arcy Carden (Janet).
Before the panel closed with a two-minute tease of the first episode of the third season (Michael is very excited about riding a bus) and an announced fan meet-up in the afternoon at the show's activation, the audience Q&A began.
After being asked where they thought they might wind up in the afterlife, the Good Place or the Bad, each panelist offered an up or down vote. Only Danson and Kristen Bell offered a thumbs-up as the crowd laughed.
"See you there, Ted!" Bell said.
---