Jamie Lee Curtis tears up, evokes #MeToo movement during 'Halloween' Comic-Con panel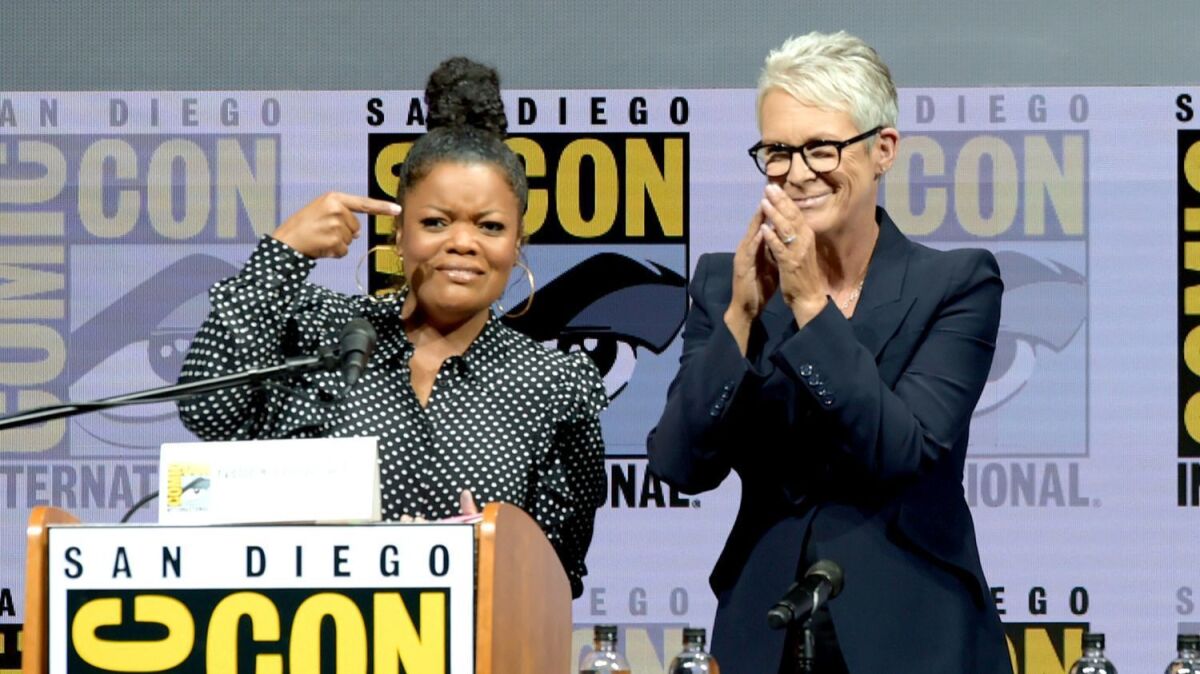 Reporting from San Diego —
Jamie Lee Curtis stole the show during the second half of Universal's double-header Hall H panel at Comic-Con on Friday evening.
The longtime star of the "Halloween" franchise was back to promote her return to the series for the forthcoming "Halloween," which hits theaters exactly 40 years after John Carpenter's original. Curtis had a moving response when asked how it feels to resume the role of Laurie Strode four decades after first stepping into her shoes.
"What was so interesting about the movie that [director] David [Gordon Green] & Co. wrote is that what they're honoring today is that … there comes a point where you say, 'I am not my trauma, the narrative of my life is not that I'm a victim,'" she began. "Here is a woman who's been waiting 40 years for the person that she knows is coming back to say, 'I am going to take back the legacy of my life, I'm going to take back my narrative and you don't own me anymore.' And that, weirdly enough, seems to be a bit of the thing in the world today."
Curtis also referenced Thursday's ESPY Awards, where more than 140 "sister survivors" of disgraced sports doctor Larry Nassar were honored. "I know you're nerds, but I don't know if any of you watched the ESPYs the other day when all of those women stood on that stage while that M.F. rots in prison, those women stood there and said, 'You do not control our narratives anymore.' And that is why I am sitting here today in this great Hall H for a movie for David Gordon Green. Because he wrote a character who's saying 'I'm taking back my narrative.'"
"Good night, everybody!" Brown joked. "I didn't know we were having church today, it's wonderful!"
"Hey baby, it is freaky Friday," Curtis quipped.
FULL COVERAGE: San Diego Comic-Con 2018 »
Another emotional moment came when an audience member got choked up recounting a life-threatening incident in which he evoked Curtis' character in the "Halloween" films.
After a man with a knife cut his phone lines and tried to break in, he said he thought to himself "What would Jamie Lee do?" before running into the street in search of help.
"Because of you, I'm a victor and not a victim," he said, tearing up. A visibly moved Curtis descended from the stage and wrapped him in a long hug, kissing him on both cheeks. "These kind of emotions are real," she said when she returned to the stage.
"Halloween" hits theaters on October 19.
---