The celebrity of legalized cannabis
There are some celebrities who are synonymous with cannabis, including Tommy Chong of Cheech and Chong fame or rapper Snoop Dogg. With recreational cannabis' legalization in California, more celebrities — even ones not normally associated with the drug — have entered the industry with their own products.
"Celebrity branded or endorsed products are becoming more a trend with legalization helping normalize cannabis," Savanna Rakofsky, director of marketing at San Diego-based dispensary Urbn Leaf, said. "Sean Paul actually just launched his new brand Omega Trees at Urbn Leaf, plus Whoopi Goldberg, Ricky Williams, Tommy Chong, Willie Nelson, Snoop Dogg and Wiz Khalifa are a few other big names that have created notable cannabis brands over the past few years."
With the legalization of recreational consumption, big names not normally associated with cannabis are entering the growing industry, as well. For example, former Miami Dolphins linebacker Bruce Bannon became the spokesperson for hemp CBD company Kannaway (a subsidiary of Medical Marijuana, Inc.) and actress Lake Bell promotes her husband Scott Campbell's cannabis brand, Beboe.
On what's driving this trend, On Amir, a professor of marketing at University of California, San Diego, said that consumers might buy a brand associated with a famous person to become closer to their "ideal self."
"We want to bring ourselves closer to what the celebrity represents," Amir said. "For example: Michael Jordan advertises basketball shoes. Basketball fans, who would want to be like Michael Jordan, associate the shoes with their ideal self and therefore getting those shoes brings them ever so slightly closer to their goal."
Celebrities might also be useful in selling a product because their familiarity and attractiveness persuades consumers to buy, Amir said.
However, just because a celebrity is associated with a product doesn't mean that it'll fly off the shelves. Amir said that the right celebrity has to be matched with the right brand or product, a concept called "positioning."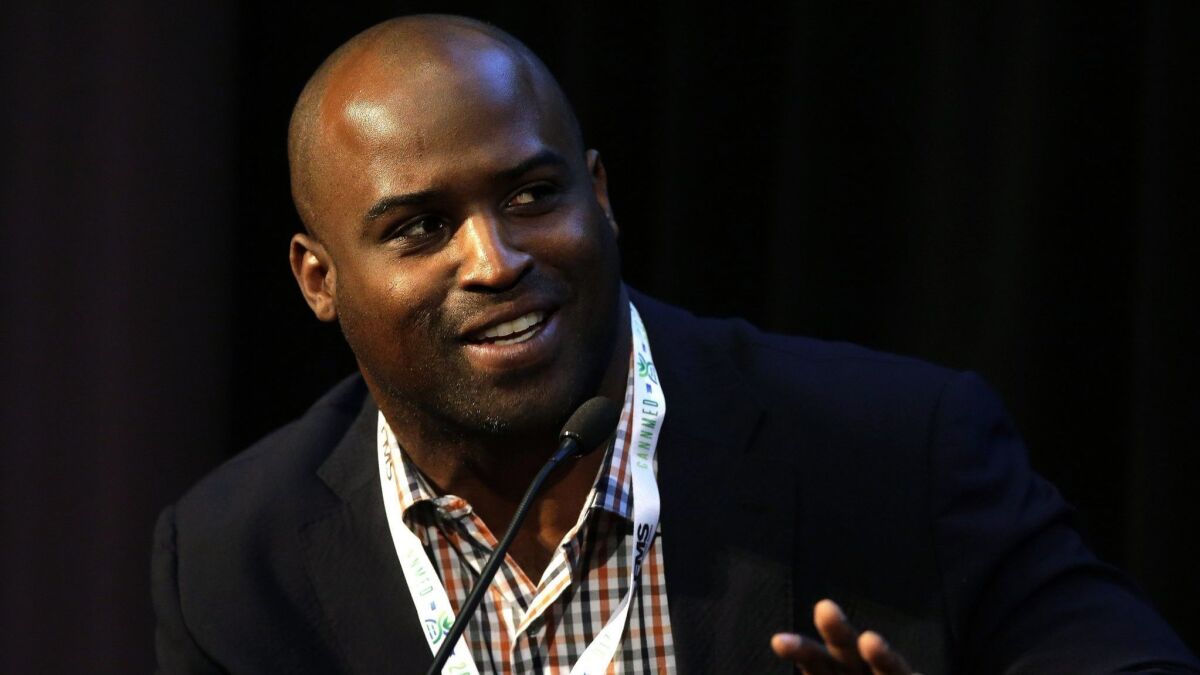 Positioning might have been at play with Francis Ford Coppola's flower collaboration with Humboldt County-based cannabis producer, Humboldt Brothers — the Grower's Series. The filmmaker behind iconic movies including The Godfather trilogy, Coppola is also well known for his wine company, Francis Ford Coppola Winery.
Humboldt Brothers CEO Johnny Diem and Director of Brand Marketing and Partnerships Elizabeth Weiner said they've been approached by a lot of well-known individuals asking for collaborations. The company decided working with Coppola was a great opportunity because of his appreciation for quality products.
"We're very committed to providing a premium sun-grown product that you can really rely on for quality," Weiner said. "Our vision is really aligned with what Coppola has always promised to his consumers. So, I think we're very aligned on the vision and providing premium products."
The Grower's Series consists of three strains of flower (Sour Diesel, Blue Zkittlez and Tangie), a pipe, rolling papers and matches. The items are packaged in a wine bottle-shaped container — a finishing touch that reminds consumers of Coppola's award-winning winemaking.
The product has done so well that Humboldt Brothers decided to make this limited run (released in December 2018) available longer than originally planned.
"I've had a lot of people I've met that ... get very excited about the product," Diem said. "I actually got a call from Terra Carver, (executive director of) the Humboldt Growers Alliance, who said 'This was the best thing I heard all week.' It's pretty focused on Humboldt, but a lot of people are really excited about the bottle and ask me 'Where can I get it?' I think over time this will probably be a collector's item — especially the first round of these."
But just because a celebrity's name is on a product doesn't mean that it'll have the same success as Humboldt Brothers' Grower's Series. Rakofsky said that brands with a famous name behind them are more likely to get awareness via press and gain consumer trust, but it doesn't mean it'll sell better than other products.
"The celebrity has to continuously push the brand via their social channels, in-store meet-and-greets, speaking engagements, etc., or else their brand might get lost in the noise," Rakofsky said.
As such, Snoop Dogg, Ricky Williams and Tommy Chong are just a few of the celebrities who have made stops at San Diego dispensaries to promote cannabis products since California legalized recreational marijuana in 2018.
Sign up for the Pacific Insider newsletter
You may occasionally receive promotional content from the Pacific San Diego.