Get baked with Bong Appétit: Cook Off
Lori Sauer — executive pastry chef at Blue Bridge Hospitality — has a lot on her plate. But she's made room in her busy schedule in the kitchen to grace the screen on this week's episode of Bong Appétit: Cook Off.
Season 3 of the Viceland TV show is a re-imagined version of the original Bong Appétit, which premiered in 2016 and featured notable cooks preparing meals for cannabis dinner parties. The new format adds a competitive twist, pitting three seasoned chefs against each other to see who can cook the best marijuana-infused dishes. Every episode, hosts B Real, Vanessa Lavorato and Miguel Trinidad are joined by celebrity guests to judge the masterpieces.
Just like other cooking shows, the contestants are presented with various cooking challenges. But these chef-testants are provided a weed pantry full of THC and CBD products — including flower, leaves and hash — which they must incorporate and balance to create innovative dishes. There are a few surprises along the way, such as mystery ingredients.
Episode 5 (Puff Puff Pastry), scheduled to air on April 30, is the first Bong Appétite: Cook Off dessert-only edition. Comedian duo and "cannabis royalty" Cheech and Chong, as well as Olympian gold medalist and World Cup champion Hope Solo, join in on the action as guest judges. This week's competitive lineup consists of pastry chefs Jessica Craig, Luis Villavelazquez and Sauer.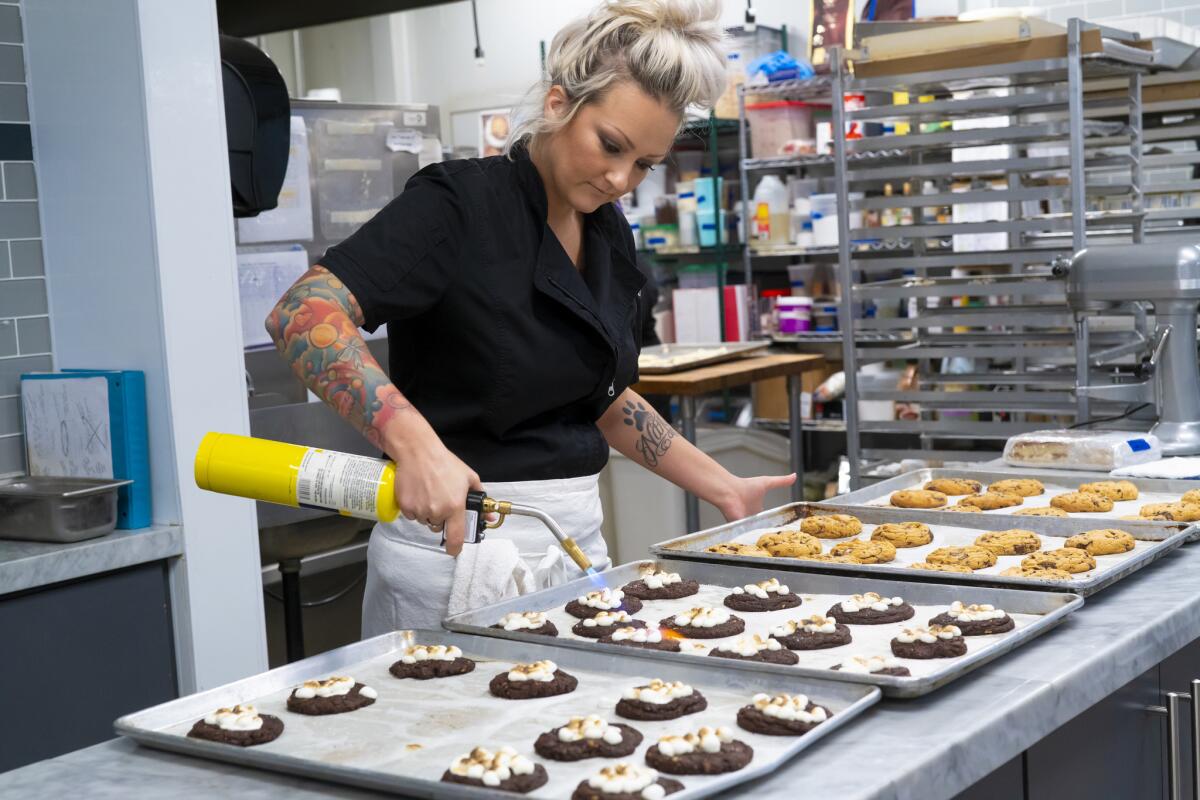 Sauer has been on the San Diego culinary scene for more than 11 years, working at establishments such as Anthology, The Lodge at Torrey Pines, The Bridge at Rancho Santa Fe and George's at the Cove. Now serving as executive pastry chef of restaurant group Blue Bridge Hospitality, she oversees Crafted Baked Goods in Liberty Station and supplies pastries to the Coronado eateries owned by the company.
She was contacted by the show producers to participate two days before filming, but turned down the opportunity due to her culinary commitments in San Diego. Her supportive employees had other ideas.
"I was very flattered as I watch the show, but also couldn't leave work on such short notice so I told them I couldn't do it," Sauer said. "I told my staff that the next day and they immediately told me to call them back and go!"
Though Sauer says she is a cannabis smoker who enjoys edibles on occasion, Bong Appetite is her first time incorporating marijuana into her work. In addition to creating weed-infused pastries, the contestants also got a chance to learn more about cannabis and its role in the kitchen.
"Honestly I learned a lot! I had never cooked with weed before," Sauer said. "We had a weed specialist on hand to help educate us. We were able to use both THC and CBD products. My top three favorites were flower, terpenes and these super rad sugar crystals. You'll have to watch the show to know what I'm talking about."
Tune in to Viceland at 9 p.m. PST on April 30 and find out who takes home the flower crown.
More...
Dish It Up: 'I feel like my brain has exploded'
Whisk taker: Pastry chef whips up thousands of treats from single-oven kitchen
Sign up for the Pacific Insider newsletter
You may occasionally receive promotional content from the Pacific San Diego.