Blind date: Leap of faith
October blind daters fly high on a daring date at Trapeze High.
October blind daters fly high on a daring date at Trapeze High.
Ask any single and they'll tell you: dating can be risky. There's the risk of getting ghosted, the risk of jumping in too fast, the risk of getting hurt and the risk of being humiliated and left with nothing but a bruised ego and a broken heart.
But, of course, dating can also be rewarding: the reward of feeling sparks with someone new, the reward of falling in love and the reward of never having to swipe on a dating app again.
As the saying goes, "no risk, no reward." So, with that in mind, the cupids here at PACIFIC decided to put it to the test and send this month's blind daters on a risky adventure that would test their ability to calculate risk versus reward and to step (or jump) outside their comfort zone.
Meet Michael, an Aussie with a penchant for adventure, and Denise, a native San Diegan who prides herself on being easygoing and able to go with the flow. They have just met up in an Epic Limo that will take them to the circus – or rather, to Trapeze High, a training facility in northern Escondido that welcomes flyers of all ages and skill levels to try their hand at the flying trapeze.
So grab your cotton candy and peanuts, dear readers, because the greatest date on earth is about to begin. Let's watch our blind daters fly through the air with the greatest of ease (hopefully) and see if taking that leap will be worth it in the end.
Before we jump in, let's get to know our daters a little better via their pre-date interviews.
Where are you from and where do you live now?
DENISE: I'm originally from San Diego, born and raised. I currently live in Clairemont, been living in the area for about a year.
MICHAEL: I'm from a country town called Bendigo, which is about 100 miles inland from Melbourne in Australia. Right now, I'm living in Pacific Beach with a couple of mates.
How old are you?
DENISE: I'm 34 years old.
MICHAEL: 27.
What do you do for a living?
DENISE: I'm a pharmacy technician. I've been in the medical field for about 10 years, and I enjoy it.
MICHAEL: I recently finished my Ph.D. in infectious disease research in Australia and now I'm working on developing new stem cell therapies to treat hepatitis B infection and the liver cancer that it causes.
What's your Instagram handle?
DENISE: @blueva_p
MICHAEL: @miduck
How long have you been single?
DENISE: I've been single for six years, don't know how it lasted this long. But within that time, I've focused on self-improvement and what I would like in a relationship.
MICHAEL: Three months.
Currently, what dating apps can be found on your phone?
DENISE: I have Tinder and Hinge.
MICHAEL: Hinge.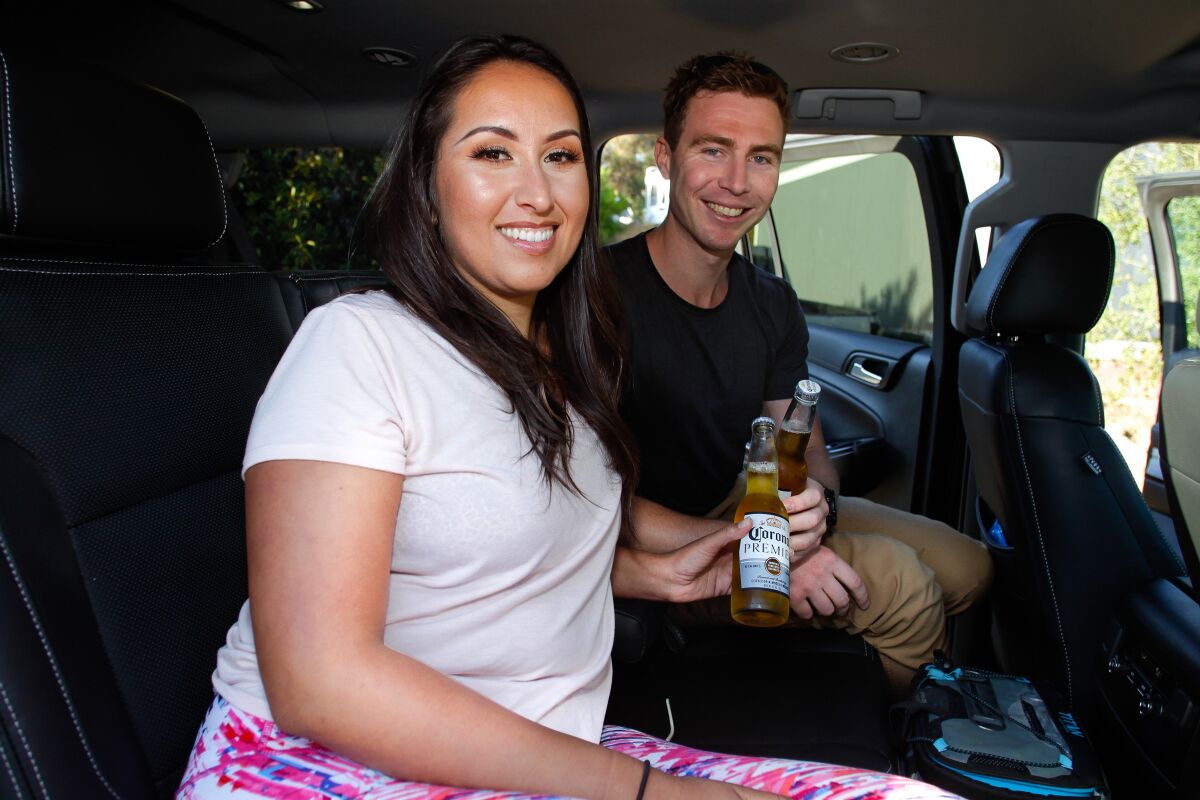 Where can you be found on the weekends?
DENISE: Hanging out with friends, lounging around the pool, at home cooking or at the movies with a glass of wine.
MICHAEL: Playing Australian-rules football for the San Diego Lions, so typically either here or up in the O.C. or L.A. On off days I usually head to Mission Bay for volleyball, then hit the P.B. area later in the arvo (Editor's note: That's "afternoon" for you non-Aussies).
What are you best at?
DENISE: Going with the flow, easy to get along with.
MICHAEL: Playing football. I love the atmosphere and camaraderie of team sports. Also trivia. Got a lot of irrelevant #facts tucked away.
What do you suck at?
DENISE: I suck at time management, sometimes I take longer to get ready.
MICHAEL: Sticking to Sunday plans.
What are you looking for in a date, physical or otherwise?
DENISE: Physical is a plus, but also looking for chemistry and [someone] who has an adventure side [and likes] hiking, rock climbing, snorkeling, etc.
MICHAEL: Someone that likes spending time outdoors, be it running, going to the beach, a day at the races, day drinking in P.B., hanging out at Papas & Beer (in Baja).
Why do you think you'll be a good date?
DENISE: I'm very attentive, I try to see the positive side of things, just to make life easier. I have a good sense of humor, and [I like] to joke around. I'm also not a judgmental person and will accept you for who you are.
MICHAEL: As my friend Mark would say, I'm a "reasonably good person" and I like meeting new people.
Describe your special brand of sex appeal in a Tweet.
DENISE: I'm sexy and I know it.
MICHAEL: Michael Scarn.
Rate yourself on a scale from one to 10 for looks.
DENISE: I would rate myself as an eight, because I'm cute.
MICHAEL: Seven.
Rate yourself on a scale from one to 10 for personality.
DENISE: I would rate myself as an eight.
MICHAEL: 10.
What's your cocktail of choice?
DENISE: I like to switch it up from time to time, but for now, a Jameson mule. I like the taste. It is refreshing with a little kick to it.
MICHAEL: Gotta be a Long Island.
What's a total deal-breaker on a date?
DENISE: Texting or answering phone calls.
MICHAEL: Someone chewing with their mouth open while talking.
Fill in the blanks: I want my date to be "blank" and "blank."
DENISE: I want my date to be tall and handsome.
MICHAEL: Attractive and fun.
Will the night end with a kiss, something more or something less?
DENISE: Not sure, I don't usually kiss on the first date.
MICHAEL: Just gotta wait and see.
Let's take a closer look at these answers, shall we? Michael's a long way from home, but seems to have made a home in sunny Pacific Beach. He's a team player (except on Sundays) and wants to date someone who enjoys the outdoors and doesn't mind that his favorite cocktail is a Long Island.
Denise hasn't strayed far too far from home (because why would she?), and although she might take a little longer getting there, she's happy to spend her days hanging with friends or lounging by a pool. She also says she wants to date someone with an adventurous side and she says she'll "accept you for who you are" (even if you like Long Islands, presumably).
Michael and Denise have such potential. Let's put their physical prowess (and trust issues) to the test by having them strap in for some flying lessons.
Swingin' it
Daters leap outside their comfort zones
Michael and Denise arrive at Trapeze High and get the lay of the land. Trapeze High has been in business since 2002 in the backyard of the home of Harmony and Jeremy Chute and their daughters, Tatum and Cameron. As expected, everyone in the family is an ace trapeze flyer. Cameron, who took her first swing at just 14 months old, even holds the title of "youngest professional female flyer."
While Michael is game to strap-in and swing right away, Denise is a little more hesitant at first. She seems a bit overwhelmed as she stares at the rope and net apparatus in the family's yard, eyes wide. In fact, she nearly chickens out entirely.
But Harmony and Jeremy are so calming and experienced, they make Denise feel at ease. After a lesson on the ground about positioning, Denise eventually works up enough courage to climb to the top of the platform.
Still, she's uncertain. Back on the ground, the crew begins to wonder if Denise will work up the courage to jump.
"She's going to do it," Michael says with a knowing smile.
And it turns out, he's right. With more time and gentle coaxing, plus the reassurance that she's strapped in tightly and can't free fall, Denise takes a leap and swings through the air. Everyone applauds and high-fives her when she's back on solid earth. She's glad she did it, and in fact, takes two more jumps.
Michael never hesitates for a second. He climbs up the ladder handily and jumps off the platform with enthusiasm. He flies through the air, and soon, he's shifting mid-air to hang onto the bar by his knees. After a few more jumps, Michael even attempts a catch with another flyer.
Taking a trapeze class on a first date is a quick way to get to know someone. Michael and Denise had different methods, but they both ended up loving the rush of the trapeze.
Once class is over, the daters change into their dinner clothes. They've both worked up an appetite and agree that after trapeze class, a cocktail is in order. The daters go from air to water when they arrive at The Florence, a new, beautifully-designed restaurant in Sabre Springs that pays tribute to San Diego swimming legend, Florence Chadwick.
The locally sourced menu at The Florence ranges from classics like shrimp cocktail, deviled eggs and beer-battered onion rings to more unique offerings like salmon tots and bacon-wrapped meatloaf. Michael and Denise order cocktails and appetizers before we separate them for their mid-date interviews.
How's it going so far?
DENISE: It's going great.
MICHAEL: Good, having a fun time.
At first glance, would you swipe right or left on your date?
DENISE: Right.
Is this the type of person you'd normally date?
DENISE: No.
MICHAEL: Yeah, I think so.
How was your experience at Trapeze High?
DENISE: It was an experience. At first, I was very hesitant to try and get into it, but once I got it, I conquered it. It took awhile at first, I was really scared. This was out of my comfort zone. But the people there, they reassured me and made sure that I was safe. They were really awesome. I really liked it. Totally different. I would never have thought of doing that on the first date, first blind date. It was a good experience.
MICHAEL: It was really good, something I've never done before and I really enjoyed it. It's such a cool little ice-breaker because you can see exactly what the person you're dating is like.
What caught your eye on the menu at The Florence?
DENISE: The drinks. I have the Mexican Firing Squad. It comes with Milagro Tequila, bitters and pomegranate.
MICHAEL: I'm getting the steak. The waitress said it was the best one, it's amazing. Salmon tots, and then we've got some bacon-wrapped dates and a bit of goat's cheese and the fries.
What's the most attractive thing your date has done so far?
DENISE: He did a flip. He didn't back down, he went out of his comfort zone himself and he was already doing tricks. I think was very attractive.
MICHAEL: I really like shows of character. And when she was on the bar and she wanted to come down, and then she just gritted out and did it and then she got down and said she wasn't going to do it again, and she did it again and then, by the third one, she was loving it. And now she's saying she wants to get really good at it.
Rate your date on a scale from one to 10 for looks.
DENISE: Eight.
MICHAEL: Ten, she's a stunner. She's great. She's got an amazing smile.
And for personality?
DENISE: Eight.
MICHAEL: Ten, the same.
What's your date's most attractive physical quality?
DENISE: His eyes.
MICHAEL: I like her eyes.
Do you want to kiss your date right now?
DENISE: No.
MICHAEL: Yeah.
Does your date want to kiss you?
DENISE: I don't know. Maybe.
MICHAEL: (Laughs) Not sure.
Is this someone you'd take home to mom, or just take home?
DENISE: He would be someone to take home to mom. It's the accent, he has an accent.
MICHAEL: (Laughs) Back to Australia? Sure [she has potential].
How and when will the date end?
DENISE: (Laughs) I don't know. It's too soon to tell, but I'm having a good time.
MICHAEL: I think we're going to go out for a few drinks later. We're talking about P.B. She hasn't been there in awhile, used to live nearby.
It looks like these two lovebirds are hitting it off quite nicely after flying through the air at trapeze school. They both say they that they would swipe right on each other and that they find each other's eyes to be their most attractive quality.
Michael also loved the way Denise conquered her fears and took the leap at Trapeze High. And Denise loved the way Michael did aerial tricks on the bar. Plus, she says the accent doesn't hurt.
And while Denise is a little hesitant about whether she wants to kiss her date, Michael is more certain. Noticing a pattern here?
Post-dinner, Michael plans to show Denise the ropes in P.B., much like he did at Trapeze High. Here's hoping the night ends with a smooth landing.
Good catch
Michael and Denise take it to the next level
Our daring daters spent their evening overcoming their fears, getting out of their comfort zones and whizzing through the air on a trapeze. We checked in with them the next day to see what other death-defying stunts they got into after dinner at The Florence.
How'd everything go last night?
DENISE: It went really well.
MICHAEL: Good, I had really good time. As I was saying going in, I didn't know what to expect, but I think it went really well. I had a lot of fun.
Where did you go and what did you do for the rest of the evening after dinner at The Florence?
DENISE: We had the driver go to my place to drop off my things, then we went to his place to drop off his things and we went to P.B. We went to Mavericks and had a drink and hung out, talked, continued on with the date. And then, after that, we went and walked on the boardwalk. We noticed that there were some chairs out by the beach in the sand. There were these tiki torches around these chairs, and there was a fire pit, so we went over there and just hung out, sat and continued talking. It was really nice, the waves were crashing and stuff.
MICHAEL: So our driver dropped us back and we went to P.B. and we went out to a bar in P.B., had a drink there and just kind of walked around the waterfront. It was really nice.
Did you guys exchange numbers?
DENISE: Yeah.
MICHAEL: Yup.
Hook up?
DENISE: We kissed.
MICHAEL: Yeah, we kissed. It was nice.
What was the best part of the date and why?
DENISE: It was nice, the whole time. I had a good time. Best part? I think when we were at the beach and we were having our moment.
MICHAEL: I think getting to know her. She's a great girl. I just really enjoyed the time we got to spend one on one.
Will there be a second date? Why or why not?
DENISE: Yeah, we were talking about going to Rosarito, having steak and lobster.
MICHAEL: Yeah, there will be. We're talking about going down to Rosarito and getting steak and lobster. We'll probably do that in the next week or two.
We love it when these dates end so sweetly. Normally, after-dates in P.B. result in stumbling out of a bar at 2 a.m., not stumbling upon tiki torches and chairs in the sand. It was the perfect, romantic setting for Michael and Denise to take their budding relationship to the next level. And it looks like next, they'll be taking a trip south of the border for some surf and turf.
Dear reader, the lesson here is, of course, to take the leap, so to speak. To get outside of your comfort zone and do things that normally scare you, whether that's going on a blind date in general or jumping off a trapeze platform. Big risk can equal big reward and you just have to know when it's worth it.
Editor's Note: Daters' answers may have been edited for length and clarity.
Special thanks to and promotional consideration from:
EPIC Limo: 858.270.LIMO (5466), epiclimo.com
Trapeze High: 619.318.0833, trapezehigh.com
The Florence: 858.433.1545, theflorencesd.com
Matchmaker Colleen Perone: naturalselectionsd.com
Status update
Checking in with last month's blind daters
Dedicated PACIFIC readers might remember blind daters Kristle and Tom ("For Batter or For Worse," September 2019 issue), who spent their evening dodging foul balls at a Padres game at Petco Park.
We checked in with them to see what's happened since being featured in PACIFIC. Are they still batting a thousand? Here's what they had to say about their current status.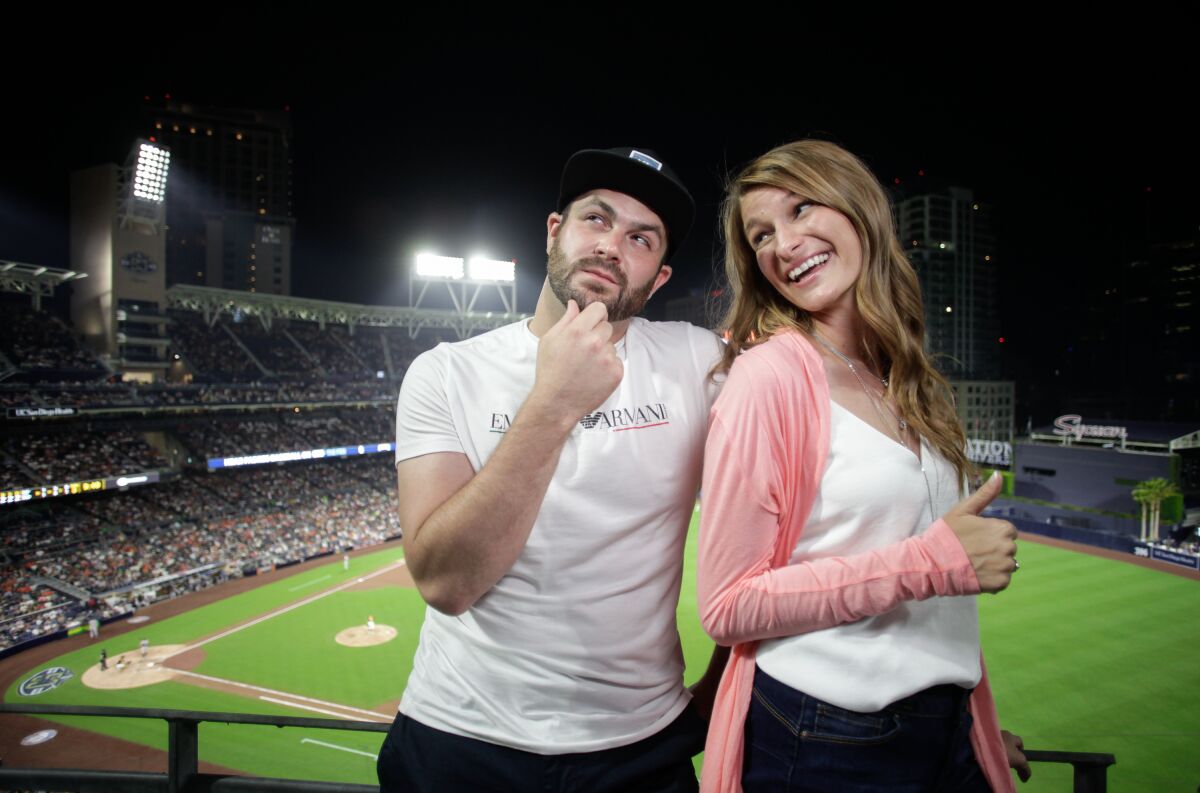 Are you still seeing your blind date?
KRISTLE: No, but we're still in touch from time to time.
TOM: We are not seeing each other, but we do talk every now and then.
What were the reactions of your friends/family after you went on the date?
KRISTLE: I didn't get much of a reaction, actually. They were like, "Oh, that's cool!"
TOM: My family thought it was really cool that I had an opportunity to do something so fun like that so soon after I moved out here. Things like this don't happen in the small town that I'm from. My friends, they naturally gave me a ton of s**t for it, before eventually admitting they were jealous I had that experience.
Has your opinion of the date changed since you went on it?
KRISTLE: No, it was a lot of fun and I enjoyed the experience.
TOM: No, it was still a really fun time. I would do it again in a heartbeat.
After reading your blind date story, did any of your dates' answers surprise you?
KRISTLE: Yeah, it was actually really fun reading his answers. I called him up and read some of them together.
TOM: I don't think so. We shared most of our answers with each other after the interviews. I sort of recall us exchanging numbers a little differently, but if Kristle thinks it was a smooth move, I'll take credit.
What did you learn?
KRISTLE: I learned that you can want to make something work with someone, they may be fun and kind, but sometimes it just isn't a fit.
TOM: The biggest thing I learned was that great things can happen if you take a little risk and leave your comfort zone entirely. I am extremely camera shy and I don't love the idea of a blind date, but we still had a ton of fun and I made a friend out of it. And from that, whether she knows it or not, she's inspired me to be more active, enjoy the outdoors and to try to be the best version of myself that I can be.
Anyone slide into your DMs since the blind date went to print?
KRISTLE: I've been on other dates since then, yes.
TOM: There was definitely a little spike in activity there for a minute. A lot of follows, a few random DMs.
Would you ever go on another blind date, either in a magazine or otherwise?
KRISTLE: Absolutely!
TOM: Blind dating is definitely not my style, but after this experience, I wouldn't be opposed to it.
Sign up for the Pacific Insider newsletter
PACIFIC magazine delivers the latest restaurant and bar openings, festivals and top concerts, every Tuesday.
You may occasionally receive promotional content from the Pacific San Diego.